Experts discuss future of midsized 'smart cities'
International Workshop on Urban Data Science focuses on next phase of the smart city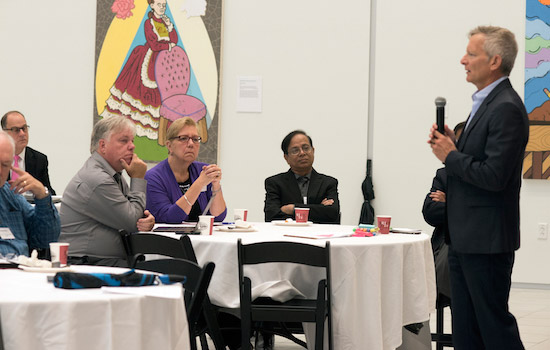 A. Sue Weisler
The large metropolises of Singapore, Barcelona and San Francisco lead the way for "smart cities." But experts argue that midsized cities can be smart, too.
Forty researchers and practitioners from around the world came together at Rochester Institute of Technology July 24 and 25 to discuss the future of smart cities during the International Workshop on Urban Data Science. The workshop focused on how the next phase of data science can help cities in developing countries and midsized cities, including Rochester.
"Whether growing or shrinking, cities face challenges of infrastructure, public health, transportation, public safety and environmental sustainability, to name but a few," said Naveen Sharma, professor and chair of RIT's software engineering department. "To address some of these challenges, the cities of today are increasingly leveraging advanced computing and communication technologies, as well as big data analytics, under the umbrella of smart cities and urban informatics."
Urban data science is essentially a tool that city planners can use to make informed decisions. Data collected through Internet of Things (IoT) technology, artificial intelligence, machine learning and social media can be used to improve traffic flow, monitor crime activity, track water consumption, promote public health and more. Technology can even help determine which vacant lots have the best probability of housing a successful community garden or library.
"We pose it as a data problem and create a predictive model," said Sharma, who led the workshop. "Cities are collecting this data—let's use it to give back to society."
The workshop brought together a multidisciplinary group from academia, industry and city administration. Experts in data science, social sciences, cloud and distributed computing, urban sustainability, public policy and software engineering presented new findings, discussed current and future urban challenges, exchanged ideas and discussed potential collaborative opportunities.
The workshop emphasized how urban data science can improve mid-size cities, such as Rochester, which have significantly fewer resources and whose problems may be fundamentally different compared to those of megacities. Sharma also points out that there are a lot more midsized cities than cities like New York City.
"It's good to see what other cities are doing and what lessons they have learned," said D. Janakiram, professor in the Department of Computer Science and Engineering at Indian Institute of Technology, Madras. "Data science can be impactful in terms of improving quality of life, so it's great to bring this information back to our researchers and city administrators."
Keynote speakers at the workshop included Mahesh Nattanmai, executive deputy CIO at the New York state Office of Information Technology Services, and Ted Farnsworth, CEO and founder of RedZone, a navigation app that includes crime data.
For Pradeep Murukannaiah, assistant professor of software engineering at RIT, the workshop allowed him to share his research in engineering sociotechnical systems, which focuses on the often-neglected stakeholders of a system.
"Urban systems—such as a city's healthcare system—are complex sociotechnical systems with a variety of stakeholders, including city, state and federal administrators, community leaders, NGOs and, most importantly, a diverse set of citizens," said Murukannaiah. "I presented my works and vision on employing novel data-driven techniques involving crowdsourcing, social media analytics and Internet of Things to better understand the requirements of a system's stakeholders."
Sharma said a main objective of the workshop was to form and sustain a community of experts who talk about urban data science issues. He plans to work with IIT Madras to host another workshop next year and a larger conference in 2019.
For more information, go to urban.se.rit.edu.
Topics