LenelS2 donates BlueDiamond readers and mobile credentials to Global Cybersecurity Institute
New RIT cybersecurity building will be secured with keyless BlueDiamond readers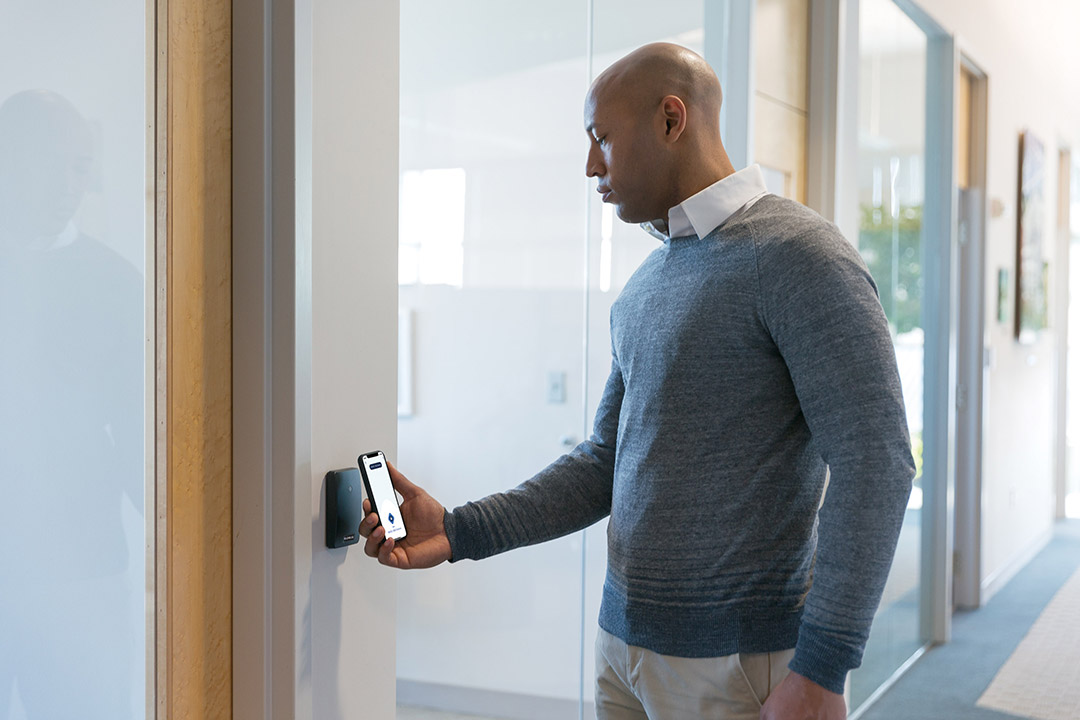 LenelS2
Rochester Institute of Technology's new Global Cybersecurity Institute (GCI) is on its way to becoming one of the most secure buildings in the Rochester area, due to the addition of the BlueDiamond readers and mobile credentials from LenelS2.
LenelS2, a global leader in advanced security systems and services and part of Carrier Global Corp., is donating BlueDiamond credentialing hardware and software to the GCI. The three-story GCI facility on RIT's campus aims to address the global cybersecurity crisis by enhancing RIT's groundbreaking research, education, and professional training and development. BlueDiamond readers and mobile credentials are a touchless access solution offering that is part of the Carrier Healthy Buildings Program.
With the donation, more than 50 rooms in the cybersecurity building will be outfitted with BlueDiamond readers that give authorized personnel convenient ways to gain access, including keyless options using their personal smart device. Users won't have to take their phone out of their pocket to swipe the reader when using the BlueDiamond Pathway feature, which uses an encrypted code that is automatically sent to the reader.
The GCI will be the first space in Rochester outfitted with the LenelS2 BlueDiamond security technology — other than LenelS2's headquarters in Pittsford, N.Y.
"We have always had a strong partnership with RIT, and we're proud to help outfit the new Global Cybersecurity Institute with the latest security technologies," said Paul Wisotzke '88 (business management) test and validation manager, LenelS2. "This building houses some of the foremost talent in cybersecurity, so it is only fitting that we provide the latest and greatest LenelS2 has to offer with our BlueDiamond security technology."
BlueDiamond technology supports a wide range of smart cards and proximity cards, providing a bridge from legacy plastic ID badges to cardless mobile access control. It also incorporates Bluetooth 4.0 low-energy technology, has a long-read range of 30 feet and allows customers to remotely update reader software.
LenelS2 supports cybersecurity education at RIT by hiring RIT co-ops. The organization also works with and donates to RIT's Women in Computing program and RITSEC, the student cybersecurity club.
"LenelS2 has been very supportive of RITSEC and we really appreciate how much they care about the students," said Shannon McHale, a RITSEC member and fourth-year computing security student from Melville, N.Y. "This donation is just another example of them investing in the security industry and making sure RIT produces the best talent possible."
RIT is nationally recognized for cybersecurity education, having been designated as National Centers of Academic Excellence in Cyber Defense Education and in Research by the National Security Agency and the Department of Homeland Security. The GCI facility is expected to open in 2021 and will be the first facility of its kind in upstate New York.
Topics