Meet Aditya Khanna, RIT's Student Government president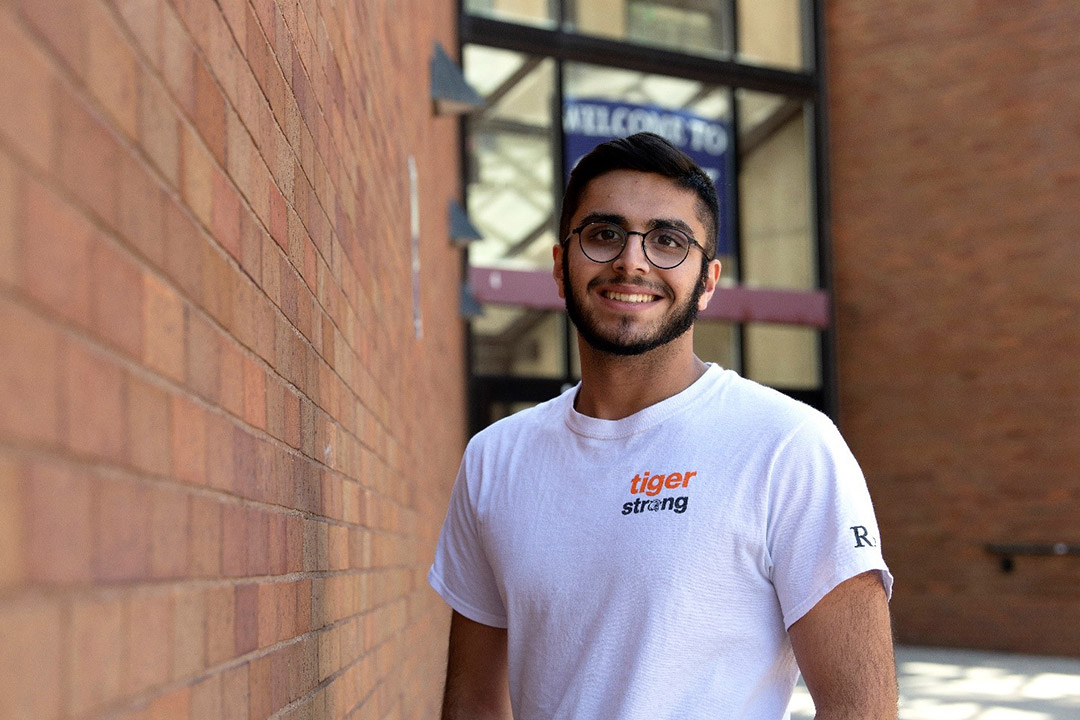 Aditya Khanna remembers his orientation as a first-year college student, listening to then-Student Government President Anika Aftab addressing the freshman class at convocation.
"Her talk was interesting, but what I really got out of it, I thought it would be pretty sweet to be that person giving a speech in an orange blazer to 3,000 students," Khanna said.
Now Khanna, a fourth-year computer science major from Shrewsbury, Mass., gets his turn wearing the traditional orange blazer as this year's RIT Student Government president.
He wasted no time trying to get involved to represent students. At the end of his freshman year, Khanna finished second in a race for senator representing students in RIT's Golisano College of Computing and Information Sciences. Khanna accepted the position when the winner stepped down.
"That experience made me want to work in Student Government in the future," he said. "I wanted to impact more than Golisano students. And no other position could impact as many students as Student Government president."
There were four sets of candidates this year, the most in recent history. This year's Student Government Vice President is Samantha Gensler, fourth-year interior design major from Buffalo.
The pair campaigned on a platform with five goals:
Increased access services to make sure students have the same accessibility across the board, including more accessibility for students who may be remote.
Engage more students with activities on campus. "People have been a little more hesitant to go out and do things on campus during COVID," he said. "We want to have as many events for students as they want to go to. We're orchestrating a ton of giveaways, swag, and free tickets for events."
Connect with students. Students often have not been interested or in touch with Student Government, he said. "Last year's election was the highest voter turnout in recent history, at 27 percent. We would like to see that number at 50 percent. Student Government is the voice of the students to the Board of Trustees. If we're not directly connected with the students, we're doing them a disservice. We want to offer them a reliable PawPrints (petition) platform. It has been down for a while, but it is the biggest way of taking suggestions from students. We're working hard to make sure that is good to go when classes begin Aug. 22."
Increase mental health support for students. "Students have gone through so much – some students haven't had a college experience without the pandemic. We're looking at bringing in certified psychologists to talk about therapy for students who think they may need some help but don't know the right approach to find it. Therapy dogs were a huge hit and we would love to bring them back more often. And we're looking into setting up a 24/7 crisis help line, potentially student-run and overseen by certified staff members. Sometimes students need to talk to another student."
Increase professional networking and career services on campus. Have more career fairs for students in all of RIT's nine colleges, and bring in alumni who own businesses or have worked in their industry for years who can talk about their experiences with students. "Last year I went to San Francisco with the Honors Program and got to meet with a ton of alumni in the Bay Area. That was the best networking experience RIT has given me so far," he said.
Born in Austin, Texas, Khanna moved to Massachusetts as an infant. He enjoys traveling, especially to India to visit relatives, and collects decks of playing cards from the cities, states, and countries he has visited.
He was president of the tennis club, is a die-hard Boston sports fan, and enjoys rooting for RIT hockey.
Khanna served twice as an orientation leader and will be on campus helping this year's new students move in.
And perhaps, in his orange blazer, he'll inspire a future Student Government president to pick up the reins a few years.
"I'm really looking forward to working with the administration and furthering that relationship the previous Student Government administrations have cultivated," he said.