No timeout for RIT Esports during pandemic
Esports community at RIT makes adjustments to stay fully operational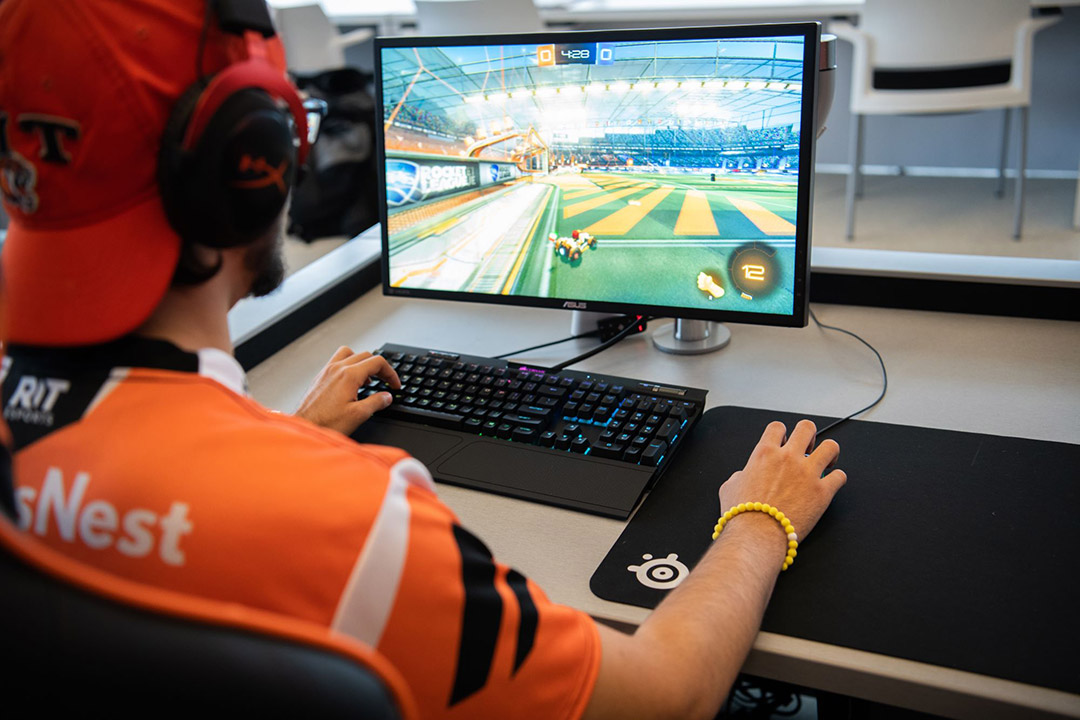 While many college athletics are on a timeout during the pandemic, esports at RIT are plugged in and fully operational.
This semester, RIT Esports has student groups playing 15 different competitive games, along with four teams to support esports operations. As teams begin their fall leagues, students are finding different ways to practice and scrimmage in a socially distanced manner.
"I feel like we are really lucky, because the nature of what we do doesn't require a lot of in-person interaction and we don't have to cancel many of our activities," said Hillary Li, president of RIT Esports and a fourth-year electrical engineering BS/MS student from Manhattan. "We definitely miss the in-person interactions though, because it's fun and helps create a level of familiarity."
Esports leaders explained that most student players have their own setup, so they can compete from wherever they are living. However, RIT Esports has created social-distancing protocols for students to use computer labs and the esports lounge.
"We only allow six people in the lounge at a time, we have cleaning supplies for all the surfaces, and we have unplugged every other computer for social distancing," said Li. "We are requiring that students wear masks and bring their own headsets."
Many teams are currently finishing tryouts and determining which leagues they will play in this fall. To prepare, students are competing in "scrims," playing as teams in public lobbies and watching video of their gameplay, called VOD review.
"It's actually been super nice to have esports since quarantine," said Zach McMurray, a third-year media arts and technology student from Scarsdale, N.Y., and player on the Call of Duty team. "I spent so much time on COD during quarantine that it flew by for me. And we're not playing other people in-person, so there's no COVID risk."
Will Kneeland, a caster for the broadcasting team and player for the Valorant squad, said that it isn't too different doing things remotely, but he does miss the camaraderie.
"I miss showing up on Friday night to labs and finding a whole group of people to talk to with similar interests," said Kneeland, a fourth-year web and mobile computing major from Bangor, Maine. "I am very glad to be able to still do what I love in the middle of all of this. I don't know if my sanity would hold without it."
Throughout the year, RIT Esports plans to produce more live streams of gameplay and hold online events and game nights.
RIT currently has esports teams or squads playing Apex Legends, Call of Duty, Counter-Strike: Global Offensive (CS:GO), Dota 2, Hearthstone, League of Legends, Overwatch, Rainbow Six: Siege, Rocket League, Smite, Super Smash Bros. Melee, Magic: The Gathering Arena, StarCraft II, Super Smash Bros. Ultimate and Valorant. There are also student-led teams supporting RIT Esports with broadcasting, community, development, and production.
For more information about RIT Esports, join the RIT Esports Discord group.