Recognition for historic 'hack' leads to a Coke and a smile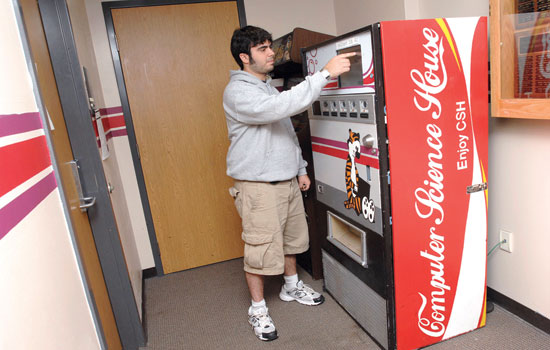 A. Sue Weisler
For an RIT student living in the Computer Science House, ordering a cold soda from the vending machine down the hall with just a keystroke is all part of day-to-day dorm life. PC Magazine, however, has deemed this computing ingenuity, born in the early 1990s, as one of the top 10 greatest "hacks" of all time.
The Internet Coke Machine on the third floor of Nathaniel Rochester Hall came in at number three on the list of hacker brilliance, getting beat out only by Spacewar! video game and NASA's lifesaving hack to safely bring Apollo 13 back to earth.
Hacking, a term coined at MIT, was used to describe a clever computing solution to a difficult problem and it was considered a badge of honor to be called a hacker.
"I'm not surprised PC Magazine has recognized the drink machine," says Paul Tymann, chair of computer science in the B. Thomas Golisano College of Computing and Information Sciences. "Computer Science House has always been at the forefront of innovation in computing on campus. It was named the No. 1 wired dorm in the country by Wired magazine in the '90s."
The Coca-Cola vending machine highlighted in the magazine article has since been replaced by two other drink machines named Big Drink and Little Drink and the addition of a snack vending machine.
Matt Campbell, a 2003 computer science graduate, who currently works at RIT's Information and Technology Services, was one of the students who found Big Drink on the side of the road in front of a scrap metal business. They hauled it back to the residence hall and brought it online.
"When I was a student, I worked on the machine for hours," says Campbell. "The computer was outside the machine at that time, but now it's embedded in it and plugs into an Ethernet jack like your computer does. Every couple years someone gets the urge to make the machine bigger, better, faster."
The students' urge for innovation and convenience has led to some high-tech upgrades.
"The drink machines are programmed so that the user can delay when the drink drops out of the dispenser," says Angelo DiNardi, fifth-year software engineering major and chair of Computer Science House. "We also have touch screens which are activated by an iButton. The iButton logs you in and then will display what drinks are available and the remaining credits on your account."
Topics