December 23, 2014
by Ellen Rosen
RIT to establish cybersecurity scholarship program
Recipients get tuition, stipends in return for working in U.S. computer security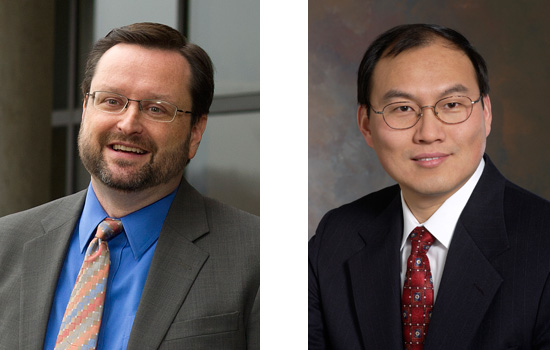 Responding to the national demand for workers highly trained in cybersecurity, Rochester Institute of Technology will use a multimillion-dollar federal grant to establish a CyberCorps® Scholarship for Service program.
The National Science Foundation has awarded RIT a five-year, nearly $4 million grant that will allow the university to become part of this federal scholarship program established in 2000 in response to ongoing threats to the nation's information technology infrastructure. The program, a partnership with the Department of Homeland Security, provides full tuition and a stipend in exchange for future government service.
"Establishing this program is another way RIT is demonstrating its commitment to producing well-educated, well-grounded graduates who will be our best defense from the countless, increasingly sophisticated cyber attacks that invade our privacy, cost us money, and threaten our national security," said Andrew Sears, dean of RIT's B. Thomas Golisano College of Computing and Information Sciences.
"RIT was one of the first universities in the nation to create a dedicated department of computing security, which allows us to draw on faculty from across the university to provide our students with a cutting-edge education," Sears added. "Being part of the CyberCorps® program will allow us to attract and retain the best and brightest students for work in this vitally important field."
The first two years of the grant is for $1.39 million. RIT expects to offer the first scholarships in the Fall 2015 semester, said Bo Yuan, chair of RIT's computing security department. The program will be open to RIT undergraduates entering their third or fourth year in computing security, computer science or software engineering, and would cover the final three years of a combined Bachelor/Master of Science degree in computing security, Yuan said.
RIT expects to grant six of these scholarships a year, to a total of 21 students over the life of the grant, Yuan said. The scholarships cover tuition, books and professional development, plus a cash stipend of $20,000 a year for undergraduates and $32,000 a year for graduate students. The total value of the scholarship will be between $50,000 and $60,000 a year. In exchange for the scholarship, students must agree to work in computing security for the government one year for each year of scholarship received. So a student in the program for three years would agree to work for the government for three years after graduation.
Applications will be reviewed and scholarship recipients chosen by a faculty committee, Yuan said, adding that he expects significant competition for the scholarships.
"Being part of CyberCorps® Scholarship for Service is very exciting, a great recognition of the quality of our computing security program at RIT," Yuan said. "Since the department was established in 2012, our applications and enrollment have grown dramatically. This will help us continue that growth and add to the ranks of highly qualified RIT graduates now working in the field."
Rochester area Congressional representatives praised RIT and NSF for the program.
"This unique program will not only keep costs down for students looking to work in the growing field of cybersecurity but will also provide RIT students with an arsenal of tools to protect the government's critical information infrastructure," said Sen. Charles Schumer, D-N.Y. "This will be a win-win for students and for our national defense as we see an increased threat from those looking to do harm."
"Cyber threats targeting classified information are now a regular occurrence, and we need to have the best and brightest computer science experts protecting our government's information infrastructure," said Congresswoman Louise Slaughter, D-Fairport. "It's well-known that Rochester Institute of Technology is a national educational leader in this area, and I commend the National Science Foundation for investing in our local students through the CyberCorps® Scholarship for Service."