RIT experts shine at Rochester's Light and Sound Interactive Conference June 25-27
Members of RIT community to lead talks on future of cinema, gaming, esports, audio and music
RIT experts will help Rochester push the edge of light- and sound-based technologies at the Light and Sound Interactive (LSI) conference June 25–27 in downtown Rochester.
The two-and-a-half-day event aims to spur economic growth, as leading technologists and innovators come to Rochester for collaboration on the future of light- and sound-based technologies, applications and emerging industries.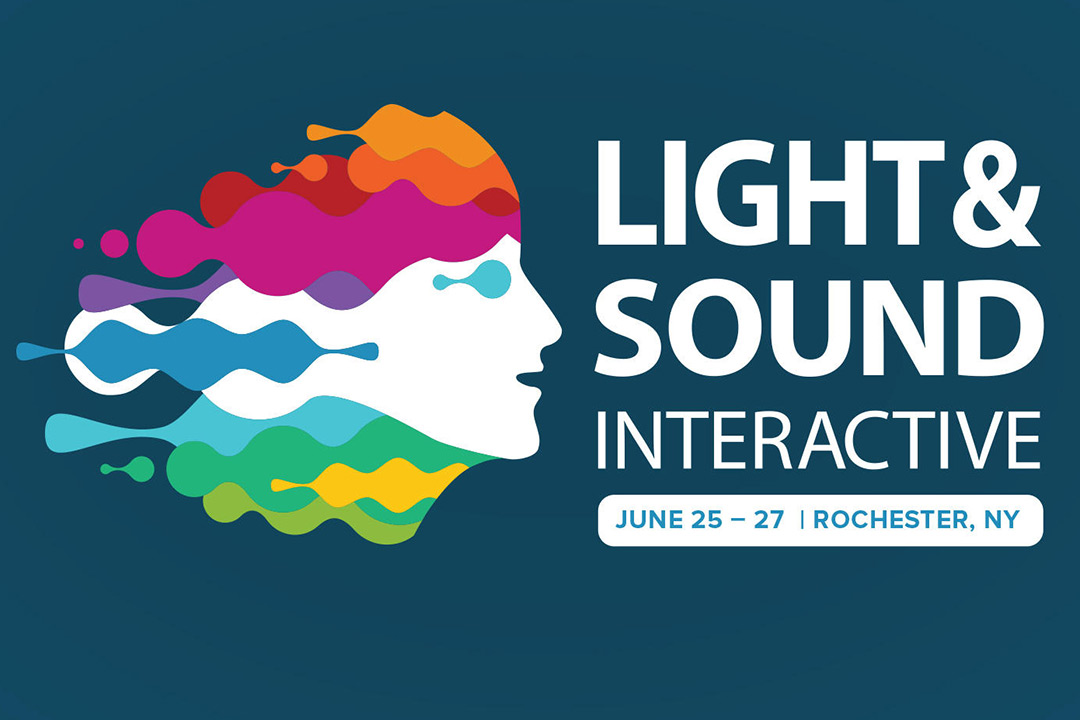 Four members of the RIT community will lead tracks in their respective areas, highlighting innovations in Cinema, Games and Interactive Media, and Audio and Music. Other tracks at the conference include Optics, Photonics, and Imaging; Augmented and Virtual Reality; and the Department of Defense.
LSI will feature interactive sessions with experts, entrepreneurs and thought leaders, as well as hands-on, cutting-edge product demonstrations. Shining a light on Rochester-area industries will be guest speakers from Facebook, Microsoft and the National Center for Manufacturing Sciences, as well as demonstrations from major companies, including Bose, Harman and Amazon.
The conference is being presented jointly by RIT, University of Rochester, Empire State Development, and the Greater Rochester Chamber of Commerce, among other organizations. The conference is an active formal alliance between UR and RIT.
"RIT and the Rochester region are becoming a world leader at the nexus of imaging science, interactive gaming, virtual and augmented reality, and film and animation," said RIT President David Munson. "We are capitalizing on our strengths by harnessing the creativity and innovation of a new generation of entrepreneurs who can bring their ideas, products and services to the marketplace, and through collaboration with the University of Rochester, industry, government and community organizations."
"We are at the forefront of developing some of the most exciting technologies and startups in one the world's fastest-growing industries, and we are educating future world leaders who will continue to shape creativity and innovation for years to come. When our collective institutions collaborate, Rochester wins. But more than that, when communities come together and combine resources to help define a new industry, our country wins."
RIT experts leading tracks at the 2019 LSI, include:
Dave Sluberski, senior lecturer in RIT's School of Film and Animation, is leading the Audio and Music track. Conference-goers will explore everything from technical advances to theoretical applications to sonic visualization, led by a lineup of cutting-edge scientists, professors, audio engineers and artists.
Malcolm Spaull, senior MAGIC associate and member of RIT's School of Film and Animation, is leading the Cinema track. Participants will explore how today's technology democratizes the film process, from concepts to pre-visualization, capture to editing and in distribution. Attendees will hear from the creators and innovators pioneering the next generation of moviemaking.
Rob Mostyn, digital games hub coordinator at RIT's MAGIC Spell Studios and founder and director of ROC Game Dev, and Chad Weeden, assistant director for RIT's School of Interactive Games and Media and RIT's Esports advisor, are leading the Games and Interactive Media track. Attendees will see what kinds of immersive experiences are in store in the next five years and learn about the indie game development scene.
LSI will also feature a free live esports showdown between college and professional gamers. A team of RIT Esports players will take on a professional team from the organization Splyce in a game of Rocket League, a vehicular soccer video game. The match will include commentary from professional caster "Squidd."
After the match, a panel of esports experts will discuss the current state of professional, collegiate and high school esports in the region and how its growth impacts local businesses. The Esports Exhibition is free, but seating and registration is limited.
As part of the LSI conference, Facebook is also inviting key influencers who will remain in Rochester after the event for a Facebook summit titled the Facebook Optics and Display Academic Research Forum. AIM Photonics is also hosting a meeting of members representing several Fortune 500 companies. The LSI conference will culminate with Luminate NY's Demo Day on June 27.
The LSI Conference will take place in the Floreano Rochester Riverside Convention Center and Sibley Square. Audio and Music events will be held in Eastman School of Music's Hatch Hall and Cinema events at the Dryden Theatre at George Eastman Museum. Morning and lunchtime keynote speeches will be presented in the Jazz Festival tent at Parcel 5.
Registration is open with a general fee of $275 for the full conference; $100 for a student pass; $200 for a faculty pass; $225 for a day pass; or $350 for a demonstrator pass (which includes the full conference). To register and learn more, go to LightandSoundInteractive.org.