RIT 'Hearthstone' team to compete at ESPN Collegiate Esports Championship in Houston
RIT students seek to top national esports bracket and win thousands in scholarships May 10-12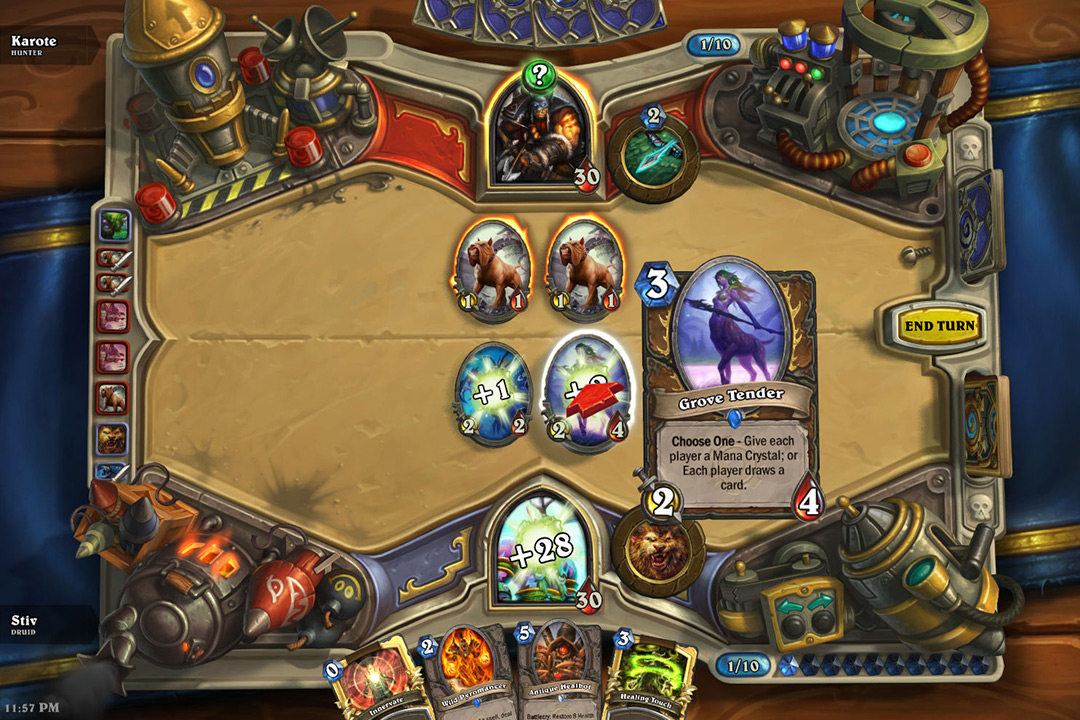 A team of Rochester Institute of Technology students has become one of the best collegiate Hearthstone teams in the nation, making it to the ESPN Collegiate Esports Championship May 10-12 in Houston.
RIT beat out nearly 500 other collegiate Hearthstone teams to get to the first-ever ESPN esports event, held during Comicpalooza at the George R. Brown Convention Center in Houston. Students will compete on stage for thousands of dollars in scholarships and bragging rights for their college.
The RIT Hearthstone team will take on Georgia Institute of Technology in the semifinals at 4:20 p.m. (CST) on May 10. The winner of that match will face the winner of University of Minnesota, Twin Cities vs. University of Oregon at 5:20 p.m. (CST) on May 11. The matches will air live on the ESPN Esports Twitch or 24 hours later on ESPN3 and the ESPN Esports Youtube Channel.
Each player on the top Hearthstone team will win $9,000. The second-place team will win $5,000 each, while the third and fourth place teams will win $2,500 each.
"Nobody on this team has ever gotten this far before, and we are going to be playing some very tough varsity level teams," said Mateo Crever, a biomedical sciences major and manager for the team. "In this tournament we have gone from zeros to heroes."
The RIT Hearthstone team includes Mateo, who is from New Hartford, N.Y.; team captain Jake Christoforo, a first-year computing and information technologies student from Canandaigua, N.Y.; Alex Markoe, a first-year game design and development major from Blauvelt, N.Y.; William Anderson, a second-year computer science major from Howard Beach, N.Y.; and coach Freddy Stock, a second-year game design and development major from Haddam, Conn.
To make it to the championship, the team played throughout the spring semester in a series of regular season matches and then double elimination and single elimination brackets.
"We're good as a team because we're all thinking on the same track, but we have different approaches and execution that can make us more versatile," said Markoe. "We're also not afraid to politely call each other out on bad ideas."
On April 21, RIT's team beat the heavily favored Northeastern University team 3-2 to make it to the final four.
Hearthstone is a digital collectible-card game set in the Warcraft universe that is available on PC, Mac, Android and iOS. In the turn-based card game between two opponents, players can use constructed decks of 30 cards along with a selected hero with a unique power. Players use their limited mana crystals to play abilities or summon minions to attack the opponent, with the goal of destroying the opponent's hero.
The team describes Hearthstone as a mix of chess and poker — with wizards. There is so much strategy involved that the team has an Excel file with statistics breaking down their style of play and their opponents. The students practice more than 10 hours each week.
"It's a giant mind game," said Christoforo. "You have to figure what you think the opponent is going to do next, while keeping in mind they are doing the same thing you are."
To prepare for the collegiate championship in Houston, the RIT team had to create and submit each of the decks they will be playing with ahead of time. Matches at the championship will be best of five games.
"We need to keep a positive mentality and stay calm," said Anderson. "If you make a bad move, don't rule yourself out and move onto the next game."
Other titles being played at the ESPN Collegiate Esports Championship are Overwatch, Street Fighter V: Arcade Edition, StarCraft II and Heroes of the Storm. Tespa hosted the qualifying rounds for Hearthstone.
"As universities continue to grow their esports programs at the varsity, non-varsity and club levels, we're proud to be providing a platform for national exposure and recognition of some of the most talented players in the collegiate space," said John Lasker, vice president of digital media programming for ESPN, in a statement.
RIT Esports currently has about 130 students playing in 14 different competitive esports. The university has won four national championships in the games Dota 2, Dropzone and Rainbow Six: Siege. In early 2019, RIT announced that it is joining the Electronic Gaming Federation (EGF) and adding a new esports lounge on campus for competitions and practice.
On the academic side, RIT has been a pioneer in the field of video game design and development, creating a master's degree in 2006 and a bachelor's degree in 2007. The university has been ranked one of the top schools in the world to study video game design for the last five years, according to international rankings from The Princeton Review.
To learn more about RIT Esports, go to esportsrit.com.
Watch RIT's Hearthstone team compete May 10-12 at twitch.tv/espnesports, ESPN Esports Youtube and ESPN 3.