RIT hosts all female, femme and nonbinary hackathon Feb. 29 – March 1
Annual WiCHacks event aims to support college students interested in computing and STEM careers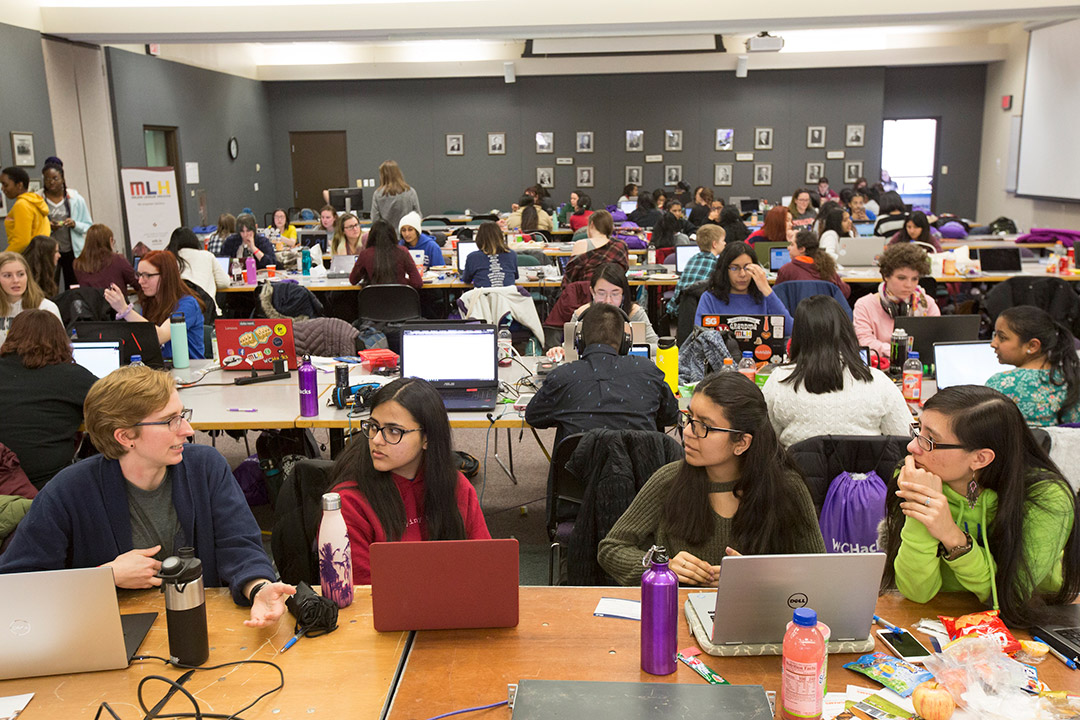 Ellen O'Neill
College students who want to break into the computing industry can start at the upcoming WiCHacks hackathon Feb. 29 – March 1 at Rochester Institute of Technology.
Participants and volunteers can apply now through the WiCHacks website.
The free collaborative programming event is open to all female, femme and nonbinary college students who are at least 18 years of age. The hackathon is for participants of all skill levels—from those who have never programmed to coding experts.
The seventh-annual WiCHacks event will be held throughout the day and overnight at MAGIC Spell Studios, on the RIT campus. For the two-day hackathon, teams work together to create apps, websites, games and other software that provide unique solutions to problems.
More than 200 students typically attend the event, including teams from colleges across the northeast.
"WiCHacks creates a safe, creative environment for attendees of all skill levels, while also promoting and welcoming the presence women and gender minorities in technical fields," said Dominique Molee, a RIT third-year computing and information technologies major from Kinnelon, N.J. and WiCHacks committee head. "The event really fosters a lot of learning and collaboration, which always leads to so many fun, inventive and exciting projects."
For example, at last year's hackathon one team of RIT students used Python, Unity and Bootstrap to create their "Know Cooking Experience" project. The award-winning game used virtual reality to allow people to "cook" meals and test out their cooking skills. The team went on to submit their game to RIT's Tiger Tank competition.
After more than 20 hours of project building and hacking, students will be able to showcase their work for judges and other participants. An awards ceremony will take place around 3 p.m. Sunday.
Keynote speaker Anne LaPerla will talk about her journey and experience as an accomplished woman in the technical field. She'll also answer hacker questions. LaPerla supports program delivery at Gartner, as a senior technical project manager for the Information Security team.
The event is run by RIT's Women in Computing group, in the Golisano College of Computing and Information Sciences. Meals and snacks will be provided.
RIT hosts the event to help narrow the gender gap in the computing industry. According to Accenture and Girls Who Code, current studies show that women will hold only one in five computing jobs in the U.S. by 2025.
Go to the WiCHacks website for more information. Participants must register before arrival.
Topics