RIT researchers among finalists for National Science Foundation Big Ideas Competition
Professors propose integrated human-machine intelligence for NSF 2026 Idea Machine contest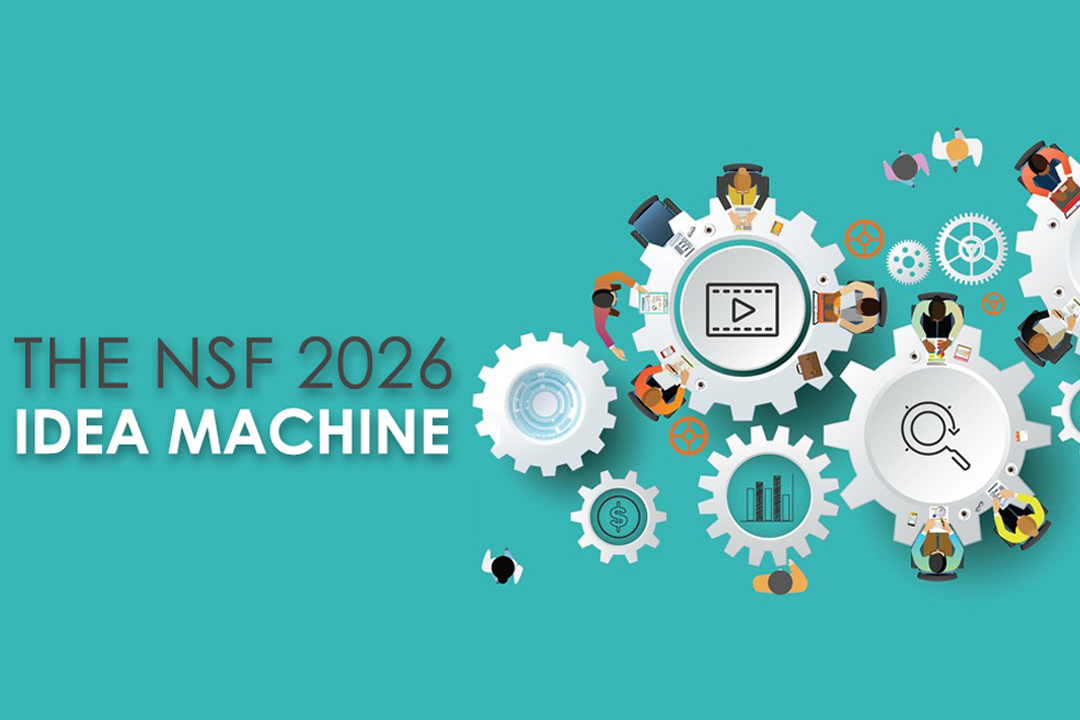 Five RIT professors have an idea that could shape the future of science, technology, engineering and math research in the U.S. Their idea has made the short list for the grand prize in the National Science Foundation 2026 Idea Machine competition.
The NSF competition challenged people to suggest the pressing research questions that need to be answered in the coming decade—the next set of "Big Ideas" for future investment by the NSF. Out of more than 800 idea submissions, RIT's proposal is one of 33 still in the running for the finals.
In the next stage, the NSF is asking the public to determine which entries will advance. People can watch video pitches and comment on their importance, as well as provide suggestions on how the ideas can be improved. People can view and comment on entries until June 26.
"We're very happy to move on to the next stage and help guide NSF's goals for the future," said Pengcheng Shi, director of RIT's Computing and Information Sciences Ph.D. Program. "It shows that the NSF panel, and the rest of the world, really see the value and importance of our work."
For the competition, RIT's computing experts are proposing a future where human cognition and artificial intelligence can work together seamlessly to advance any discipline. To watch RIT's five-minute video on Integrated Human-Machine Intelligence, go to the NSF website.
"We all know that humans are benefiting from machine intelligence advancement," said Shi. "But on the flip side, artificial intelligence should be taking advantage of human knowledge, human experience, and our ethical, legal and social understanding."
Shi explained that simply keeping humans in the loop with AI learning is not enough. Human expertise should remain an integral part of the AI's problem solving and decision-making process — not just providing inputs.
RIT's Big Idea proposal said that, "integrated human-machine intelligence will fully and seamlessly synergize human domain expertise and machine's computing power, enabling them to collectively tackle highly challenging tasks in specialized domains that neither could individually perform to satisfaction."
The five computing experts involved have all spent their careers keeping humans in the loop with AI development. Some have used AI to better understand medical images, while others have explored how to encode human knowledge into the AI loop.
RIT researchers involved with the project include:
• Shi, whose expertise is in computer vision and computational physiology. He is also associate dean for research and scholarship in RIT's Golisano College of Computing and Information Sciences;
• Qi Yu, associate professor in the Department of Information Sciences and Technologies, whose expertise is in data mining and security intelligence;
• Linwei Wang, associate professor in the Computing and Information Sciences Ph.D. Program, whose expertise is in statistical inference and precision medicine;
• Rui Li, assistant professor in the Computing and Information Sciences Ph.D. Program, whose expertise is in machine learning and cognitive science;
• Anne Haake, dean of RIT's Golisano College of Computing and Information Sciences, whose expertise is in human-computer interaction and bio-medical informatics.
Researchers also noted that ultimately, integrated human-machine intelligence is interdisciplinary because it will be adopted for specific uses to make things happen. It will be applied to different domains, including business analytics, cybersecurity or medicine.
"There is nothing out there that's much hotter than artificial intelligence right now," said Shi. "We've already gotten reactions from people who are really impressed by our idea. They said we are posing an extraordinarily important next step for where the AI revolution should go."
The NSF 2026 Idea Machine contest aims to help set the U.S. agenda for fundamental research in science and engineering— through the nation's 250th anniversary in 2026 and beyond.
Around a dozen finalists will be interviewed by a blue-ribbon panel of experts this summer, and up to four grand prize winners will be named by September. Each final winning entry will receive a cash prize of $26,000 and its authors will be invited to a recognition event in Washington, D.C.
To review and comment on RIT's entry by June 26, go to nsf2026imgallery.skild.com/entries/integrated-human-machine-intelligence.