Hot Wheelz celebrates 10 years with alumni and team event April 24
Building a competitive solar car is the newest challenge for the all-female race team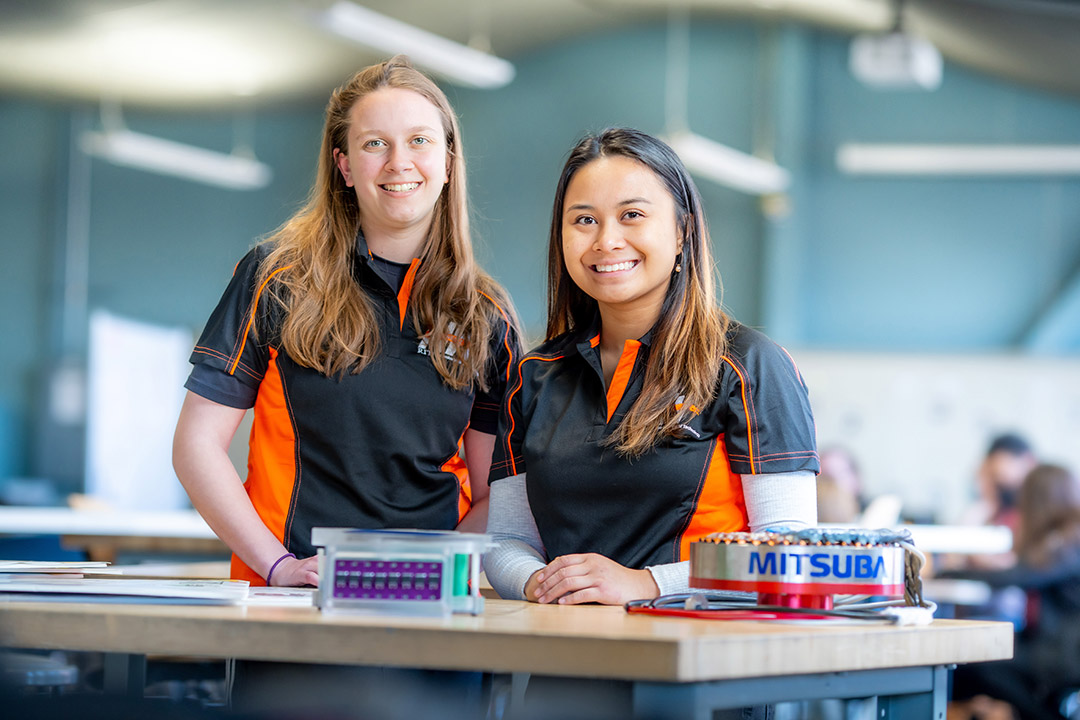 What started with a go-cart at Imagine RIT: Creativity and Innovation Festival morphed into an all-electric race car when Hot Wheelz began 10 years ago. The team would make history at a Formula Hybrid competition as the first all-female team at the event and take top placements in the annual collegiate design challenge.
On April 24, current team members and alumni will celebrate a milestone anniversary and take the next lap in its history showcasing plans for a new competition solar car.
"The solar car is very similar to our electric car," said Isabella Daquita, co-project manager with Cecilia Weber, both graduating this year with degrees in mechanical engineering from RIT's Kate Gleason College of Engineering. "We are just adding the solar array to our systems and designs."
Can-do has been a big part of the team since it began. Each group of female engineers seems to bring a competitive spirit to the starting line plus a desire to learn how to build a race car—and a team.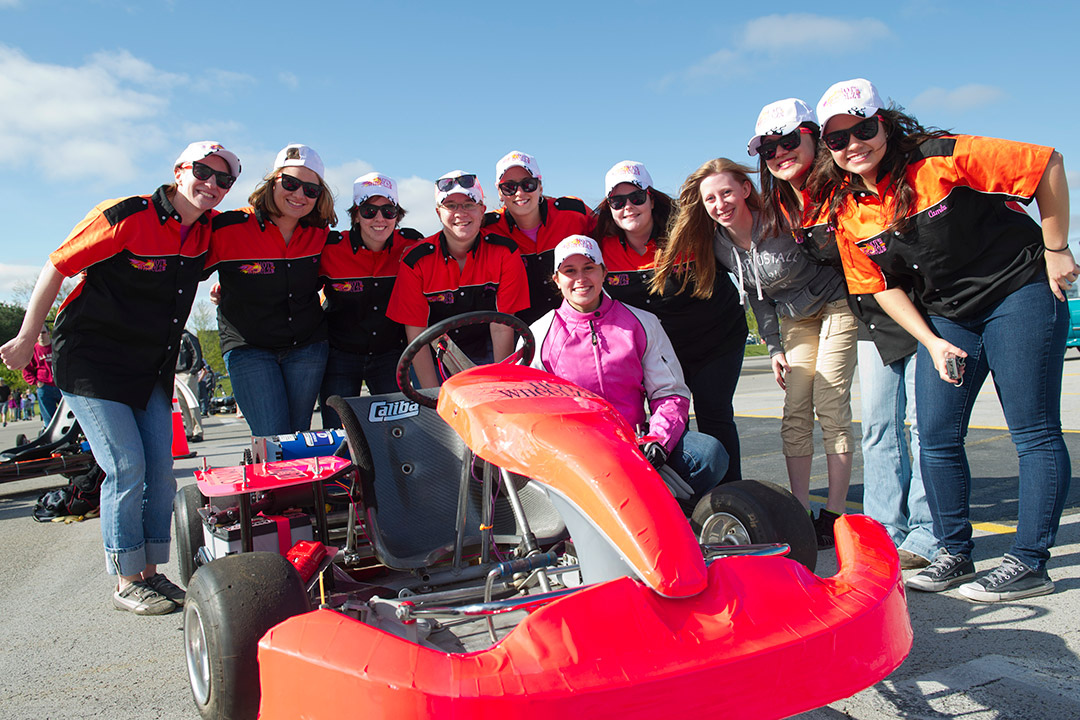 Elizabeth Lamark
Starting with smaller competitions during the 2012 Imagine RIT festival, the team's determination grew and prompted them to make the leap from the small track to a major competition at New Hampshire Motor Speedway.
"Hot Wheelz team created a safe space for taking concepts learned in the classroom and applying them to a tangible large-scale project without fear of failure or judgment since we all leaned on each other for support and growth," said Maura Chmielowiec '16 (mechanical engineering), team co-founder with Jennifer Smith '16 (mechanical engineering). "For me personally it was exciting to see so many people from various disciplines throughout the university show interest in something I had always been passionate about—cars and racing."
Chmielowiec oversaw the build process and was one of the drivers. Smith, who also took the wheel for different competition events, led design presentations that impressed judges with the extent and details of the overall build process.
Building RIT's new solar car is following the same pattern with the team taking a year to formulate the extensive system requirements and resources needed. They are connecting with experienced teams and alumni to build a sponsor base; engaging alumni, faculty, and staff with expertise in solar design; and collaborating with top race teams about outsourcing parts and systems that cannot be built in house. RIT remains one of the few collegiate design teams that build original parts for competition vehicles.
Hot Wheelz expects to compete in the 2023 Formula Sun Grand Prix, a track event with national and international collegiate teams. It is also a proving ground for the more demanding American Solar Challenge, a cross-country journey.
Solar cars are unmistakable—flat topped, quiet, and propelled by the energy of the solar array atop the vehicle.
"Ours is 14-feet long by 6-feet wide to fit the solar array. It will be a flat top car made of completely composite materials. It will be the first fully composite chassis of this size," said Daquita, who will begin working at SpaceX this summer. "After talking to a lot of teams, they recommended not making our own chassis from scratch for our first car. That would take three years in itself."
The solar car community is welcoming of new teams. RIT has worked with some of the top teams in its planning stages, including national leader MIT. On campus and in Rochester, Hot Wheelz built a community of friends around them — from campus faculty and staff to corporate partners and mentors.
"We engaged with Professor Santosh Kurinec before we had encapsulated the cells, and she gave us test panels to practice with," said Julia Visconte, from Brockport, N.Y., and soon to graduate. She will begin work at United Launch Alliance in Denver.
One of the biggest investments in a solar car is the array of cells needed for the top of the vehicle. Hot Wheelz won theirs in a drawing at a conference the team attended as part of its planning year. Donated by Sun Power, a residential and commercial solar technology company, the cells were incentives for new, deserving teams.
"When Hot Wheelz decided to make the jump into the Formula Hybrid competition, Jenn and I had to worry about the technical challenge of building a car from the ground up but also the leadership and management aspect of running a large team," said Chmielowiec, a systems engineer with L3Harris Technologies. "You have to remember that extracurricular teams such as Hot Wheelz are a volunteer effort. I believe that our success in building and growing the team was a direct result of being willing to take a step back and showing people how to enjoy learning new skills, how to enjoy the memories being made throughout the project, and of course the team dance parties didn't hurt." 
The current team will have an exhibit at Imagine RIT on Saturday, April 23, and will gather with approximately 50 alumni, faculty mentors, and partners to celebrate its 10th anniversary at an invitation-only brunch on Sunday, April 24, in Slaughter Hall, room 2140.
Topics