Hot Wheelz wins in Formula SAE electric category
Top placement comes in only second year of competing; team is also recognized for engineering excellence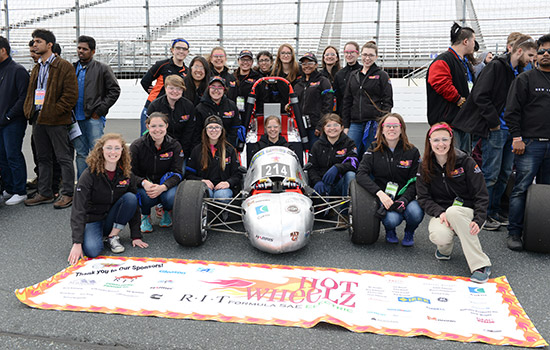 Karen Endicott, Thayer School of Engineering at Dartmouth College
The all-female RIT Hot Wheelz Formula SAE Electric vehicle team took home first place in the Electric-only category at the 2017 SAE Formula Hybrid competition May 5 in New Hampshire Motor Speedway, along with other trophies and recognition. The team also received the IEEE Excellence in Electric Vehicle Engineering trophy, a top award given in recognition of a team's overall engineering process—from its design and build procedure to assessment of team performance, dynamics, attention to detail and the team's ability to establish or continue a legacy.
Ford Motor Co. also recognized the Hot Wheelz team for their outstanding teamwork, spirit and success at the competition with an autographed bumper from NASCAR driver Greg Biffle.
"It was so exciting to be recognized in the middle of the competition by Ford," said Missy Miller, team project manager and a fifth-year industrial and systems engineering student from Belvidere, N.J. "They don't provide formal awards at the competition, so for them to approach us halfway through the competition with their version of an award was so rewarding for the girls."
Hot Wheelz, only in its second year participating in Formula Hybrid competitions, took top placements in the design, autocross, acceleration and endurance categories and won first place in the project management presentation.
"This year we wanted to make sure that we were a strong competitor in all of the events on the track," said Kathleen Lamkin-Kennard, faculty adviser to the team and associate professor of mechanical engineering in RIT's Kate Gleason College of Engineering. "The team was really well-prepared and they were able to make it through all of their inspections early, which gave them a significant advantage, particularly for the endurance run – one of the most challenging events for an all-electric vehicle."
The team completed all the required inspections by Monday afternoon, and many teams didn't finish those requirements until Thursday, said Sarah Burke.
"During the endurance race, we completed 31 of the 44 laps on the battery, the longest any all-electric team completed this year. All-in-all, a great set of accomplishments for this team in only two years of competing," said Burke, who is also a team adviser and career services coordinator in RIT's Office of Career Services and Cooperative Education.
The SAE Formula Hybrid competition is an interdisciplinary design and engineering competition in which students must design and build a formula-style electric vehicle and compete in a series of events both on and off the track.
Last year, Hot Wheelz competed for the first time at Formula Hybrid, hosted by Thayer School of Engineering at Dartmouth since 2006. They built their electric vehicle from the ground up and placed third overall. Heading into the new season, Hot Wheelz improved their vehicle, incorporating custom, team-made battery packs, a remote data acquisition system that could be accessed by the pit crew while driving, and by refining previous mechanical designs, Miller explained. The new designs proved successful.
"One thing that really set our vehicle apart at competition was our custom battery packs and the ability to access information on our system from the stands while Phoebe, our car, was on the track," she said. During competition, team members communicated with the driver via Bluetooth about battery status.
"The girls worked so hard to design and build their own battery packs, and competition was an opportunity to see all of that hard work come to fruition," said Miller.
The team unveiled their racecar at the recent Imagine RIT: Innovation and Creativity Festival, where the team has some history. In 2012, the team built a modified electric go-cart and took the checkered flag in the festival's E-Dragster feature event. They have come a long way from modifying a go-cart to building a champion 82 horse-power, 744-lb electric hybrid Formula-style race car.
"And we're not done yet!" said Miller.
Additional competition photos, taken by team adviser Marty Schooping can be found at the 2017 Formula SAE Electric photo gallery webpage.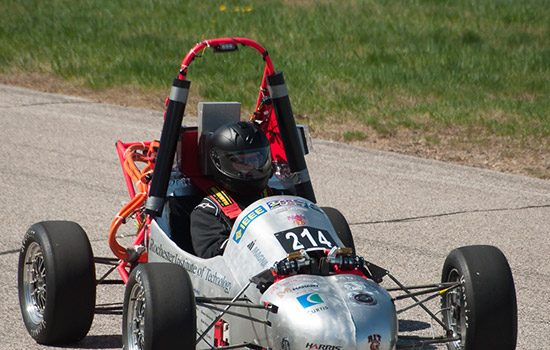 Marty Schooping
Topics