American Solar Car Challenge Launches 'Eight States in Eight Days' Race
Collegiate competition begins from RIT on July 14 for the 1,600-mile journey around the Great Lakes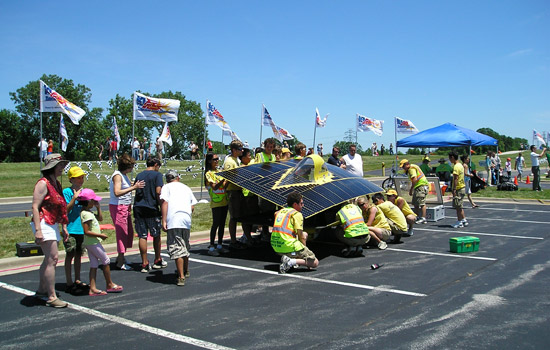 Provided by American Solar Challenge
Solar cars are something out of science fiction with their flat tops, bubble cockpits and sleek, futuristic designs. Yet these cars of the future are being designed and driven by the student-engineers of today.
Solar-car teams will be traveling "Eight States in Eight Days," a 1,600-mile route bordering the Great Lakes, in the 2012 American Solar Challenge launching at 9 a.m. July 14 from Rochester Institute of Technology.
A media and display day with the teams will take place at RIT noon-4 p.m. July 13 in G Lot, near the front entrance of RIT on Jefferson Road.
"RIT is proud to be the starting point of the 2012 American Solar Car Challenge," RIT President Bill Destler says. "Events like this are just one way to support and encourage students as they bring their ideas to fully develop the new, green technologies."
The American Solar Challenge is a collegiate design competition and race where multidisciplinary student teams build solar-powered vehicles and travel a pre-determined route along U.S. highways and roadways, facing hills, traffic, unpredictable weather and the need to manage power for the solar arrays installed as the main fuel for the vehicles. The arrays consist of inter-connected photovoltaic solar cells that convert sunlight into electricity. Some cars can reach up to 50 miles per hour. The team that completes the route in the lowest overall elapsed time wins the challenge.
Colleges competing from the U.S. include state universities from Iowa, Oregon, Illinois and Kentucky as well as the 2010 winning team from the University of Michigan. The University of British Columbia, Canada, will compete, and New York's lone representative is from the State University of New York at New Paltz.
"We are extremely excited that RIT will be hosting this year's American Solar Challenge. RIT's reputation and enthusiasm makes the university an excellent partner for this event," says Gail Lueck, race coordinator. "We invite the public to come out for this unique opportunity to see the cars and meet the teams during the display day, and then come back on July 14 to cheer them on as they start their journey west."
Each year the route varies, and for the 2012 challenge, solar car teams will ride around the Great Lakes including Rochester; Erie Pa.; Mansfield, Ohio; Ann Arbor and Kalamazoo, Mich.; Normal, Ill.; Verona and La Crosse, Wis.; and ending in St. Paul, Minn.
More information can be found at the American Solar Challenge website.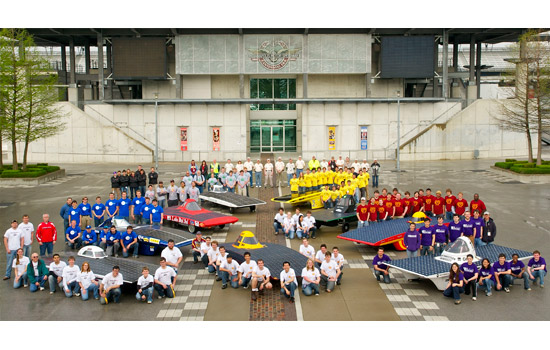 Nearly 20 collegiate solar car teams will compete in the 2012 American Solar Car Challenge July 14. Teams will begin the competition at RIT. This group of teams from the 2011 event gathered in front of Indianapolis International Speedway, home of the Indianapolis 500, for photos before starting the race. Provided by American Solar Challenge