Hot Wheelz takes flag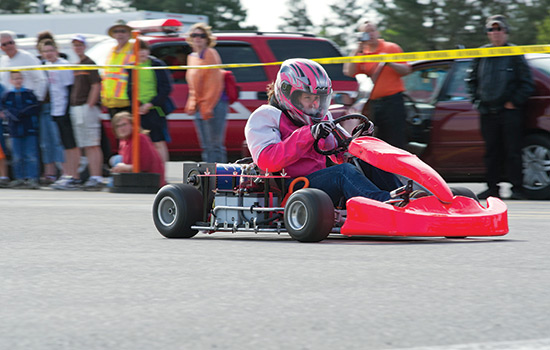 Elizabeth Lamark/ETC Photo
The e-dragster team captain is aptly named Ferrari. The driver of the speedy electric vehicle raced cars and motorcycles growing up.
They are part of the nine-member, all-female Hot Wheelz team that went 100 meters in just under six seconds to win the E-Dragster Race at this year's Imagine RIT: Innovation and Creativity Festival. More than a dozen teams competed in the electric-powered vehicle drag race against RIT President Bill Destler on May 5.
Students from the Women in Engineering program used a light-weight go-cart chassis fitted with six AGM-lead batteries to power the 72-volt, 10-horsepower motor to give them the edge in the competition.
Driver Maura Chmielowiec, a first-year mechanical engineering student, reached a top speed of 58 miles-per-hour. "Doing this," she said, "I got to see that my mechanical engineering knowledge can be paired with electrical to create something really great—and absolutely fast." Natalie Ferrari, captain of the Women in Engineering team, agreed. "We kept tweaking and tweaking the car the last few weeks. It really paid off," said the mechanical engineering major from Greensburg, Pa.
The team chose an antique banjo from Destler's personal collection instead of $1,000 for the grand prize, saying the banjo was a trophy in itself, something they could keep and display to remember the victory.