Reviving the concrete canoe and steel bridge teams
Both teams strive to make an impact at competition after the disruption of COVID-19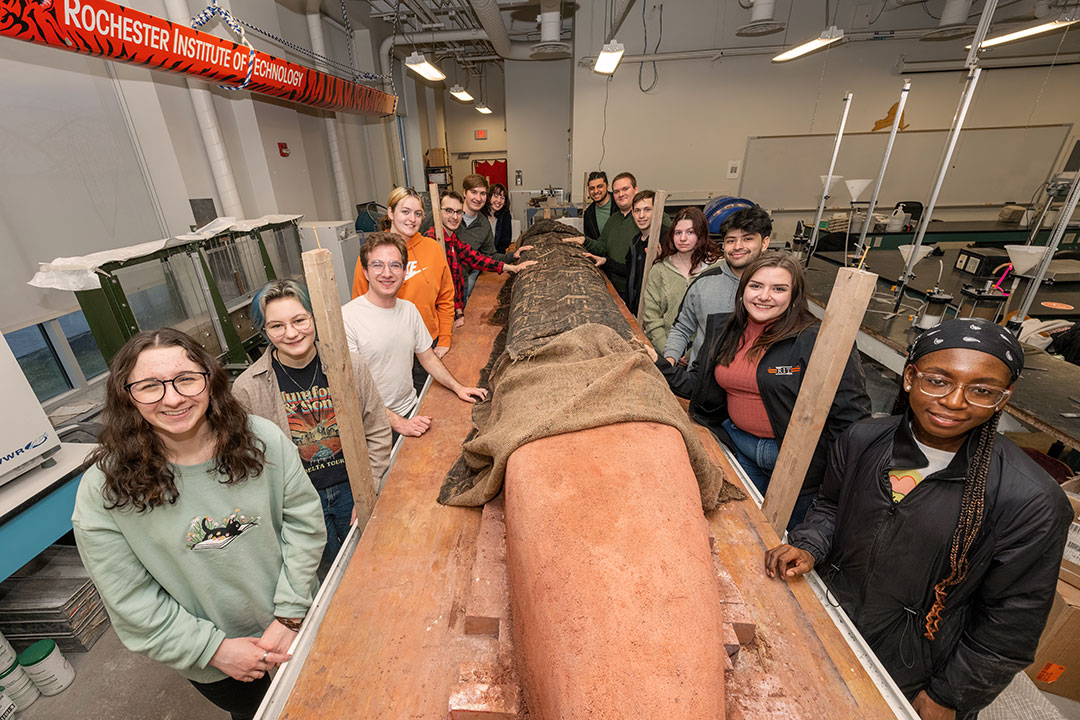 The excitement in Amelia Tesch's and Andy Rosenberg's voices as they talk about RIT's concrete canoe and steel bridge teams is infectious. "It's just such a joy to my life," said Tesch, the captain of the concrete canoe team.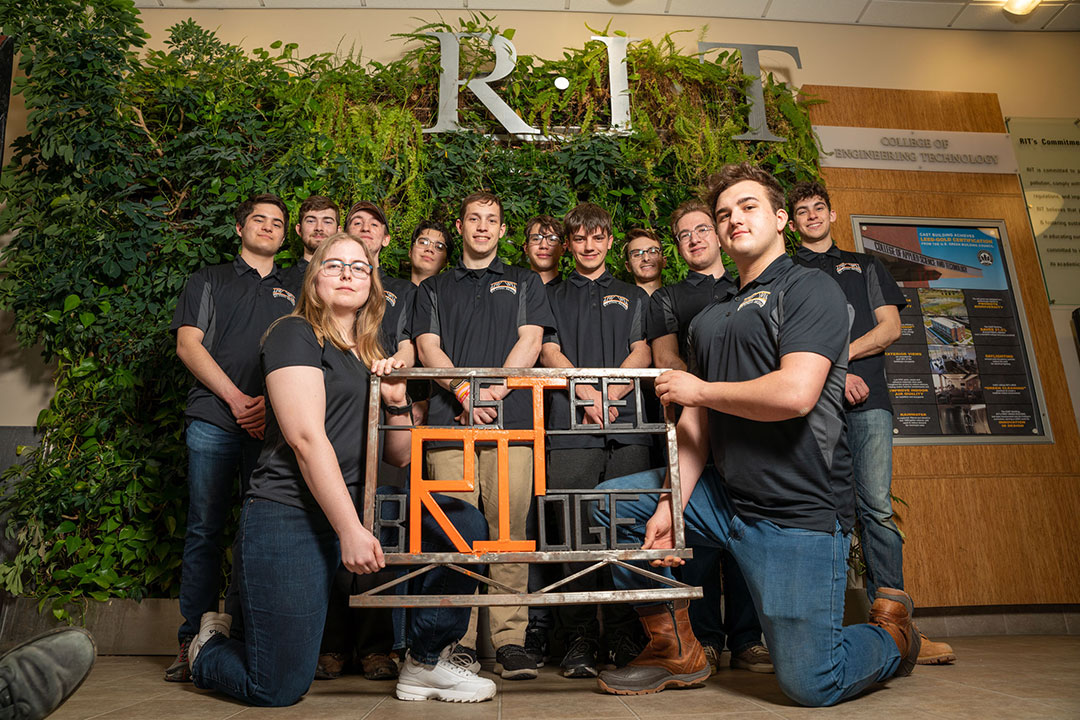 Travis LaCoss
This year will see both teams presenting their products in person at the regional Upstate New York-Canada ASCE Student Symposium on April 20-22 for the first time as a pair since the beginning of the COVID-19 pandemic. 
Concrete canoe and steel bridge are national competitions run by the American Society of Civil Engineers (ASCE). In each competition, teams from colleges and universities across the U.S. build the product type stated by the competition name, aiming to outperform the other teams first in regional student symposia and then in a national competition.
The steel bridge competition requires each team to create an explanatory poster alongside the bridge itself, and the competition's rules explain that the scoring categories include "aesthetics, construction speed, lightness, stiffness, construction economy, structural efficiency, and cost estimation," as well as overall performance of the bridge. The concrete canoe rules explain that teams are scored based on a project proposal document, a display of their canoe prototype, a presentation, and the performance of the canoe in multiple types of races. 
The regional competitions provide students in each team an opportunity to show off the results of many hours of hard work outside of their regular classwork. But due to the COVID-19 pandemic, the 2020 competition was canceled, and the 2021 competition was virtual.
After this disruption, RIT's teams struggled. But this adversity motivated Tesch and Rosenberg, who are both civil engineering technology majors. 
Tesch, a third-year student from Omaha, Neb., explained that she and her teammates barely made it to the 2022 competition. But the experience boosted the team's morale and knowledge, helping them gain more members and prepare for this year's competition. "For those of us who were on the team last year, canoe almost became our baby, we loved it so much," she said. "I wanted to make sure that the new people loved it just as much, and I feel like they have been, so it's been super exciting." 
Both teams prioritize mentorship and relationships between students of different year levels. Rosenberg, a fourth-year student from Boston and captain of the steel bridge team, remembers his place on the team as essential during his first year. "My freshman year was kind of difficult for me. When I joined those clubs, it helped me find some footing socially and to feel like I had a place here at RIT and to be connected with older students who were able to give me advice and mentorship, students that I looked up to." 
Tesch still remembers feeling inspired in her first year by concrete canoe's previous captain. "Kristy Stine was the captain, and seeing a woman in civil engineering is so hard to come by, and she's running a club," she remembers. "It definitely encouraged me to join clubs and then also want to build up into leadership positions in that club."
In addition to providing opportunities for practicing teamwork and building relationships, the concrete canoe and steel bridge teams boost the students' technical skills. Amanda Bao, the faculty advisor for RIT's chapter of ASCE and an associate professor in the Department of Civil Engineering Technology and Environmental Management and Safety, explained that the rules of both competitions push students to align with a current goal of the civil engineering industry at large to reduce carbon emissions by using more environmentally friendly materials.
"I came from industry before I started teaching, and all of my colleagues as bridge designers had the steel bridge experience when they were in college," she said. "So everyone knows the type of technical skills, time commitment, and teamwork that's all involved in this type of competition."
Both Tesch and Rosenberg said that their participation on the teams had been a conversation starter in interviews, and that the skills they had learned outside of the classroom on the teams enhanced their knowledge inside the classroom. But for both, the teams hold much more meaning than a simple resume builder.
"When I leave here, I can look back and say I was the captain, and this is what I achieved, and this is how I left the school, and this is the impact that I made," said Rosenberg. "So it's important to me in that way, in leaving my own personal legacy."
The concrete canoe and steel bridge teams will display their products at Imagine RIT on April 29.
The steel bridge team includes Amanda Bao as faculty advisor; Andy Rosenberg as captain; Drake Saysomvang, Albert Petry, Ben Thomas, Harrison Re, James Warren, Madi Bowman, Jacob Aleksandrowicz, Jonathan Meli, Roman Barnes, who are all civil engineering technology majors; Justin Royster, a film and animation major; and Sean Clarkson, a mechatronics engineering technology major.
The concrete canoe team includes Lois Furioso as faculty advisor; Amelia Tesch as captain; Andy Rosenberg, Jennifer Motsko, Jennifer Leonard, William Hostetter, David Blake, Lawton Watts, Harrison Re, Della Conlin, Jonathon Meli, Rachel Laibowitz, Virginia Max-Dixon, Leah Mestayer, Sam Morgan, who are all civil engineering technology majors; Ian Jerez, an environmental sustainability, health and safety major; and Kailey Gayton, a packaging science major.