'SOMNIUM' merges performing arts and video gaming at RIT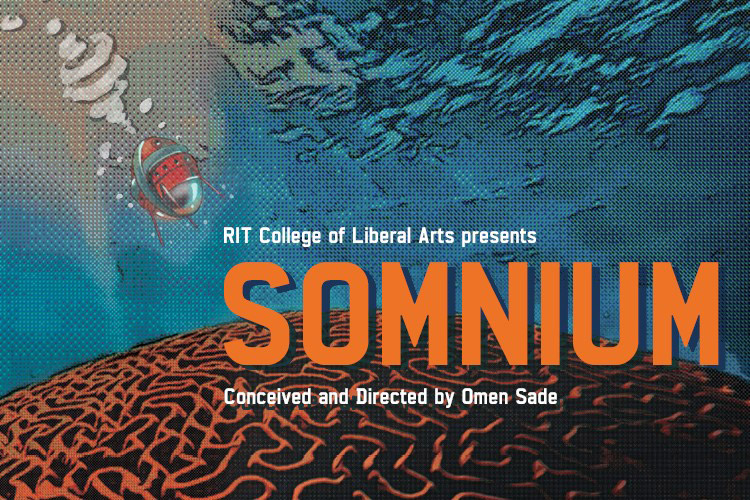 Physical distancing and the inability to perform in front of a live audience during the COVID-19 pandemic hasn't stopped the cast and director of SOMNIUM, which premieres online Friday.
Conceived and directed by New York City-based theater creator Omen Sade, SOMNIUM is a cross-departmental, interactive digital-theater experience that Sade calls a hybrid between a video game and a film experience, featuring actors and a green screen, which provides a virtual reality space allowing the audience to participate.
"None of us really knew what to expect from this process," Sade said. "We were all taking a leap into the unknown here, venturing into unknown territory in the theater side of it, as well as into the digital arts world, the game design world, and the world of filming and video production. There was not an individual on these teams who have ever done anything like this."
There are six cast members — all RIT students or alumni. And all of the scenes have been developed by student 3D computer-artists.
"Our main goal was to make everything safe in terms of the pandemic," Sade said. "Each actor was filmed completely separately. If the scene has five people in it, we filmed it five different times, once for each actor."
Those recorded scenes were then dropped into the game and compiled in such a way that the audience will determine what they will see depending on which way they turn in the game.
"There was a real struggle in the arts community, and there is a lot of pressure to do it live," Sade said. "I felt that pressure early on. But telling this story by prerecording the actors far outstripped the 'live' online possibilities. Undoubtedly, it will evolve, but at this moment, the technology is not sufficiently able to support a complex live performance."
The plot features a group of scientists who search for the origins of dreams, in a style Sade said could be referred to as "retro futurism."
"It has a lot of the classic 1950 sci-fi vibes, when we idealized the future and thought science was going to fix all of our problems," Sade said. "Now with COVID, that idea about looking towards the future for solutions is still worthwhile."
Sade, whose background is in physical theater, said originally cast members were supposed to create images and tell stories through their bodies and movement of objects.
"The biggest transition for me was to figure out how you direct over Zoom," he said. "This forced me to direct differently and maybe made me a better director."
Nearly 50 students have been involved in the production, including 20 students in a Virtual Worlds class taught by Elizabeth Goins, associate professor in RIT's Department of Performing Arts.
"Working on team projects allowed the students to connect in ways that we haven't been able to due to the pandemic," Goins said. "They all did a great job."
Mike DiGiulio, a third-year electrical/mechanical engineering technology major from Troy, N.Y., served as the sound designer for the project responsible for all of the music and sound effects.
"This whole production has been an entirely new experience, and I've really enjoyed taking what I know and am passionate about, which is music, and applying it to the new format," DiGiulio said. "This style of theater is something I've never done before, as I've always been a very dedicated pit musician. But now I get to shift my focus from my technical ability of playing instruments to my creative ability of writing original music. It's been an absolute blast to have a project where that is something I can do."
And Hannah Ni, a third-year industrial design and graphic design double major from Boston, designed the production's poster for a class project.
"When we accepted the poster design challenge, the script for the play was still under development and we didn't have any reference image from the play, just an outline of the story," Ni said. "It allowed us to use our imagination and go wild for our design and am glad that the poster turned out to be something great."
While a totally virtual performance wasn't originally planned for the production, Sade said artists have a way of overcoming challenges placed before them with innovation.
"This is part of the history of theater, showing we have the ability to evolve," Sade said. "Theater communities may be operating one way, then the political or social landscape changes and they have to adapt."
The game will be available on a site called itch.io and can be downloaded by anyone, regardless of RIT affiliation or not. There will be download instructions once audience members get to the site. For more information and to receive instructions on how to download SOMNIUM when it launches, go to the SOMNIUM webpage.
Topics