Fulbright scholar Ashley Tucker will travel to Nigeria to research malaria testing
Tucker's work will potentially lead to new diagnostic methods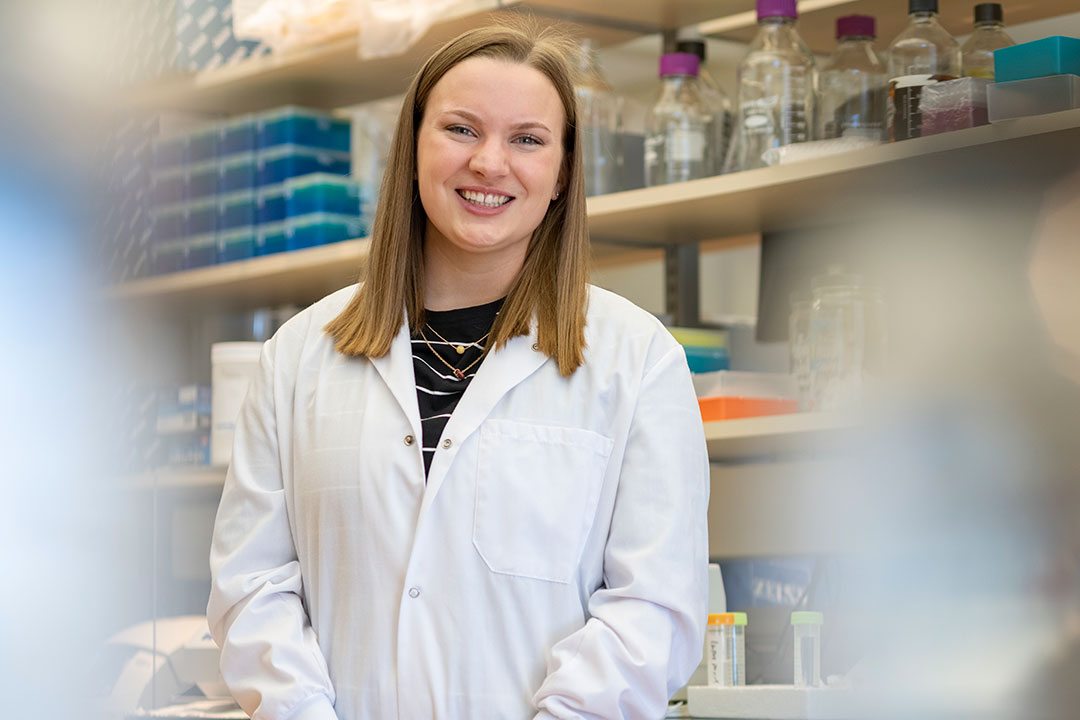 Ashley Tucker, a graduating senior majoring in biomedical sciences and biology in RIT's College of Health Sciences and Technology and College of Science, will travel to Nigeria at the end of the summer on a Fulbright Research award. Tucker will work with a malaria research group at University of Ibadan College of Medicine. Her research will help improve the rapid diagnostic testing for the deadly tropical disease.
The mosquito-borne parasite that causes malaria can carry a mutation that leads to false negative tests. Tucker will analyze samples collected from people across Nigeria for mutations and compare her findings to the rapid diagnostic test results. Her research will create a regional picture of where the mutations are prevalent in the country and potentially lead to new diagnostic methods.
Tucker, originally from Argyle, N.Y., and a first-generation college student, will apply to M.D./Ph.D. programs this summer before she leaves for Nigeria.
"I want to go into immunology, maybe infectious disease, which is relevant to the Fulbright I am doing, and I like pediatrics," she said. "I would like to combine all those into one career."
Tucker always knew she wanted to be a medical doctor, and her exposure to research in RIT Professor Bolaji Thomas' biomedical sciences lab expanded her career possibilities. Now, the COVID-19 pandemic has solidified Tucker's goal of becoming a physician scientist.
"We have seen the role doctors played in conducting research, getting us information, and developing the vaccine," Tucker said. "I think it really highlighted how important they are. Sometimes they can be behind the scenes because researchers aren't the ones who are giving you the clinical care when you go to the doctor's office or the hospital. I think COVID has definitely highlighted the importance of public health."
About the Fulbright program
RIT students have had a banner year in securing awards from the prestigious Fulbright U.S. Student Program. RIT has a record four Fulbright finalists plus three alternates for the 2021-2022 academic year. Students from the Kate Gleason College of Engineering, College of Science, College of Health Sciences and Technology, College of Liberal Arts, and School of Individualized Study will travel to Germany, Nigeria, and Turkey for immersive global learning experiences in the coming months. Read more about the finalists.
The Fulbright program provides students funding to study for a master's degree, complete an independent research project, or teach English for up to a year outside the U.S. During their grant period, Fulbright students meet, work, live with, and learn from the people of their host country.