RIT dietetics and nutrition student examines athletes' eating habits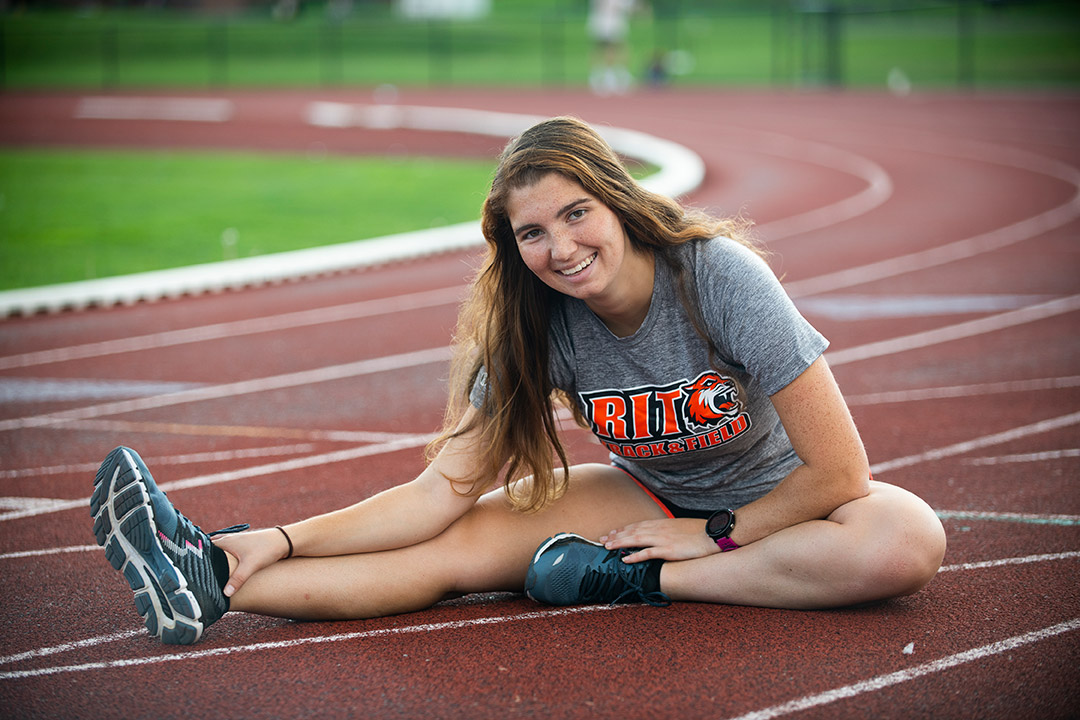 For Abigail Morrissey, sports nutrition is more than academics—it's about debunking misinformation about food and body size that promotes unhealthy eating habits among young women athletes.
Morrissey is a fourth-year dietetics and nutrition major in RIT's Wegmans School of Health and Nutrition and a student athlete on RIT's cross country and track and field teams. For her senior research project, Morrissey is analyzing the eating habits of RIT student-athletes and looks for trends and patterns among her peers.
Unhealthy habits include skipping meals, excluding certain food groups, and counting calories obsessively. Other red flags Morrissey is looking for include adherence to diets low in calories, low in carbohydrates, or high protein. Her semester-long project in "Health and Nutrition Research Foundation," taught by assistant professor Brenda Abu, looks at habits that revolve "too much on what you're eating and when you're eating."
According to Morrissey, coaches and other athletic professionals can unwittingly perpetuate poor eating habits among young athletes, especially those who compete in so-called "lean sports"—running, gymnastics, and dance, among others.
"Some young athletes have been told their whole life you need to eat less, you need to be smaller, you need to exercise more, and it is absolutely not true," Morrissey said. "It's really unhealthy, physically and mentally, to be telling young athletes information with no factual evidence behind it."
The message to eat less and exercise more stems from the misnomer that leaner, thinner, and smaller bodies make for better athletes. Morrissey encountered restrictive perspectives about body image in high school and on social media and educated herself about sports nutrition. She learned what she needed to perform well, reduce injury, prevent illness, and live a healthy life.
"You're asking a lot of your body when you are an athlete, especially at the collegiate or elite level, and you need food to build your muscles to get stronger and for energy so you can get through a workout," Morrissey said.
In the spring, she will review a sports nutrition guide for RIT Athletics as part of an independent study with her mentor Elizabeth Kmiecinski, associate professor in the Wegmans School of Health and Nutrition. Morrissey will collaborate with faculty from the Athletics Department to develop materials about sports nutrition for their athletes and to vet available media resources to share with their teams.
"Most athletes do not receive accurate nutrition education, and they turn to inaccurate information in the media to make their nutrition choices," Morrissey said. "One of the difficult aspects of being in the nutrition field is that we're competing with social media influencers who have 50 million followers."
The educational component is one of Morrissey's favorite aspects of the nutrition field even if it means having to correct misleading messaging from coaches and celebrities. Her work on the nutrition guide for RIT Athletics will have long-lasting benefits for current and future athletes.
"It's an important project, because poor nutrition carries consequences, especially for athletes," Morrissey said.
When she graduates in May with her BS in dietetics and nutrition, Morrissey will be one step closer to obtaining her registered dietitian credential. She will sit for her licensing exam following completion of a clinical internship and a graduate degree. The Academy of Nutrition Dietetics requires all incoming registered dietetic nutritionists in 2024 to hold a master's degree, and Morrissey, who will graduate in 2022, wants to part of the new wave of RDNs.
Topics