First students transition to law school as part of 3+3 program
RIT partners with Syracuse University College of Law to offer an accelerated 3+3 BS/JD program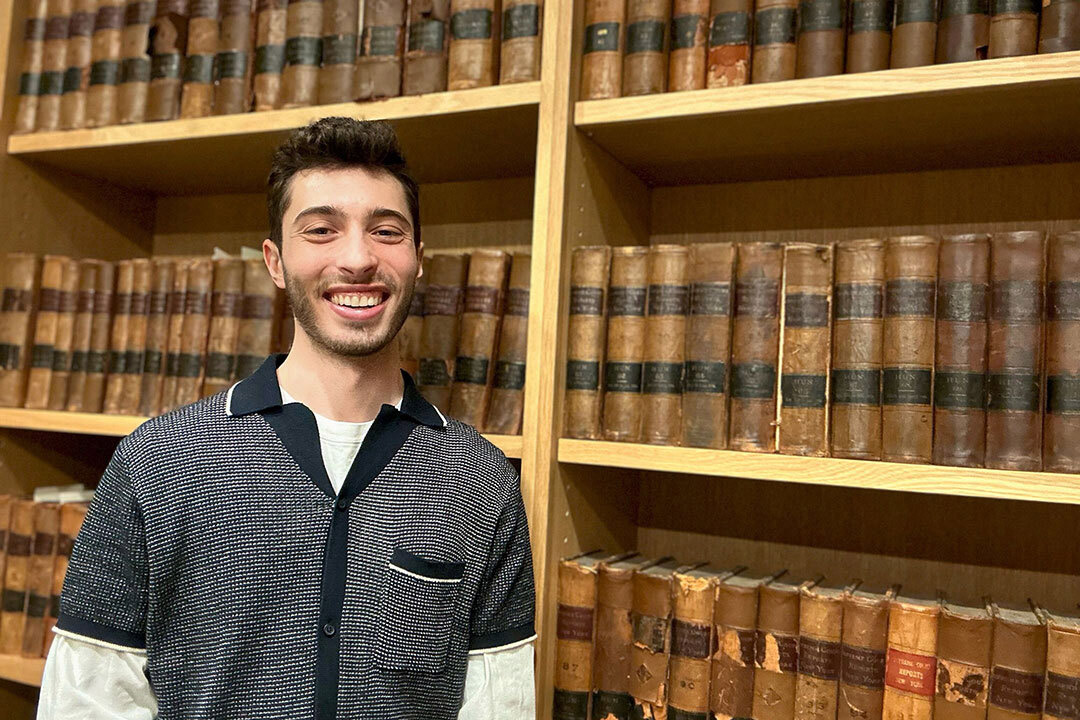 Zach Eichner began his journey at RIT as a biotechnology major, but after taking some public policy courses he realized he may be better suited for a different field. When he learned about the newly developed Accelerated 3+3 Law Program partnership between RIT and Syracuse University (SU), he said a lightbulb went off in his head.
"I started thinking this was something I wanted to do for the rest of my life, something that would bring me a different challenge every day," said Eichner. "The legal system has a tremendous impact in shaping policy and determining how people are actually affected. That's not an easy task, but the 3+3 program opened the door and gave me the confidence to step into beginning my legal education."
Eichner is graduating from RIT with a bachelor's degree in public policy this month while simultaneously finishing his first year of law school. He was the first student in the program to transition to SU, but the next cohort of RIT pre-law students is following closely behind and is slated to begin their first year of law school in the fall.
RIT's College of Liberal Arts partnered with SU's College of Law to offer this accelerated 3+3 program. The biggest benefit of enrolling in the program is that it allows students to complete both a bachelor's degree and Juris Doctor degree in six years as opposed to the traditional seven-year timeline.
Jennifer Gaylord is a practicing attorney who joined the College of Liberal Arts in 2022 as the pre-professional studies coordinator and academic advisor for students in the 3+3 program. According to Gaylord, the time and resources saved by participating in the program, paired with the personalized advising and support students can benefit from, is invaluable.
"Students are guided by an experienced attorney through course selection, internship and experiential learning opportunities, LSAT preparation, and more when they're part of the program," said Gaylord. "Applying to multiple law schools is a grueling process. Because a student is participating in the 3+3 program, they won't have to expend valuable time, energy, and money applying to a bunch of different law schools and paying additional application fees."
Third-year student Kate Hickey is one of the students headed to SU in the fall. Unlike Eichner, Hickey had known she wanted to pursue law from a young age thanks to a pink-clad, pop-culture icon.
"I first had the dream of becoming a lawyer at the age of 10 after watching Legally Blonde. It may seem silly, but big dreams usually have humble beginnings, in my experience," said Hickey.
Hickey, from Halifax, Mass., was originally planning to get a degree in international business before pursuing a law degree. Once the 3+3 program was announced, she pivoted and, ultimately, became a double major in international and global studies and public policy so she could take part in the program.
Now, she's thankful to be moving on to a new campus with a group of students she has already formed connections and community with.
"To me, the most beneficial part of participating in this program has to be meeting people within my cohort. Law school on its own can be very daunting, and then the stress of moving to an entirely new school is added to that, but our sense of community will follow us to our new campus," said Hickey.
John Smithgall, assistant dean of the College of Liberal Arts, has watched the program grow since its inception. He shared that seeing the program's first RIT graduate, as well as sending off the first full cohort to SU in the fall, is inspiring.
"I am so impressed with the professional goals of our 3+3 students. Many are interested in social justice issues and plan to use their legal studies to be agents of change to address inequality, discrimination, and oppression. Aspirational goals like this make me hopeful about the future," said Smithgall.
Go to the program website to learn more about the 3+3 program and the requirements to be involved.