Grad honored for community service
Commission on Independent Colleges and Universities rewards community leaders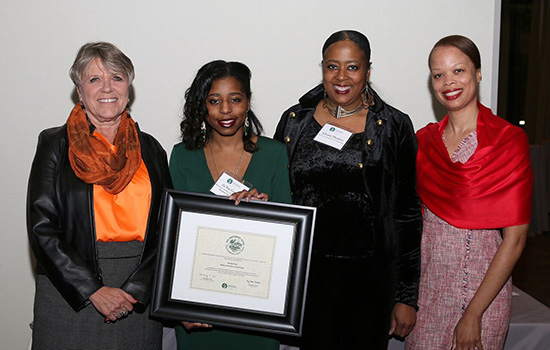 Joe Putrock for CICU
Ja'Nai Gray, who received a bachelor's degree in criminal justice and sociology from Rochester Institute of Technology in 2016, was selected as one of 10 recipients of an Independent Sector Student Service Award and a $500 H.D. Paley Scholarship.
The award, given March 6 in Albany at a meeting of the Commission on Independent Colleges and Universities, honors outstanding Independent Sector TAP students for their leadership in community service throughout the state. The recipients serve as exemplary examples of the role that independent higher education plays in strengthening the state and its communities.
Gray is the first RIT student to receive the award, said Deborah Stendardi, RIT's vice president for government and community relations.
After reading her nomination, the judges described Gray, of Rochester, as extremely hard working and goal oriented, and has demonstrated superior leadership skills.
As a member of Women of Color, Honor and Ambition, Gray reached out to the Center for Youth and the Gandhi Institute to find ways to prevent bullying and worked with the Rochester Police Department to mentor teens who have been involved in the criminal justice system.
She also promoted self-growth by creating the "Motivational Mondays" monthly series where a community leader shares life experiences with women on campus.
Topics