September 29, 2023
by Kim Walters
New Center for Worldbuilding and Storytelling Creates Community and Resource Network for the Imaginative
Inspiring creativity and critical analysis, worldbuilding and transmedia storytelling can be tools for exploring real-world implications of technological and societal changes.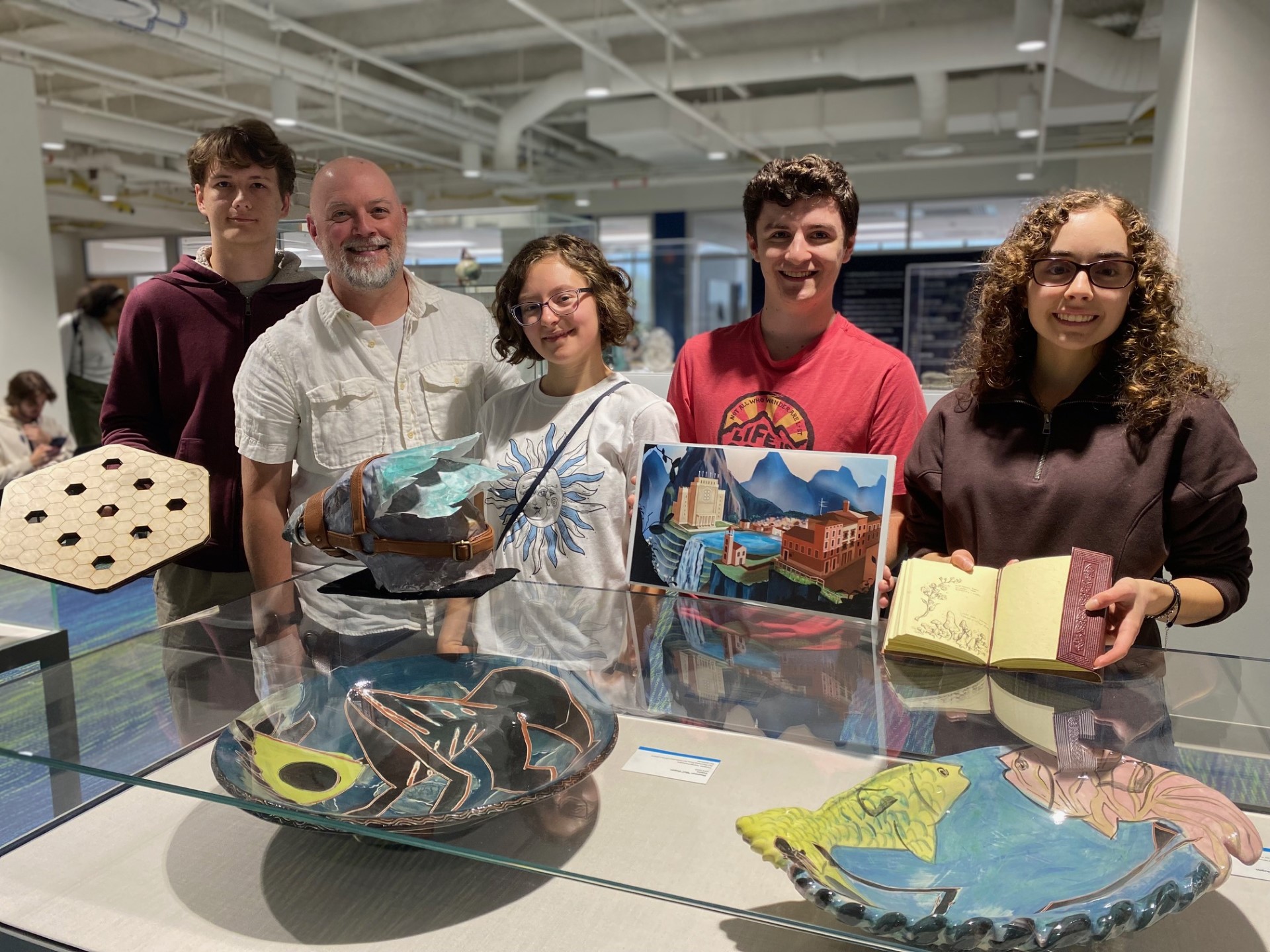 With activities and events beginning as early as this semester, the College of Liberal Arts is opening a new Center for Worldbuilding and Storytelling to establish a community, resources, and network of support for imaginative visionaries.  
The center will be open to all RIT students and overseen by Associate Professor (English) Trent Hergenrader, Ph.D., author of "Collaborative Worldbuilding for Writers and Gamers" and co-author of "The Worldbuilding Workshop: Teaching Critical Thinking through World Modeling, Simulation, and Play," to be published by MIT press spring 2025. 
"The RIT center's approach will intentionally develop the critical thinking aspects of worldbuilding and storytelling," explains Hergenrader. Plans are underway to bring guest speakers and practicing professionals to campus as well as present workshops and events aimed at inspiring creativity and developing skills. 
Worldbuilding, the process of constructing either a reality-based or imaginary world, takes writers deep into the development of all of the qualities of a setting, from its geography and ecology to its history, inhabitants, languages, culture, and more. The enduringly popular fantasy role-playing game Dungeons & Dragons is one well established example of worldbuilding, and others can be found in contemporary video game games and popular fiction as well as in classic literature like J. R. R. Tolkien's Middle-earth in "The Lord of the Rings."
Storytellers and worldbuilders need to be able to imagine and represent every detail of the worlds they are constructing, from the way the world looks to the way it feels and smells and the types of creatures who live in it. "Worldbuilding can also be a powerful tool for exploring important questions like "what social forces are at play and how do they impact different people in different ways?" or "to consider ethical issues in technological innovations, how would philosophers construct a world?," said Hergenrader. 
"Developing strengths in this can help many types of professionals become better at what they do. Clearly, game designers, animators, and creative storytellers can benefit, but engineers, technologists, scientists, sociologists, and health care innovators, for example, can also because the process of envisioning and creating a world and all of its interactions can help test out ideas and inform solutions," he said. 
Additionally, the Center's approach to storytelling will focus on contemporary digital and transmedia methods for presenting cohesive story experiences across multiple platforms. "The ways we interact with stories and information have changed dramatically with the advent of the smartphone and access to the internet," said Hergenrader. "At the Center, we're aiming to provide programming and experiences that will help writers and storytellers create for the publishing platforms of today and tomorrow." 
In addition to creative writing, Hergenrader teaches literature and media classes that examine the sprawling storyworlds of J.R.R. Tolkien's Middle-earth, George R.R. Martin's Westeros from Game of Thrones, and George Lucas's Star Wars galaxy. He also teaches ENGL 511: Advanced Creative Writing Workshop with the theme of worldbuilding based on historical worlds, a study abroad experience that spends two weeks of winter break in southern Spain touring the sites of the medieval Islamic kingdom of Al-Andalus. At Imagine RIT 2023, his study abroad class project "Alt-Andalus: An Exhibit of a Medieval World That Never Existed" won the Fram Chair Award for Excellence in Applied Critical Thinking at Imagine for large group exhibits
A website for the new center is under development now and plans are underway for the first center-sponsored event later this semester. Those interested in learning more can contact Hergenrader by email or use this sign up form to request to receive updates by email.