Political science and marketing double major completes co-op at U.S. District Court for the Southern District of New York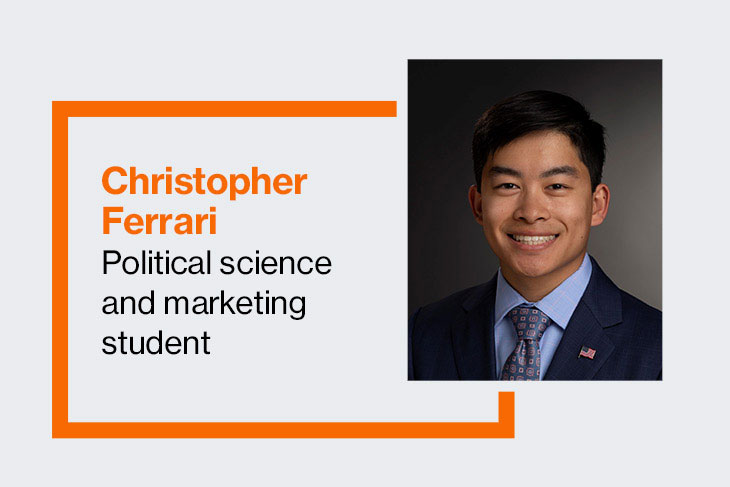 Political science and marketing double major Christopher Ferrari recently completed his co-op at the U.S. District Court for the Southern District of New York (SDNY). Ferrari, who is from Spencerport, N.Y., received the Kristine and John Simmons Public Policy Scholar Internship Fund to help make this co-op more affordable. He served as the Saunders College of Business senator for RIT's Student Government (SG) for the 2020-2021 academic year, as vice president for the 2021-2022 academic year, and as the student affairs committee chair during the 2022-2023 academic year. He has also been selected as a 2023 Monroe County Young Citizen of Excellence and as a representative of RIT in the 2023 ALL IN Student Voting Honor Roll. With the conclusion of his co-op, Ferrari has completed his degree.
How did you find out about and get into your first co-op with the U.S. District Court for the Southern District of New York (SDNY)?
Vanessa J. Herman, vice president for Government and Community Relations, was the key to me securing this co-op. I scheduled a Zoom meeting with her and we started talking about her career and what I wanted to do with mine once I graduated from RIT. She had mentioned how she had known Ed Friedland, district executive for the Southern District of New York, and that it would be a good opportunity for me to explore. I first met Ed when he came to Rochester in the fall of 2021 and had an interview with him and other members from the District Executive's Office later that year. After we went back and forth on scheduling, we determined that summer 2023 was the best time for me to come down to the Southern District of New York.
What did a typical day look like in your co-op?
Working in the office responsible for the court's day-to-day operations, most individuals looking for information called our office. I was answering calls from the public asking when certain cases were being held, calls from the press asking about outcomes from a proceeding that just occurred, and calls from other court staff related to internal operations. I was responsible for planning congressional visits to the court, drafting memorandums and letters on behalf of the district executive, and had roles in other projects with significant impact on the court. Coordinating a congressional visit is a lot more work than one might think on the outside looking in. I had to coordinate scheduling with a member of Congress, the district executive, the chief judge, and the other judges at the courthouse. Other parts included room reservations and catering. Being able to see those events from start to finish was very rewarding.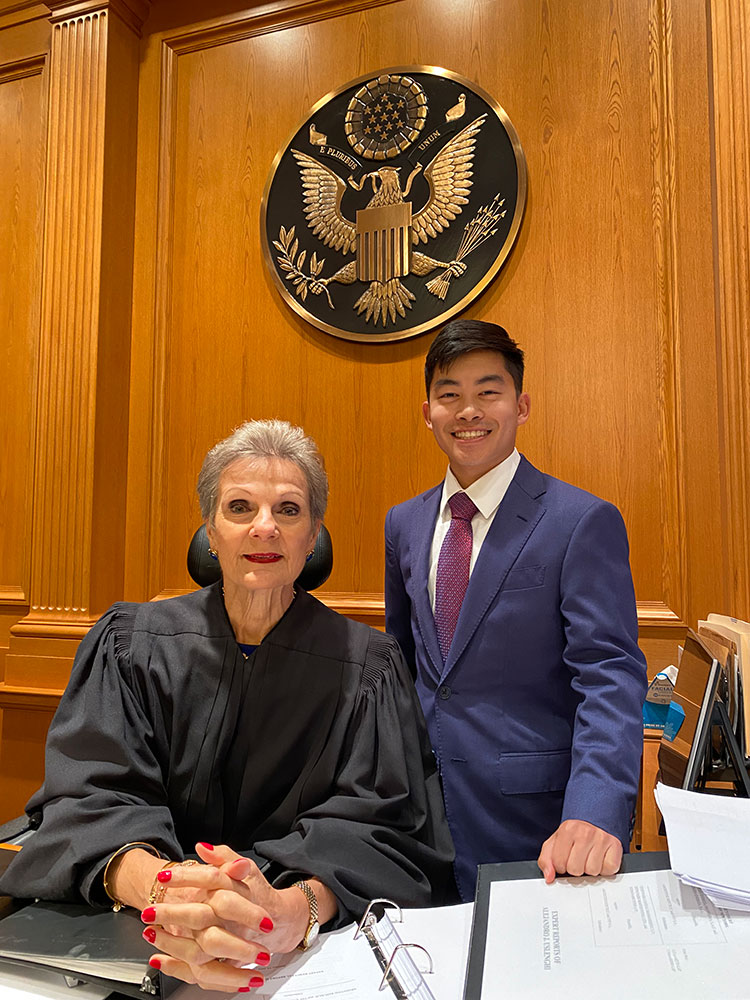 Provided photo
What was your favorite part about this co-op?
My favorite parts about this co-op were the connections I made and growth I experienced. I worked very closely with other staff in the District Executive's Office. I had the privilege of working with Chief Judge Laura Taylor Swain on numerous occasions, and that was a very rewarding experience. I also became close with Judge Loretta A. Preska. Judge Preska gave me sound advice surrounding my future career and made some connections for me as well. I left more confident in my abilities and more prepared as I look forward to full-time employment.
How did your experience as vice president of Student Government impact your time at the SDNY?
During my time as vice president of Student Government, I had to balance a lot of responsibilities, complete tasks with a variety of deadlines, and work with a host of differently minded people. I experienced all of that during my time at the Southern District. One of the most vital skills in any environment is communication and balancing the personalities you interact with on a daily basis. There is no organization on campus that will better prepare you for that than Student Government. My time in SG also emphasized how important first impressions are and that actions speak volumes over words. Through your actions, you build a reputation and it is ultimately up to you if that reputation is positive or negative.
What would be the biggest piece of advice you would give to students?
Networking is a two-parter. It's who you know and what you know. Who you know can help you get your foot in the door and what you know gets you the job. Remember, if a connection is the reason you get an interview for a position, they are staking their reputation on you. Maintaining a high sense of professionalism is vital.
Topics