Crime Alerts
RIT's campus and community benefit from an important collection of art integrated into the design of our campus.  Featuring renowned mid-twentieth century artists like Henry Moore, Josep Albers, Harry Bertoia, Jose de Rivera, Sheila Hicks and Albert Paley, these pieces comprise a nationally significant body of art which can be freely viewed and enjoyed by the campus community and any visitor to RIT.
Between 12-14-2022 and 1-3-2023 an unknown individual tagged the Henry Moore Three Piece Reclining Figure No. 1 sculpture with graffiti. The sculpture, located in the Eastman Kodak Quad south of Frank E. Gannett Hall, was created by renowned artist Henry Moore in 1962. Moore (1898-1986) is an internationally celebrated sculptor known for his semi-abstract monumental bronzes, which can be seen all over the world.
Public Safety is currently investigating this incident and asks anyone with information to contact them immediately.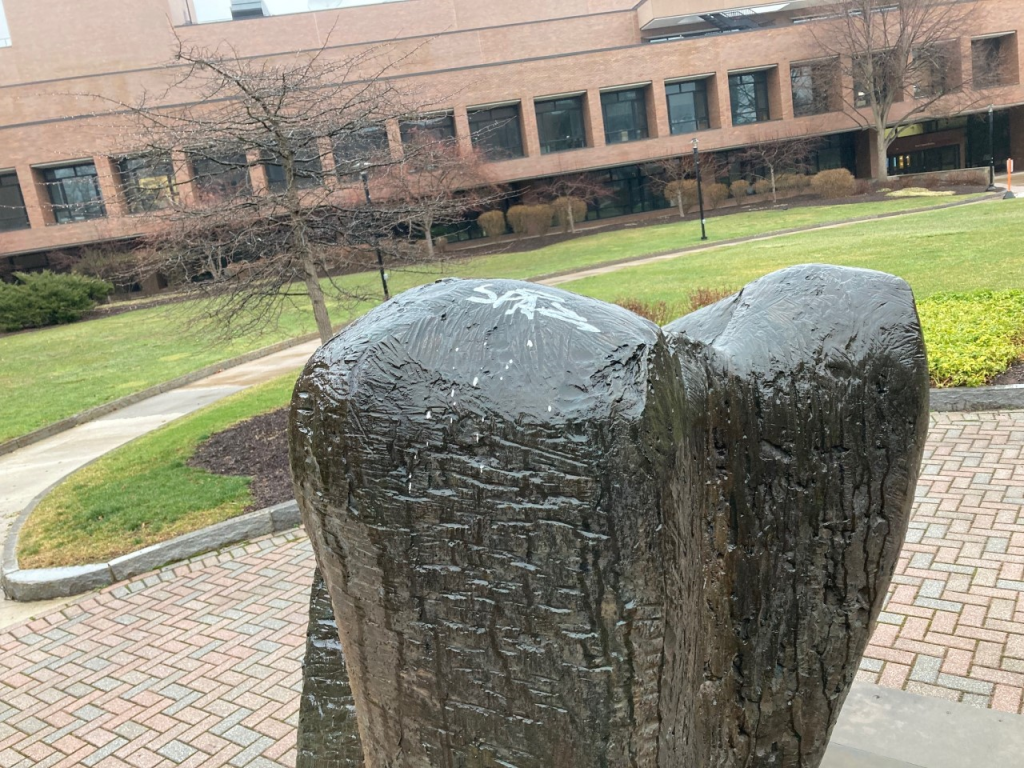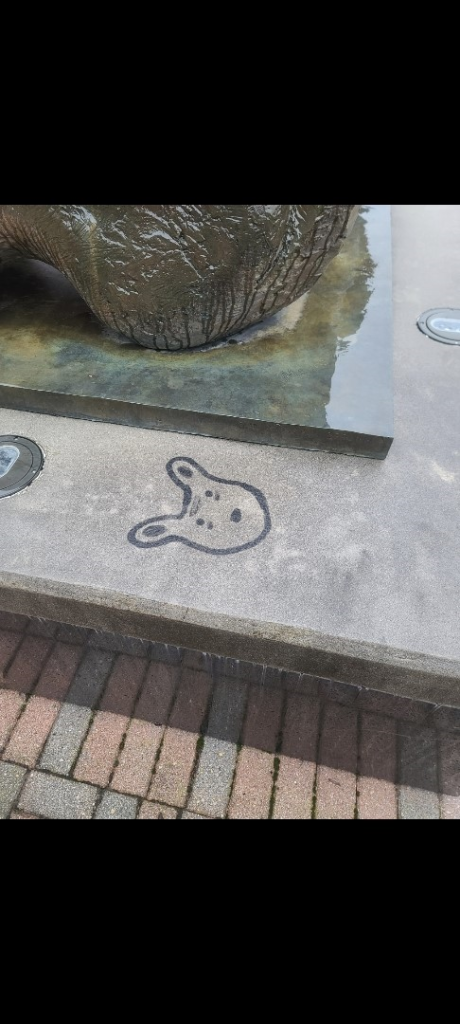 RIT has seen a recent uptick in graffiti in the residence halls, academic buildings, and outdoor art. This behavior is not reflective of our values as a community and is a violation of university policy. Damage to university property of any kind is not tolerated. If you observe graffiti in progress, contact Public Safety immediately.
RIT Public Safety Department
Emergency: 585-475-3333
Text: 585-205-8333
Non-emergency: 585-475-2853
Arson 3rd Investigation – 4th Floor Sol Huemann Hall
On Sunday, September 26, 2021 at approximately 4:00 pm, the RIT Public Safety Department, Monroe County Sheriff's Department and Henrietta Fire Department responded to the Sol Huemann Hall 4th floor Elevator Lobby for a fire alarm. The initial investigation revealed that a piece of paper on a cork board was set on fire, which caused the cork board to smolder. The identity of the person responsible for setting the fire is unknown at this time. The Monroe County Fire Bureau, Fire Investigation Unit has also initiated an investigation.
The Public Safety Department is paying special attention to the Residence Halls while the investigation is in progress.
If anyone has any information regarding this reported incident, please contact the RIT Department of Public Safety or the Monroe County Sheriff's Department.
RIT Public Safety Department
Emergency: 585-475-3333
Text: 585-205-8333
Non-emergency: 585-475-2853
Catalytic Converter Thefts
The RIT Public Safety Department and the Monroe County Sheriff's office are investigating the theft of catalytic converters from two separate Honda Elements that were parked in K Lot. The thefts have occurred within the past seven days and it is believed they occurred during the overnight hours.
Catalytic converter thefts have been prevalent recently in the Monroe County area and our immediate surrounding counties. Catalytic Converters are attached to the exhaust system of your vehicle and contain expensive precious metals like platinum, palladium and rhodium which can easily be extracted and "scrapped" for a quick profit. Catalytic converters can only be stolen by climbing under a vehicle and cutting them off with a reciprocating saw or similar type of tool. Thefts of catalytic converters increase each time the cost of scrap metal, particularly platinum, increases. 
Catalytic converter thieves generally target high profile vehicles like trucks or SUV's because the higher ground clearance allows for easier access underneath the vehicle. However, sports cars and sedans are not immune to converter theft.
The Public Safety Department is paying special attention to residential parking lots and other parking lots where vehicles may be parked for longer periods of time without being driven.
If anyone has any information regarding these thefts, please contact the RIT Public Safety Department or Monroe County Sheriff's Office.
This crime alert also serves as an important reminder to always lock your vehicle and park in well-lit areas. Don't park in between or next to large trucks that would make your vehicle more vulnerable to this type of crime. Immediately report suspicious persons/behavior to the Public Safety Department
Please contact the Department of Public Safety if you have any information regarding this crime.
RIT Public Safety Department
Emergency: 585-475-3333
Text: 585-205-8333
Non-emergency: 585-475-2853