July 29, 2023
by Karen Braun
RIT hosts first AEOP apprentice with imaging science department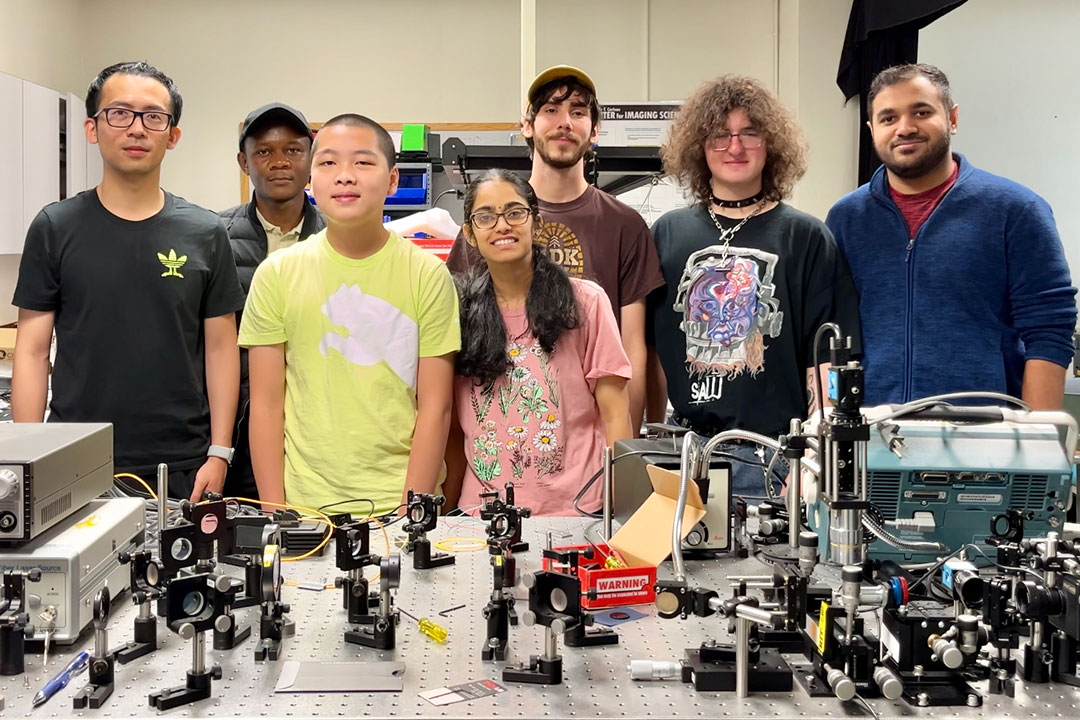 Rochester Institute of Technology's imaging science department is collaborating with the Army Educational Outreach Program Apprenticeships and Fellowship for the first time this summer to provide high school seniors with a paid experience to learn about the discipline through innovation and research.
Scientists at the Center for Imaging Science study the optics, detectors and cameras to build imaging systems for satellites and drones, and process and analyze those images to learn about forests, coastlines, oceans and crops. They also create displays and understand how images are perceived and interpreted by humans and computers, and offers students the opportunity to study these areas through coursework and degrees in imaging science at RIT.
"There are so many opportunities for excellent careers in imaging science – at social media companies, in national research labs, and technology companies," said Karen Braun, associate director for the Center for Imaging Science. "You'll have fun learning it…it's a fantastic interdisciplinary program that requires math, computers and physics."
Braun leads the six-week summer internship program, which exposes high school students to the field with mentorship from professors and graduate students.
Administered by RIT's K-12 University Center on behalf of the U.S. Army, AEOP Apprenticeships and Fellowships provide paid, interactive STEM opportunities to high school through postdoctoral individuals with real-world, hands-on innovation and research at Army-sponsored facilities and partner universities across the country, working alongside some of the world's best scientists and engineers.
Naijei Jiang, a senior from Greece Arcadia High School, was the first student admitted to the RIT imaging science internship through the AEOP partnership, and works among eight others who are supported by a grant from the National Science Foundation.
"In the spring, I was looking for an opportunity for this summer and I found this, so I signed up because I thought it would be a great opportunity," he said. "I think being in the lab is super helpful because you have resources you need to be successful, and everyone is really friendly. I also think being in the lab helps you to focus without the distractions. I mainly work with computer science and exploring programming languages, but imaging science is actually really interesting."
Braun added that interns work as teams and individuals with research advisers to study a wide variety of problems – from historical documents to lasers and coastal imaging.
"Students have a chance to work side-by-side with other students from around the area," she said. "The program helps us share information about a field they might not be familiar with."
Each student will make a final oral presentation about their research to fellow students, advisers, parents, teachers and the RIT community.
Brit Milazzo, K-12 University Center communication manager, contributed to this report
Topics