June 7, 2022
by Luke Auburn
RIT team wins Royal Society of Chemistry's Inclusion and Diversity Prize
Team recognized for developing American Sign Language chemistry signs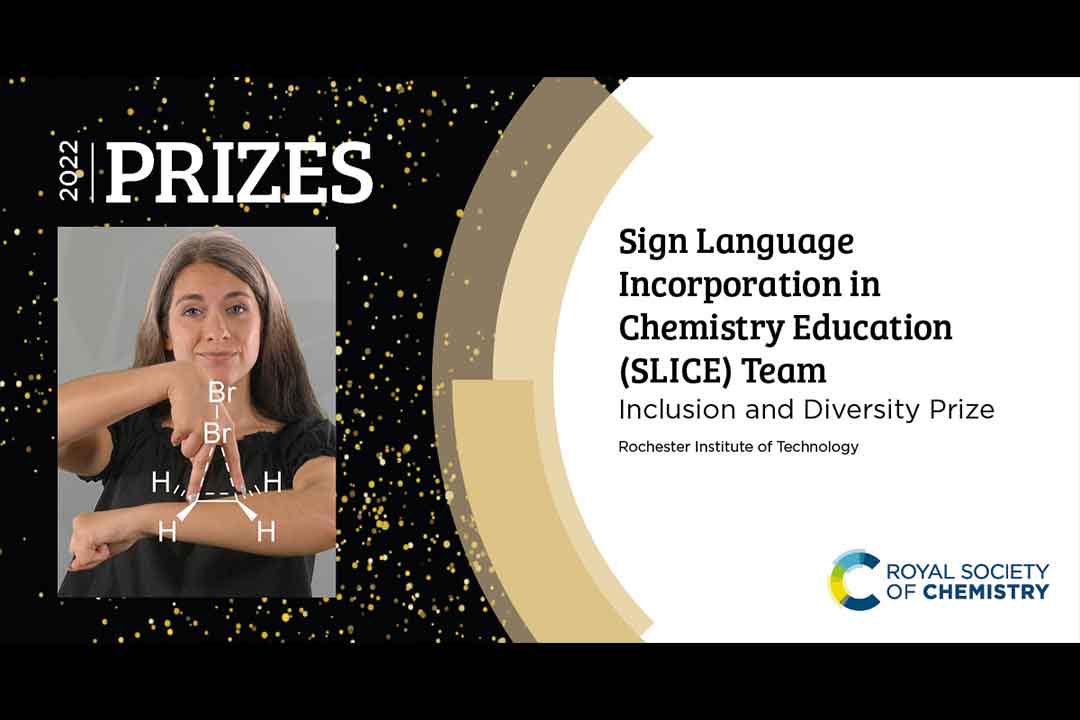 A team at Rochester Institute of Technology has been named the winner of the Royal Society of Chemistry's Inclusion and Diversity Prize, which celebrates those who strive to improve access to the chemical sciences and progression for all.
The Sign Language Incorporation in Chemistry Education (SLICE) team won the prize for pioneering and disseminating an innovative sign language lexicon to facilitate the learning of organic chemistry by Deaf and hard-of-hearing students. They join a prestigious list of past winners in the RSC's prize portfolio, of which 50 individuals have gone on to win Nobel Prizes for their work. The team also receives more than $6,000, a medal, and individual certificates.
The team is led by Professor Christina Goudreau Collison from the School of Chemistry and Materials Science and Jennifer Swartzenberg, SLICE coordinator and senior lecturer in the National Technical Institute for the Deaf's Department of Science and Mathematics. Six RIT alumni contributed to the project as SLICE team language creators and video signers, including Kaitlyn Clark '20 (chemistry); Asma Sheikh '20 (biomedical sciences); Ashley Gleason '20 (biomedical sciences); Cody Cummings '17 (laboratory science technology); Jonathan Dominguez '20 (biomedical sciences), '21 MS (chemistry); and Michelle Mailhot '20 (biotechnology and molecular bioscience).
The SLICE team's work will have significant impact on the Deaf and hard-of-hearing community. Nationally recognized ASL chemistry signs will provide Deaf and hearing scientists an opportunity to build their connectedness as well as facilitate their communication and understanding of organic chemistry. Additionally, sign language can now be incorporated into the education system for how all students and faculty are taught in science fields in the future.
"I was elated to learn our team had won this award," said Goudreau Collison. "The exorbitant number of hours each member contributed to the project was not done for self-gain, but done so knowing that what we were doing would help others. Being recognized for these efforts is the cherry on top. We hope that this recognition reaches others to inspire much more work and collaborations in this direction."
Swartzenberg added, "This work is crucial for Deaf scientists because you cannot learn science through fingerspelling. Without comprehensive ASL sign development, the science content has very little meaning for Deaf people. Having signs that convey the meaning of the words, that were previously finger spelled, adds value to the Deaf individual's educational experience. It changes their world because now the content can be described in their native language and has real meaning."
Helen Pain, chief executive of the Royal Society of Chemistry, said, "With our Inclusion and Diversity Prize, we are proud to celebrate those who have gone above and beyond to make the chemical sciences a more accessible, inclusive, and diverse community. The Sign Language Incorporation in Chemistry Education team have demonstrated they share our passion for fairness and eliminating bias in the chemical sciences and, in doing so, have set a standard that others can aspire to. It's for that reason we're delighted to recognise their efforts today." 
For more information about the RSC's prizes portfolio, go to the RSC website.
Topics