Veterans and their dependents seek new beginnings and awareness at RIT
Veteran Student Success lounge is a popular safe spot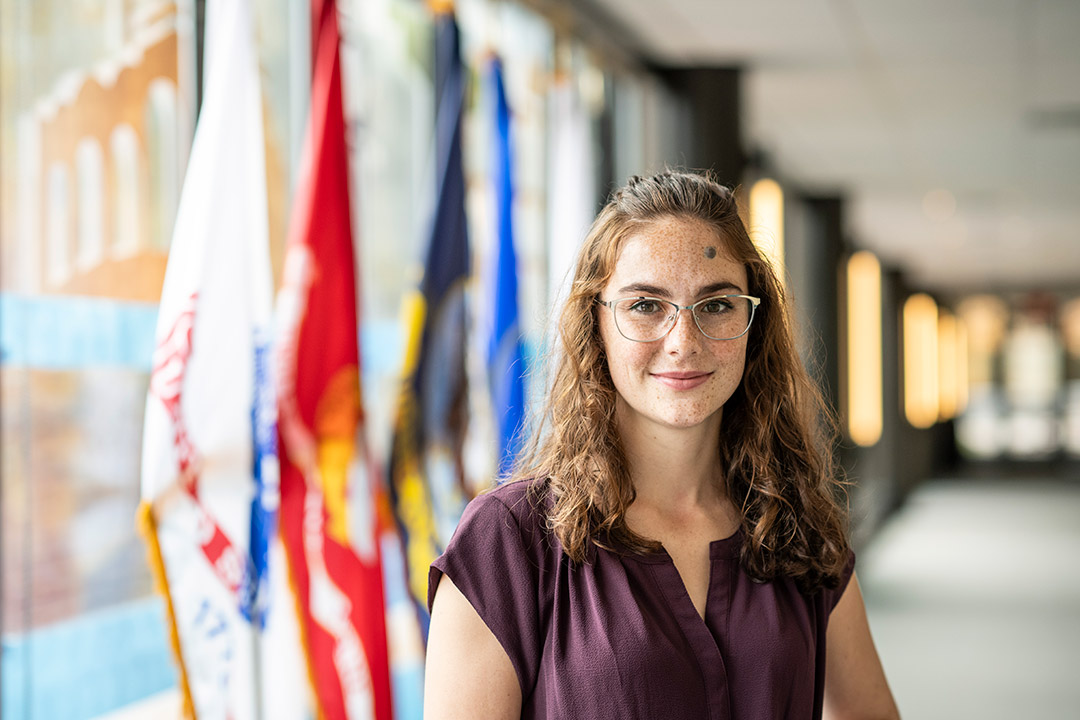 This morning's Veterans Day Breakfast was an annual tradition that honors the men and women who have served in the military, and their families. It is perhaps the most visible reminder on campus that the RIT community appreciates the service and sacrifices given.
But for the veterans and their families, being connected to the military isn't just celebrated once a year. It's a way of life and something they are reminded of daily, even if they have left active service.
"There are certain challenges veterans face as student veterans," said Rachel Frohnapfel, who served four years in the Marines before enrolling in RIT's American Sign Language and Interpreting Education program this semester. "We already had a whole career. We stepped away from education for years and are now coming back to it. Now we find we have to adjust on the spot, but sometimes veterans need a little more assistance in finding our way on campus."
RIT is a Yellow Ribbon school, offering tuition assistance for veterans who may not be covered by the Veterans Administration. Currently, there are 109 RIT student veterans who served in either the Air Force, Army, Marine Corps, Navy, or Space Force. There are also 143 veteran spouses or dependents currently enrolled. Many are pursuing degrees in engineering or computer science.
While RIT has long offered support for veterans, a year ago, RIT's University Studies opened the Office of Veteran Student Success and hired veteran Chad Van Gorder as its director. The office is located on the second floor of Building 400 in Global Village and was created to help veterans and their families navigate the paperwork, finances, and social adjustments that come with college.
The office's lobby serves as a small lounge, which is open weekdays from 8 a.m. to 8 p.m. It's a popular spot for students to hang out with others who have had similar life experiences. On a typical day, more than a dozen of them will spend time in the lounge talking to one another, watching television, using a computer, or having a cup of free coffee. Most live off campus, so they can toss their lunch in a refrigerator, and a large white board enables them to help each other with homework.
"They know this is a safe space," Van Gorder said. "They know they can come here and not be judged or analyzed and say what they want to say without worrying."
Van Gorder said being connected with the military is like other diverse populations.
"That's the lifestyle they knew," he said. "They may not have had the consistency of going to the same high school or being with the same friends every year while growing up, the mannerisms and language are common experiences. So this makes it comfortable for them to share with other people who have similar experiences."
Frohnapfel, of Cheyenne, Wyo., spent most of her military career in Hawaii and remains an inactive ready reservist. She started her quest to become a sign language interpreter at a college in Colorado but transferred to RIT because it had a better interpreting program and worked better with her GI Bill benefits.
"All of the support I get comes from this office and the regional Veteran's Affairs Office," she said. She receives help with health care, gets notified about various workshops she may benefit from, tuition, and other things which can help veterans integrate back into society.
Frohnapfel also works in the center, helping other veterans with referrals for all sorts of issues they may have.
"Any problem a veteran has, they can come in and ask and we can point them in the right direction," she said. "Having this safe space, and having people who understand your experiences is definitely crucial for our population. We've come a long way during the past year as we grow our support for veterans at RIT. As we continue to move forward, our goal is to improve veteran inclusivity on campus and begin to shine a light on some of the gifts that veteran students bring to the personal and professional growth of all students, faculty, and staff at RIT."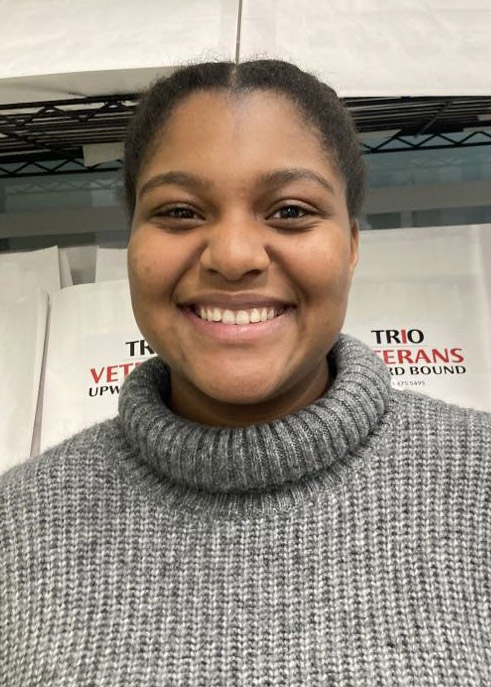 Sharmayne Gambrel is a second-year biomedical sciences major who intends to become a gynecologist. As a dependent whose parents were in the Air Force, she moved frequently while growing up, from Spain; Washington, D.C.; Massachusetts; and finally Rome, N.Y., where her family moved when she was 7.
"I do come to the lounge to hang out," Gambrel said. "I didn't know anybody on campus when I came here, but here, it's very welcoming. There are a lot of times I'll talk about my childhood, like moving around every two years. There's a sense of community here. So we talk and sometimes when I find another dependent here, it's like we both experienced this. We're in this together."
Gambrel also works as a receptionist in the office.
"I feel this is a really nice, homey spot for anybody who is military-affiliated, anybody who is interested in joining the military, or anybody who is in support of it in general," she said.
Tom Faga, a Marine veteran, is president of RIT's Veterans Club, which was formed in 2011 and holds meetings each Friday afternoon. There are 30 members signed up, but typically about a dozen attend their meetings.
Faga said students would like to be recognized more on campus. There aren't any signs for the Office of Veteran Student Success, something Van Gorder said he's working on. Faga said he'd also like to see veterans on campus be recognized as a Representative Student Organization, or to simply enable them to have priority registration for classes, which is useful because many of them have families and often young children to supervise or arrange for day care.
Another hope is that veterans can be more inclusive on campus, such as being the topic of group discussion so others will better understand them.
"I would love to see the staff and faculty trained or at least educated on student veteran identity," Frohnapfel said. "Our life experiences are so different than the general population on campus. There's a big misunderstanding about us and recognizing that we are here, and we exist. Yes, we are different. And it's not a bad thing."
Topics