Learning Assistant (LA) Program: An Authentic Teaching Experience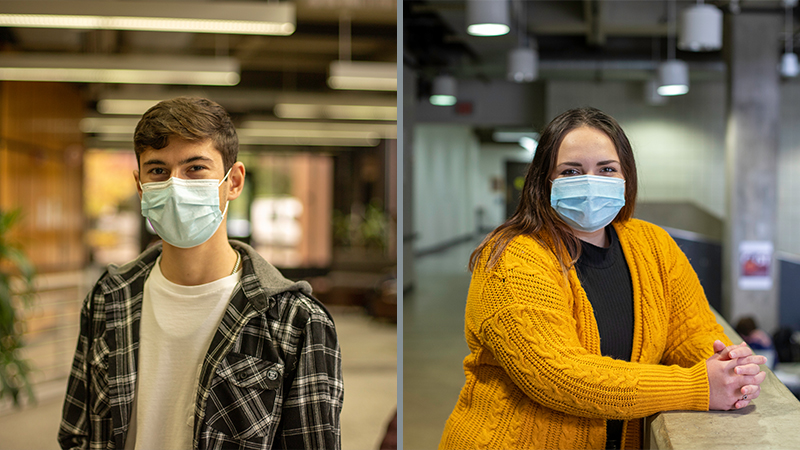 For students interested in teaching, the Learning Assistant (LA) program at RIT is a great place to start! Daniel DiMartino and Erika Doroshenko share their experiences with the program.
Daniel is a third-year Biotechnology and Molecular BioScience student who joined the LA program during his first year. Since then, he has stepped into this position for multiple classes within the Thomas H. Gosnell School of Life Sciences, including Introductory Biology Lab and Molecular Biology Lab.
"I've found that involvement in the LA Program served the dual purpose of broadening my pedagogical perspective as a student and has enabled me to become a more efficient learner," said Daniel.
In addition to helping him become a better learner, Daniel has been able to practice his public speaking skills when he helps students learn the materials. While teaching workshops during the lab, he has also experienced firsthand the 'a-ha' moments when students grasp new concepts. Daniel discovered that facilitating valuable interpersonal relationships and becoming an effective leader are just a few benefits of teaching other students. The program provides insight into teaching strategies and instruction techniques through its hands-on teaching experience.
"Becoming an LA is an excellent way to network with fellow LAs and past professors, and to review course materials," said Daniel.
Erika, a biology student pursuing her master's in environmental science, joined the LA program during her second year. Erika accepted the position after having benefited from the program as a student.
"Becoming an LA allowed me to make new connections with people all across campus including my professors, students, and even peers," said Erika.
Erika has had the opportunity to teach multiple classes across the Thomas H. Gosnell School of Life Sciences and The School of Chemistry and Materials Science. She enjoys being a part of the learning process, helping students grasp concepts, and seeing their excitement when they understand the material. Erika also talks about the benefits of the LA Program and its impact on making her a more social and outgoing person in a classroom setting. The skills taught in the LA Pedagogy Class and her multiple years in the program have helped her develop lifelong problem-solving skills, especially in group settings.
About the Learning Assistant Program at RIT
The Learning Assistant (LA) program at RIT pairs undergraduate students with faculty to support classroom transformation, enhance student learning outcomes and provide ongoing support to students and faculty throughout the semester. Learning Assistants gain an authentic teaching experience, learning what it is like to teach at the college level. They are trained in pedagogy (the practice of teaching) and engage with pedagogical research through a 2-credit course. Faculty involved with the program collaborate with their LA to transform classroom spaces to be more active. Faculty can gain valuable insights into the needs of students in the class through feedback provided by their LA.
---