Your Partners in Success: Meet Our Faculty, Dr. Michel
June 16, 2020
Dr. Lea Vacca Michel
Faculty: Lea Michel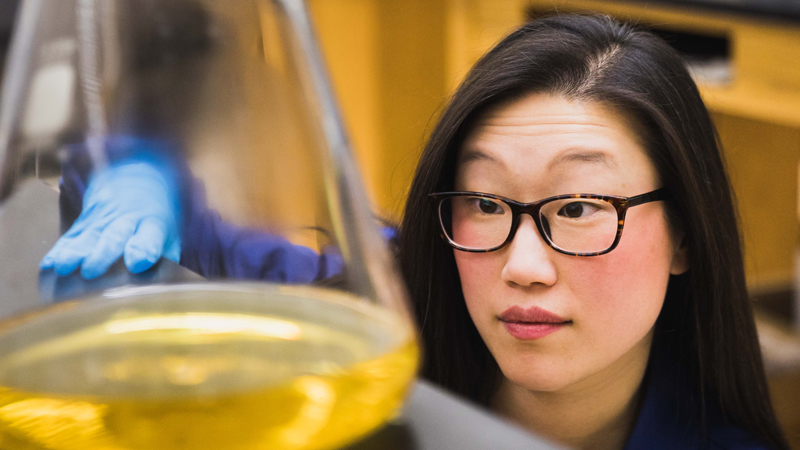 Dr. Michel is known for inspiring her students and working hard to create an inclusive environment where everyone feels valued. Her contributions to enhancing gender diversity and inclusiveness were recognized in 2017 with the Edwina Award. She is Vice-Chair of the Women in Science (WISe) program that, among other things, hosts annual Bootcamps to prepare students for applying to graduate school and summer research fellowship programs.
Dr. Michel teaches both introductory and advanced biochemistry courses. Although a biophysicist by training, Dr. Michel currently works in the fields of protein biochemistry, structural biology, and immunology. Since 2009, the Michel Group has had over 70 undergraduate and graduate research students. Graduates from the Michel group move on to graduate school, medical school, nursing school, pharmacy school, law school and many work in the medical and biotechnology fields.
Dr. Michel's current research is focused on the role of proteins in disease. Her three major projects look at A) crystallin proteins in the eye lens, which aggregate to form cataracts, B) bacterial lipoproteins that play a role in sepsis, and C) protein vaccine candidates from a pathogenic bacterium that causes ear infections. The Michel group performs biochemical and biophysical experiments to better understand how proteins interact with each other and with our immune cells, with the goal of designing new vaccines, treatments, and diagnostic tools.
Dr. Michel is currently looking for biochemistry, chemistry, and bio-x students at all levels, and aims to maintain a research environment that is welcoming to all students.
Some examples of previous student projects include:
using NMR spectroscopy to elucidate the protein-protein interactions between crystallin eye lens proteins,
studying bacterial proteins from respiratory pathogen nontypeable Haemophilus influenzae, with the goal of creating an effective multivalent protein vaccine, and
determining the effect of antibiotics on the release of bacterial lipoprotein PAL from Escherichia coli into biological fluids.
Research Interests
Biochemistry
Biophysics
Protein Vaccines
Structural Biology
Protein Biochemistry
Bacterial Proteins
About Dr. Lea Michel
Dr. Michel is an Associate Professor in the School of Chemistry and Materials Science and the Vice-Chair of the Women in Science Program (WISe) at RIT. She is also the Co-Director of the Rochester Project SEED program, and Director of the Research Strand for the HHMI-funded Inclusive Excellence program at RIT.
Education and Positions
B.A. in Physics and Math (Magna Cum Laude), Colgate University, 2002
M.S. and Ph.D. in Biophysics, University of Rochester, 2007
Adjunct Professor, SUNY Brockport and Colgate University, Spring 2007
Postdoctoral Researcher, Cornell University, 2007-2008
Contract Scientist, Kelly Services (Ortho-Clinical Diagnostics), 2008-2009
Assistant Professor, School of Chemistry and Materials Science, RIT, 2009-2015
Associate Professor, School of Chemistry and Materials Science, RIT, 2015-Present
To learn more about Dr. Lea Michel, visit her RIT profile page or personal research page.
---