Does energy storage make the U.S. electric grid cleaner?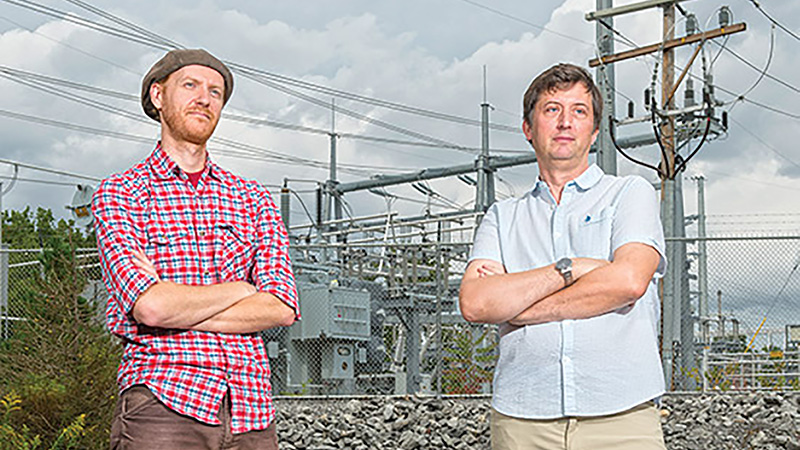 In brief:
Project:
"How much wind and solar are needed to realize emissions benefits from storage?"
Focus:
Assessment of the sustainability of energy storage systems
Type of research:
Data analysis and modeling of energy systems
Lead Researcher:
Dr. Eric Williams, Professor, Department of Sustainability, Golisano Institute for Sustainability, Rochester Institute of Technology
Quick look:
Renewable energy can be unpredictable. The sun does not always shine and the wind does not always blow. To handle this intermittency, power-grid operators are beginning to turn to energy storage.
But is energy storage inherently sustainable? GIS's Dr. Eric Williams and fellow researchers created a data model to analyze and predict how the use of energy-storage technologies would affect greenhouse-gas emissions generated by two major grids in the United States.
Energy storage may increase a grid's carbon emissions. Some grids, like the Midcontinent Independent System Operator (MISO), rely heavily on coal to meet off-peak demand. The team found that under normal operation, batteries would be charged at night using coal power more often than capturing energy from renewable sources.
The research:
Although energy storage has no smokestack emissions like coal or natural-gas power plants, its use does not necessarily guarantee a cleaner electricity grid. The 2019 study—conducted by Williams along with RIT's Dr. Eric Hittinger and Naga Srujana Goteti, and published in Energy Systems—suggests that energy-storage technology must coincide with a wider clean-energy strategy to drive grid sustainability.
Since storage allows grid operators to provide customers with renewable energy despite its unpredictability, members of the public, policymakers, and businesses make the reasonable assumption that it is an inherently green technology. But this is not always case. Williams' study shows that it can actually increase the carbon emissions of grids that use coal during periods of low power demand.
The researchers found that the environmental benefits of energy storage depend on a number of factors, including how it is used, what kinds of power plants are on the grid, and fossil-fuel prices. They modeled the impact on emissions that feeding large quantities of storage and renewable energy into two existing grid systems would make. The first, Midcontinent Independent System Operator (MISO), is a coal-heavy network, and the second, New York Independent System Operator (NYISO), does not significantly rely on coal. 
Study results:
Storage is not necessarily used to help renewables
The usual way grids usually operate expect storage to make money when it can, this means storage will charge when prices are low and discharge when prices are high.
Coal power will get stored in MISO
The coal-intensive MISO grid is likely to increase its greenhouse-gas emissions using energy storage. That's because MISO uses coal to provide baseline power and relies on natural gas to meet peak demand. The model showed that the most profitable choice for storage is not a sustainable one. Batteries or other storage systems would charge with coal power at night, replacing natural gas power during the day. Such a strategy means cheaper coal power can be sold during daytime's peak demand.
When energy storage increases carbon
Coal puts around twice as much carbon into the air as natural gas for the same amount of electricity produced. Replacing natural gas with coal thus increases carbon emissions. The researchers found that adding a storage capacity of three gigawatts, enough power to supply roughly 500,000 U.S. homes, would raise carbon emissions to an amount equivalent to adding 6,700 cars to the road in a single year. Under current conditions, the more storage that is added to MISO, the more carbon emissions will increase.
Positive results on NYISO
New York's power grid uses very little coal power, leading to a very different operation of storage compared to MISO. Renewable or nuclear power is more often used to charge storage, which reduces reliance on natural gas plants and, ultimately, lowers carbon emissions.
More renewables on the grid will make storage clean
Grids like MISO are adding renewables, such as wind and solar power. Once MISO has enough renewable energy sources, these will be used to charge storage systems and coal will be abandoned. will start being used to charge renewables more than coal. MISO needs 18% of its power to come from wind to reach this turning point—the current level is 10%. Additional polices to incentivize the adoption of clean energy could help MISO reach a level of renewables where storage starts to reduce carbon emissions.
Looking ahead
Williams' wider research interests explore what the grid might look like with better renewable energy and storage technologies. While renewables and storage present economic and other challenges today, there is a plausible future in which they deliver sustainable and inexpensive energy. He is currently investigating the potential and pace of technological improvements and their implications for the existing electricity grid.
---