About Golisano Institute for Sustainability
We research. We build knowledge.
We put innovation and technology to work for a sustainable future.
Golisano Institute for Sustainability (GIS) is a global leader in sustainability education and research. We partner with business and government sponsors to solve complex, systemic problems. Much of our work aims to make industry more sustainable. To do this, we use innovative approaches and technologies to minimize the use of materials and energy while maximizing outcomes. Our expertise, combined with our state-of-the-art research facilities, allows our partners to gain new insights, fuel innovation, and move forward.
Our graduate and doctoral programs are challenging, inspirational, and world-changing. GIS graduates go on to become transformative agents of change within industry, government, academia, and the nonprofit sector. They are problem-solvers, visionaries, and decision-makers who want to create a better, sustainable world. We are part of Rochester Institute of Technology, a university that is world-renowned as an advocate and practitioner of sustainability.
GIS draws upon the skills of more than 100 full-time engineers, technicians, research faculty, and sponsored students. We are home to six dynamic research centers that operate over 84,000 square feet of industrial infrastructure for modeling, testing, and prototyping. The mix of talent, experience, and technical capabilities that we bring to every project is unparalleled.
We believe that meeting the challenges of a changing climate, a growing population, and the depletion of natural resources demands systemic transformation. To do this, we advance sustainability within manufacturing, transportation, and energy through education, research, innovation, and strategic partnerships.
By the Numbers
| | |
| --- | --- |
| Academic faculty | 13 |
| Research faculty | 8 |
| Active Ph.D. candidates | 19 |
| Degree programs offered | 3 |
| Engineers, technicians, and support staff | 52 |
| Unique industry customers since 2003 | 1,200 |
| Applied research centers | 6 |
| External sponsored research funding annually | $14M+ |
| Signature Initiatives launched | 6 |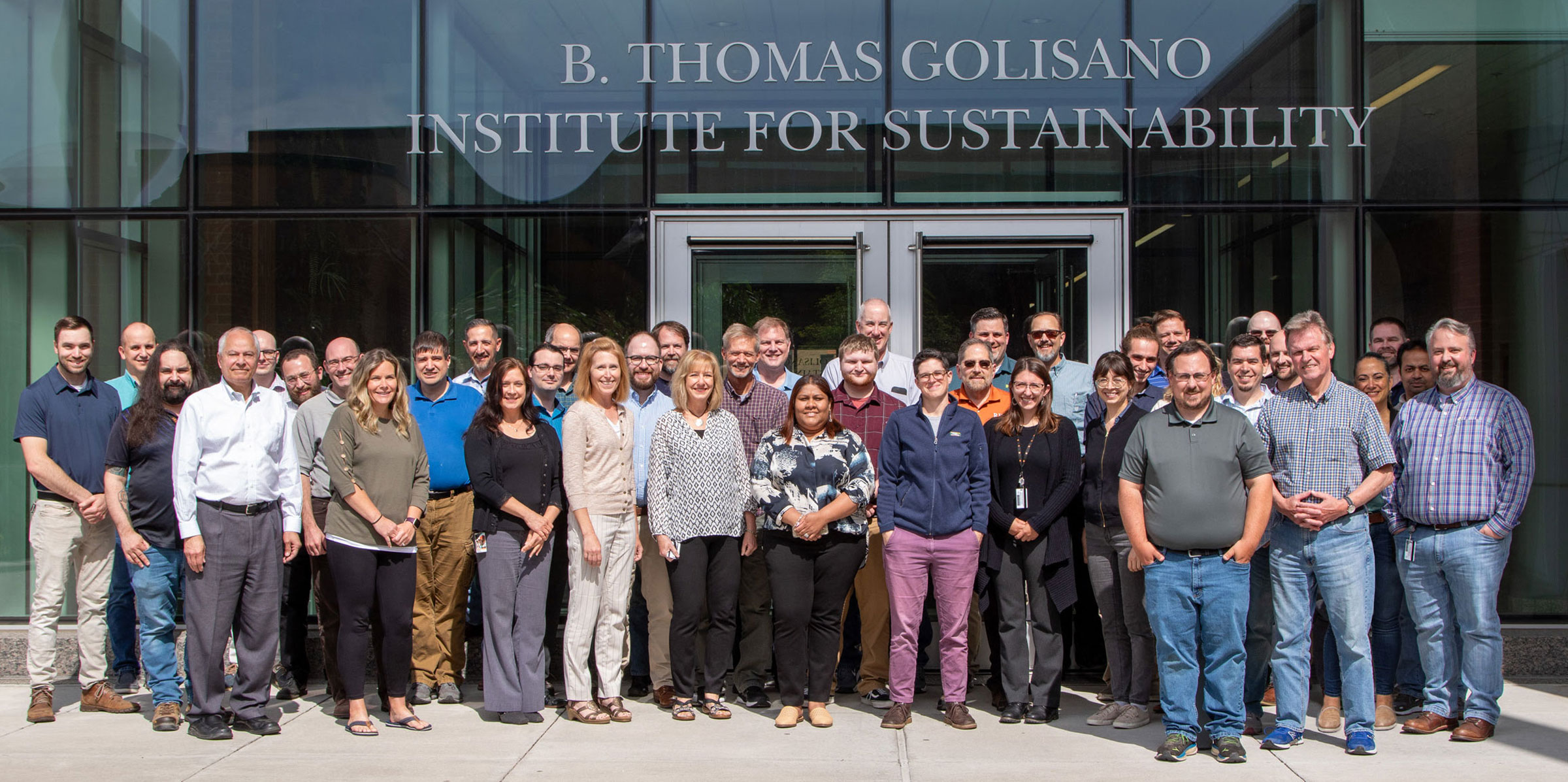 Our team is comprised of full-time engineers, technicians, research faculty, sponsored students, and administrators working across six dynamic research centers. The mix of talent, experience, and technical capabilities that we bring to every project is unparalleled.
Our Facilities
Our facilities cover multiple locations on the RIT campus, totaling over 84,000 square feet, and include large industrial high bays, labs, testbeds, classrooms, and conference spaces. Our primary building is LEED Platinum certified, and designed to demonstrate sustainable building technologies and energy systems, with features including a rainwater collection system and a microgrid with advanced sensors, as well as fuel cells, photovoltaics, and wind turbines that generate 100% of our energy.
Our History
The Golisano Institute for Sustainability was established in 2007 with a $10 million gift from Paychex Inc. founder and philanthropist B. Thomas Golisano, and it has come to house nine applied research labs and six technology testbeds with some of the most advanced sustainability equipment in New York state.