U.S. Navy
Redesign Brings New Life to Navy Ships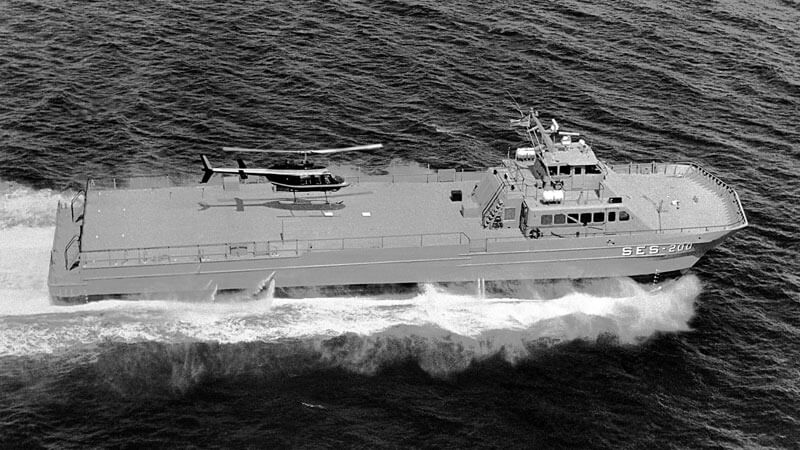 Rethinking Aging Ships
The United States Navy operates the world's largest fleet with more than 430 ships in operation today. For much of its history, ships were retired as they became outmoded. Yet this proved to be costly: For every one taken out of service, a new one had to take its place. It was an incredible investment in terms of materials, expertise, manufacture, and testing. 
This changed in 2000, when the Navy considered retiring the SES 200B Surface Effect Ship. First introduced in 1963, it features both an air cushion and twin hulls, creating a unique design that combines the precise maneuverability of a hovercraft and a catamaran. Dr. Paul Rispin, program manager of the Industrial and Corporate Programs Department at the Office of Navy Research (ONR), wanted to explore a less expensive, more resource-efficient pathway before agreeing to retire the SES 200B. 
To do this, he partnered with the Center for Remanufacturing and Resource Recovery (C3R) at RIT to learn how remanufacturing processes could be applied to extend the life of the vessel. 
Design for Remanufacturing
The C3R team developed a comprehensive and detailed analysis of the SES 200B, which included structural and machinery analysis for all of its components. With this data, they were able to first assess the feasibility of remanufacturing and then incorporate remanufacturing into the design of vessels like it. The concept anticipated the degradation or failure of key parts and components and outlined how new technologies and processes could be used to replace them in order to significantly extend a ship's service life.  
Dr. Rispin was impressed by the cost-effectiveness of this approach, noting, "I don't have to come up with the dollars to go buy a new ship." 
Millions of Dollars Saved
C3R helped to save the Navy (not to mention U.S. taxpayers) millions of dollars with its innovative resource-recovery design. The approach was put to use by the Navy as well as other branches of the military. 
What was most valuable to the Navy, according to Dr. Rispin, was "the process by which they came up with the design for remanufacturing. The process is key as we try to stretch things to last for longer and longer periods of time and, in doing so, need to rework a product to fit a new need."