Stephen Scherer
Lecturer
School of Design
College of Art and Design
---
Office Location
Stephen Scherer
Lecturer
School of Design
College of Art and Design
---
Education
BFA, Bradley University
Currently Teaching
GRDE-106
Graphic Design Studio I
3 Credits
This course is an introduction to basic visual communications in the field of graphic design. Lectures will cover graphic design topics and information ranging from typographic terminology and design principles to methods of visual organization. Assignments will be undertaken in the studio where hands-on introduction to graphic design studio skills and practices will occur. Through formal studies and perceptual understanding, including aesthetics, graphic form and structure, concept development problems and visual organization, students will design solutions to visual communication problems. Assignments will explore aspects of graphic imagery, typography, hierarchy, and layout. Students will refine their computer skills through applications requiring digital formats.
GRDE-201
Typography I
3 Credits
This course is an introduction to the fundamental principles of typography (the visual representation of language) to effectively convey information and ideas to specific audiences. Focus is on the communicative function and aesthetic nature of typographic problem-solving. Course content and lectures will cover typographic terminology, type anatomy, history of typography as well as type classification, type measurement, and issues of legibility and readability. Once students are introduced to the fundamentals of typography, they will include imagery as appropriate. Students will also refine their skills using relevant software.
GRDE-202
Graphic Design Studio II
3 Credits
This course will focus on the analysis, creation and use of imagery for communication purposes, along with an introduction to symbol and icon design as it relates to branding. Processes and techniques for creating images are explored. Projects incorporate symbolism, concept development and integration of image and text. This course will build upon the principles and theories learned in Graphic Design Studio I with project solutions developed for print media, motion and digital use.
GRDE-206
Typography II
3 Credits
Students will expand upon the principles of grid theory, text and display typography, sequence, page layout, and type and image integration as they relate to a range of design applications: posters, instructional materials, brochures, magazines, books, etc. Visual organization, message communication, and imaging and page layout software skills are integrated in the course.
GRDE-213
Design Production
3 Credits
This course provides students with the fundamental understanding of the key variables, systems and phases of production workflow. Emphasis will be placed on job planning, implementation strategies and decision-making processes for print and digital production workflow. Projects will allow students to optimize their work for specific production requirements as well as for workflow strategies for cross-media applications.
GRDE-307
Design Systems I
3 Credits
This course will provide students with conceptual, organizational, and aesthetic problem-solving methods to create unified and effective design systems, such as corporate identity systems, icon sets, poster and/or packaging series. Students will have an opportunity to synthesize graphic design principles from their previous courses into more advanced and in-depth projects. Research, concept generation, and relevant aesthetic principles will be emphasized. Presentation, writing, and professional skills will be a focus to prepare students for senior year coursework . Teamwork strategies and skills are implemented throughout the semester.
GRDE-308
Experiential Graphic Design
3 Credits
This course will focus on design problem solving for three-dimensional spaces and environments. Design process, initial concepts, and final design solutions are developed to assist users in negotiating various interior and exterior environments. Areas of application may include: architectural graphics, signage systems, exhibit design, themed museum experiences, and dynamic environments. Two-dimensional, three-dimensional, and digital design attributes are incorporated using appropriate materials and software.
GRDE-411
Graphic Design Studio IV
3 Credits
Students will acquire and practice the skills necessary to initiate and complete the research phase for a comprehensive project on a topic of each student's choosing. Students will identify a topic to research with the objective of bringing innovation or new knowledge to this area through this experience. Students will identify faculty and individuals to serve as expert consultants who will help guide the process and to evaluate the project in milestones throughout the semester. Students will write an abstract and submit this to the consultants for approval. Each milestone will be evaluated and graded. Emphasis will be on experimentation, exploration, and development of a wide range of ideas.
GRDE-412
Graphic Design Capstone
3 Credits
In this course, students' working knowledge of graphic design will culminate in a comprehensive capstone project. The content of each capstone project will vary depending upon each students' focus/direction and approval from their instructor. The students will build on previous course work. Process and in-progress development is shared via class presentations and a final public exhibition for dissemination. A final formal presentation is required.
GRDE-421
Design Systems II
3 Credits
This course will provide an overview of branding and identity design. Processes, theories, design methods, brand strategies, positioning, touch-points, research, and management are introduced in creating comprehensive branding and identity systems. Case studies will provide students with historical context. Students will explore current and future trends related to branding.
GRDE-428
Advertising Design
3 Credits
This course will explore the role of the graphic designer in developing communicative design for advertising. Emphasis will be placed on effective communication of the concept development and client's message. Advertising will be addressed in a broad context, and the course will include the relationship and use of typography, photographic imagery and layout for advertising impact. At times, this course will collaborate with an upper-level advertising photography class to better understand and experience the working relationship between the photographer and the designer. Some projects will be with outside clients, such as non-profit organizations or the Ad Council.
GRDE-498
Graphic Design Internship
1 - 6 Credits
This course exposes students to the professional environment through outside job opportunities in graphic design studios, advertising agencies, corporate communications departments, and other acceptable organizations. Students will work under the guidance of art directors, creative directors, senior graphic designers, or marketing communications managers and perform creative work that is educational and meaningful for their short-term academic goals as well as their long-range career preparation. Documentation of the experience is required and final review from employer is obtained. The appointed faculty adviser will meet with the student upon completion for final evaluation for a grade. Students must obtain pre-approval of their department and complete the Internship Approval Form. Credit earned is used toward elective credits.
GRDE-599
Graphic Design Independent Study
1 - 6 Credits
Graphic Design Independent Study will provide students with the ability to focus in a specialized area of graphic design with an individual faculty member. Students, with the assistance of a faculty adviser, will propose a course of study. The independent study student must obtain permission of an instructor and department by completing the Independent Study Proposal Form to enroll.
Featured Work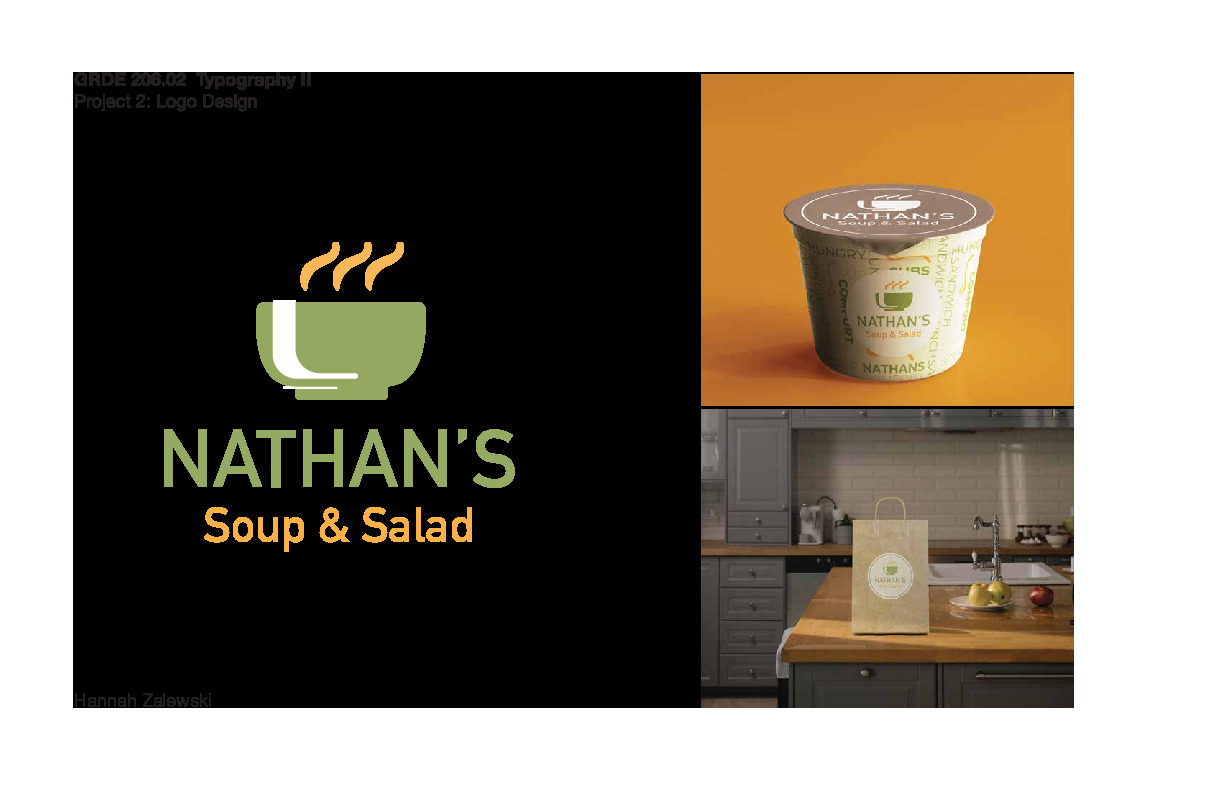 Typography II - Logos & Applications
Stephen Scherer
Students were asked to pick an RIT club, event or organization. Then redesign the logo and apply it to two applications; tshirt, business card, social media, etc.
View More

about Typography II - Logos & Applications