Past Exhibition
Letha Wilson | Anna Ballarian Visiting Artist
February 10, 2022–March 12, 2022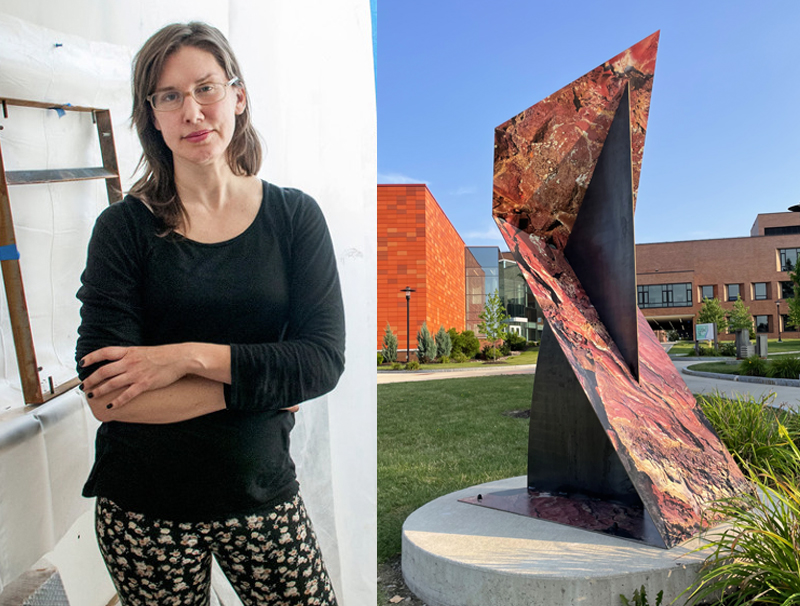 Letha Wilson is a contemporary artist known for "breaking the rules" of photography, often transforming her photographs into objects that bend and curve out of walls, becoming three-dimensional sculpture. 
Her work has appeared in solo and group exhibitions worldwide, including GRIMM, Amsterdam (NL) and New York, N.Y. (U.S.); the Center for Contemporary Art and Culture, Portland, Ore. (U.S.); the DeCordova Sculpture Park and Museum, Lincoln, Mass. (U.S.), the Massachusetts Museum of Contemporary Art, and Galerie Christophe Gaillard, Paris (FR). Artsy recently named Wilson an emerging artist to watch, and one of twenty female artists who are "pushing sculpture forward."
Wilson installed an outdoor sculpture on the north lawn of Booth/Gannett Halls in Fall 2021. Titled Craters of the Moon Foldback, it consists of UV photographs printed on steel. The outdoor sculpture will be on view for a minimum of two years as part of her visit to RIT. 
Wilson's visit is presented by the Anna Ballarian Visiting Artist Series.
Thursday, February 10
Artist Talk with Letha Wilson
5:00 PM, Bevier Gallery
Free and open to the public. A face mask is required.
RIT Event Listing click here: Interpreting services requested.