Alumnus takes storytelling approach to design practice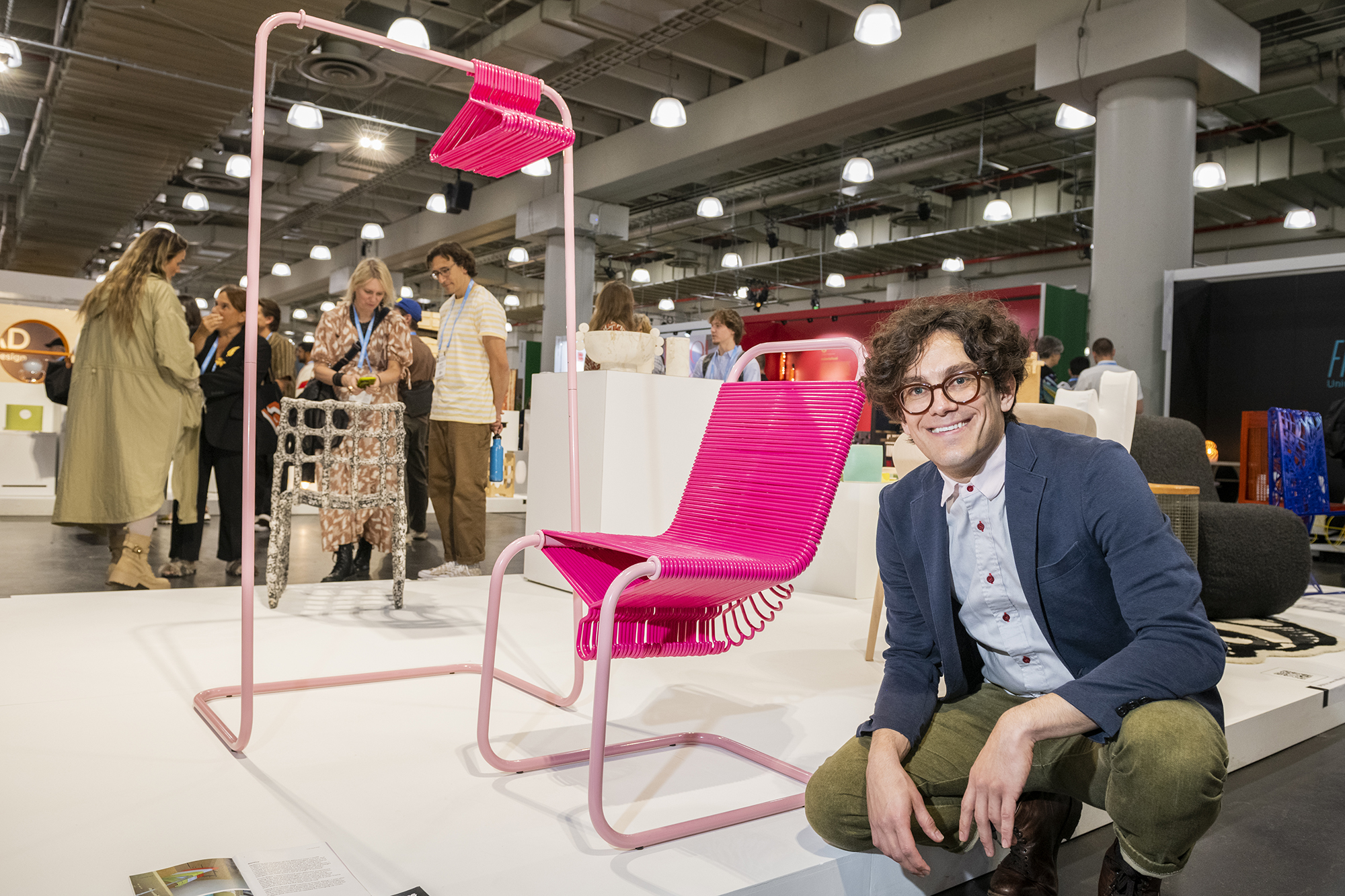 At the heart of Joey Zeledón's designs is a substantive story. 
A printer doubling as a piece of furniture, a coffee maker envisioned as an in-house barista and an innovative reuse of closet hangers are shining examples of his core belief in "helping objects find their purpose in life."
On his website, there is an illustration of him portraying a psychiatrist as a couch-bound toaster declares, "I see myself more as a tanning salon for bread."
"That's the psychology of my approach," said Zeledón '06 (industrial design). "I picture myself as this therapist for objects."
Creating narrative identities attach authentic meaning, character and function to his work. 
"It's about taking old product archetypes and giving them new stories to tell and giving them new value," Zeledón said. 
After more than 15 years of leading design teams at top companies in the industry, Zeledón founded his self-named design studio in 2022 based on his inimitable design methodology. 
His signature project — the one that fully embodies his storytelling style — is the Coat Check Chair, which originated his senior year in a furniture design studio taught by Stan Rickel, associate professor of industrial design. In the proceeding years, Zeledón evolved it into an award-winning designer chair that reimagines mundane objects found in closets.
Elizabeth Lamark
The chair's unexpected meaning comes from its materials of a steel closet rod as the frame while the user sits on a series of plastic hangers flipped upside down and stacked snugly around the frame. Inspired by a natural instinct to hang a jacket over a chair, it delivers surprising comfort and encourages organization in a sustainable way by upcycling hangers. 
"The hangers become something else while still being what it was originally," Zeledón said. "I think that's the magic in this design and what makes it stand apart."
Zeledón's intention with the "closet you can sit on" was to put a playful twist on standard chair archetypes. He prioritized storytelling over a traditional look, leading to the seat's distinctive features that create a cross between artful object and furniture.
"I love trying to dismantle the pretentious, egotistical culture in the design world," Zeledón said. "There was more choreography beyond just sitting on a chair or looking at a chair in a museum and ogling over a beautiful designer chair. In that sense, it's kind of a chair for the people. It has some practicality, it also has a whimsy and sense of humor built in." 
Over the years, Zeledón worked on the Coat Check Chair when he found time between executing separate design work for notable brands. 
In 2019, the chair went through a successful crowdfunding campaign to support a small manufacturing run. It has received a host of awards, including an Interior Design Best of Year honoree in the Residential Accent Chair category, as well as a Core77 Design Award Notable, Spark Silver Award, ID Design Distinction Award and an International Design Excellence Awards finalist nomination. It has also been featured in a number of design publications.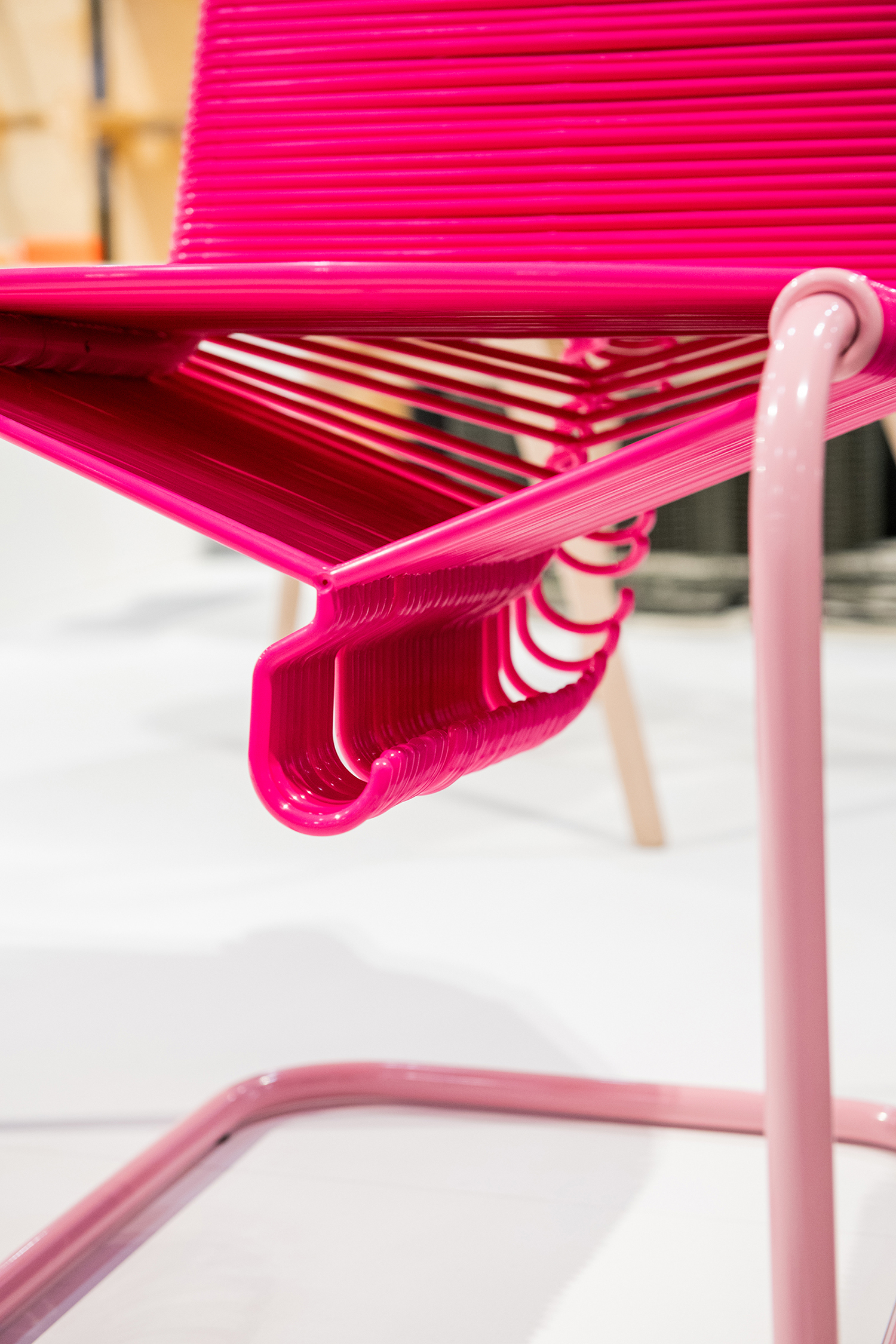 Elizabeth Lamark
In May, with its pink powder-coated frame and bright pink hangers, the chair was an attention-grabbing inclusion at WantedDesign as part of New York City Design Week. It was recognized by Design Milk as one of the best designs of WantedDesign and the International Contemporary Furniture Fair, which jointly took place at the Javits Center. 
Now, 17 years after starting the concept at RIT, Zeledón hopes it becomes available in the marketplace. But whatever the future holds, it's been an invaluable experience.
"I'm learning so much throughout this process," Zeledón said. "It's like Stan Rickel's furniture design studio never ended. I'm still keeping that flame going and that spirit alive. If that's all I get out of this, it was worth it. I'm proud of it and I'm proud of my time at RIT."
Before opening his design studio, Zeledón led design teams at Clarks, Continuum, HP, Smart Design and Steelcase. Between working for those companies and personal ventures, Zeledón has contributed heavily to commercial projects ranging from OXO coffee makers, shoes, and, as the design principal for Steelcase's health division, transforming hospital waiting rooms to look and feel like a comfortable, lush living room.
"The Coat Check Chair led the way for my studio and what I'm seeking to do on every project I work on for clients or any other entrepreneurial ventures," Zeledón said. "The experiences I had opened up so many doors and I got to do great things."
Zeledón entered RIT with the specific career goal of designing shoes. He has realized, and expanded, that dream. 
"What I appreciated about RIT and the professors is they gave me a good balance of fostering my purpose, but they also helped me diverge and explore other things," Zeledón said. "That helped me develop my passion for storytelling and the space between people, things and objects."
Topics