Design internship for the win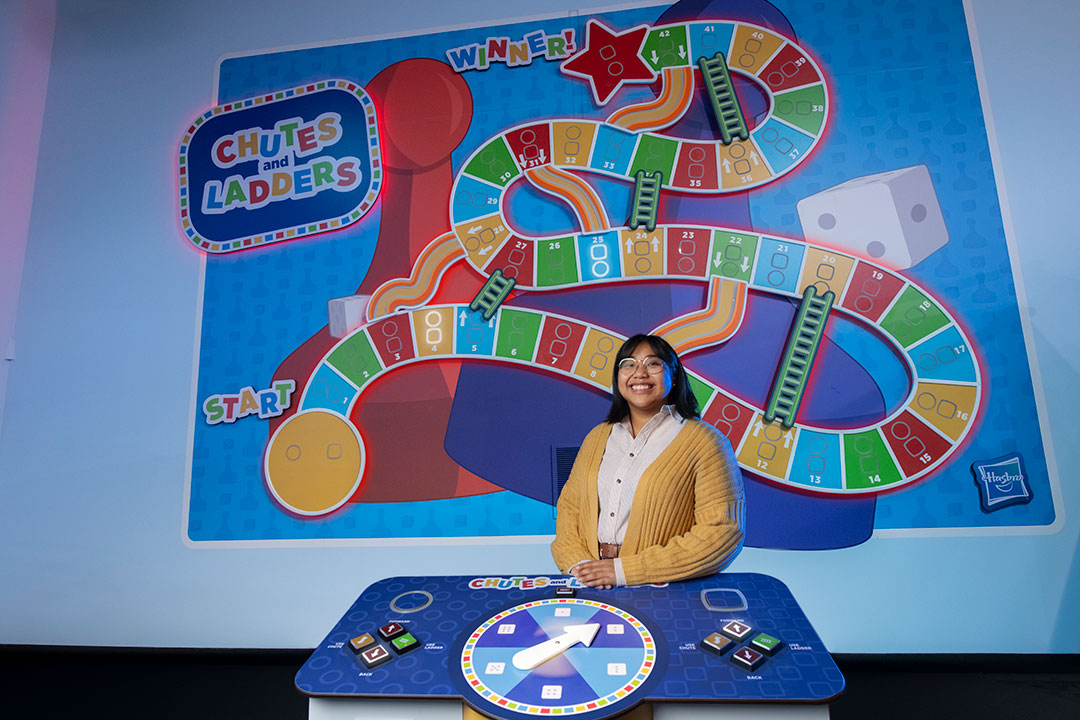 Common household items have historical value, even the board games collecting dust in the closet. Allie Cervantes, a fourth-year graphic design student with a museum studies minor, helped bring some of America's favorite board games out of the dust and into the spotlight at The Strong National Museum of Play in Rochester.
As part of her summer internship in 2022, Cervantes designed an interactive display based on the board game Chutes and Ladders for an upcoming new exhibit, "Hasbro Board Game Place."
Cervantes, from Medway, Mass., was given a part-time position at the end of the summer to continue her work on the interactive display and to provide artistic and design direction for the exhibit's signage, labels, and other displays.
"I thought I was going to be correcting typos or helping with formatting, and instead they gave me this huge centerpiece to a permanent exhibit. For them to have that trust in me, and then to give me more responsibility over time, it makes me feel very honored," said Cervantes.
"Hasbro Board Game Place" examines and celebrates the gameplay, historical context, and social impact of board games. The all-new exhibit will feature historical artifacts, interpretive material, and custom-designed interactives, including the 15-foot-tall interactive version of Chutes and Ladders designed by Cervantes. This is one of two new exhibits highlighting Hasbro games, the other being an outdoor exhibit called "Hasbro Game Park."
Michael Streb, director of exhibits at the museum, shared that Cervantes's talent and positive demeanor made extending her position through her graduation this May an easy decision.
"Interactive exhibit development draws from myriad disciplines to create new and engaging ways to educate, curate, and provide memorable experiences to museum guests. Student designers like Allie bring new perspectives, skillsets, enthusiasm, and a propensity to learn that improves any exhibit development process and product," said Streb.
The most significant lesson Cervantes got from her experience was recognizing how she can use her skills in graphic design to help uplift the community.
"You don't learn the history of board games in school, but they have an incredible impact on our lives and how we all grew up," Cervantes said. "I hope that the interactive I designed, and the exhibit as a whole, gives people an understanding of the way that they can impact the world. You don't have to make huge scientific discoveries—your impact can be creating something that makes people smile."
"Hasbro Board Game Place" and "Hasbro Game Park" are both part of the museum's expansion campaign and are set to open on June 30.