Luvon Sheppard tributes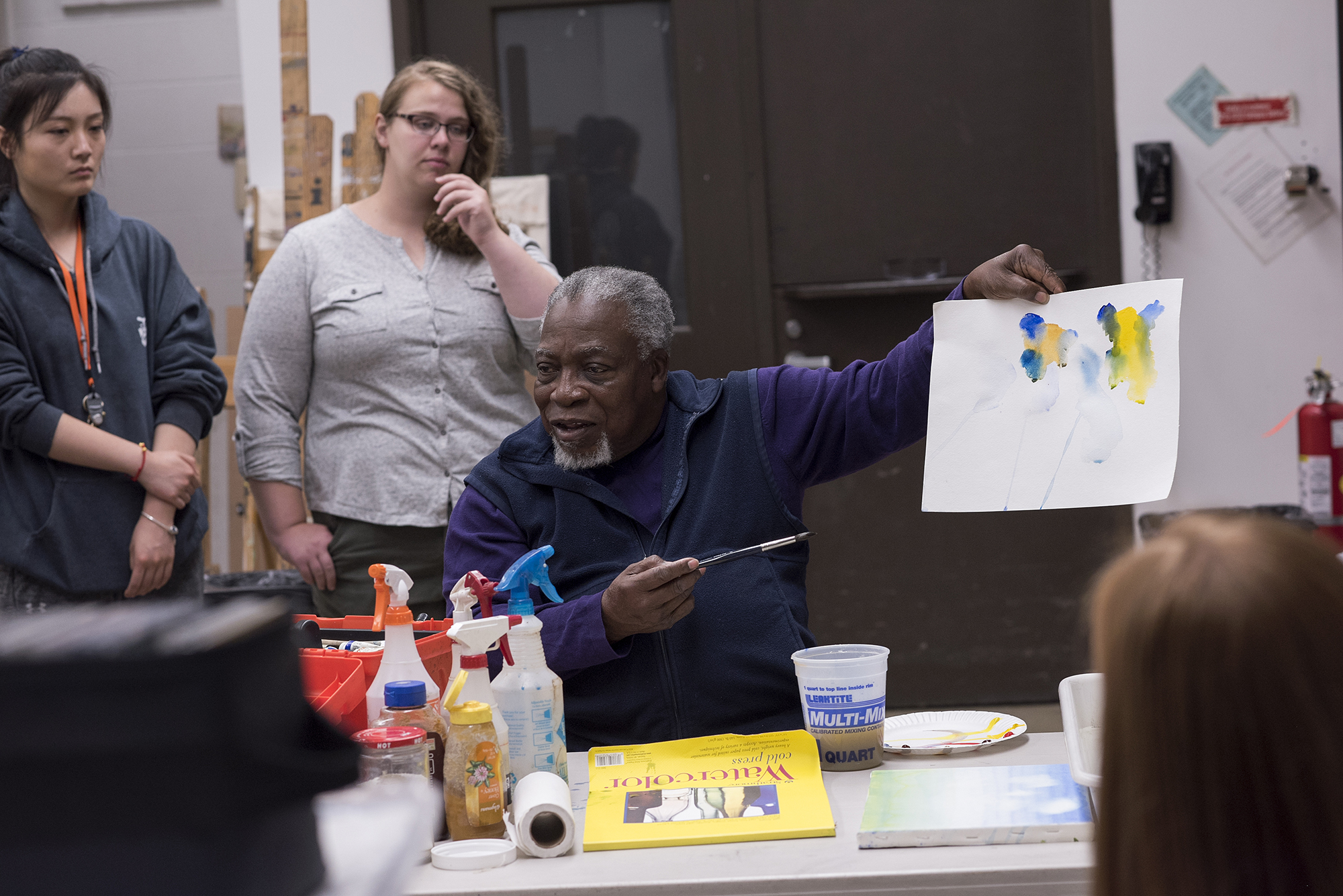 School of Art Professor Luvon Sheppard has immeasurably impacted students, colleagues and countless others in the greater Rochester community for 50 years. As his remarkable career as an artist, educator and community collaborator continues, a number of people paid tribute to his influence on their lives.
RIT City Art Space is celebrating Sheppard's lifelong commitment to art, education and community collaboration with a solo exhibition, "Jubilee," from Nov. 5 to Dec. 19. A gallery talk with Sheppard is scheduled for 6 p.m. Friday, Nov. 12, at the downtown venue.
Joe Allgeier, Manager of 3D Shops and Studios, College of Art and Design
"Luvon has always been a positive force here at RIT. He is a wonderful educator and a source of creative influence at RIT and the larger Rochester community. He and his wife welcomed my wife and I to show at their gallery in 2015. It was a wonderful experience and Luvon gave us encouragement and advice on how to install the show.
"Luvon is always willing to stop and talk to anyone. He always has a warm smile and a word of advice, which is very appreciated. He is a great friend and mentor and I am very happy to know him."
John Alvarez, Electrical Engineering Technology student
"He is kind, welcoming and always a warm person."
Janice Aspridy Corea '69
"In his presence you felt his unconditional love and support. Luvon and I were classmates at RIT. The 60s were an exciting time as our class prepared for the future. It was a unique period in which forces of change surrounded us — a formative time when we were discovering both ourselves and our place in the world. I always saw Luvon as the 'wise one' of our class. I still have an etching of Luvon's from our Printmaking class.
"Our paths crossed again at the Allofus workshop that he started. Little did I know then that his contributions to RIT and the greater Rochester community would continue for years to come. Luvon has enriched the lives of so many, one of them being my daughter, who took his watercolor class as a Visual Arts-All Grades MST student at RIT. When no gallery was available to exhibit the artwork from their student teaching, Luvon graciously provided his Joy Gallery for the class. I am grateful that our class has maintained lasting friendships to this day. It seems that Luvon and my family have come full circle together. We wish Luvon the best celebrating 'Jubilee,' his solo exhibition at RIT City Art Space."
Glen Barry '79 (Professional Photography) 
"I studied one course in art. Mostly it was learning how to draw. Watercolor painting was emphasized. Luvon had a positive way of encouraging students. His energy and knowledge was something I have not forgotten. He opened interests in my life that I know more about because of his suggestions. He was positive, caring and understanding. I began to read and study zodiac signs because he mentioned the topic and how it applies to life and to people."
Kayla Brady, Illustration student
"Though I have not known Luvon for very long, he has been so genuine and shown such compassion to me and the other students in his watercolor class. It is always a joy hearing his views on art and the world and everything in between. He makes it one of his primary goals to push us as artists while also wanting us to have fun. I am very grateful for all that he has already done to better me as a creator and a person."
Andy Buck, Professor, School for American Crafts
"Luvon has been an important colleague, mentor and friend to me during my time teaching at RIT. We have served on college and thesis committees together. It has always been so inspiring to gain his perspective.
"Luvon has an amazing glow. He radiates such positivity energy, and a sense of joy and gratitude everywhere he goes. He is an incredible artist, but also an incredible teacher and unique voice for our school. Each time we interact, whether it is committee work or a greeting in the halls at school, I am left feeling enriched."
Robin Cass, Professor, School for American Crafts
"Luvon is such a dedicated and sincere educator — so generous with his wisdom and time. I have always appreciated his sense of humor and ability to connect."
Bleu Cease, Executive Director/Curator, Rochester Contemporary Art Center (RoCo)
"Luvon has touched so many people in our community across at least three generations. We've had the opportunity to exhibit Luvon's work at Rochester Contemporary Art Center (and our predecessor Pyramid) many times. In 2018 I curated a group exhibition called "No Soil Better, Art and the Living Legacy of Frederick Douglass." As part of the citywide 200th year celebration of Douglass, the exhibition included a wide range of projects and bodies of work. Luvon created a series of watercolor 'history paintings' that integrated text by Douglass, imaged him at different ages, and several portrayed his distinct white hair flowing into the clouds. Luvon's series was a focal point of the exhibition and a major contribution to the local memorialization of 'Rochester's Favorite Son.' It was an absolute honor to work closely with Luvon on this project. 
"I've witnessed Luvon's teaching and mentoring take on many forms and extend far beyond teaching. From formally advising current students on a body of work to hosting community artists and friends for less formal sessions at his Joy Gallery on West Main, Luvon always seems to make time for others. Additionally, whenever I am around Luvon, art making is always happening nearby."
Walter Colley, Visiting Lecturer, School of Photographic Arts and Sciences
"I had a class when I was an undergraduate that Professor Sheppard taught, called 'Design for Photo.' It was one of the most important classes I took during my four years at RIT. Professor Sheppard's way of teaching and ability to help students find their creative way was remarkable, to say the least! I have some of my fondest memories going to that classroom workspace and creating artwork.
"He is a gentle soul — someone who unknowingly has probably shaped thousands of lives in his teachings. I just loved him and his class! As a current faculty member in advertising photography, I try to elicit some of the same teaching techniques. Some of the ways I approach my teaching currently is based on how he was able to engage with students and do more than just teach. He helps them understand who they are as an artist. He maybe didn't even think about it — he just did what came natural to him, or so it seemed. 
"I felt like he really cared beyond just the involvement in the classroom. He cared about who we were as students and individuals. He was an inspirational instructor and someone who could help us find our way. Cheers to Shep!"
Frank Cost, James E. McGhee Professor, School of Photographic Arts and Sciences
"Luvon is the longest-serving member of the faculty of the College of Art and Design, while at the same time remaining vital and exuberant in his beautiful creative work. He has provided me with a model for the kind of teacher I always wanted to be."
Denton Crawford, Senior Lecturer, School of Art
"Luvon has been an invaluable resource and source of support for me as a teacher and colleague. When I came to RIT, he provided guidance and support that was very much needed for both my students and myself. He is not only a mentor and a colleague, but a friend when needed. His compassion for us all knows no bounds."
Kris DePalma, Academic Advisor, College of Art and Design
"I have worked with Luvon in various capacities since 2006 and took painting classes with him for my undergraduate Studio Arts degree.
"As a professor and mentor, Luvon was a supportive champion of my artwork. When I was exploring new painting styles and mediums, he encouraged me to step out of my comfort zone and try new things. Luvon was always eager to see what I brought in for critique and understood the artwork I made was an authentic reflection of myself. He gave me confidence when I doubted my ideas and skills. His positive influence resulted in further definition of my unique style, which I still pursue to this day. 
"As a co-worker, Luvon has always shown great care and concern for his students. He not only wants them to be successful artists, but good people, too, and leads by example. He has a lot of compassion and his students adore him. Luvon is a one-of-a-kind person who deserves all the best! He is an exceptionally talented artist and his work speaks volumes about his experiences and the community we live in."
Lorrie Frear, Professor, School of Design, and John Dodd, Adjunct Faculty
"Everyone in the College of Art and Design knows Luvon! He is a treasure of our college. We have also had the wonderful opportunity of working several National Portfolio Days with Luvon! Luvon has given us a great deal of advice on teaching that has been integrated into our teaching practices. His kindness and warm smile help everyone get through tough days. His positive attitude just glows and helps everyone. He is a true example of someone who loves teaching and who is here for his students. He represents the best of our college in terms of serving students."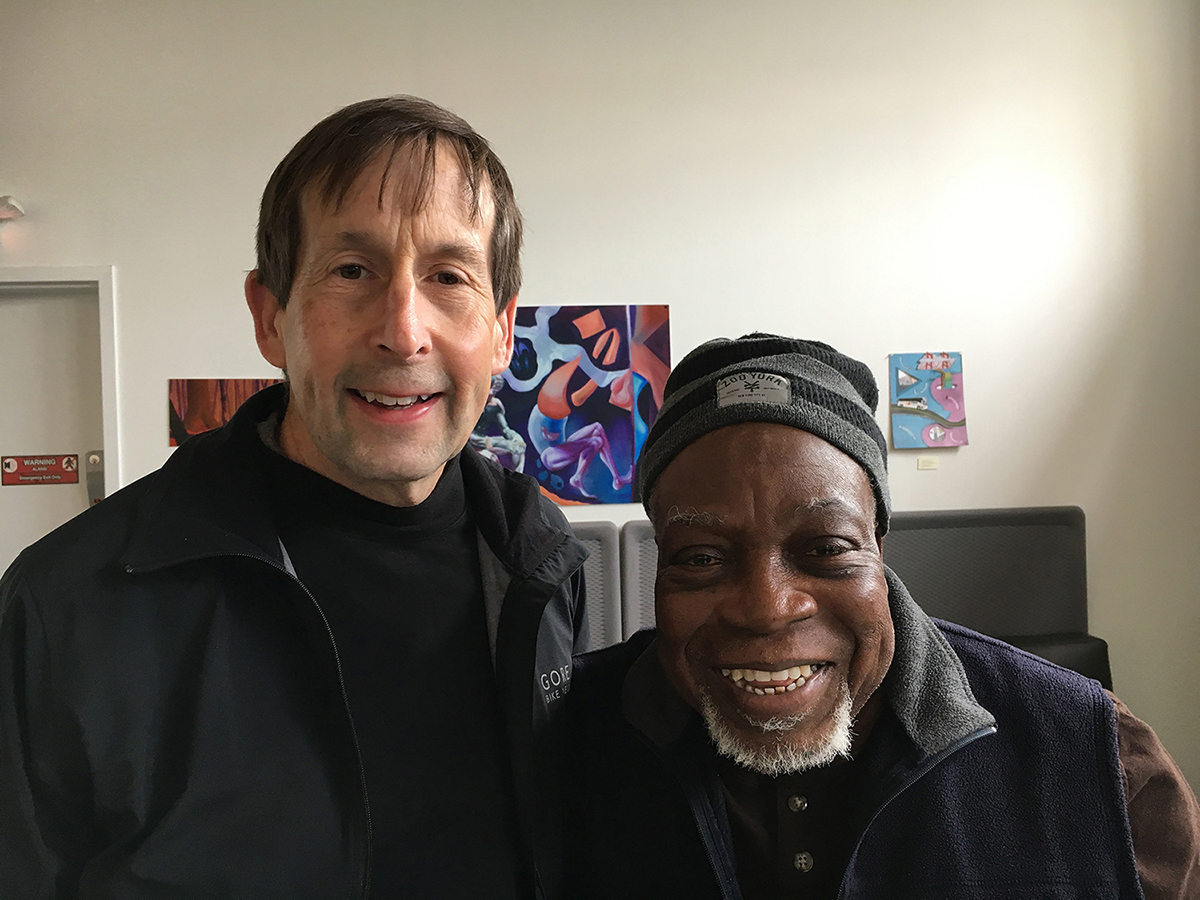 Karla A. Gutierrez, Production student
"I saw him perform on a piano while enjoying (2021 Glass MFA alumna) Ying Chiun Lee's exhibition 'Aphrodite.' Although I was never able to speak with or compliment him on his playing, that night and that performance left an imprint on me that's incredibly beautiful. He sang and played with a richness and soul that only brought me closer to the world I was experiencing that night. Himself as an artist, even in that brief period of time, was still so impactful and direct in itself."
Kim Jones '87 (Graphic Design)
"Shep was a great source of comfort for me as a freshman in a new world away from home. As an African-American student, and new to RIT, I was able to connect with him. I don't think he realized the impact and influence he had on my success in graduating from RIT. I'm grateful and blessed to know him."
Boram Kim '08 MFA (Fine Arts Studio)
"Luvon has taught me and showed me how to see and perceive things beyond as an artist. And his everlasting passion for art and his integrity in everything he does have always inspired me to be a better artist as well as a better human being. Luvon has always been guiding and supporting so many people around him, including myself. Whenever I have doubts about my path as an artist, he always makes me see who I really am once again. I am forever grateful to him for his love and wisdom he has shared with me."
Renee Levasseur '20 MFA (Film and Animation)
"I already knew a little bit of watercolor painting but he helped me find a passion for it, giving me inspiration and other artists to explore, and new techniques I still use today. He gave me a very deep love for the craft. I want to thank him for teaching one of the best classes I ever took at RIT."
Kerina Mangiaracina '17 (Metals and Jewelry Design), '20 MFA (Fine Arts Studio), Adjunct Faculty
"I know Luvon from his watercolor class at RIT. He has been a great mentor and teacher to me over the last four years. Luvon helps me to see what I can't, and has been a wonderful friend."
Josh Owen, Vignelli Distinguished Professor of Design
"Luvon has always offered sage advice and wisdom in the conversations we have shared. His enlightened perspective on life and work remains inspirational to me."
Chun Park '22 MFA (Fine Arts Studio)
"Upon coming to RIT, I was in tremendous doubt about my abilities as a painter and artist, but Professor Luvon saw a strong potential in me and provided me with much-needed encouragement and validation. I was able to believe in myself again due to his thoughtful and generous insights and wisdom. Professor Luvon hosts a meetup of artists and art lovers at his studio and gallery every Saturday. We had a profound conversation about his own work and the meanings embedded within — such as the values of democracy, freedom and the light. He said everyone who participates in the conversation is elevated to a higher level of self, and it would be selfish of him to own the entire endeavor and take credit for everything. It showed me that Professor Luvon is very humble and down to earth."
Karen M. Pelc '78 (Fine and Applied Arts), '06 MFA (Fine Arts Studio)
"I remember taking classes from Luvon. He is a humble man who was always willing to help his students. The knowledge and expertise he has acquired as an artist and a teacher was a wonderful experience that I took with me. Luvon showed me how to express myself through the use of color and emotion. I know he has enriched my life and my love for the arts. Luvon is a memorable teacher and artist."
Jim Perkins, Distinguished Professor, College of Health Sciences and Technology
"I have been a colleague of Luvon's since I joined the RIT faculty 23 years ago. But before that, I took Luvon's watercolor class twice when I was a grad student at RIT in the early 1990s. I enjoyed the class so much the first time I had to take it again! Luvon is an inspiring teacher and one of the sweetest, most caring people I've ever known. I've had the pleasure of learning from him as a student and working alongside him for many years as a colleague.
"Luvon gave us freedom to explore whatever kind of artwork we wanted to create. And he always found something nice to say about our work. But don't let that fool you. Nobody slacked off in his class. Everyone worked hard and created great artwork, not because he drove us hard, but because we wanted to. His charming personality was so infectious that everyone wanted to please him."
Trisha Pickelhaupt '21 Visual Media Option (Photographic and Imaging Arts BFA)
"I took his intro to watercolor class my senior year. Luvon not only taught me about the relationships between colors and shapes in painting, but he taught me not to overthink/overwork my art. I always struggled with painting and being a perfectionist about it, but Luvon taught me how to just let it go and see how it would come together. He just has such a positive and calming energy. He is someone who I would want to just listen to for hours. He's humorous and humble and you can tell he really cares about each of his students."
R. Roger Remington, Vignelli Professor Emeritus
"A great colleague and exemplary former student!"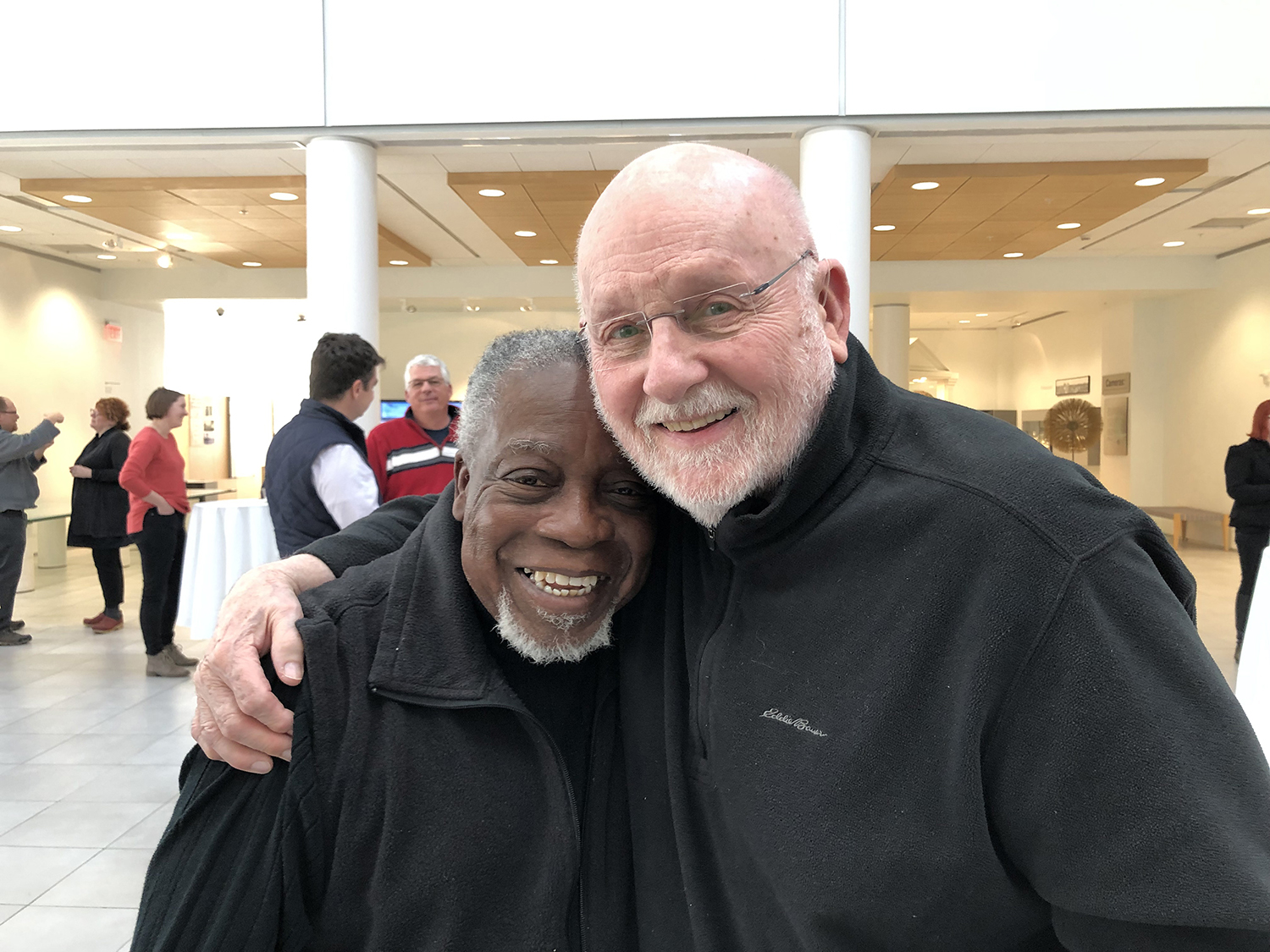 John Retallack, former School of Photographic Arts and Sciences faculty
"I have known Luvon as a faculty member and friend for years. He always has a smile and a positive greeting. I stop by his gallery on Saturdays and often see students there with their work. He is always teaching. After years of teaching in RIT's School of Art, he still is enthused with his classes and students. One thing artists do is show current work to others. It is important. Luvon gives me the best feedback. If he says something is good I know it is. If he says it with enthusiasm and a big smile I know it is better than good. That's the defining statement about Luvon. He is better than good."
Michael Rogers, Professor Emeritus, School for American Crafts
"Luvon is a serious artist, always sincere and a pleasure to meet. A very supportive colleague!"
Eddie Swayze '89, '95 MFA
"Luvon was my instructor for illustration class. He approved my written thesis in order to be able to graduate with a master of fine arts degree back in 1995. He was also a kind, gentle and respectful art teacher for my projects. He is the kind of person who treated me with respect, humor and support when I was a student."
Rachel Tiano '21 (Graphic Design)
"Luvon not only taught me a lot of painting techniques but he taught me to keep working on myself as an artist. He always encouraged myself and my classmates to try new things but also to find different ways to improve on our strengths. More than that he had lots of life lessons and jokes to share with us. He saw ambition in me and did his best to help harness it. 
"He was always a friendly face willing to greet me at 8 a.m. even if my face didn't look so friendly early in the morning. My only regret is not being able to partake in another one of his classes my fourth year of college. I feel like he built a deep connection with people as long as they were willing to be open to him."
Deanna Varble '04 (Graphic Design)
"Luvon helped me believe in my own talent in painting. He helped me learn a difficult medium and gave me confidence I didn't have. He inspired me to leave the studio, and gave me a love for live painting in situ. His class has given me years of pleasure, a place to go to be reinsured and recharged, and a love for painting that was a seed before he helped it bloom. I am so grateful."