RIT Cary Graphic Arts Collection hosts exhibit and celebration of the RIT Albers Murals
Reception and discussion begins at 5:30 p.m. in Eastman Hall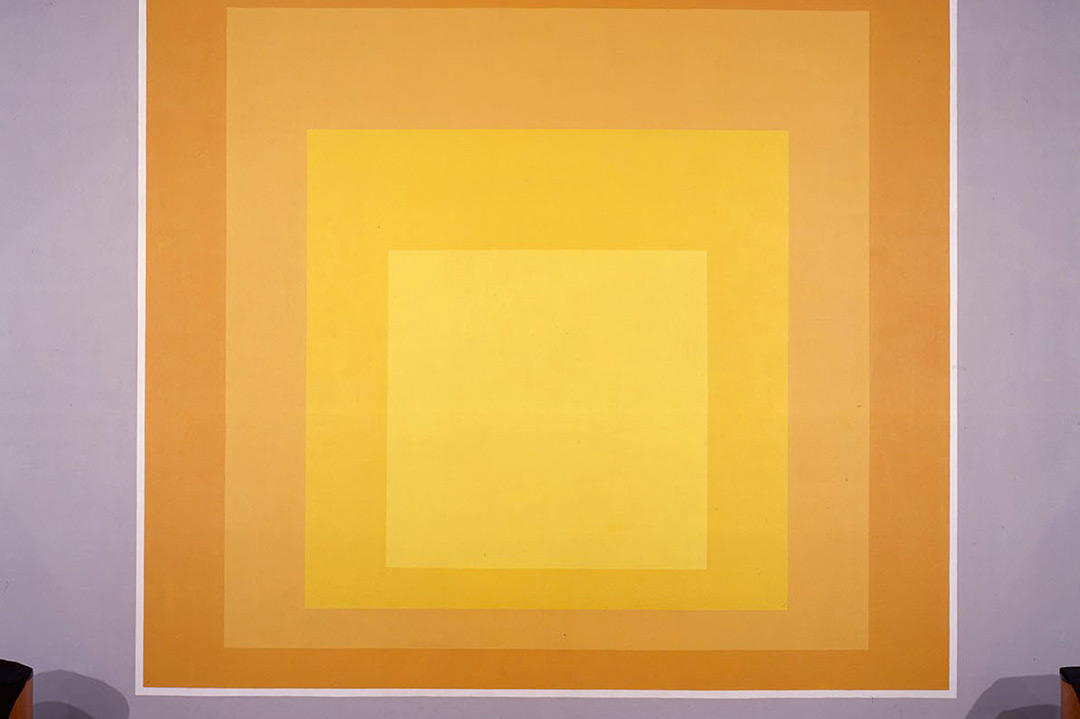 Doug Manchee
The RIT Cary Graphic Arts Collection today will host a tribute to the artist who painted RIT's iconic orange-and-yellow murals, paintings that hold historical significance to the art world and the campus.
"In Conversation, on Josef Albers" highlights the history and impact of the artist's "RIT Homage to the Square" paintings (titled Growth and Youth) in Eastman Hall and the Loggia Wall brick mural on the north side of Gosnell Hall. The event—free and open to the public— continues the 50th anniversary celebration of the architecture of RIT's Henrietta campus with a 5:30 p.m. reception in the Eastman Hall lobby and a 6:30 p.m. talk in Eastman Hall, room 2000.
The history of these art pieces—and Albers' lasting impact on art education—will be explored by Rebecca Aloisio, professor in the RIT's College of Art and Design; Mark Fairchild, director of the color science program and Munsell Color Science Laboratory; and James Hamm, the art conservator who, in 1999, cleaned 30 years of grime from the murals. Amelia Fontanel, associate curator of the Cary Collection, will moderate the panel discussion.
Fontanel curated a companion exhibition in Wallace Library that provides context for Albers' artwork at RIT and a glimpse of his impact on art education in the United States. "Josef Albers: The RIT Murals," on view through May, explores the influence of Aztec and pre-Colombian architecture on the Loggia Wall, while featuring archival documents and photographs about the creation of the square murals. The exhibit also showcases the Cary Collection's screen-printed plates from Albers' famous art book on color theory, The Interaction of Color. Albers' ideas formed the core curriculum used today to train young artists in the basics of two-dimensional design and color theory before they learn a specialty, Fontanel said.
Albers' "Homage to the Square" series consists of more than 1,000 paintings, which Fontanel describes as "deceptively simple studies" in color interaction. RIT's murals are the largest in the series, measuring 18 feet by 18 feet.
"The exhibit is meant to be a glimpse into these spaces that you don't think about, you just move through," Fontanel said. "People have no idea that they are walking in between the conversation of these two massive paintings. They are interacting with each other."
Fontanel is visiting several classes this semester in the College of Art and Design and the College of Liberal Arts to talk about these murals as significant art pieces that resulted from RIT's move to the Henrietta campus.