Students continue RIT's success in national illustration competition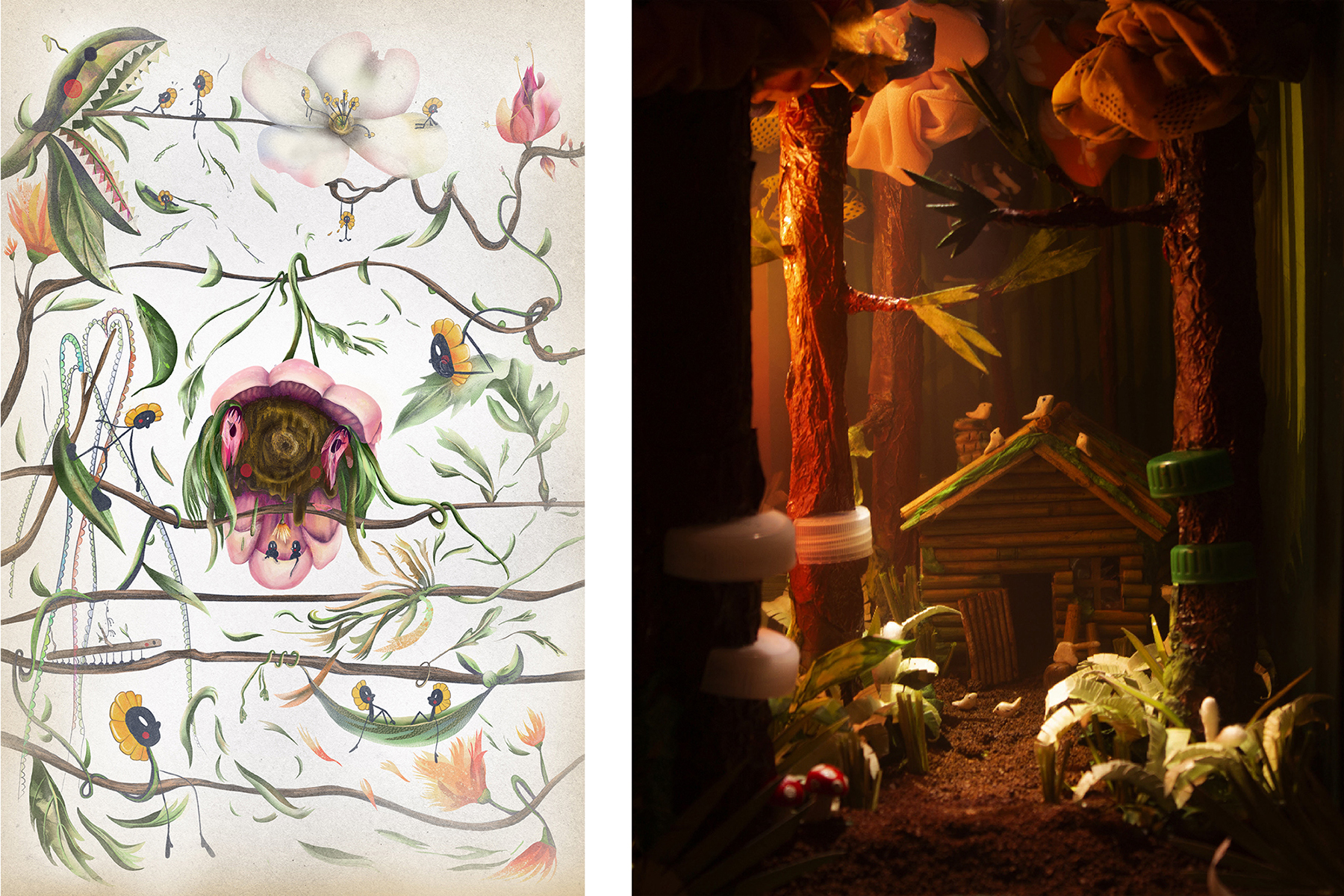 Meghan Wassil '22 and Malvana Ramborger '23
For the third-straight year, Rochester Institute of Technology's illustration program is well represented in the Society of Illustrators' Student Scholarship Competition. 
Illustration majors Meghan Wassil '22 and Malvana Ramborger '23 were accepted into the distinguished 2022 competition as financial award winners. Their honored pieces will be featured in an upcoming exhibition (both online and in the galleries of the Museum of American Illustration at the Society of Illustrators) and catalog.
The nationwide competition, juried by professional illustrators and art directors, sees thousands of entries every year, with only a few hundred selected for the gallery and catalog. 
Wassil received the $5,000 Warby Parker Visionary Scholarship for her digital illustration "Field Guide Endpapers." Ramborger was honored with the John Klammer 3-D Award for "Cabin in the Forest Diorama," a model of an idyllic scene reminiscent of the forests in her home state of Washington.
"It is such an honor," Wassil said. "I can't wait to see the other work that was submitted." 
According to the Society of Illustrators' website, "scholarship awards are granted to about 25 students whose work is deemed the best of the best."
The awards continue a run of success for RIT illustration students in the Society of Illustrators competition. In 2020, Juho Choi '20 was a scholarship winner for "Running out of Time" while Devon Scott-Davis '23 was accepted last year with her painting "Shopping."
Wassil created "Field Guide Endpapers" in Lecturer Allen Douglas' Book Illustration class. Ramborger's piece was made in Dimensional Illustration I , taught by Adjunct Faculty Anna Overmoyer.
Wassil said her digital illustration is to be used as endpapers — the decorated pages commonly found on the inside of the front and/or back covers of a book — for a fictional field guide. 
"I interviewed a couple of my friends and asked them questions about their experiences with nature," Wassil said. "I took their responses and designed fictional ecosystems."
Ramborger said it's been a "lifelong dream" to create a diorama highlighting the abundance of mosses and ferns, and the possibility of discovering a mysterious cabin, that make Washington forests magical to explore.
"I built a cardboard box with acrylic, watercolor, paper, tissues, paper towel rolls, foil, plastic, Q-tips, polymer clay, chopsticks and scrunchies," Ramborger said. "To capture the soft fog effect, I used Febreze and took pictures at the same time."