Students Honored for Writing Excellence by the College of Liberal Arts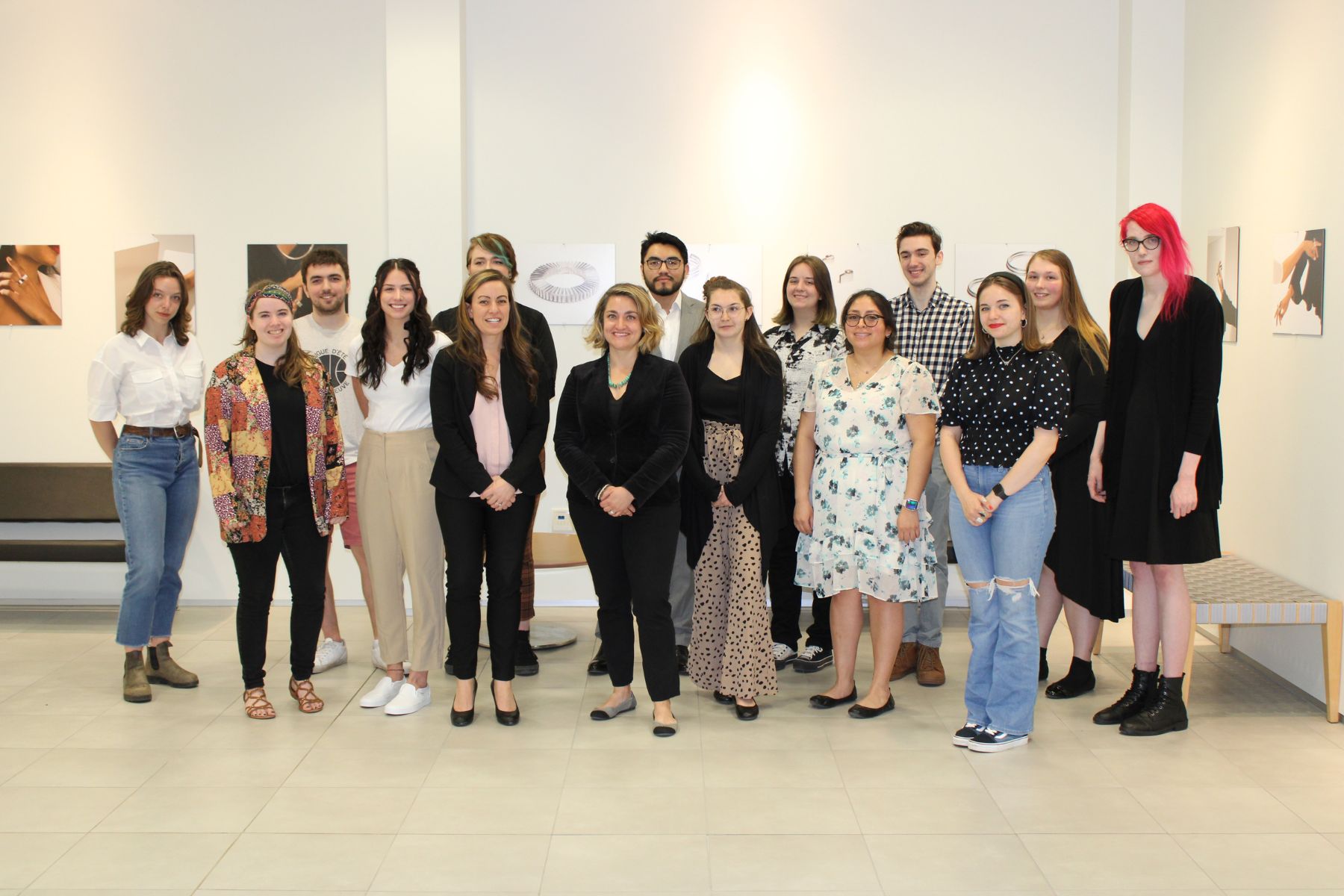 Seventeen students from colleges across campus were honored at the Rochester Institute of Technology College of Liberal Arts 43rd annual student writing awards presentation on April 13, 2023.
Lexi (Alexis) Gutberlet and Sophie Paige Watkins received this year's Mary C. Sullivan Women's & Gender Studies Writing Award, named in honor of the late Dr. Mary C. Sullivan, a much-esteemed first female Dean of the RIT College of Liberal Arts who served from 1977-1987.
Faculty committees in each department within the College of Liberal Arts selected student awardees from a number of disciplines whose work embodies the ideals and standards of excellence, creative endeavor, and scholarship.
Other awards included the Henry and Mary Kearse Writing Award, created in 1980 thanks to a donation from Henry J. Kearse, founder and president of the construction firm H.J. Kearse Inc., and his wife, Mary, a longtime member of RIT's Nathaniel Rochester Society, and an award named in honor of Stan McKenzie, also a former dean of the College of Liberal Arts.
Henry and Mary Kearse Writing Award Recipients: 
Fortune Soleil; New York City, NY; College of Liberal Arts, Applied Modern Language and Culture, Japanese Graduate; fourth-year student
Jenna Warren; Willmington, DE; College of Liberal Arts, Communication; third-year student
Venita D'Angelo; Ontario, NY; College of Liberal Arts Criminal Justice; fourth-year student
Tyler McGuire; Lopez, PA; Golisano College of Computing & Information Sciences,  Software Engineering and College of Liberal Arts, Economics; fourth-year  
Morgan West; Bordentown, NJ; Golisano College of Computing & Information Sciences, Software Engineering and College of Liberal Arts English; fifth-year student
Zachary Evans; Canton, MA; College of Liberal Arts, Digital Humanities and Social Sciences and History; fourth-year student
Johann Alvarado Quispe; Lima, Peru; Golisano College of Computing & Information Sciences, Computer Science and College of Liberal Arts, Philosophy; fifth-year student
Damien D'Arcy; Pittsford, NY; College of Liberal Arts, Economics and Political Science; fourth-year student
Willow M. Rose; Saint Paul, MN; College of Liberal Arts, Psychology; third-year student
Lehna Kitzel; Rochester, NY; College of Liberal Arts, Public Policy and Sociology and Anthropology; fourth-year student
Emma Eagen; Aurora, CO; College of Liberal Arts, International and Global Studies and Sociology and Anthropology; fifth-year student
Mateo Bentley; Rochester, NY; College of Liberal Arts, Science, Technology and Society, School of Individualized Studies, Applied Arts & Sciences; fourth-year student
Stan McKenzie Endowed Writing Award Recipients: 
Abigail Block; Massapequa, NY; NTID, ASL, English Interpretation; first-year student  
Raina (Lorraine) Freeman; Rockledge, FL; Golisano College of Computing and Information Sciences, Computing Security; second-year student 
Mary C. Sullivan Women's and Gender Studies Writing Award Recipients: 
Lexi (Alexis) Gutberlet; Ontario, NY; College of Art and Design, New Media Design; third-year student
Sophie Paige Watkins; Tucson, AZ; College of Liberal Arts, International & Global Studies, Applied Modern Language and Culture Japanese; fifth-year student

Robert Root Endowed Award Recipient
Kaitlyn Reinbold; Phillipsburg, NJ; College of Liberal Arts, English; fourth-year student