An Exploration of the Biological and Cultural Paradigms through the use of Microbes in Printmaking
During the school year of 2017-2018, I recieved an AdvanceRIT grant, funded by the National Science Foundation and the Provost's office on campus. The work was accepted for presentation at the College Art Association in the spring of 2018. This is my presentation.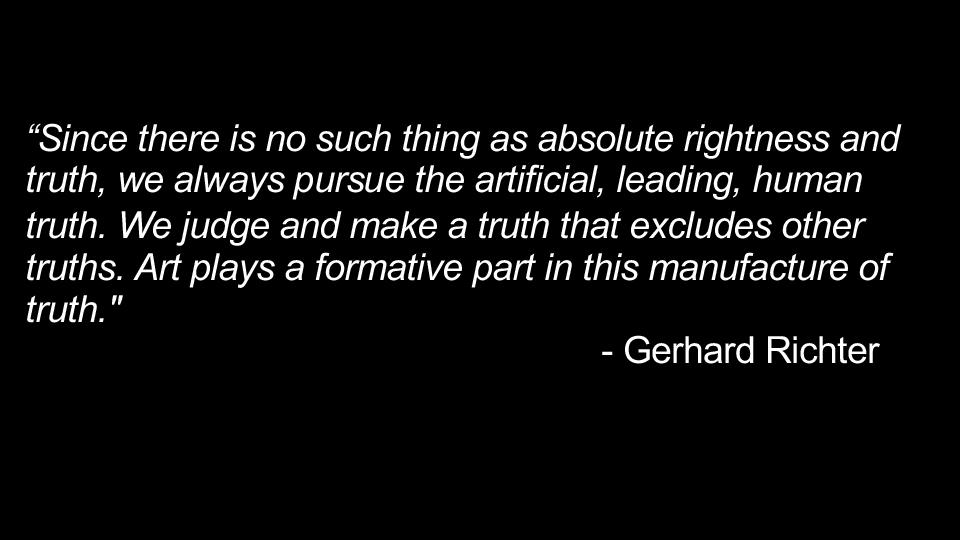 An outstanding element of our cultural and politic discourse of this particular point in time - Truth

Racial injustice, governmental ethos, the voice of women and the veracity of scientific inquiry have all become part of this dialogue

Hard to pick most personally meaningful

This year, it was rate of regression in terms of environmental policies that hit close to home

We are living at a time where science is viewed as a conditional, sometimes unreliable political juggernaut that is being used to manipulate economic agendas and belief systems.

We are also living in a time when the consequences of Global warming, with its accompanying rise in sea levels, severe weather patterns and destruction of ecosystems and their embodied plants, animals and organisms can already be seen and felt by the planet's current inhabitants

Those who are woke know that science is informational format that is essential for our survival.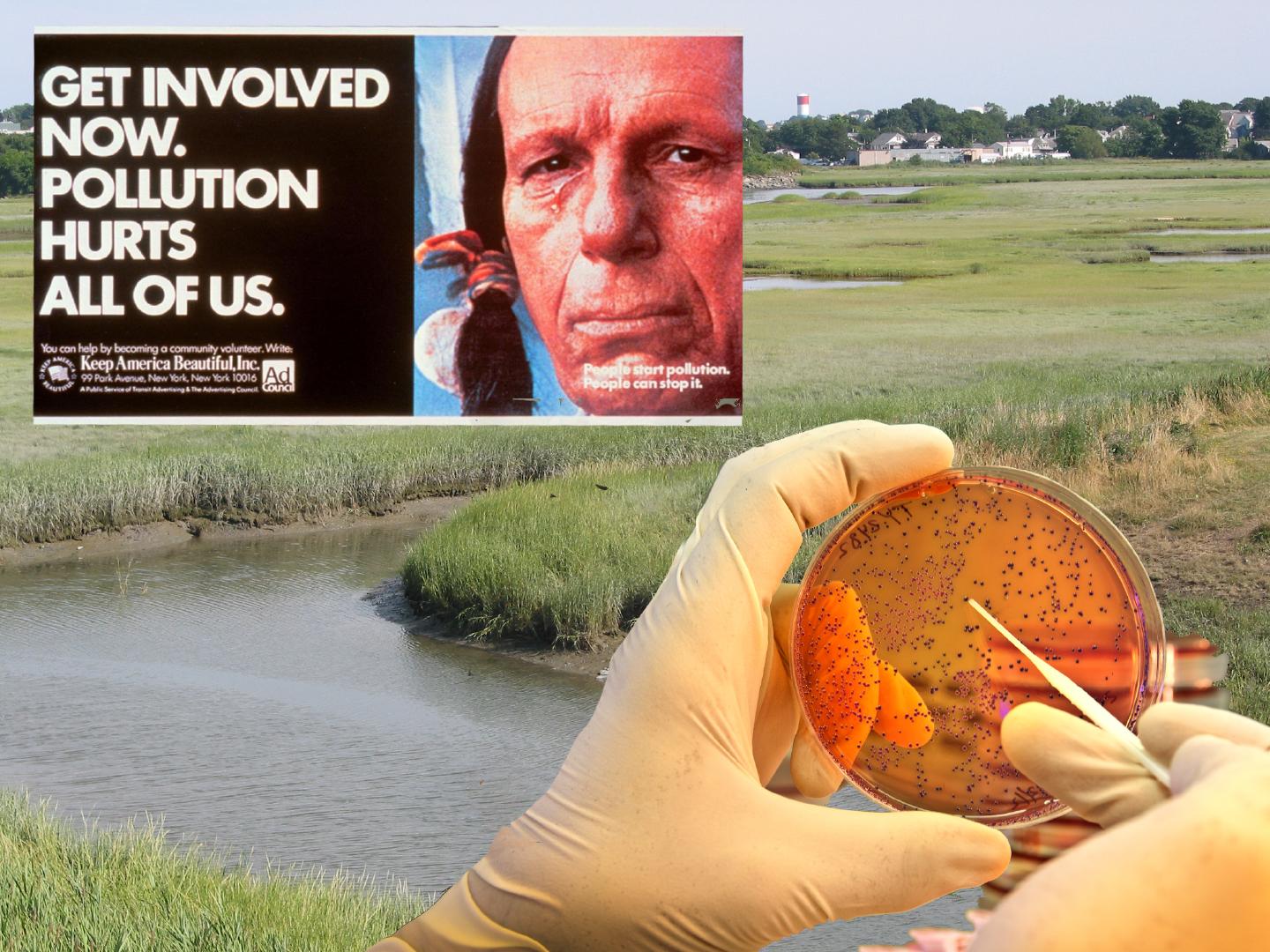 I am an artist whose professional interests over the course of a number of years, have centered on printmaking processes and their relevancy in the creation of meaningful two-dimensional images

The ground work for my attraction to the sciences was laid early in my educational career

Having spent a large part of my adolescence tracking through marshes surrounding Boston Harbor taking water samples and growing E.Coli for Science Fair projects

This was in 70s and environmental activism loomed large and made an impact



Like many of you, I believe that some of most interesting art is that which is grappling with contemporary paradigms that have broad repercussions within the wider culture.

An art that is involved in a dialogue with its time

In particular, for me, environmental science is a paradigm that had and continues to have profound repercussions within our culture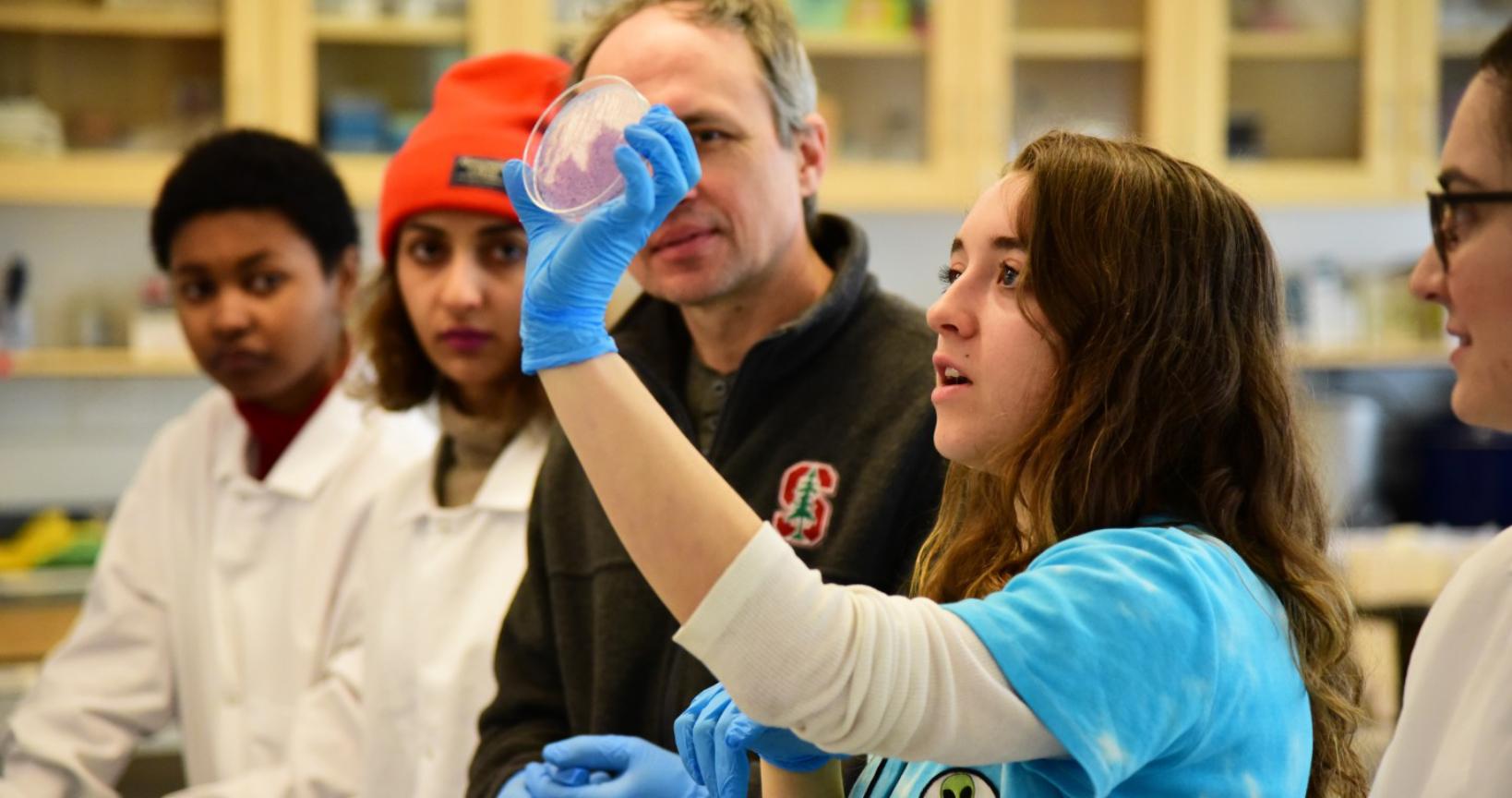 During the fall of 2016, I had been intrigued by a chance encounter with an online advertisement for:

Printing with Biopigments, a workshop hosted by the New School (@ 2018 The Center of Science and Society at Columbia University)



The opportunity to work with microbes and my art generated an instantaneous attraction to this idea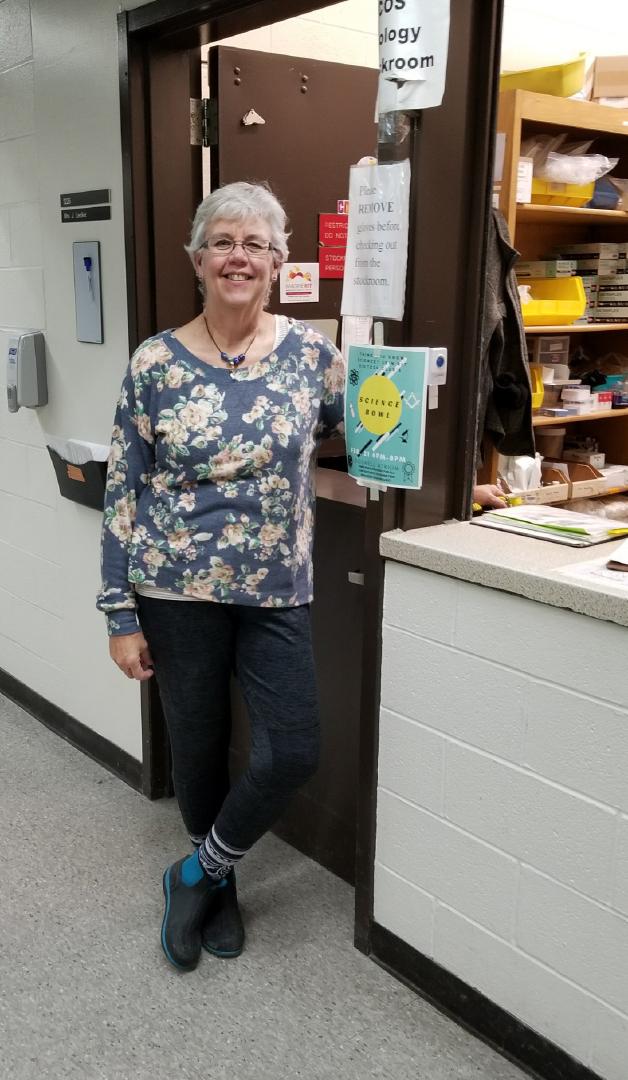 Began locally, asking questions

Referred to Jennie Liedkie, a Senior Lab Specialist in the Thomas H. Gosnell School of Life Sciences at Rochester Institute of Technology

More than her knowledge about microbes, it was Jennie's willingness to answer questions, to entertain the possibilities I was interested in pursuing, that helped to bring my proposal into focus

Jennie became Co-PI in this project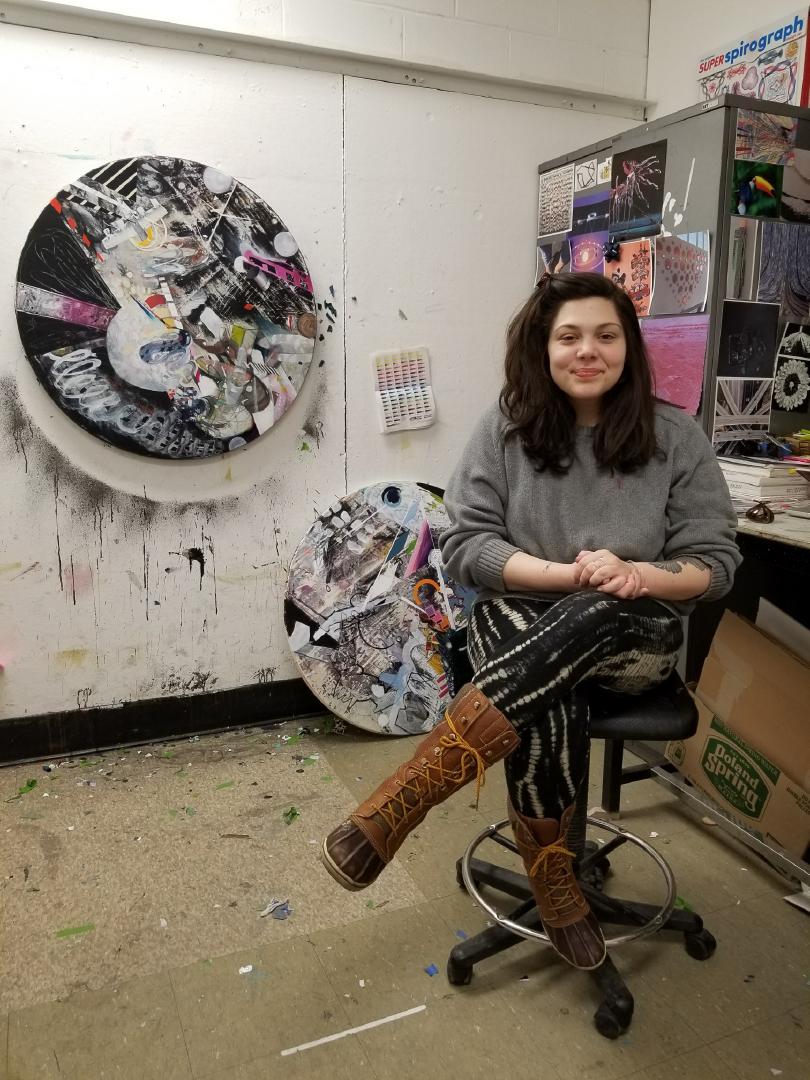 Was also inspired by the work of my students:

Sarah Kinard, a graduate student in the MFA Studio Arts Program at RIT.

Creates self-responsive, large scale screen prints explore macro and micro dimensions of both media representations and urban detritus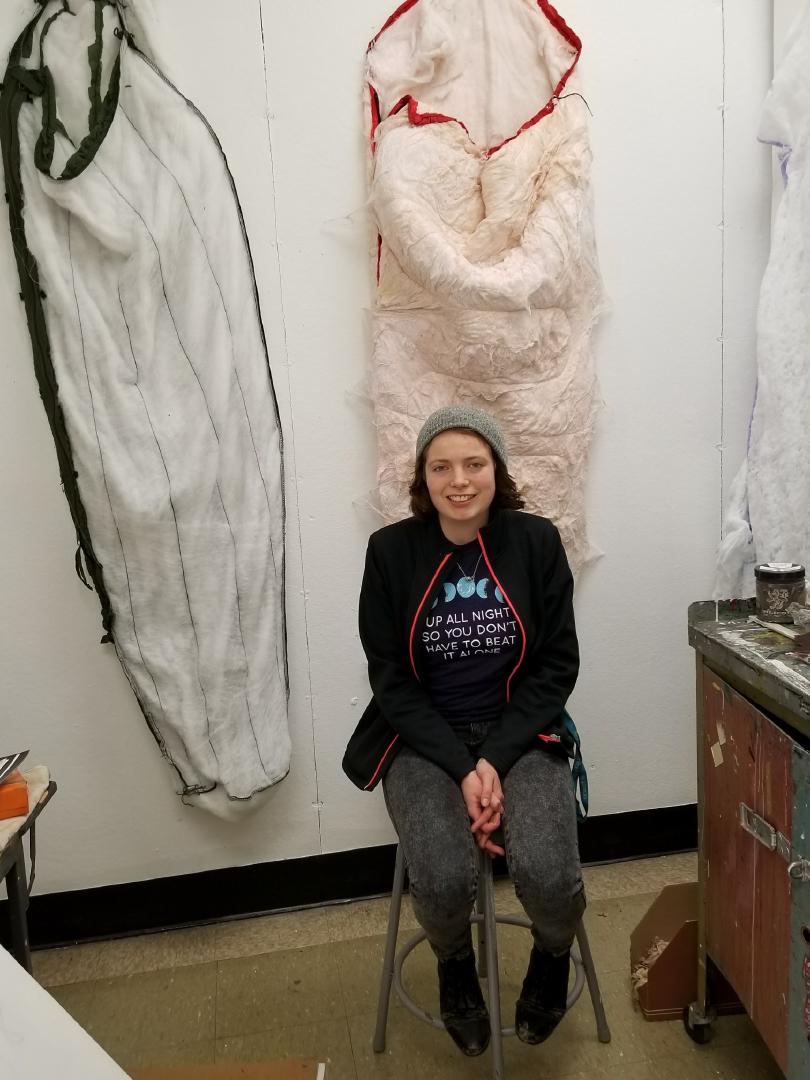 Erika McCarthy, an undergraduate in the BFA Studio Arts Program at RIT.

Her interest in the exploration of interactions and events on a cellular level seemed ideal for this project



Sarah and Erika became research assistants for this project

And it allowed us an opportunity to tangibly explore contemporary biological, scientific and cultural issues on a common platform.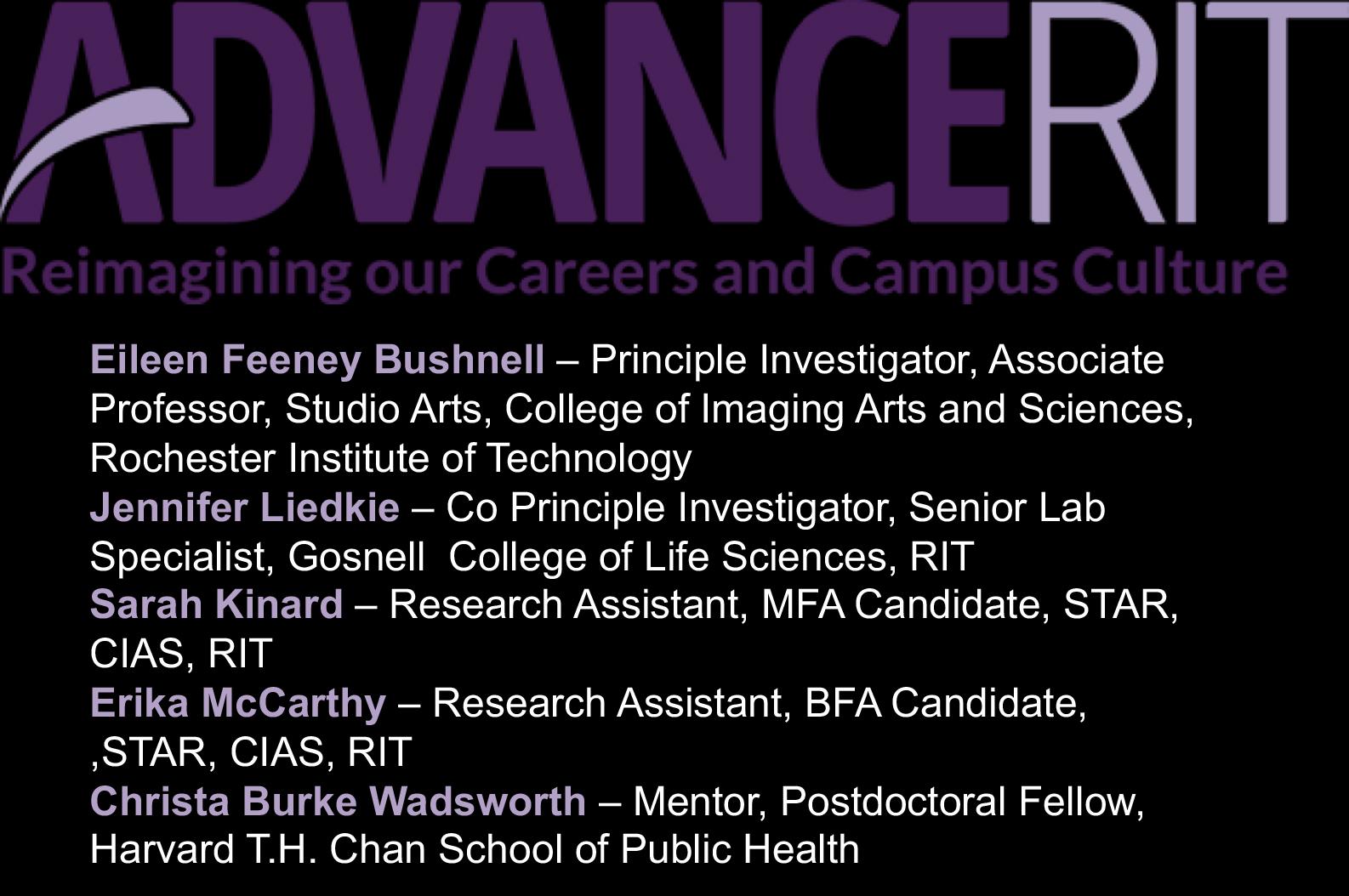 In the spring of 2017, I submitted a proposal to the AdvanceRIT Connect Grant Project.

This Project, itself a $3.4M, multi-faceted endeavor Funded by the National Science Foundation is currently in its 6th year

Aimed to increase representation, retention, and career advancement of women faculty in STEM fields.

With support of Provost Jeremy Haefner, all disciplines w/in our U. invited to participate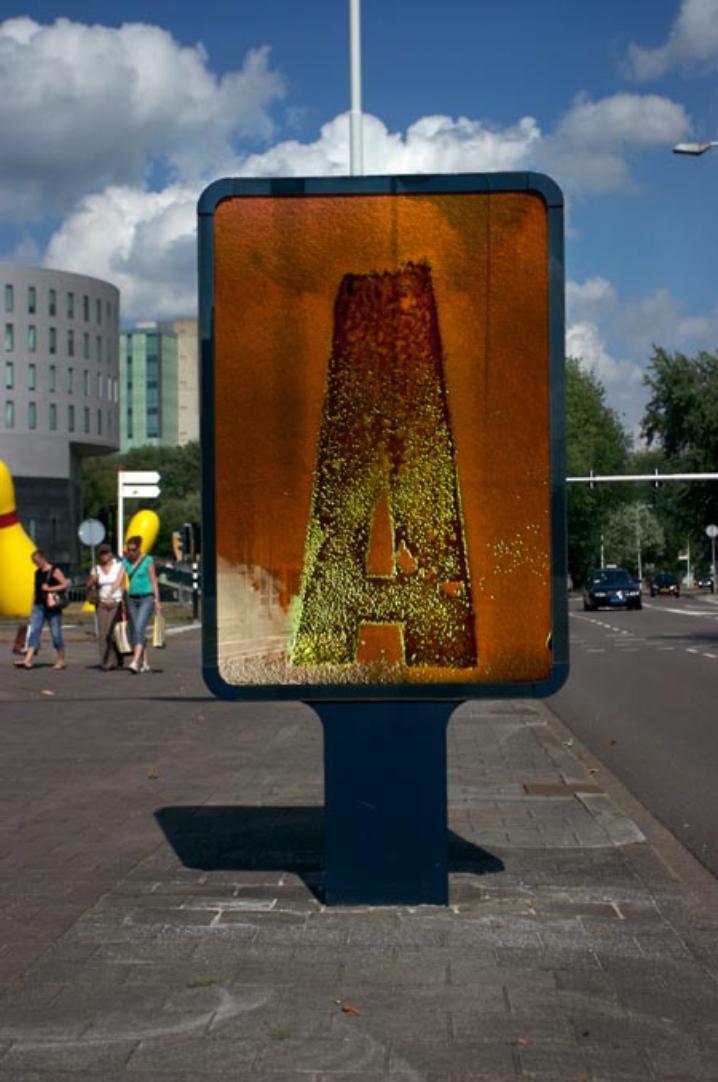 Work that has already been done in this area Included:

Symbiosis created in 2009 - Dutch designer Yelta vun Abama, (Jelte van Abbema) that involved printing with bacteria.

He printed on paper and billboards, creating simple typographic forms that changed color and form as they multiplied and then died.

Efforts were an attempt to address pressure put on the environment by printed media.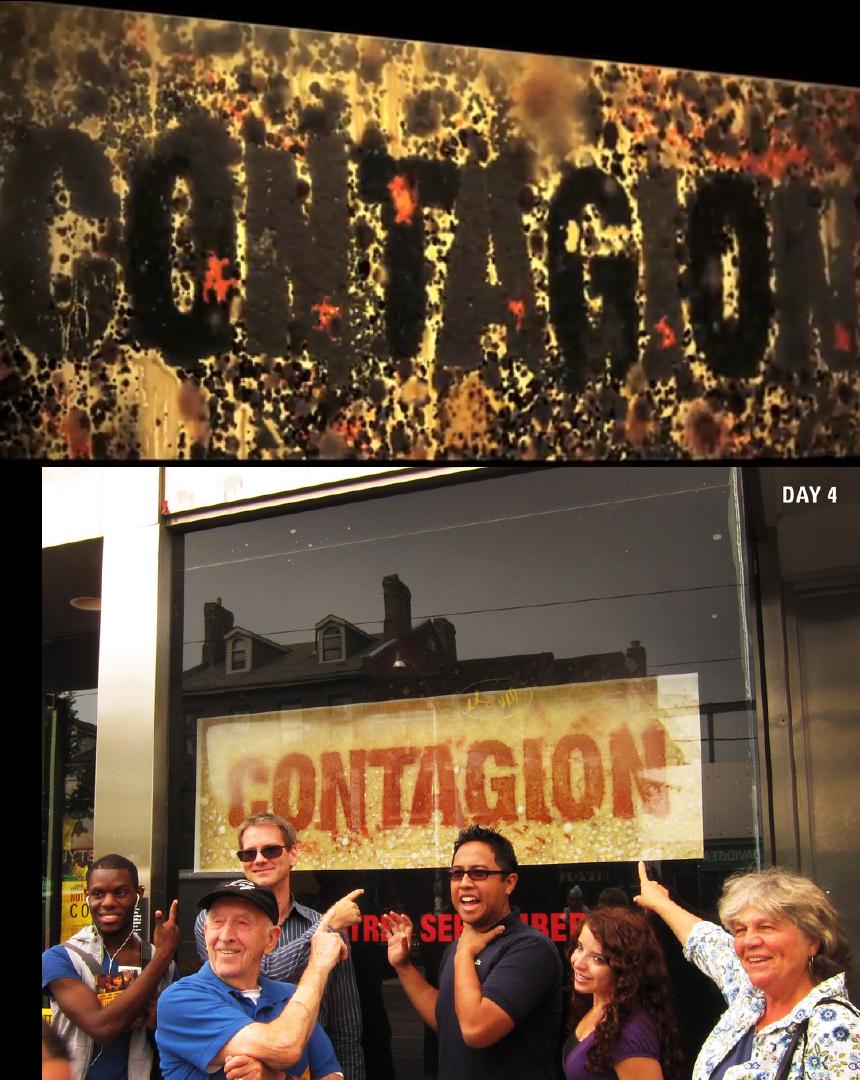 Scottish Mycologist Patrick Hickey who in 2011 led team that used living bacteria and fungi to create two billboards.

Microbes, seeded on stenciled letters in pair of giant acrylic dishes

Gradually grew to form the movie Contagion's title

Behind glass windows in empty storefront in Toronto, where movie premiering at film festival. 



This previous work with similar processes has differed in two distinct ways:

1. The previous projects had been text based and

2. They had not worked with the screen printing process on paper in conjunction with other printed imagery.



My proposal involved creation of an experimental series of prints that incorporate live microorganisms and related representational forms into hybrid two-dimensional images.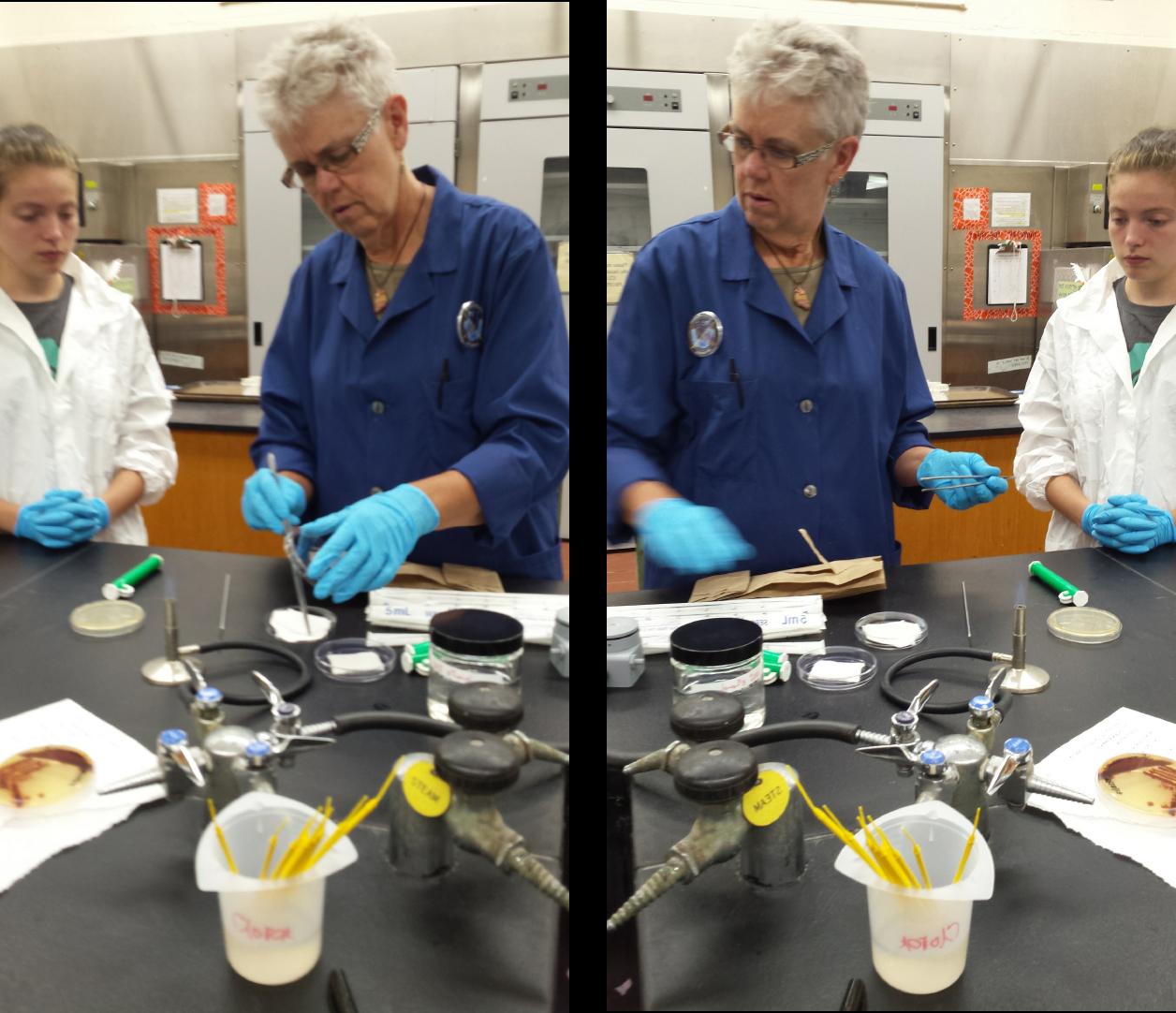 First steps in our investigations were both scientific and conceptual

In September, we worked with Jennie Liedkie to practice aseptic technique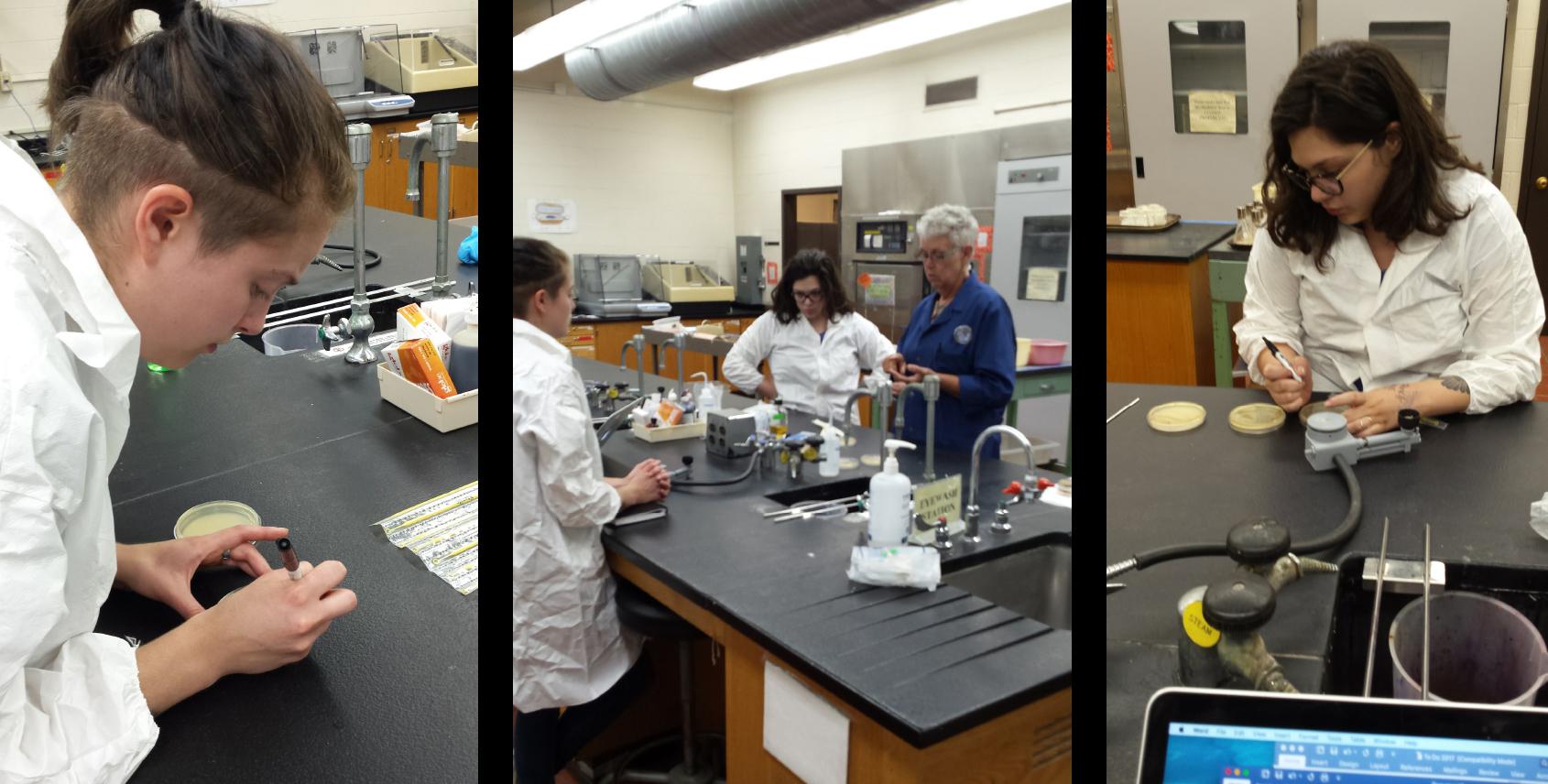 And grow microorganisms in Agar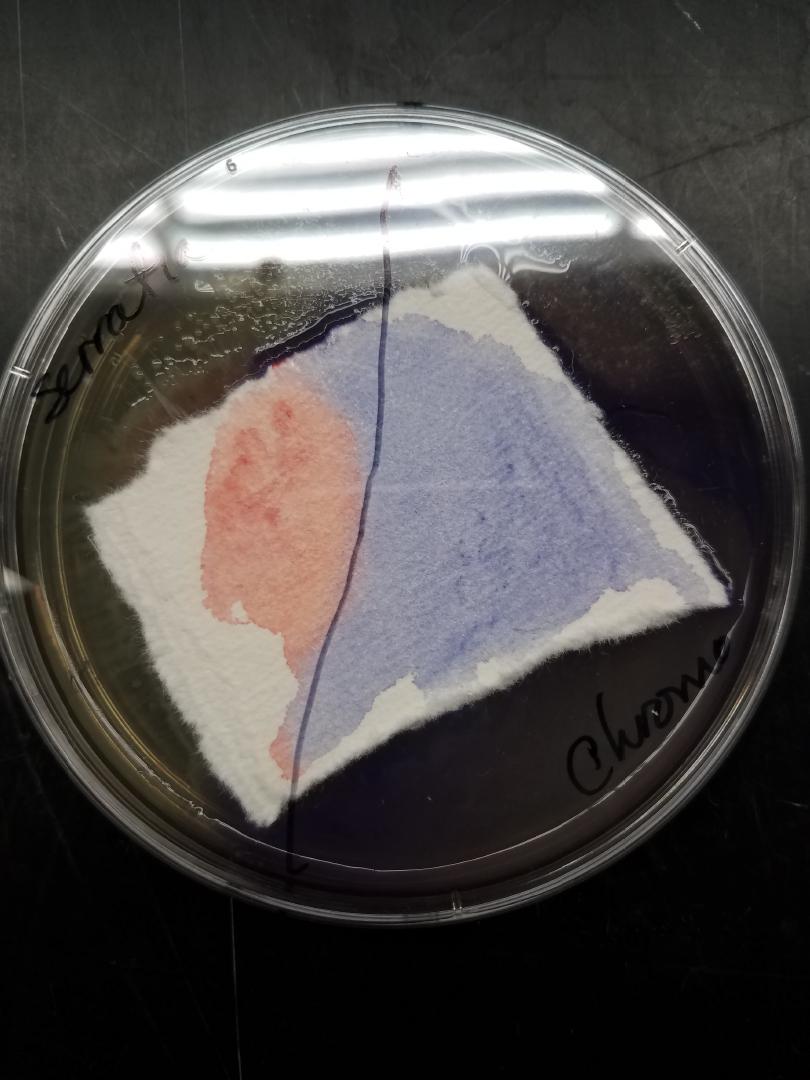 And on Paper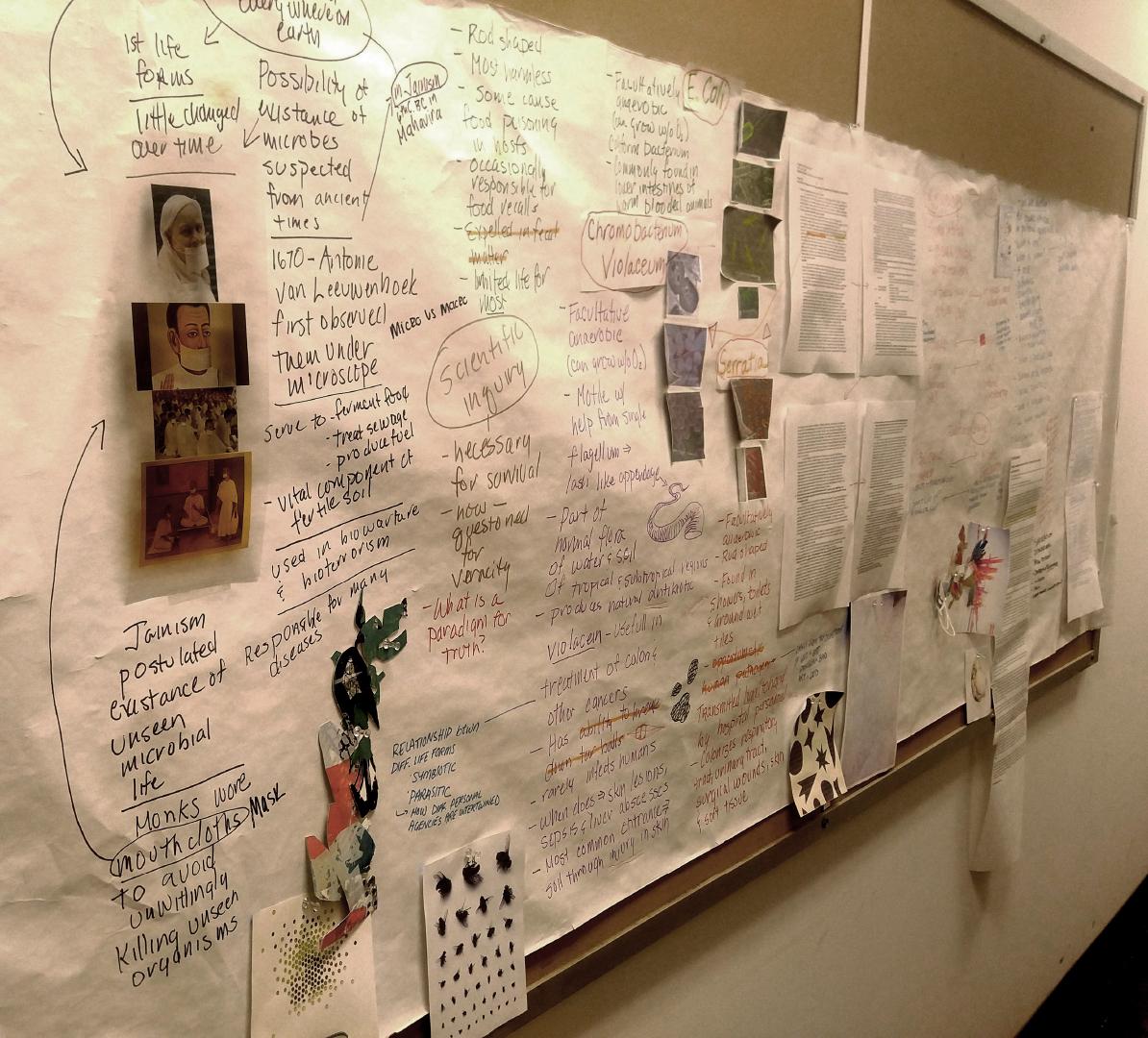 Simultaneously, we created Ideation board on which to explore microbes and their histories, functions and related contexts both conceptual and physical

Goal was to experiment with growth of microorganisms that related conceptually and geographically to concepts and forms being explored in artwork.

Individually, we worked on images that referenced both our ideation and personal mythologies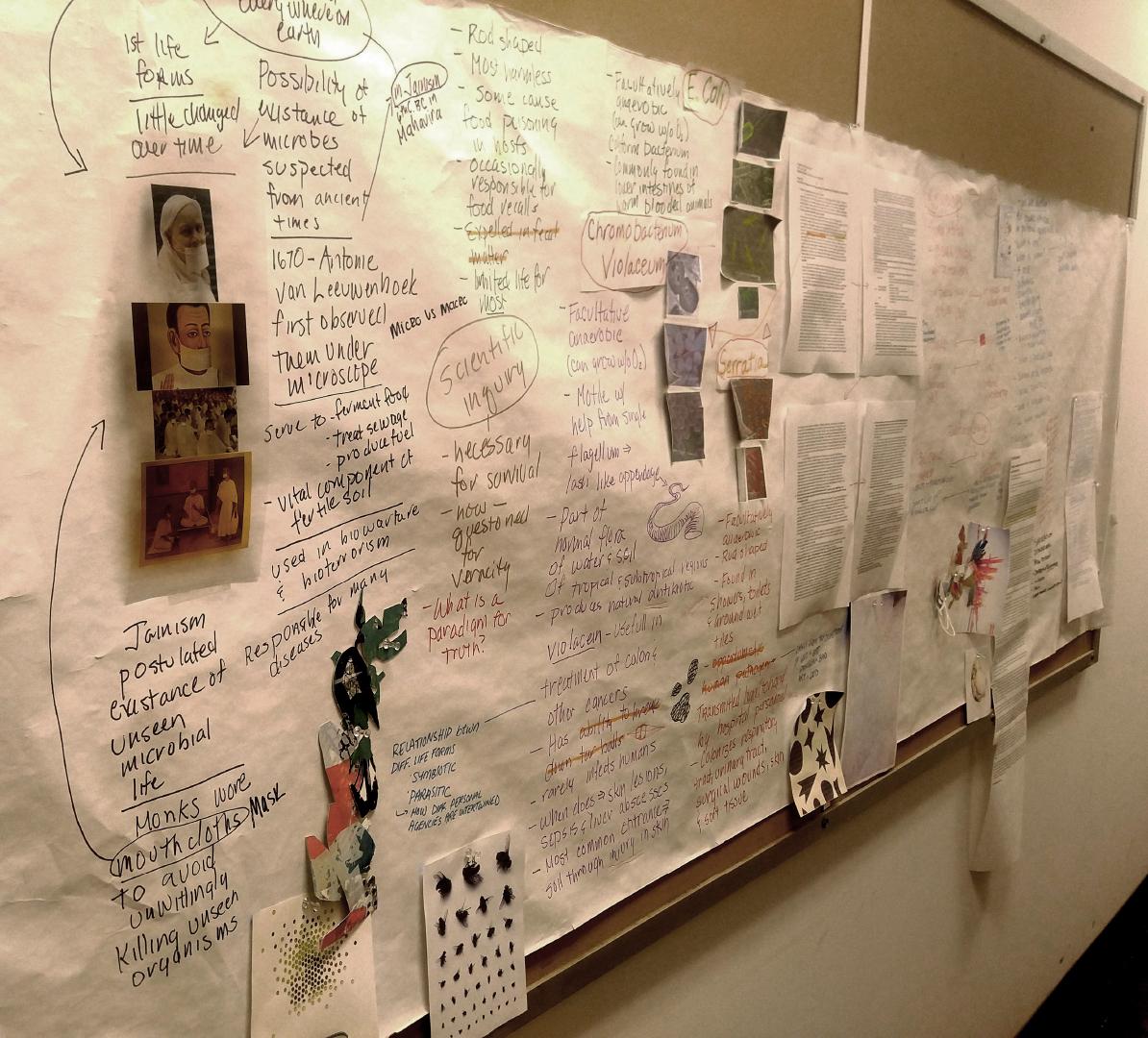 Exploration of concept afforded us opportunity to follow a potent path of inquiry: use of an alternative viewpoint

By exploring and incorporating processes, structures and methods of working from the field of microbiology

Were provided opportunity to not only explore structures of scientific language and inquiry, but also to actually incorporate biological forms and their inherent characteristics of color and growth patterns, directly into the creative work.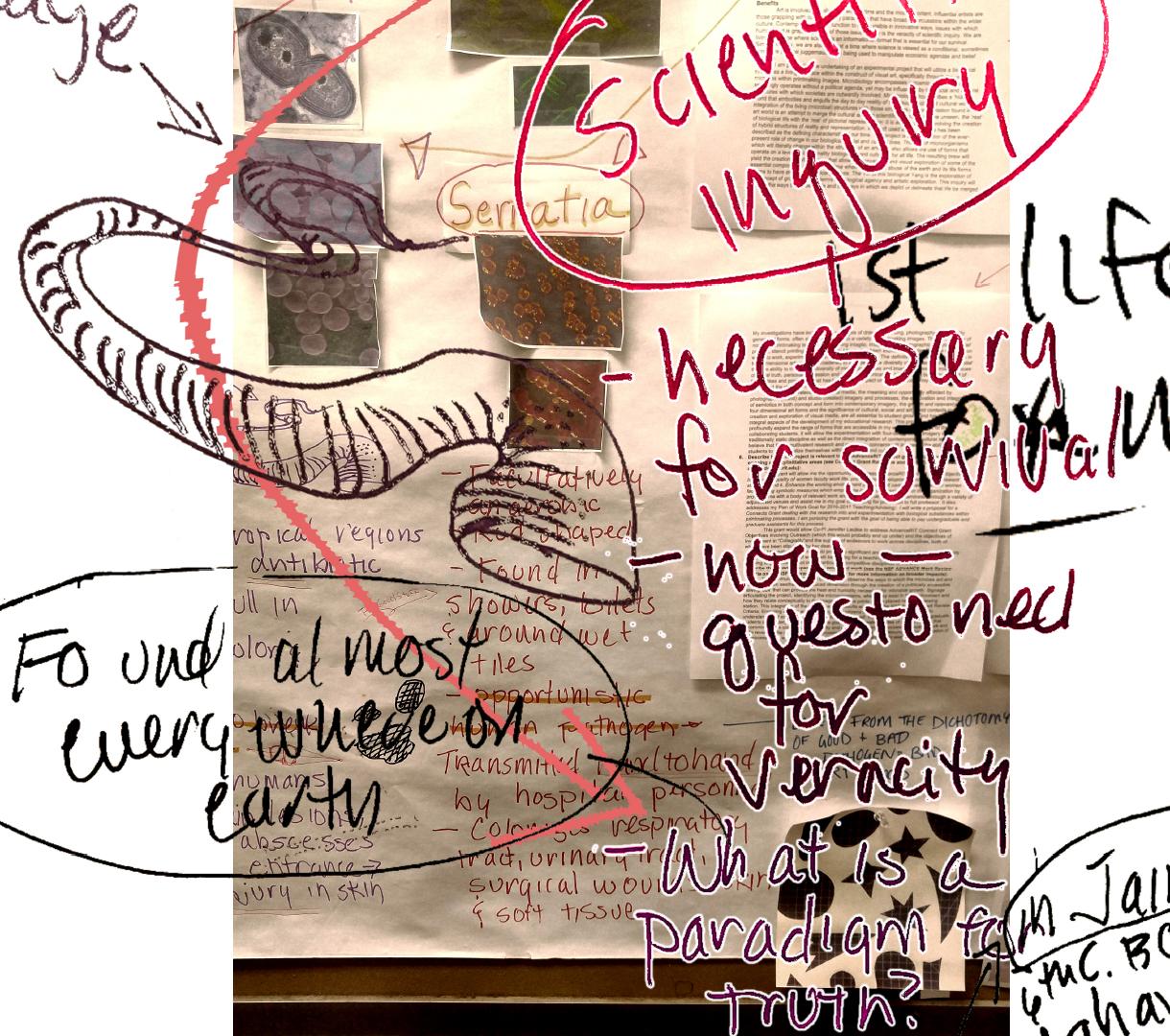 Exploration of concept afforded us opportunity to follow a potent path of inquiry: use of an alternative viewpoint

By exploring and incorporating processes, structures and methods of working from the field of microbiology

Were provided opportunity to not only explore structures of scientific language and inquiry, but also to actually incorporate biological forms and their inherent characteristics of color and growth patterns, directly into the creative work.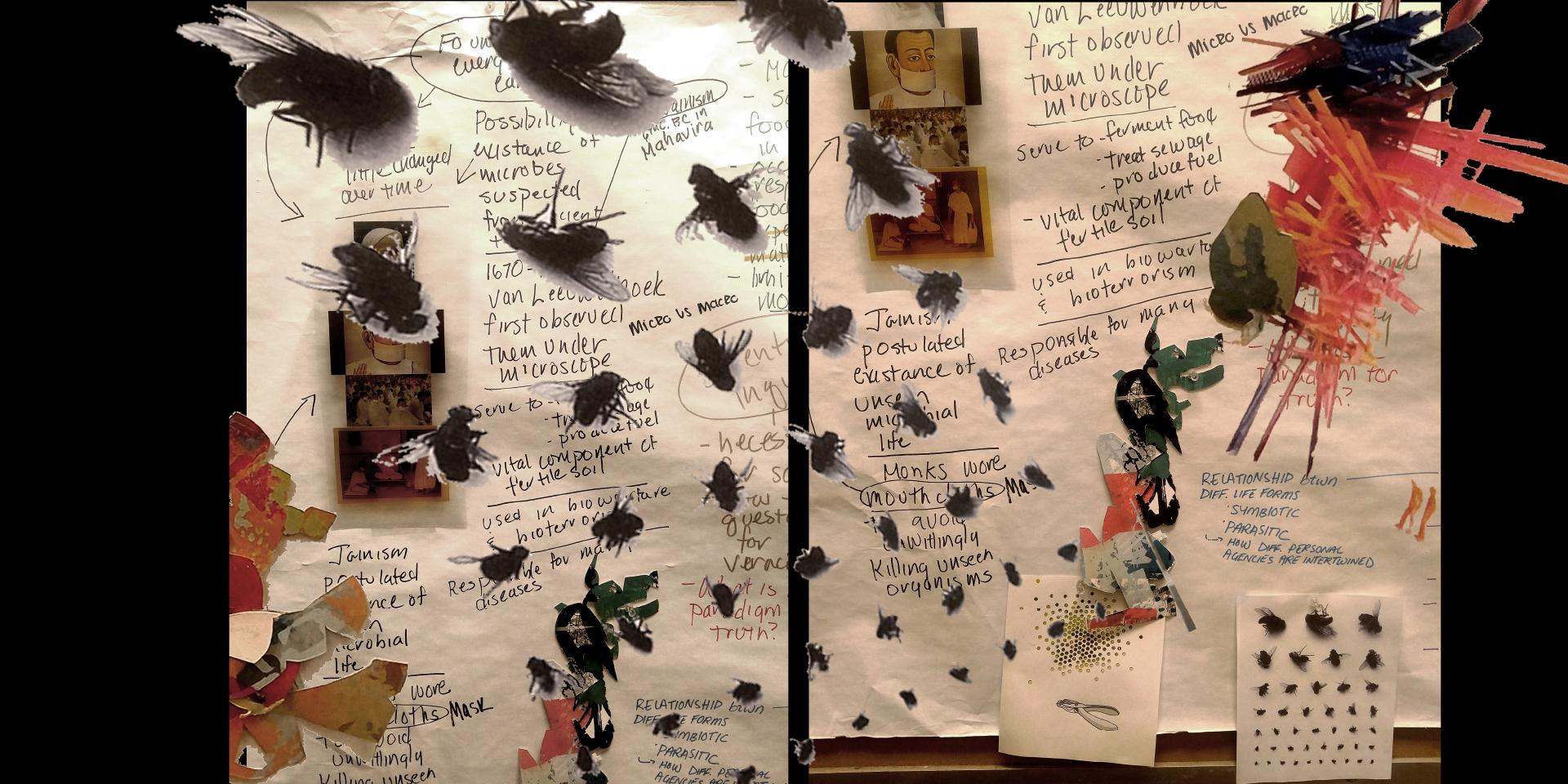 This exploration of information, referencing Systems Theory and Systems Science

Used to both generate and solve problems involving creative expression.

Themes that we saw emerging from integration of living (microbial) structures with those structures of representation found in art world included:

Seen and unseen

'Real' of biological life vs. the 'real' of pictorial representation

Cultural and scientific structures and functions

Creation of hybrid structures of reality and representation.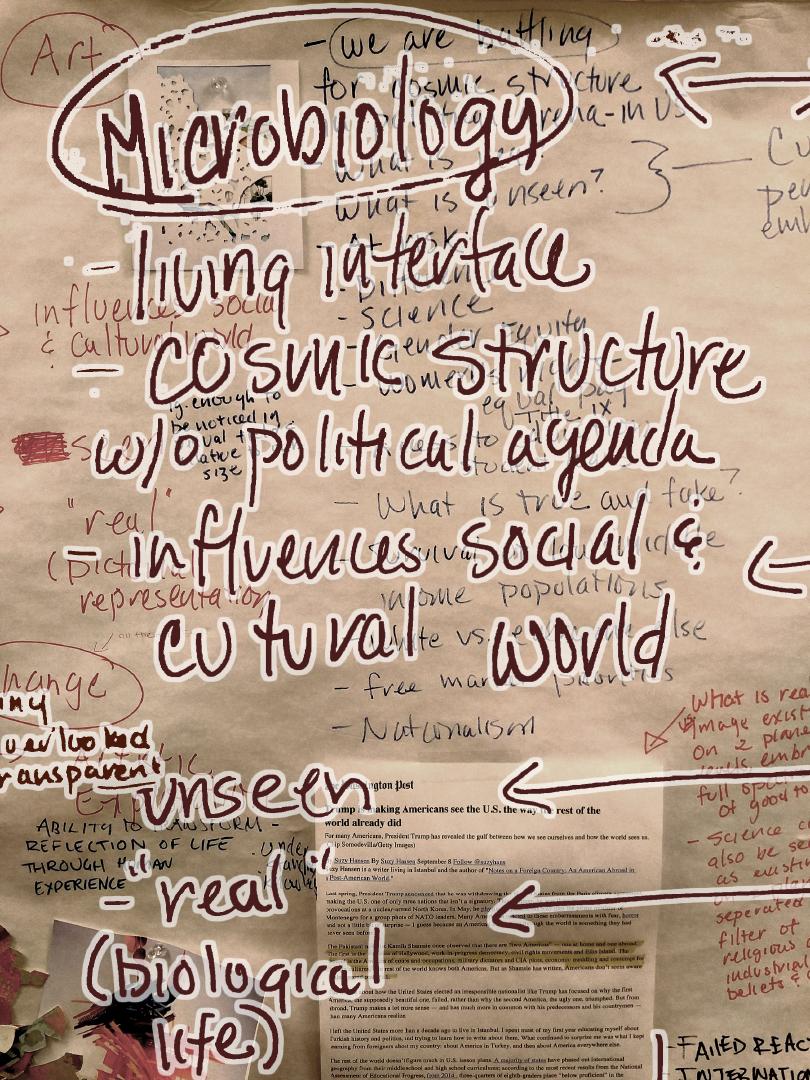 Fascinating to consider microbiology as a system that circumscribes a 'hidden' world that both embodies and engulfs day to day reality of our visual, social and cultural world.

Within my thinking at this time of intense political discourse

Started to consider microbiology as encompassing cosmic structure that seemingly operates without a political agenda, yet may be influenced by the social and cultural structures with which societies are outwardly involved.

And led us to question which structures do we both use and construct to define our paradigm of reality or truth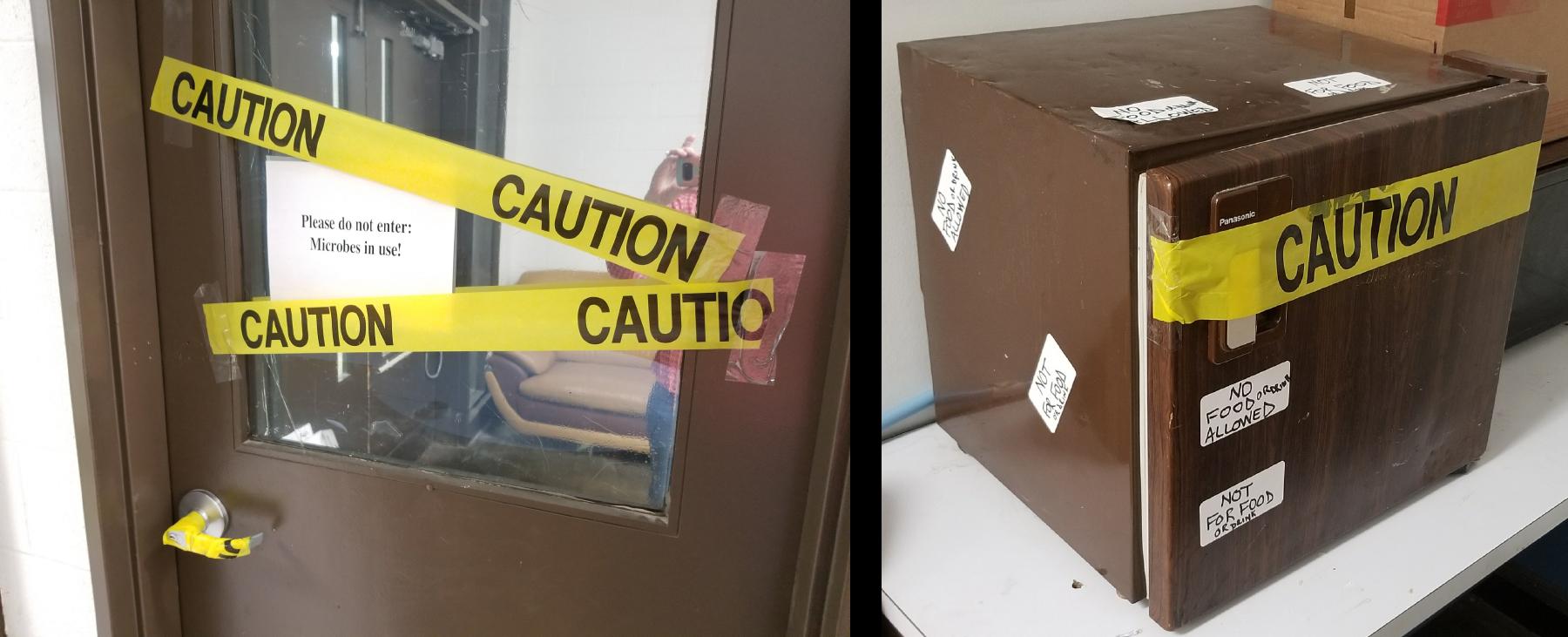 - Our choices of microbes were made based upon 2 criteria:

1. Their color

2. Their ability to be manipulated, albeit with caution, so as to

not generate a contagion

- A decision found less than trustworthy by some of staff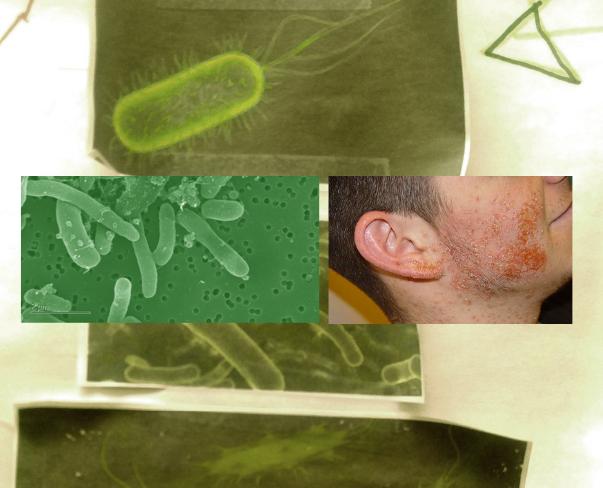 Our investigations found:

Each of microbes had both helpful and harmful influences on environment and health

E. Coli in the normal flora of the gut

Chosen for its green color

We found E.Coli to be an almost invisible pale gold color and abandoned its use after the first round





Helpfully - Produces Vitamin K2 in the host

Harmfully – Can cause food poisoning, urinary tract infections, respiratory illness, pneumonia, and other illnesses in those exposed fresh feces in which this microbe travels into the environment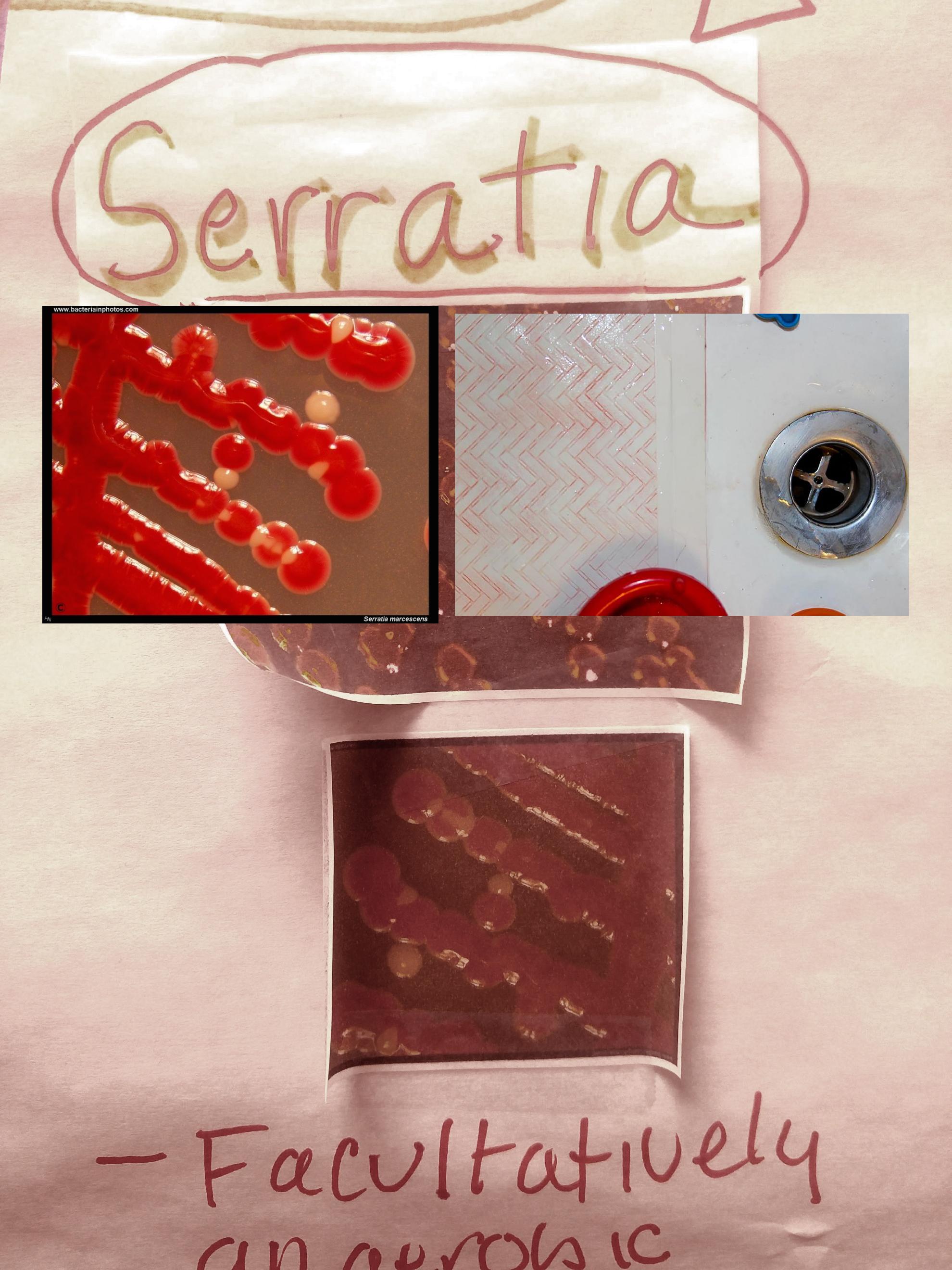 Serratia marcescens widespread in diversity of environments

Chosen for red color



Capable of thriving in diverse environments, including water, soil, and the digestive tracts of various animals

Also found in showers, toilet bowls, and around wetted tiles.

Became subject of curiosity in shower of one of team, much to dismay of her visitors



Harmfully can function as opportunistic human pathogen capable of causing sepsis with fever, chills, shock, and respiratory distress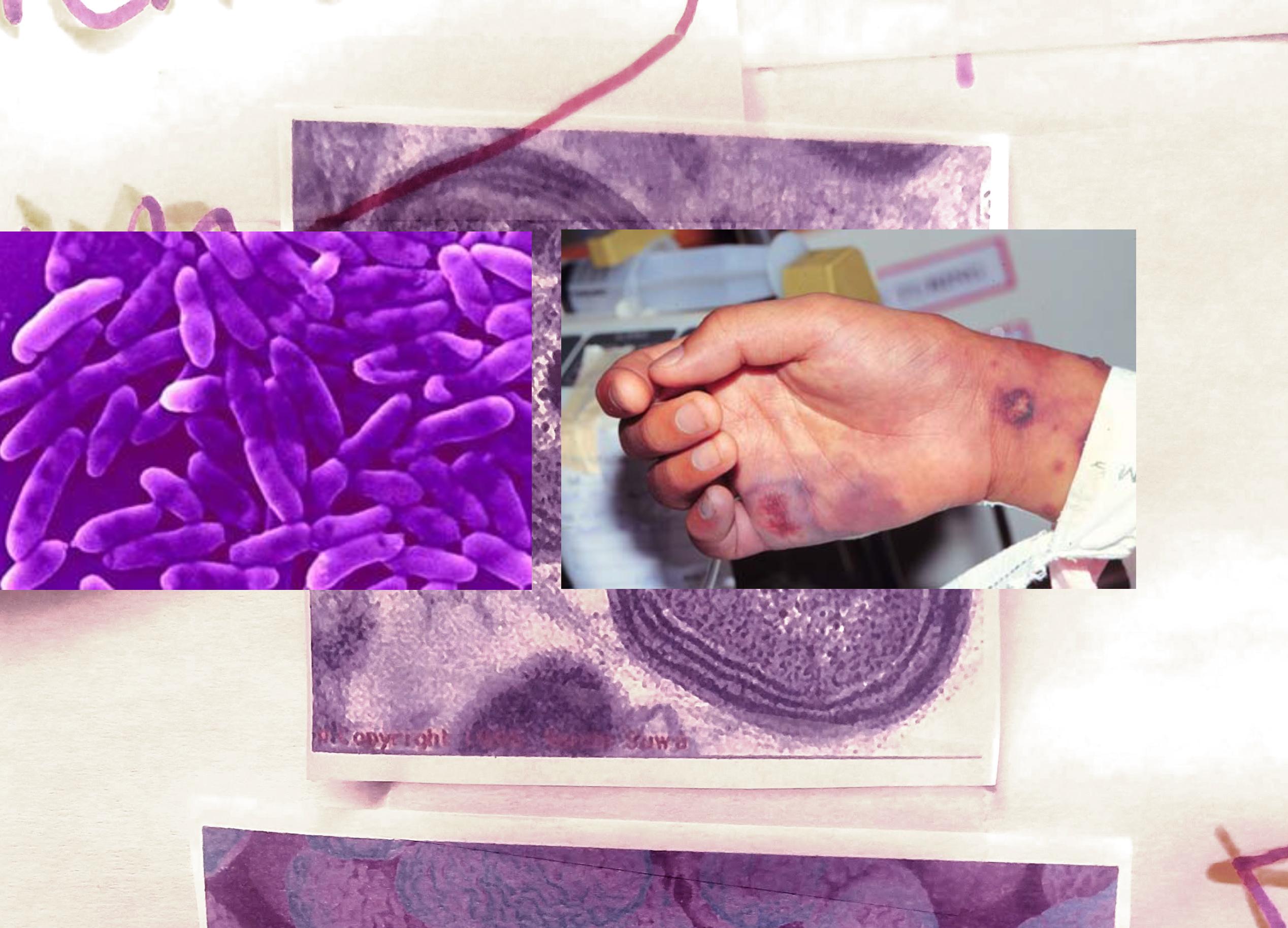 Chromobacterium violaceum part of normal flora of water and soil of tropical and sub-tropical regions of the world.

Chosen for it violet hue



Even information we researched about microbes vs. reality of their physical forms questioned reality of our perception

And in turn forced us to consider merge between representation and the real

This involved extension the life perceived in a work of art – as an extension of the artist's or audience's experiences –to include the actual of microbial life, embodying time, space and movement in a unique way





Helpfully produces Violacein- natural antibiotic useful in treatment of colon cancer among others.

And can break down tar balls

It becomes harmful in rare human infections result in skin lesions, sepsis and liver abscesses that may be fatal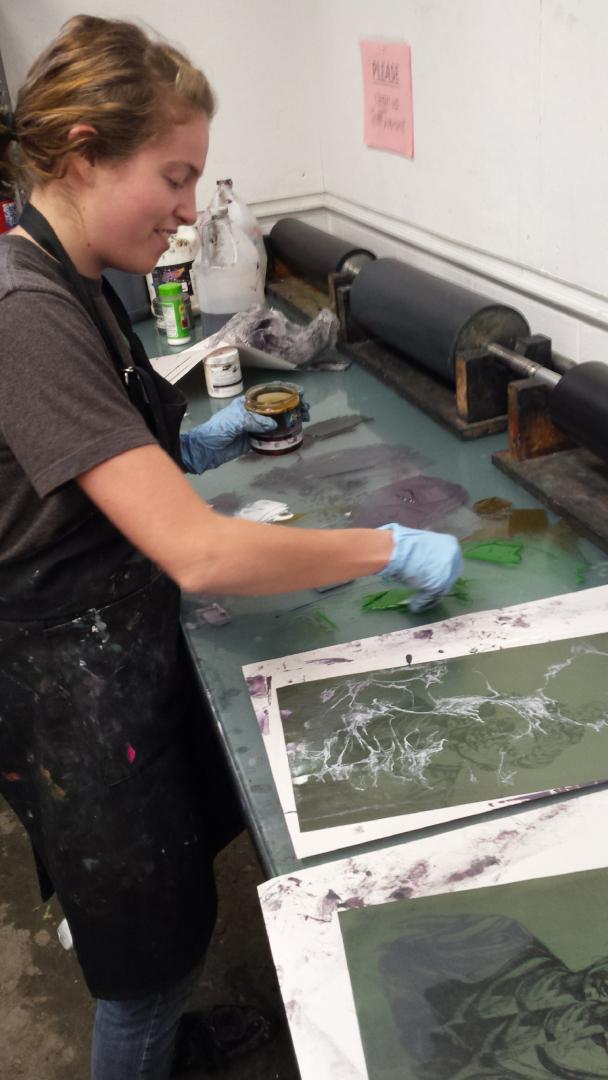 Although our ideation was a combined enterprise, our individual explorations led us down very unique paths

Erika McCarthy researched microbial communication and focused on the complexity and ambiguity of the process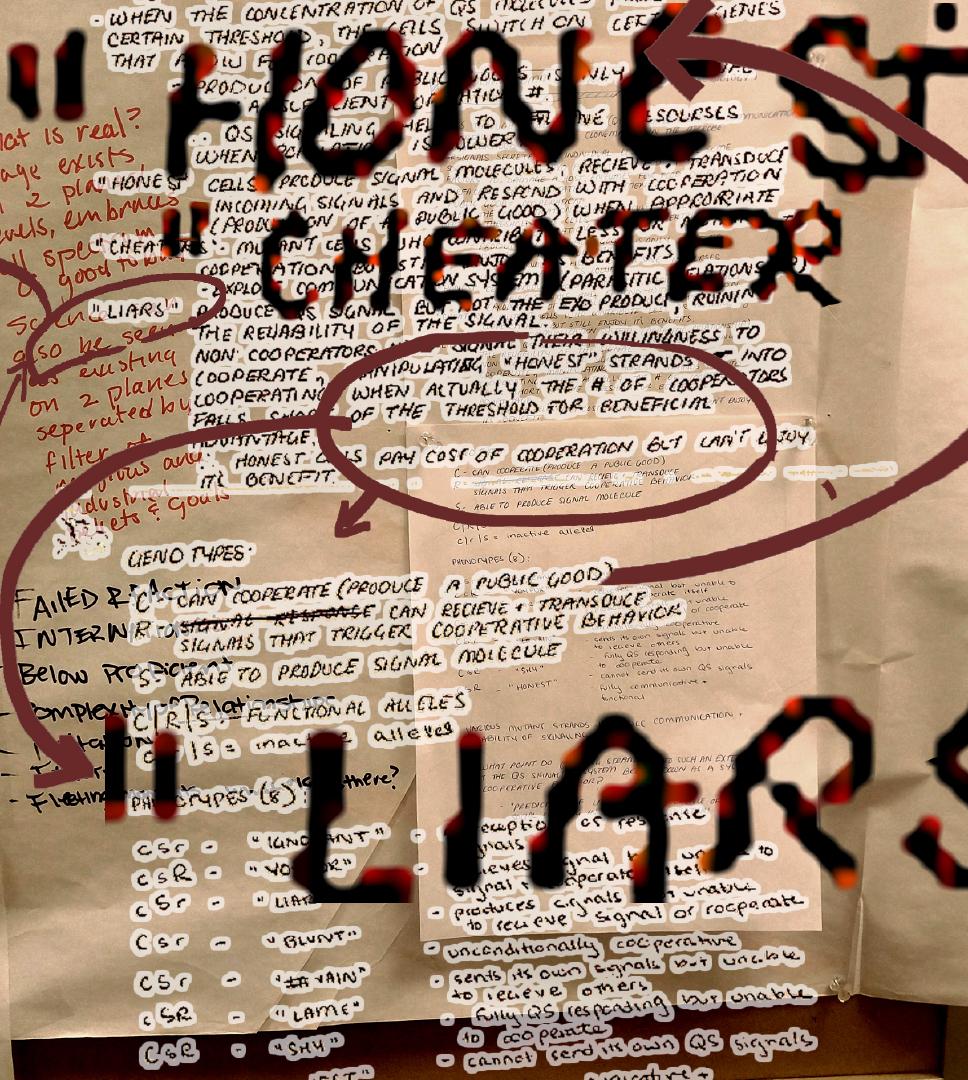 "Since humans almost always have a tendency to anthropomorphize, it's easy for us to project our own communication tendencies onto the microbial patterns, to see them as "cheaters" "liars" etc. Patterns of lying, cheating, or being honest are often related back to a sense of morality or lack thereof, but here are those same patterns seen at the microbial level, most likely devoid of any moral influence whatsoever. This perspective helps to acknowledge my own communication patterns with a sense of scientific objectivity, and to realize how many flaws, gaps in understanding, and derailments from clear and honest communication taint our flow of information."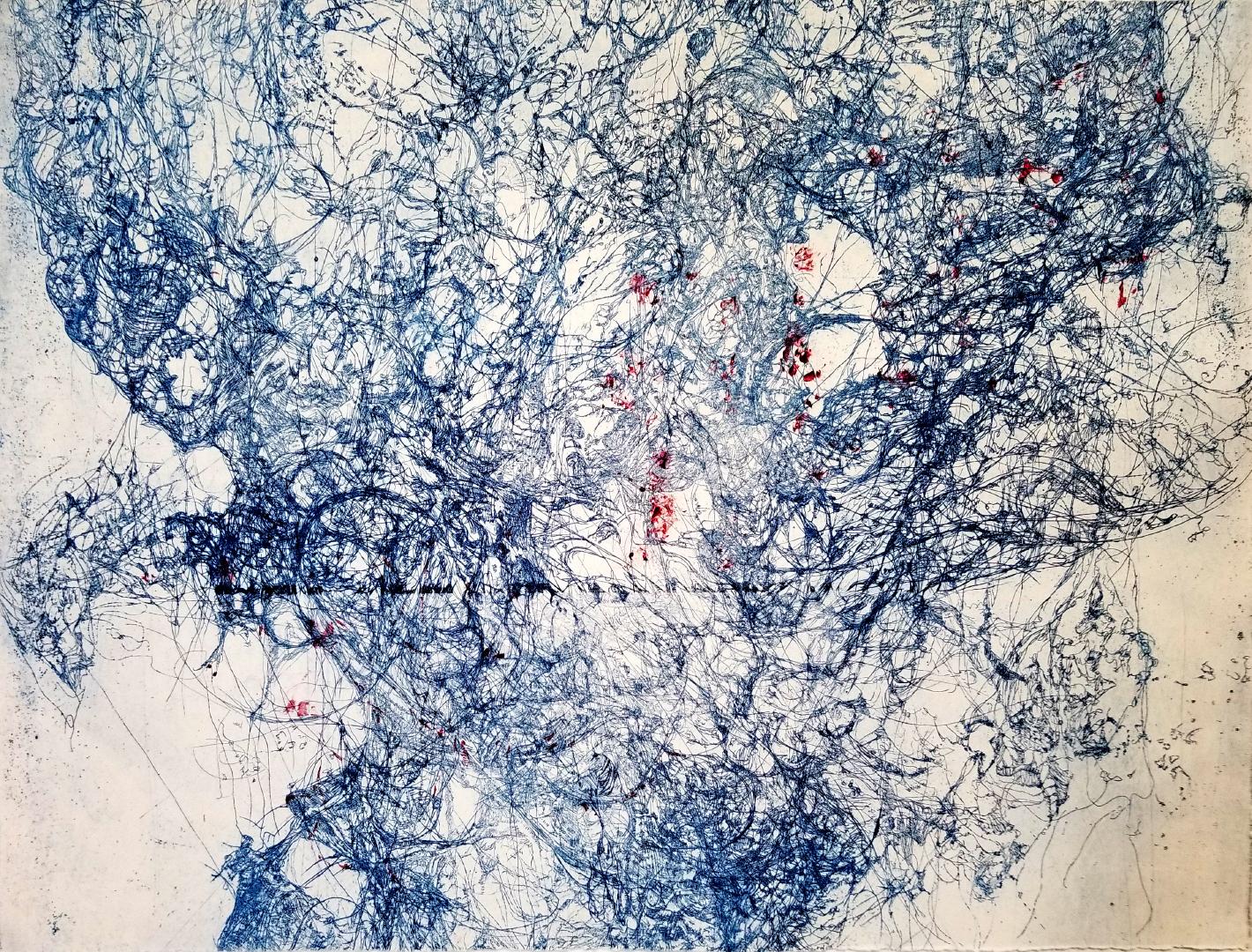 The creation of her prints also commented on issues of communication:

"The complex mass of lines in my prints relate to this intense complexity of communication -- instead of a clear, directed path it is visualized as a cluster of delicate lines intersecting and paralleling each other within organized chaos."

Reflected in individually inscribed lines in large scale etching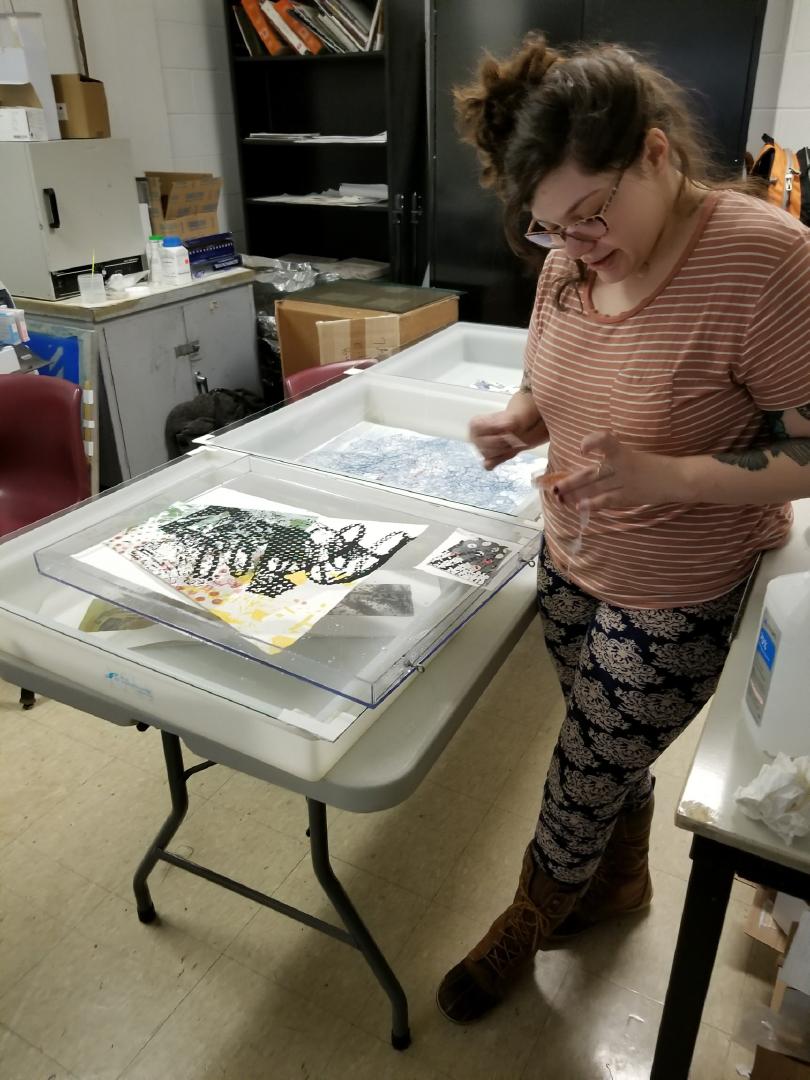 Sarah Kinard, worked with concept of patterning as natural ritual that accompanies scientific study and exploration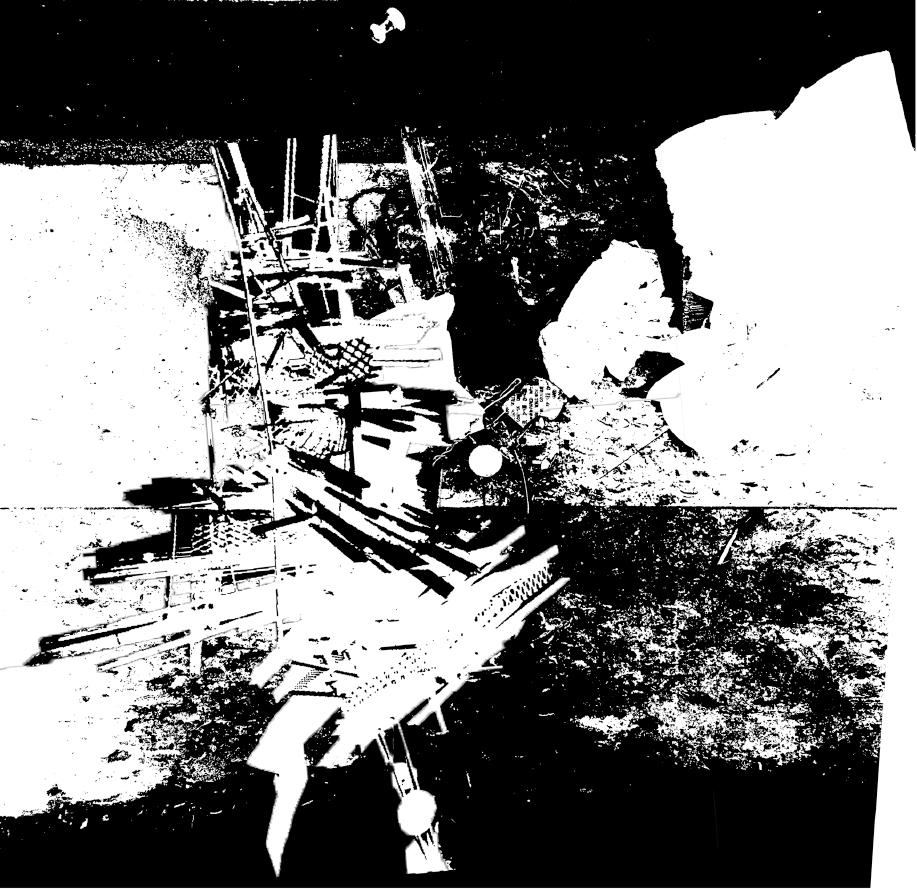 She also addressed pictorial patterning when creating imagery with micro and macro motifs

Inspiration for her large scale screen prints emerged from a diversity of images including dead flies, the reality of rapid growth of organisms, events such as natural explosions and the use of shapes like those that exist in structure of organic forms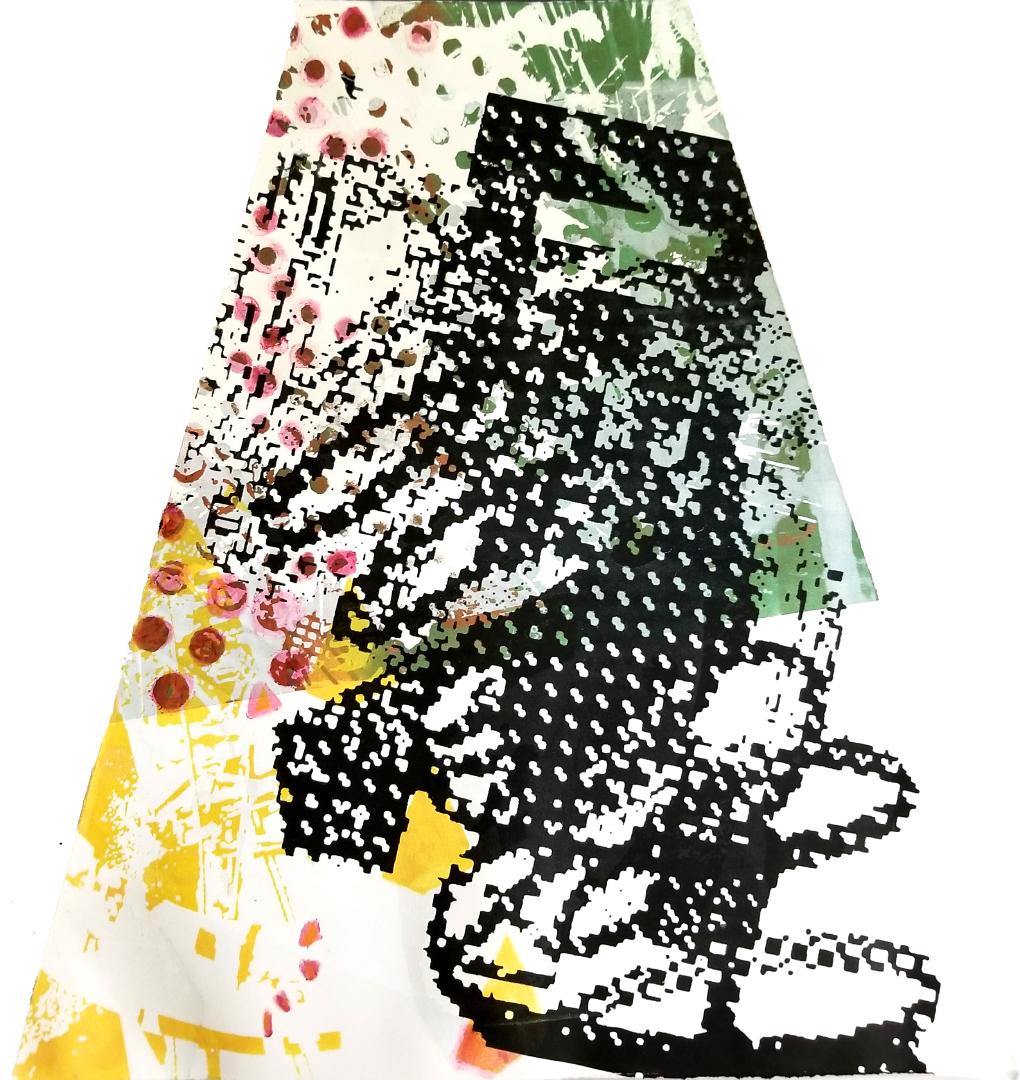 She felt that her constructions served as a metaphor for the entire project that uses organic matter and the structural nature of printmaking.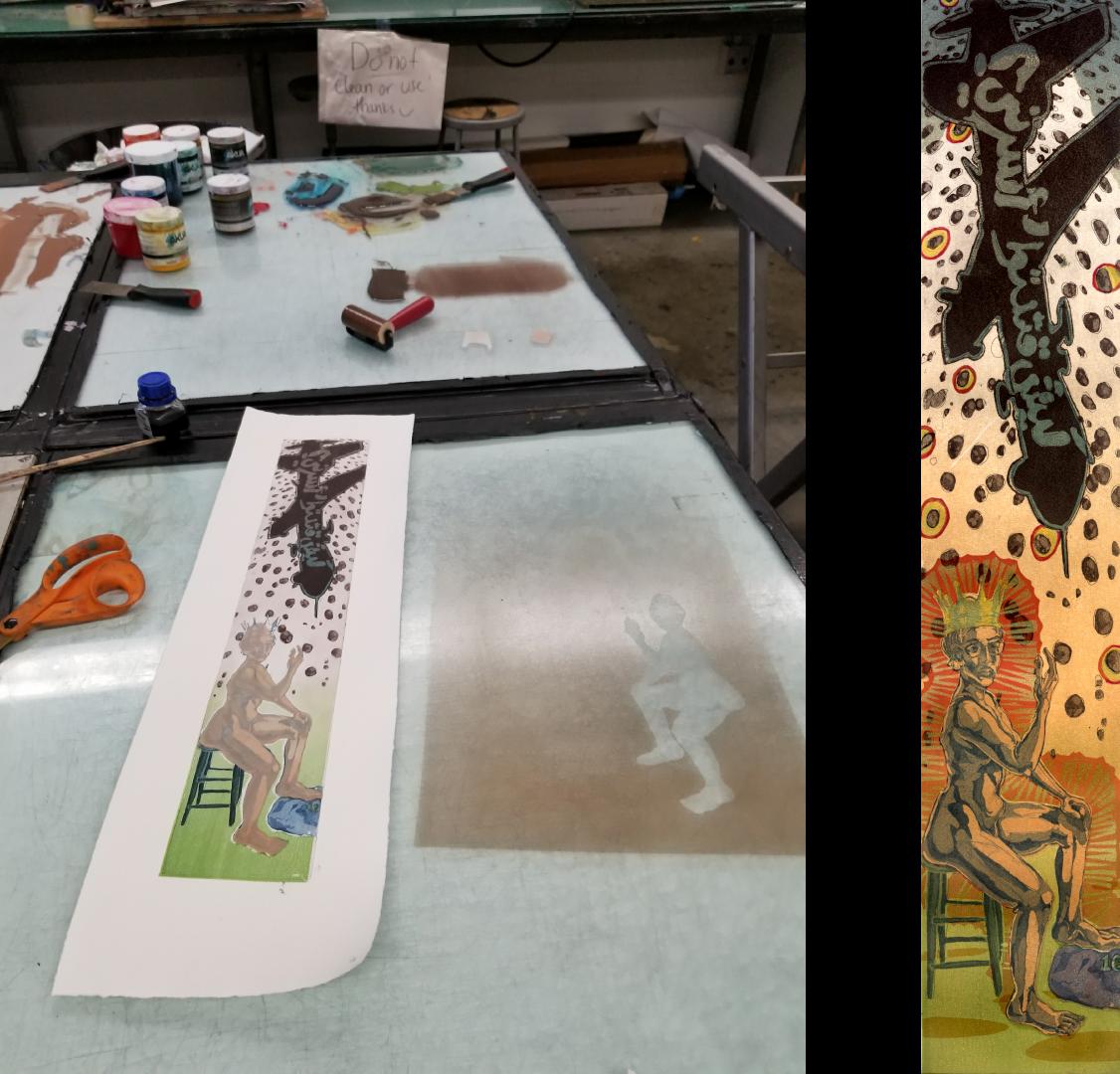 My own explorations focused on several of the issues explored in the ideation

Chromobacterium violaceum's ability to "eat" tar balls was used as a point of departure in the image Shit Storm

Juxtaposition of personally meaningful forms –drawing of a US Drone that had killed civilians in Syria, mother nature, Plymouth Rock and tar balls

Attempt to find meaning in contemporary events, cultural archetypes and my growing body of knowledge regarding microbes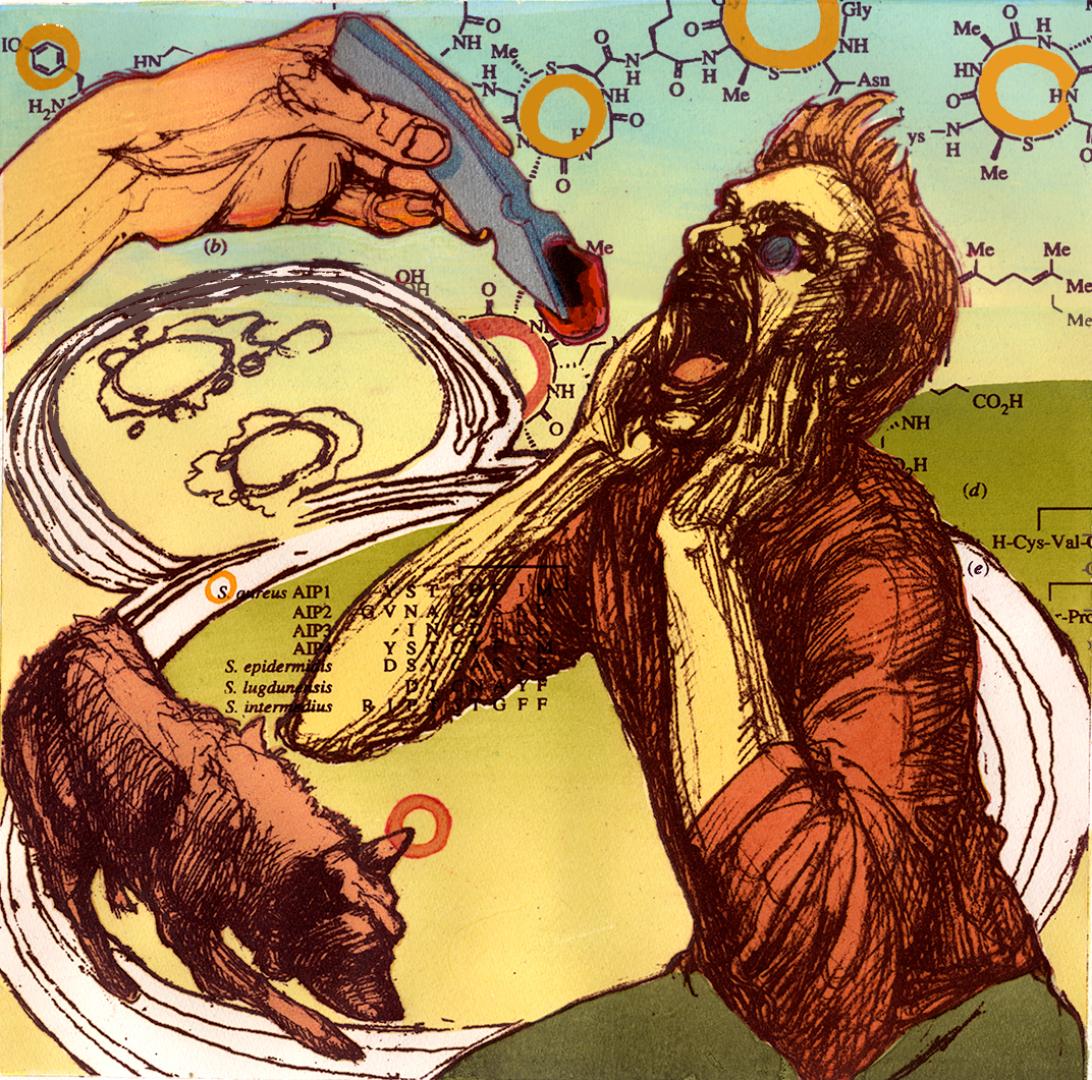 In Truth, scientific notation of microbial communication, in which 'liars' exist, Isaiah and his purifying coal, a friend with a drag queen persona and a fundamentalist upbringing and my blind, deaf dog,

Came together to occupy a common pictorial space where personal beliefs and cultural hypocrisies intertwine in my own exploration of visual truths.



And so we began:

- With a significant amount of aluminum foil wrapping

Paper, prints and trays to store the prints while the microbes were growing - to Autoclave

Happened to get to this point just when 2 of 3 autoclaves on campus were out of commission at same time

And Jennie came down with flu

Bit of anxious manipulation to access the one functioning machine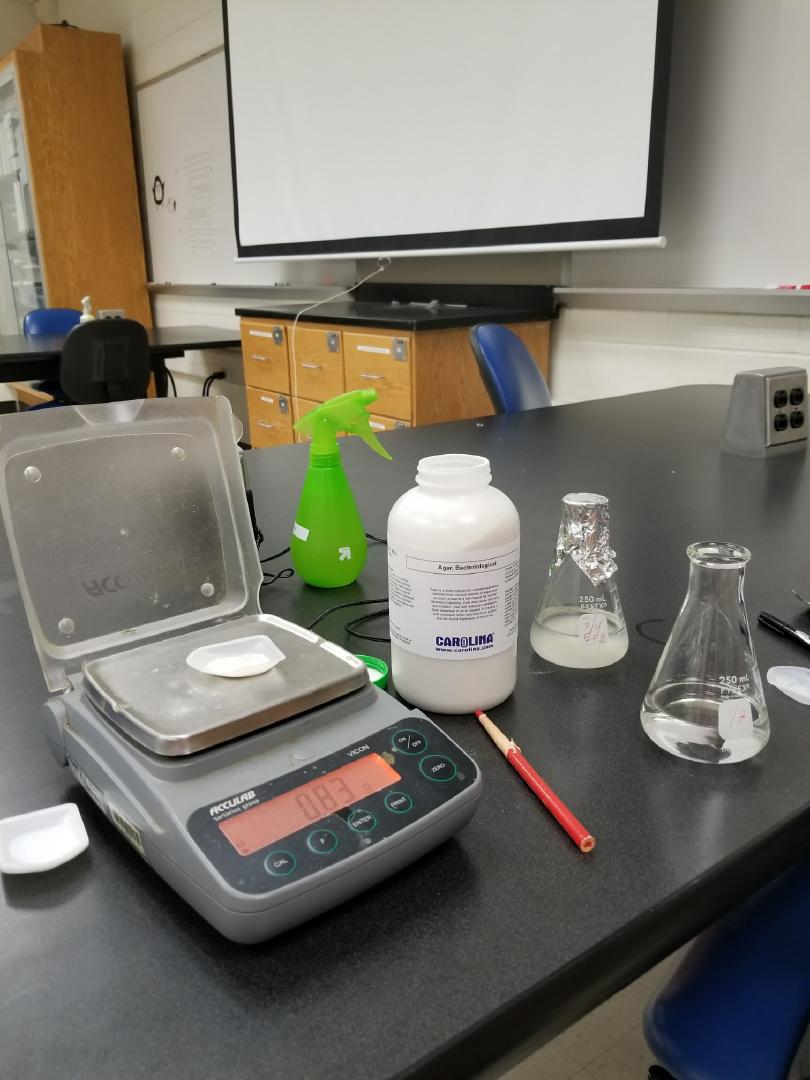 Exploration of physical spaces, cultural expectations within scientific corridors of other disciplines on our campus

This included creation of Agar in back of one of microbiology labs with access to de-ionized water and a digital scale which was then taken to autoclave to 'cook'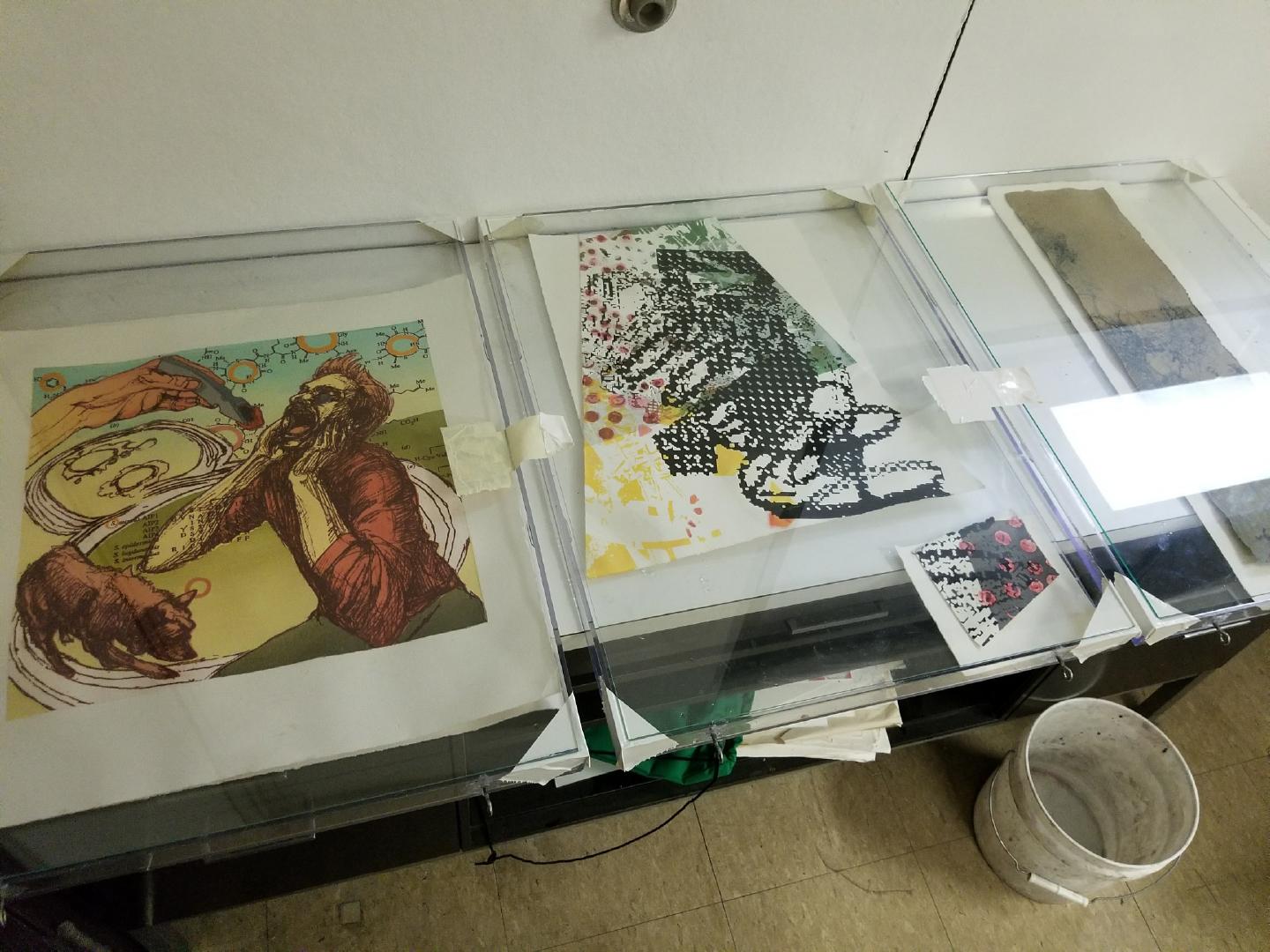 The sterilization of glass covers for the trays, table surfaces and squeegees with alcohol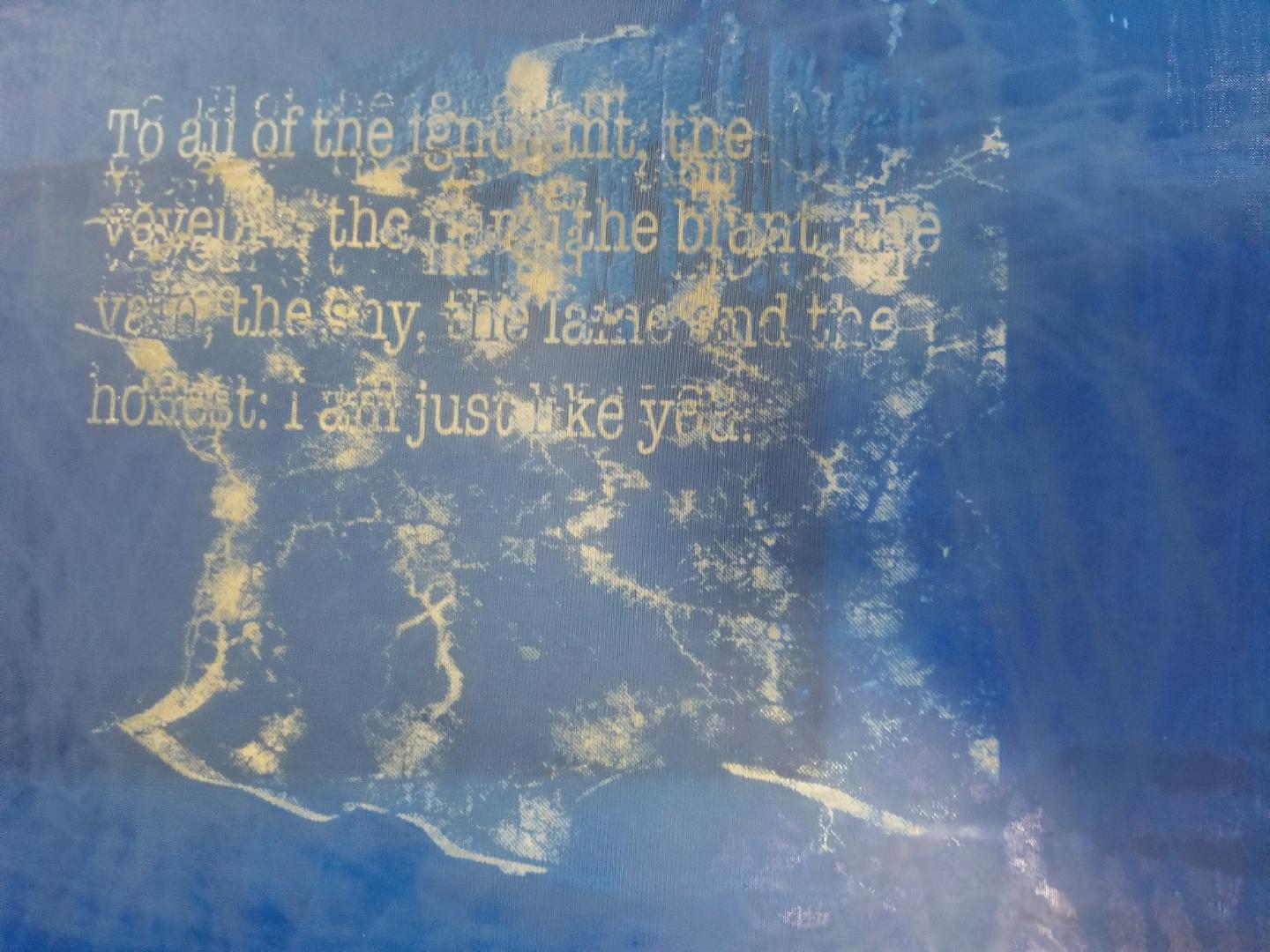 And the wiping down Screens with alcohol which when dry. coated with a liquid photo emulsion

The images to be printed with Agar were created on digital and hand made films and exposed to emulsion covered screens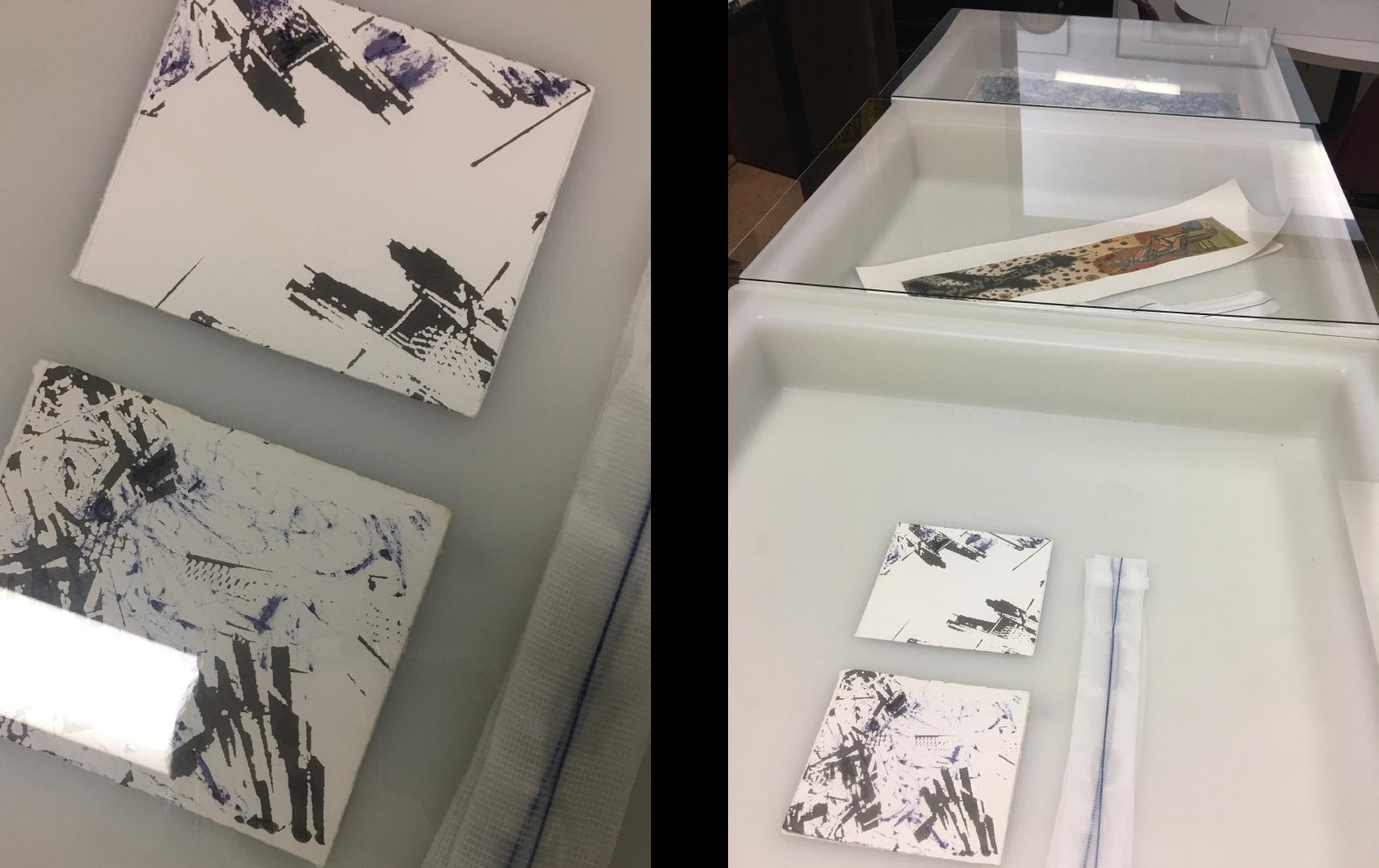 First round was bust – no growth - for number of reasons:

Jennie eventually recognized that Initial mixture of Agar neglected to include Nutrient Medium to feed microbes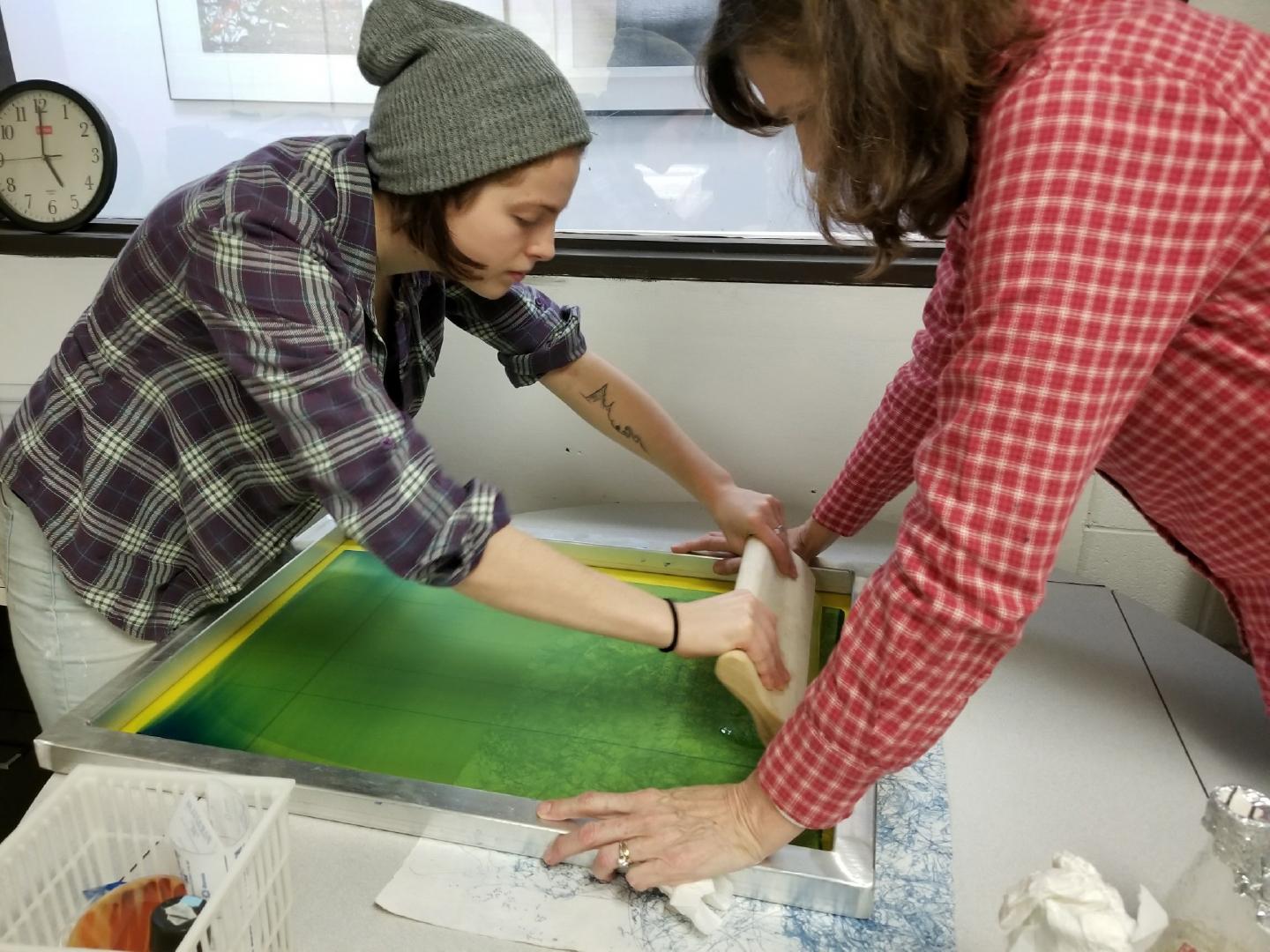 First round of printing with 280 mesh screens failed to deposit significant enough amount of Agar on surface of paper

Moved to a more open 150 mesh screens

Found that small stencil openings less successful than larger shapes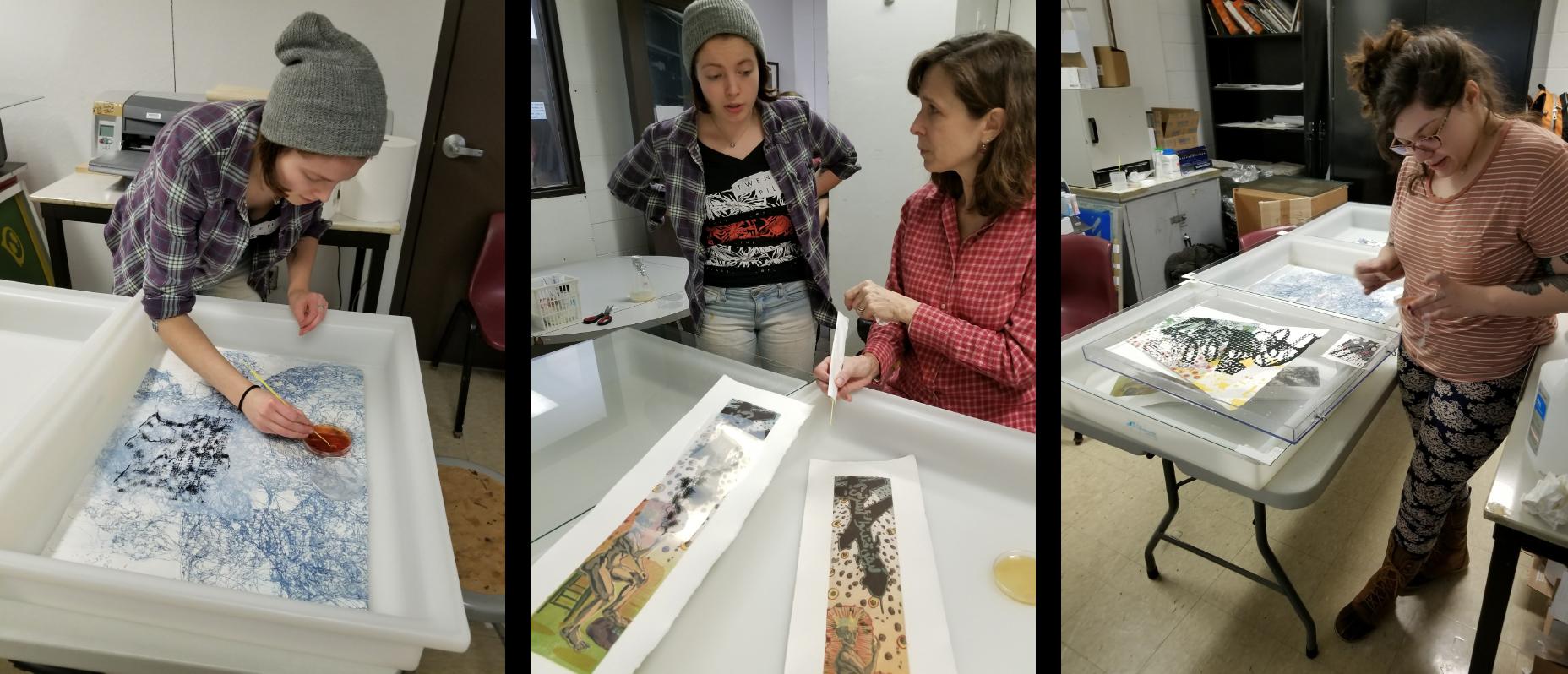 Original plan to use deionized water soaked sterile gauze did not provide enough moisture within the environment of enclosed tray

Tore down sheets of paper to correspond with size of all prints and had them autoclaved.

These in turn were soaked in deionized water and used under the microbe infused prints to provide greater moisture



Process became constant exploration of the concept of growth, both in terms of biological agency, artistic exploration and general problem solving



Tore down sheets of paper to correspond with size of all prints and had them autoclaved.

These in turn were soaked in deionized water and used under the microbe infused prints to provide greater moisture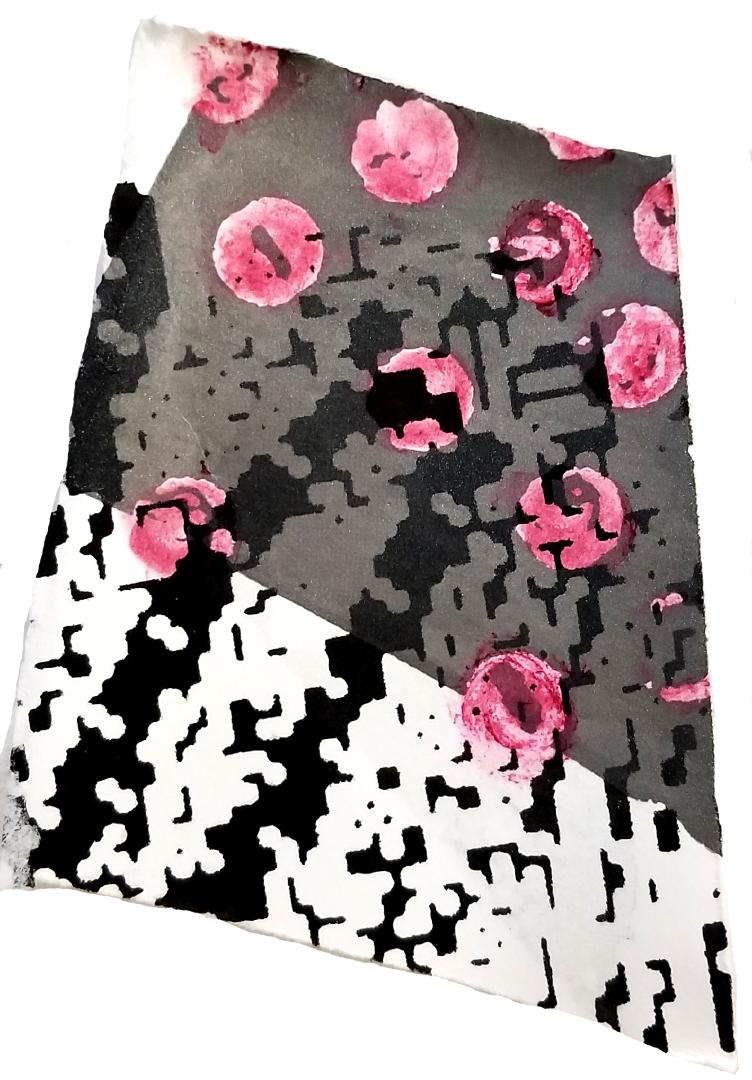 Second round of prints also proved to be more immutable than dynamic

Jennie Liedkie assessed our microbes to have died before application.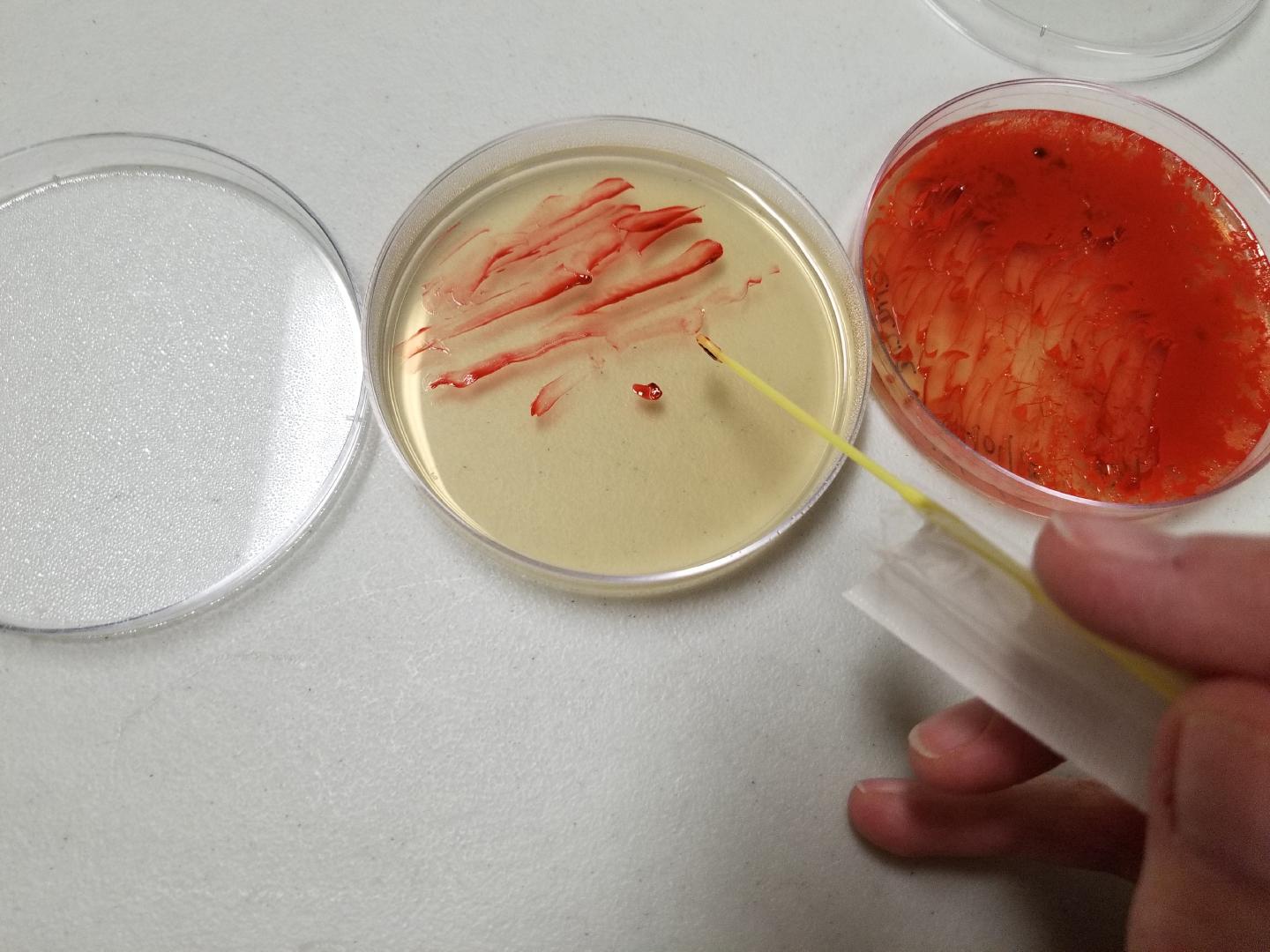 Third round was proverbial charm

Jennie outlined for me how to prepare petri dishes and inoculate them with microbes so that their viability was tangible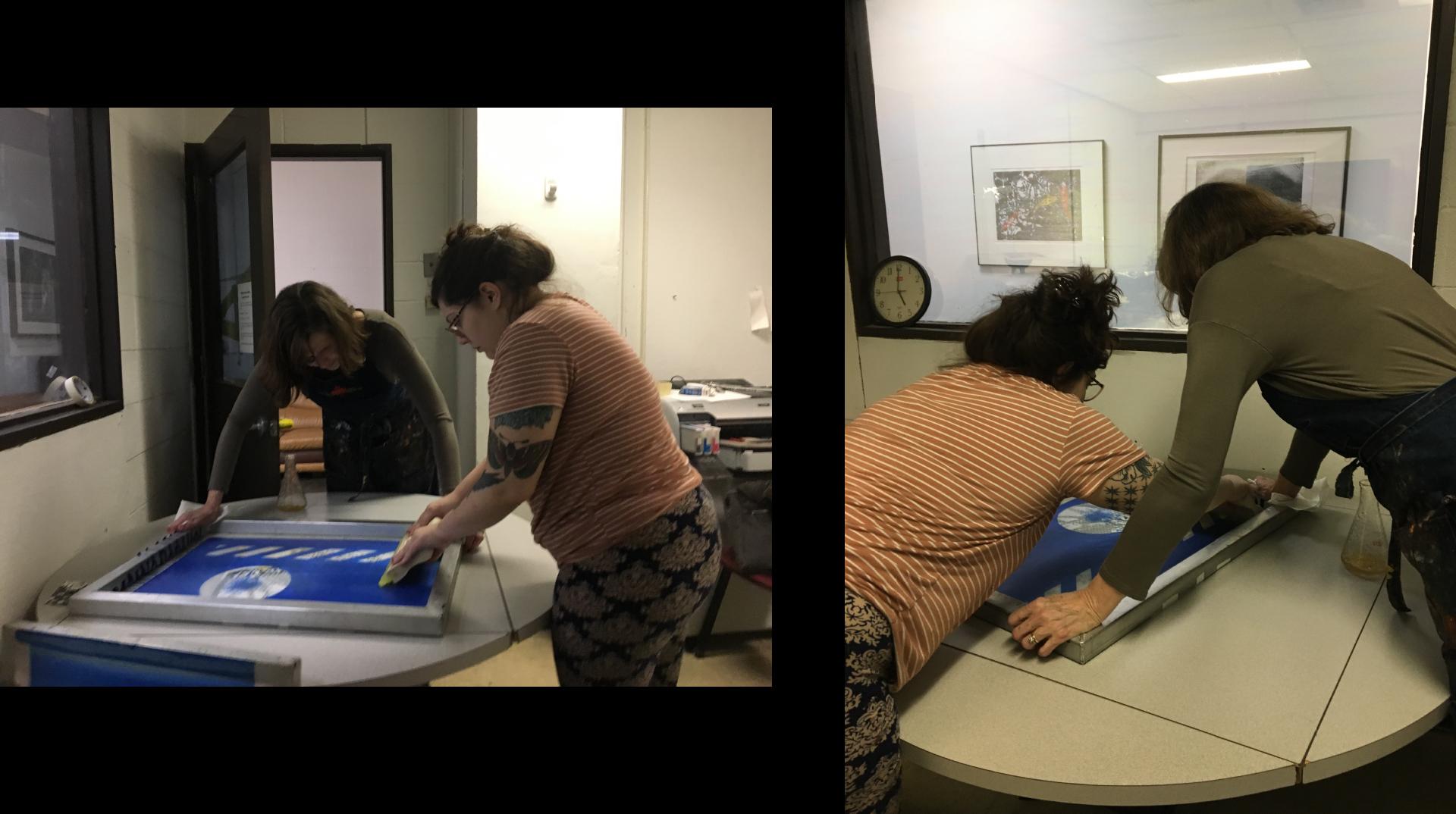 We screened with liquid Agar (not the semi gelatinous mixture we had been working with in earlier rounds)

Not as precise a process – the liquid Agar had less of tendency to stay within parameters of the screens stencil

But, assured that we could actually see Agar on surface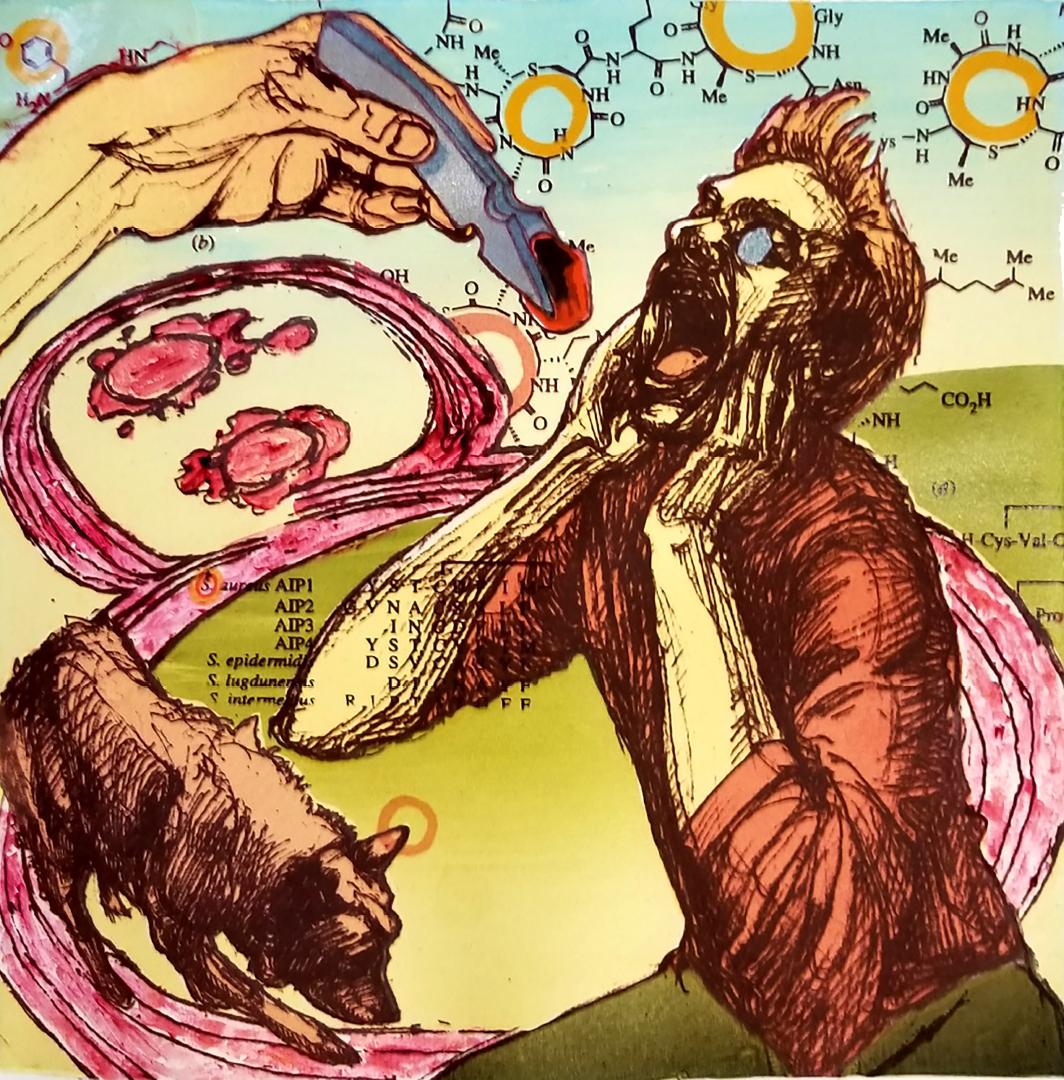 We were generous with our microbe application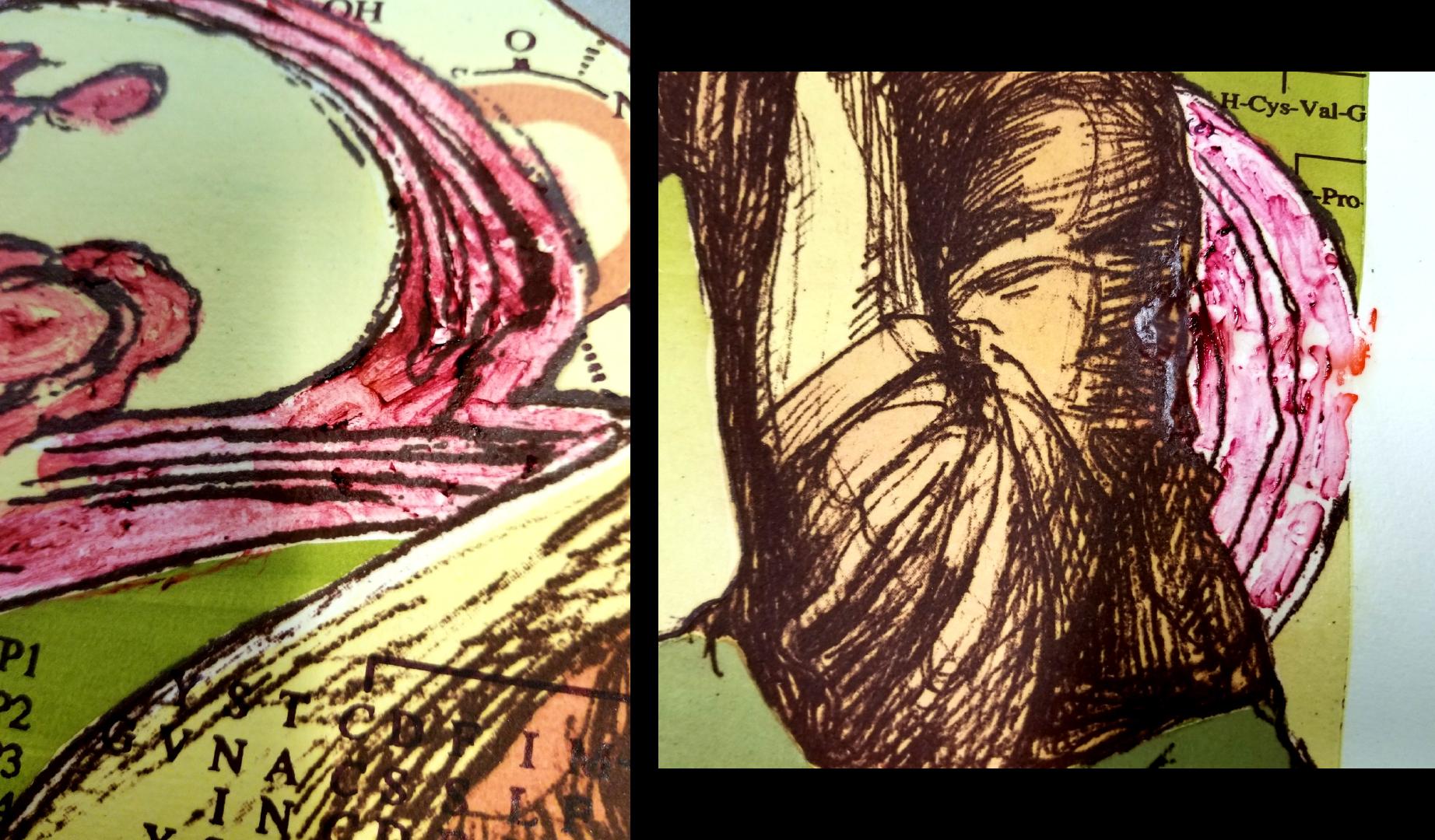 - And growth occurred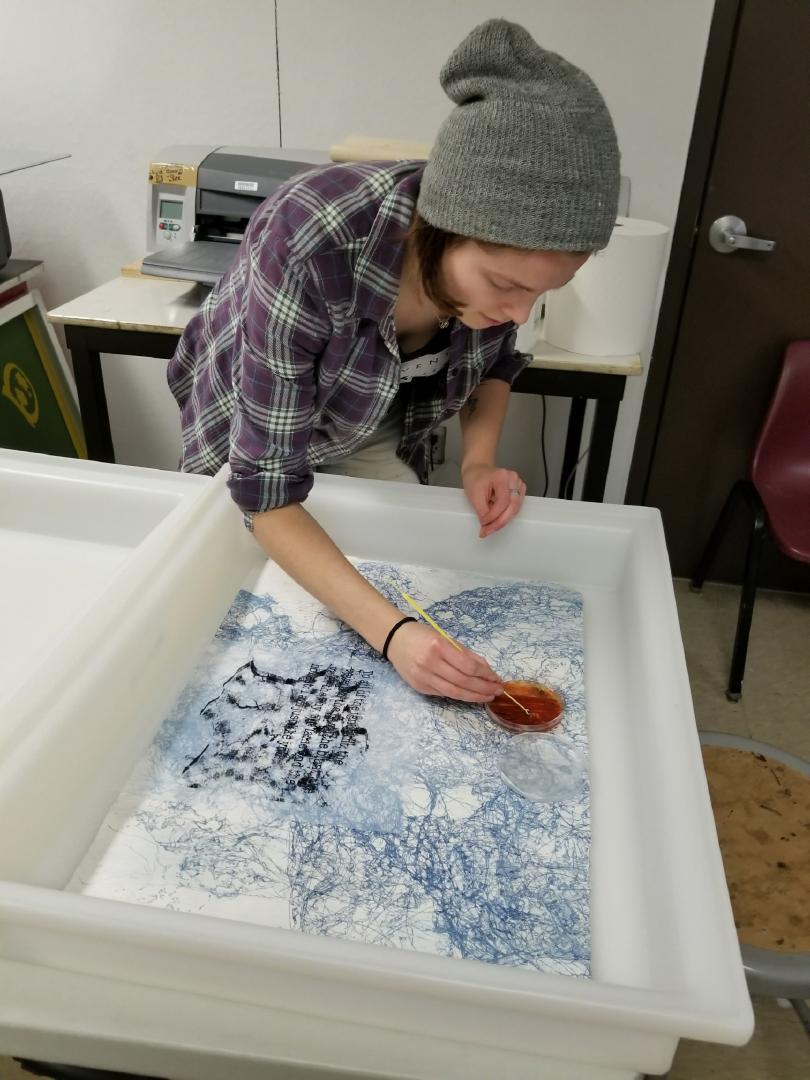 Fourth round involved exploration of process in a few different ways:

Erika worked with our Halide Bulb, Olek Exposure Unit

Screened on Agar

Applied microbes

Let dry

Placed original film used to make screen on top of print

Exposed to Ultraviolet light in exposure unit

Microbial growth in all areas exposed to UV light would potentially be killed while microbial growth sheltered under black areas of the film would be retained.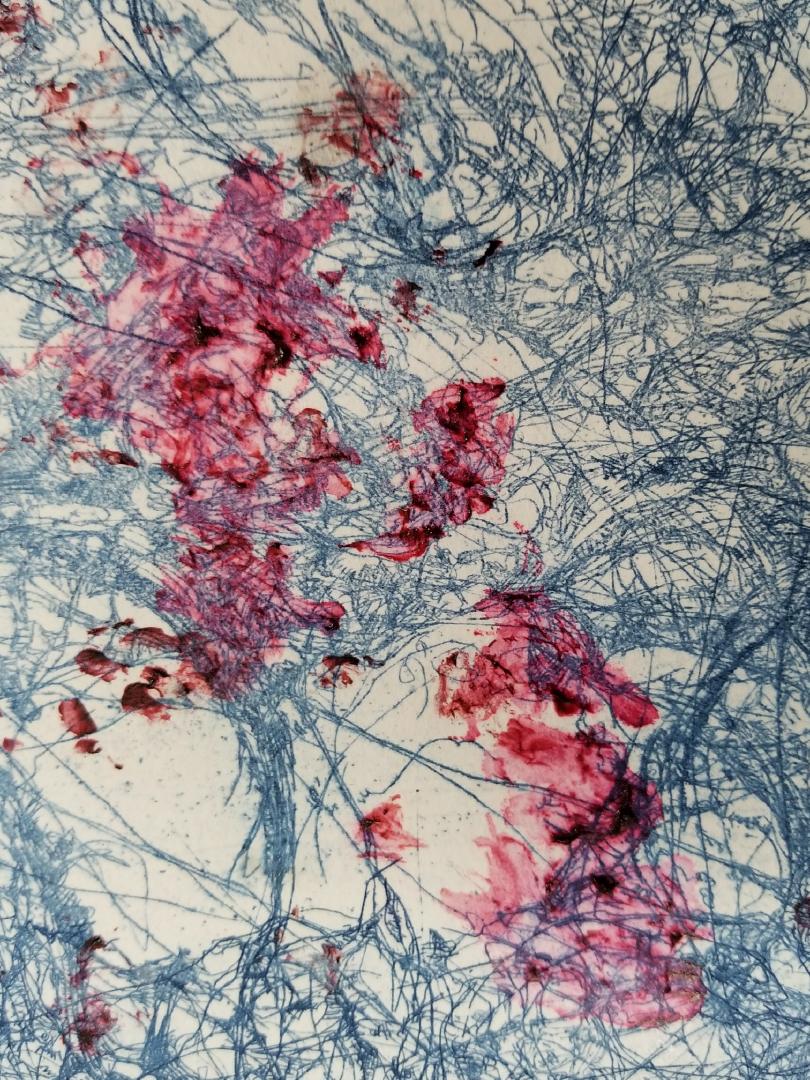 Growth occurred

But not in precise areas Erika had hoped for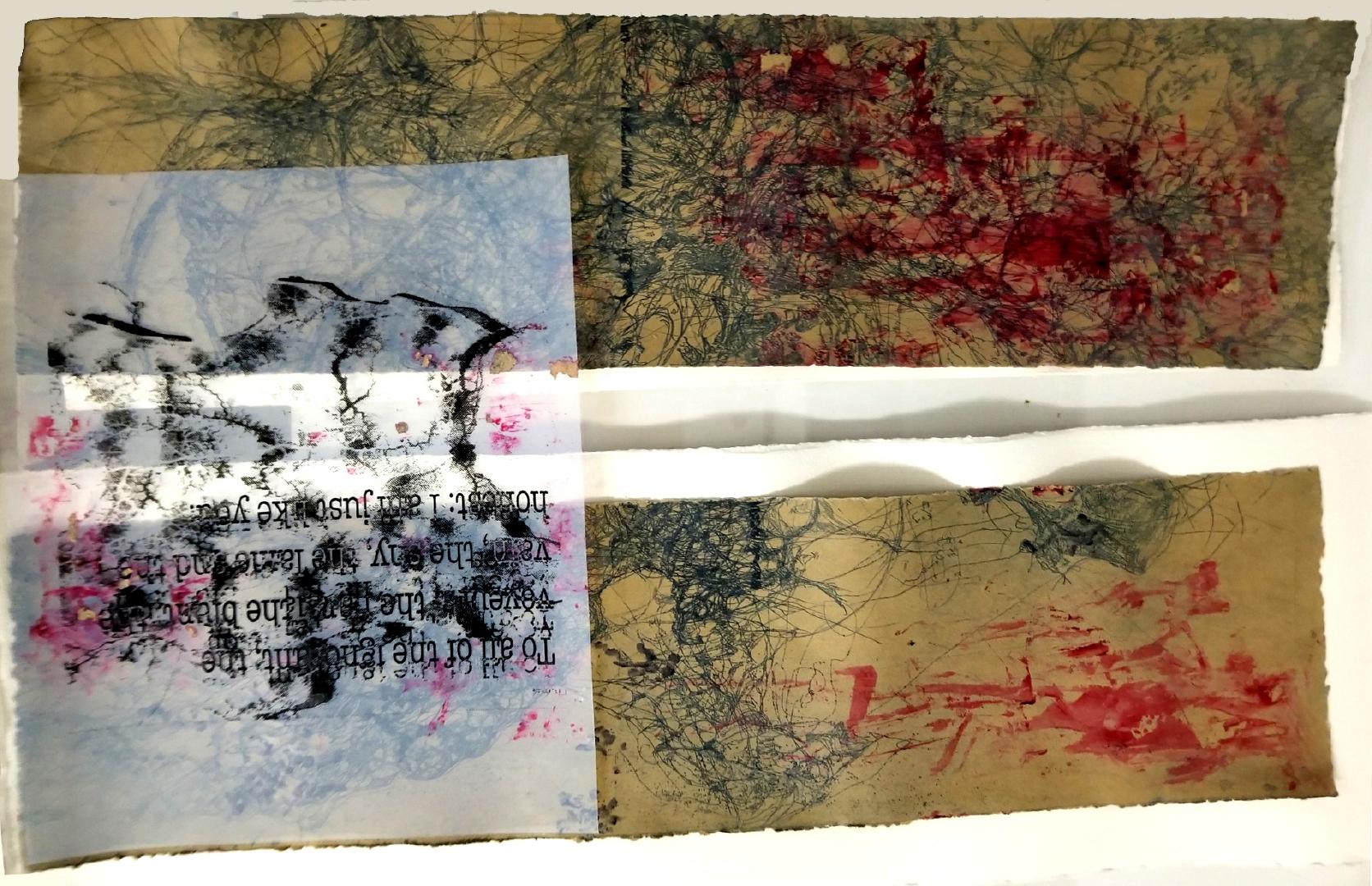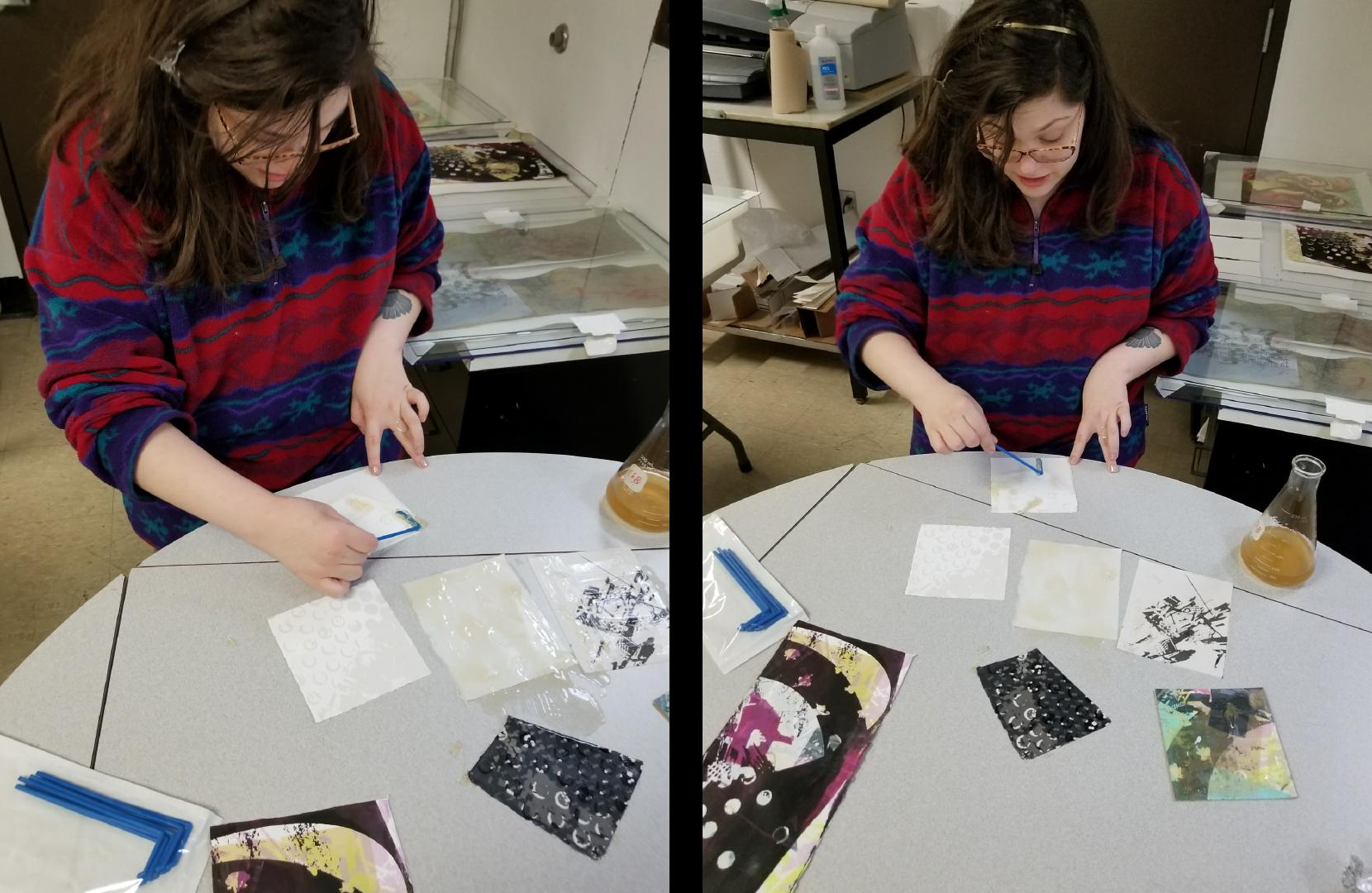 Sarah troweled on the Agar rather than printing it on prints, then applied microbes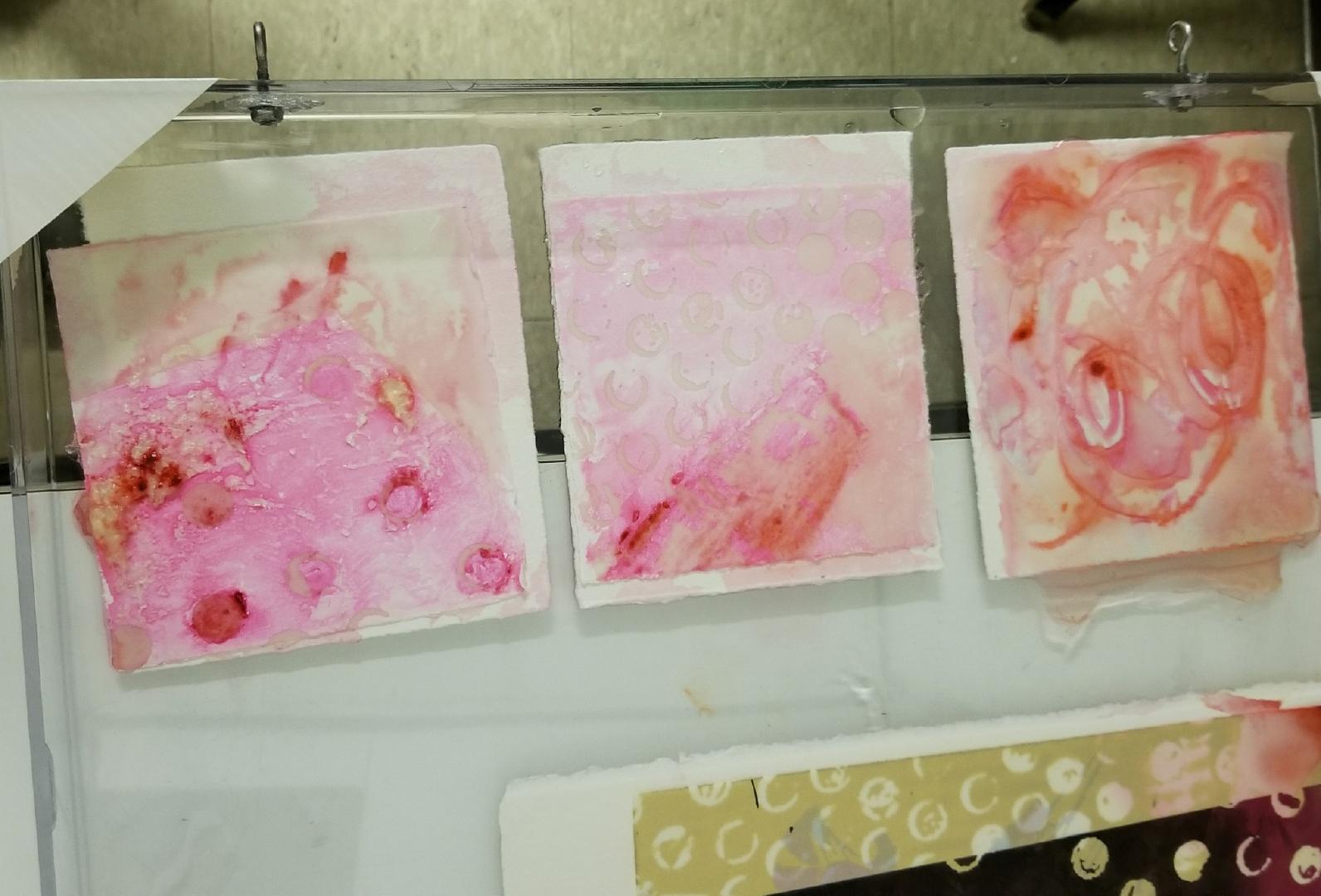 - She achieved most significant microbial growth thus far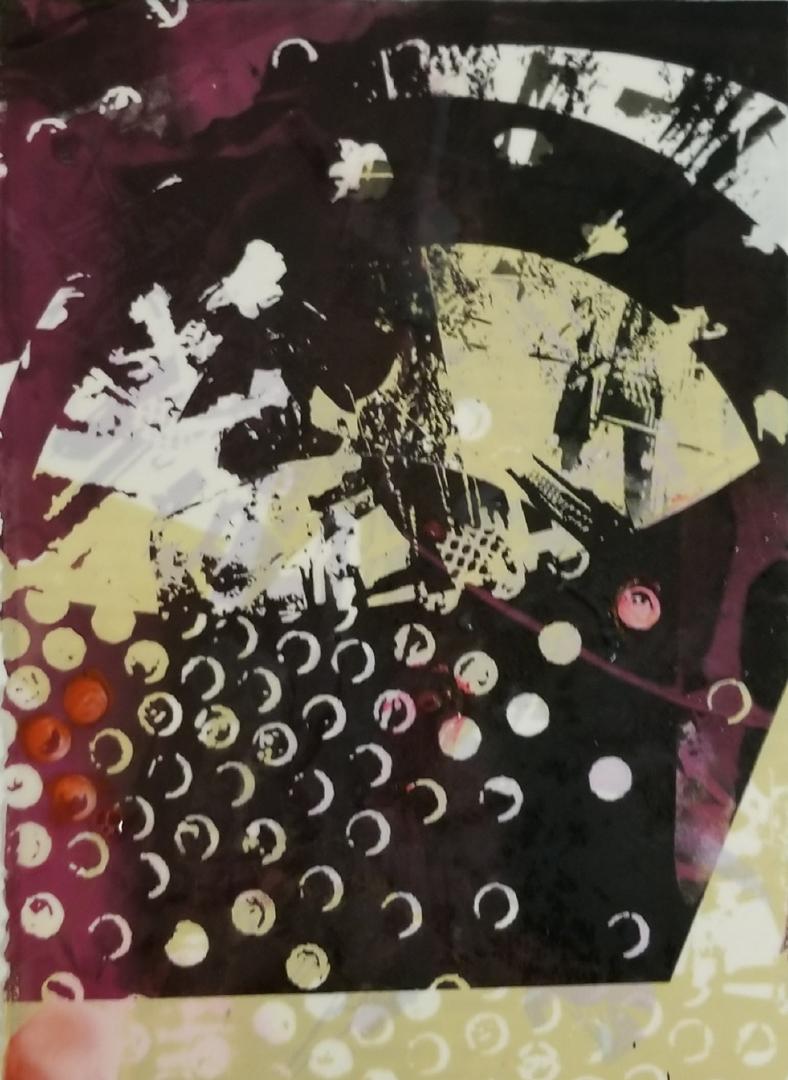 The goal of this project was to explore ways that growth, life and ways in which we depict or delineate that life be merged in format that allows us to consider them anew.

It was not scientific inquiry by its standard definition, but rather an exploration of 'life' in another paradigm that served to reveal new ways of seeing and thinking.

Results were not always profound but process was significant to all of our work

The creative process cannot live independently from contexts that inform the maker

Embodied knowledge is direct result of engaging with real materials and real solutions

When research and conceptual development emerge in physical form, they exemplify some of most significant curricular outcomes

Experimentation with 4D imagery in traditionally static discipline served to expand potential of this specific medium of printmaking as well as the direct integration of contemporary cultural issues.

I believe - Multivalent research and conceptual exploration will increased the ability of my students to contextualize themselves within their time and culture.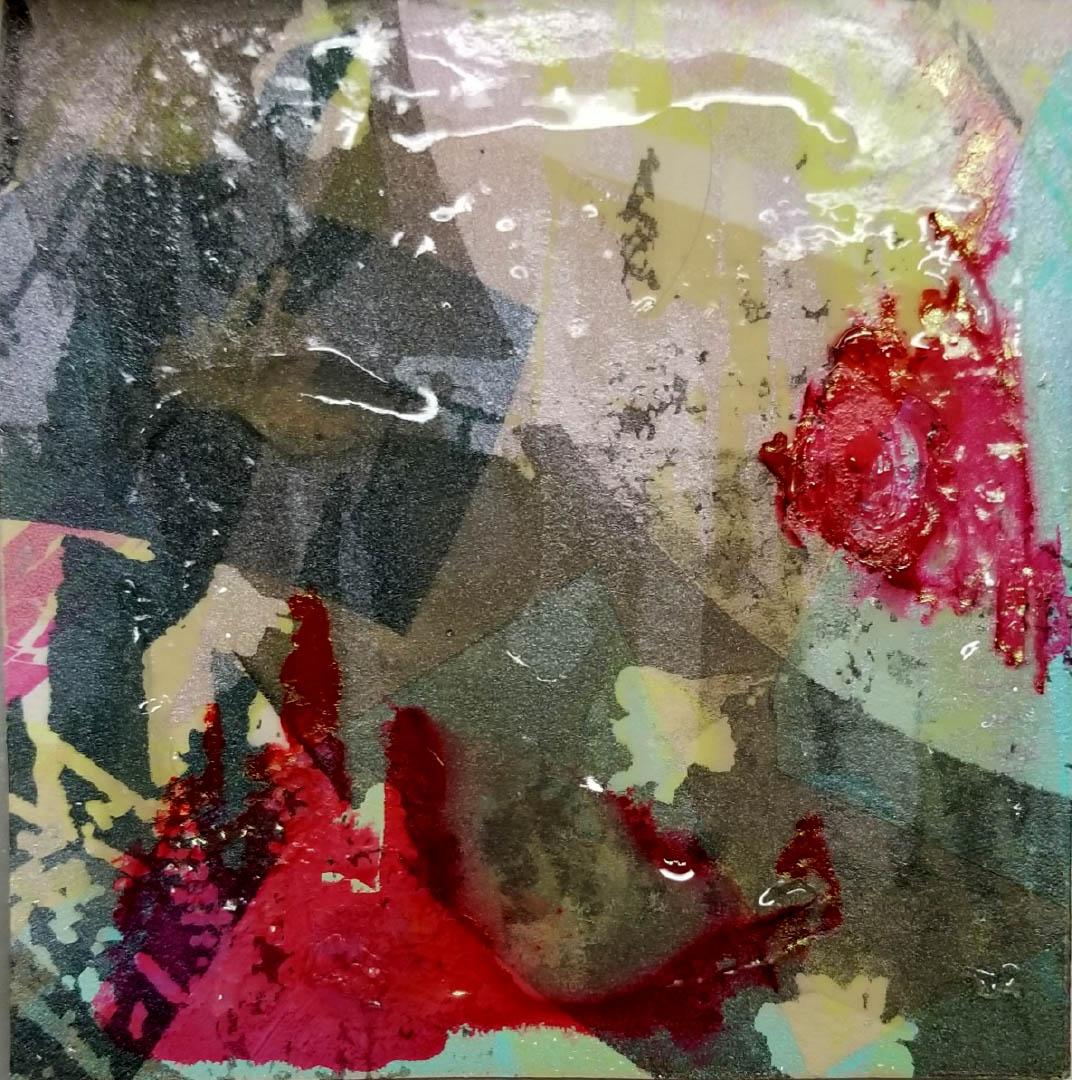 In Conclusion

Global issues impacting us all – making, meaning and materials are critical

Materials as agents of action, as forceful substances with tendencies -something that is real all of time but rarely recognized apart from maker's will to manipulate

Microbes are – physical traces of philosophies, technologies and human history

As well as living materials that grew and directed us to think, organize and respond in new and imaginative ways.

Scientific structure and inquiry were used as guidelines within which a creative artistic response was nurtured and literally grown.

The result of this exchange across two diverse fields begins to be work that expresses a new articulation of microbial forms and their role and function within culture. 


---