Saunders College students rank in top 1 percent of global business simulation tournament
Undergraduate strategic management students compete against nearly 2,000 teams from around the globe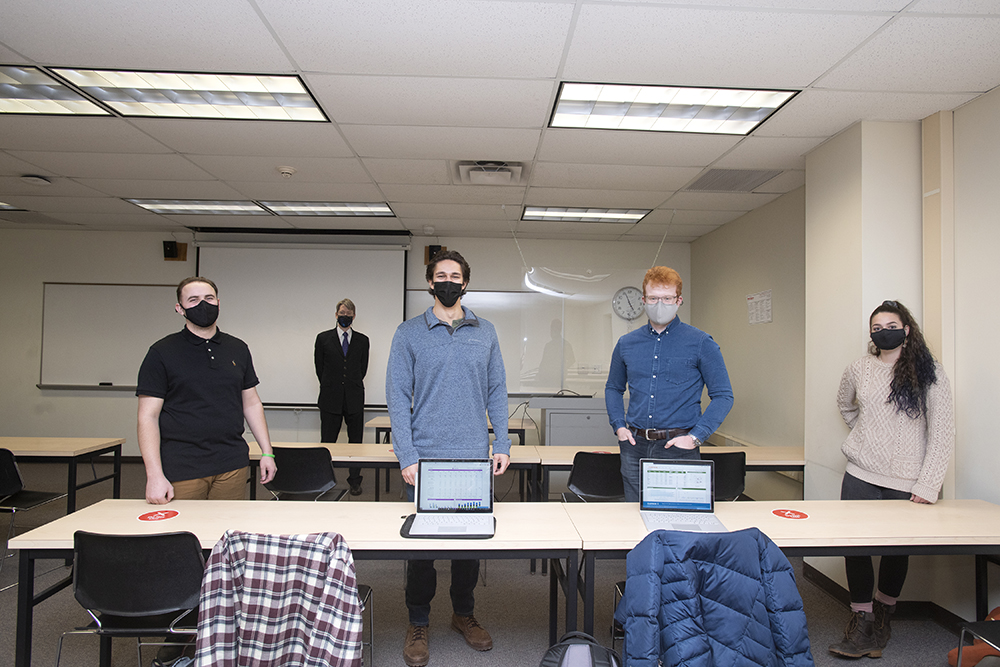 This past semester, Saunders College of Business undergraduate management students continued a tradition of excellence, ranking in the top 1 percent of the prestigious Capsim Capstone Business Simulation.

The simulation, which is a worldwide triannual global tournament, crowns the best student teams to "run" a multimillion-dollar corporation. For the second year in a row, a team from Saunders College ranked in the 99th percentile of all participants.

Nearly 2,000 student teams from colleges and universities around the world participates in the tournament this semester, with those teams assembling to "manage" a company. Teams are judged using a balanced scoreboard, taking into account management decisions impacting the company's finances, customers, internal processes, and learning and growth.

"Success in this competition is based upon what the students do and what their competitors do," said Clyde Hull, professor of strategic management in Saunders College. "It's very complex and the simulations never run the same way twice in a row. Students end up understanding that all areas of the organization need to work together in order to be successful. They simply can't make decisions working solely in their functional areas. It's about the big picture and what the organization is trying to accomplish to succeed."

In addition to students gaining exposure to different areas of organizations, the simulations help them understand the strategic interplay of competition within industry, as well as how to handle supply, demand, and market share. Hull also said that the competition is about much more than profit, where there is a need to run a good company, have a good number of products, have solid market share, and have happy workers.

"I think the most useful thing I've learned through working on the simulation was the amount of flexibility and proactive thinking needed to run a business like the one we were in charge of," said Lukas Wiedemann, a fourth-year management information systems student from Seattle. "It was unique to my education thus far because it wasn't a situation in which everything could just be done by the book. We had to always think about our competition and how their moves would affect our success, as well as the best course we could take to rise above the rest."

Business simulations are not new to higher education, but they have become an increasingly popular learning tool, particularly during the pandemic as instructors look for creative ways to teach students in virtual environments.

"This is an opportunity for students to get valuable experience running a big business at a level that most undergraduates don't usually get to do," added Hull, who had a student team score in the top 1 percent this fall. "These students are making tough decisions running a company with millions of dollars in sales and seeing how it works out. The pre-tournament practice simulation can be run again and again if they fail and, of course, you can't do that working for a real company."

RIT enters about 40 teams per academic year in the Capsim project, spanning six class sections. For the 2019 academic year, the highest-ranking Saunders student team of Ansel Amanna, Charles Li, Martina Rimac, and Kyle Terzini were taught by Stephen Luxmore, a senior lecturer in the Department of Management.

The next teams of students will enter the Capsim competition during summer semester.

"We are so proud of our students for this achievement and also proud of the quality of the education that we're able to provide," added Hull.
Topics