Get to work - Applied Learning
Hit the ground running
You get experience that matters at Saunders, both in and outside the classroom. Due to a history of working directly with corporate partners and industry advisory boards, professional-minded experiences are ingrained into our DNA. So much so that it permeates to every course, program and overall student experience. Having worked so closely with industry from the very beginning, each curriculum of ours has been developed and structured to prioritize obtaining real-world experiences.

It's why our students and alumni are recognized for hitting the ground running day one. When technological advances cause the demands of the business world to rapidly change, those from Saunders are ready to respond quickly to the opportunities that arise. Our employers take notice, as evidenced by our high outcomes rate of over 95% across all programs.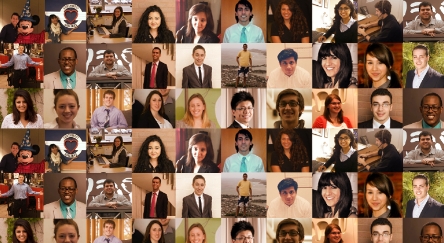 Co-op Spotlights
Whether in Rochester or across the country, Saunders students have countless co-op opportunities. Check out our co-op Student Spotlights to see what Saunders students have been up to, the type of companies that hire co-op students, and learn how their experiences have shaped their careers paths
Career & Co-op Resources for Students
Saunders Consulting Group
Saunders Consulting Group enables businesses to draw from the diversity and expertise of MBA and other students at Rochester Institute of Technology to deliver high value, custom-fit solutions for your business. Ranging from multinational corporations to bedroom startups, our clients have come to us for market opportunity analysis for new products, customer research, competitive analysis, and much more.
Saunders Consulting is affiliated with RIT Venture Creations Incubator, which is home to approximately 20 mid-seed stage companies advancing their concepts on their way to joining the ranks of profitable, viable businesses.
Hire Saunders Consulting Group Expertise
Get a team of Saunders MBA students dedicated to the success of your project
Receive expert insight and student mentorship from Saunders students and faculty 
Tap into RIT's university human and informational resources that cover a wide range of disciplines
Work with us regardless of the academic calendar - start projects at any time
Are you a Saunders Student looking for consultation experience?
In Saunders Consulting, students work in paid positions to deliver solutions for industry projects while gaining the advice and guidance of faculty experts. This gives students real-world experience outside the classroom, while companies gain the ability to pursue projects with Saunders outside of the constraints of a semester schedule.
Contact Us
If you are a business wanting to submit a project for consideration or a Saunders students who would like to apply for a position, contact us.
Graduate Capstone Projects
Capstone at a Glance
Companies submitting capstone projects will tap the resources of a team of Saunders graduate students and faculty expertise. This provides valuable free resources while offering students the opportunity to work on real-world projects.
Capstone projects provide graduate students with learning experiences that build upon knowledge gained from business courses and co-curricular activities. Over the course of a semester, students work in teams with faculty oversight to address challenges and identify opportunities for a client organization.
Each unique project requires students to quickly get up-to-speed on a specific content or issue area, enhance key process skills such as project management and teamwork, and develop competency in gathering, analyzing, and reporting on data.
Capstone Objectives
Define the problem or opportunity
Determine necessary techniques to master this problem or opportunity
Synthesize all aspects of the problem; integrating people, interpersonal knowledge, skills, and technology where necessary
Capstone Outcome
Students deliver a thorough, professionally written report with detailed analyses and specific recommendations. This will include problem definition, substantial fact-based analysis, recommendations, and implementation strategies.
The teams will present their findings to their clients, including thorough discussion and any necessary follow-ups.
A faculty member will request a short written assessment from Capstone clients regarding their student team's teamwork and input. This will impact the team's final grade for the project.
Student Successes
For students, the Capstone experience is an opportunity to develop business solutions that utilizes the skills and knowledge acquired throughout their business education in a complex, real-world environment. For organizations, it is a chance to have current and future business leaders focused on their success.
Past Capstone Projects
EMBA Capstone Projects
EMBA Capstone at a Glance
Working in teams, Saunders Executive MBA students address specific business problems or assess potential opportunities for client companies. Projects are selected to meet specific learning objectives and provide a rigorous learning experience for students and value added outcomes for client companies. Projects are sourced from a broad range of company types—from multinationals to smaller not-for-profits. Unlike other graduate capstones which last for one semester, EMBA capstones are completed over five to six months.
For more information, review the Executive MBA Capstone page and check out an overview of the EMBA capstone process and impact on our blog.
Student Competitions
Saunders students have many competitions to participate in. Through Saunders or via affiliated centers like the Albert J. Simone Center for Innovation & Entrepreneurship, programs and competitions put students in touch with real venture capital professionals. They offer investment opportunities and expertise through pitch sessions, mentorships, and judging at several competitions conducted throughout the year. 
Saunders Students participate in many competitions centered around various fields with the opportunity to win cash and prizes while practicing their class-learned skills in an intensive setting.
 Recent examples include:
The Adirondack Cup, investment challenge
People's Choice award at Institute of Management Accountants (IMA) – Rochester Chapter Student Case Competition – 2016 winners
The Freshman Experience: Biz 1+2
All freshman and incoming transfer students begin The Freshman Experience: Biz 1+2 their first two semesters. As a cohort program, business students get to know each other right from the start in an immersive program. This is distinctive as often students in other business schools pursue general education electives at the beginning and may not even take their first business class until their second or third year. Furthermore, in developing a business idea from concept to commercialization, Biz 1+2 students gain exposure to all business disciplines within their first two semesters, giving them the experience needed to find and ensure the right fit for their ultimate business majors and minors.
Visit The Freshman Experience: Biz 1+2 Page for more information