RIT's Saunders College of Business welcomes hundreds of high school students for DECA regional business competition Dec. 19
DECA conference prepares future business leaders, entrepreneurs for college and careers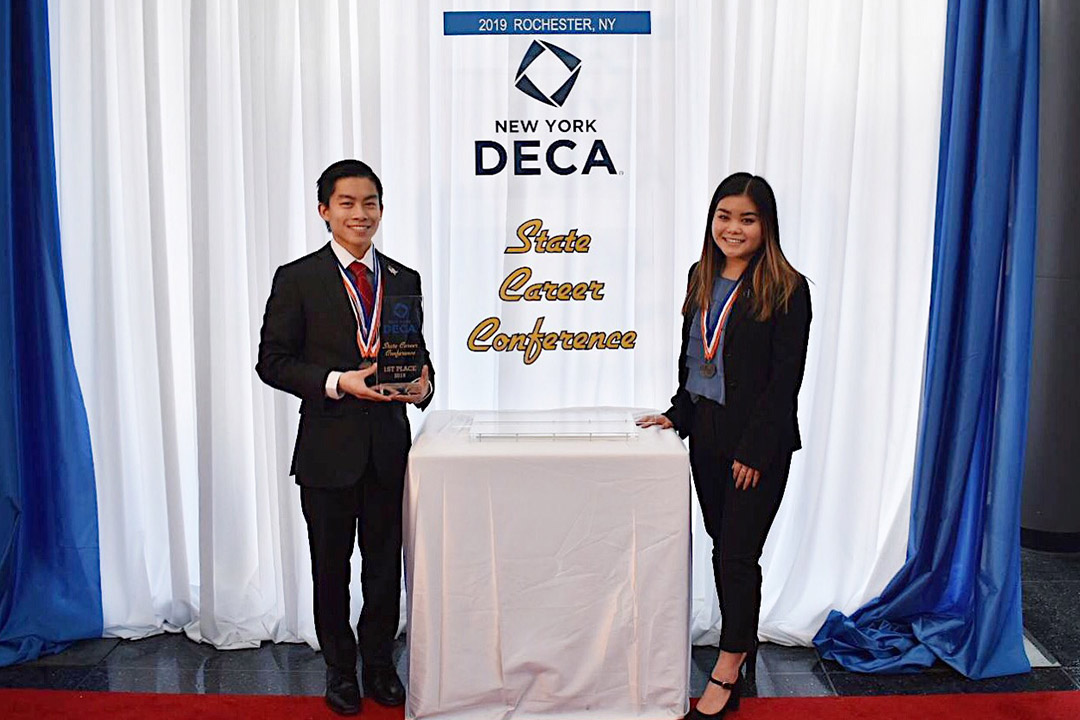 Rochester Institute of Technology's Saunders College of Business will welcome more than 600 local high school students to campus for the New York State Region 10 DECA competition. Students will present business plans to local business leaders who will serve as the competition's judges. The event will be held from 8 a.m. to 2 p.m. on Thursday, Dec. 19, in RIT's Gordon Field House and Activities Center.
Schools represented include West Irondequoit High School, Pittsford Sutherland High School, Pittsford Mendon High School, Spencerport High School, Penfield High School, Aquinas Institute of Rochester, Brighton High School, LeRoy High School, Notre Dame High School (Batavia), McQuaid Jesuit High School, Victor Senior High School, Rush-Henrietta Senior High School and Western New York Tech Academy.
A variety of subjects will be at the center of each business plan, including accounting applications, business finance, marketing management, retail merchandising and hospitality, among others. When not competing, students will attend workshops featuring guest speakers and will learn about the entrepreneurship activities available at RIT. This year, a representative from the Rochester Red Wings will be on hand to speak with students. Winners of the Region 10 High School DECA competition will be recognized at the awards ceremony at 1 p.m. and will advance to the New York State DECA International Career Development Conference in April 2020.
RIT student Elizabeth Ferrari recalls her time as a high school student from Spencerport, N.Y., participating in the DECA competition. Ferrari, who delivered presentations on personal financial literacy, credits her experience with not only exposing her to all that RIT's Saunders College of Business had to offer, but the competition also helped Ferrari sharpen her public speaking and debate skills, network with industry professionals, and learn how to dress and act appropriately in the workplace.
"I was very shy and easily intimidated in high school," said Ferrari, a first-year accounting major. "DECA helped build my confidence and presented me with so many opportunities throughout high school, including presenting to our Board of Education. The competition helped me develop leadership skills and also helped me determine what I wanted to study in college. It's a great connector."
This year, Ferrari will volunteer as a proctor and student panelist during the competition, adding that she is excited to continue to be connected to DECA. "I really wish everyone could experience DECA."
Saunders is home to more than 2,300 undergraduate and graduate students enrolled in programs across RIT global campuses in Rochester, N.Y.; Croatia; Dubai; Kosovo; and China. Saunders College works in partnership with RIT's entrepreneurial Venture Creations incubator and top-ranked Albert J. Simone Center for Innovation and Entrepreneurship to integrate business education with RIT's world-leading technical and creative programs. It has partnered with DECA, formerly Distributive Education Clubs of America, on a national level since 2014, supporting its students with classroom resources and attending its national conferences.
Related News
Topics