June 28, 2016
by Marcia Morphy
RIT team wins global challenge against terrorism
Social media project 'It's Time: ExOut Extremism' earns high praise for targeting, educating its online audience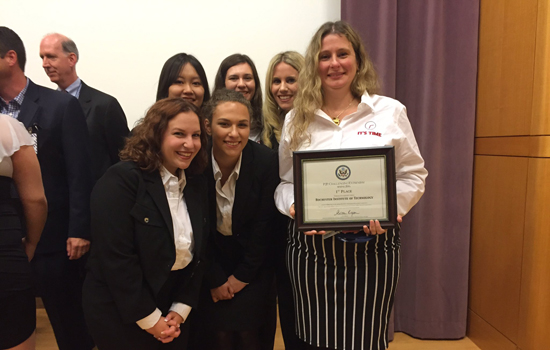 "It's Time: ExOut Extremism," a social media campaign created by Rochester Institute of Technology students, took top prize in a global challenge conducted by the U.S. State Department aimed at finding ways to counter terrorist propaganda online.
The RIT team was the only group from the United States to reach the finals of the P2P: Challenging Extremism competition, and became the first U.S. team to win first place, defeating this year's other finalist teams from Versalius College in Brussels and Khazar University in Baku, Azerbaijan. Last year, RIT received an honorable mention in the competition.
Judging this year's competition—held in Washington, D.C., on June 27—were officials from the State Department, Facebook, the U.S. Department of Homeland Security, the Combating Terrorism Technical Support Office and the National Counterterrorism Center.
One of the judges, Assistant Secretary of State Evan Ryan, offered high praise for the RIT team's digital media work.
"We thought they really captured the attention of their target audience of young people with their ExOut campaign and would reach the demographic that we are interested in," Ryan said. "Who better to reach these young people on social networking sites than university students as we search for new ways to counter online terrorism."
RIT President Bill Destler said, "These students reflect so admirably the innovative and creative spirit that permeates the university. We couldn't be prouder of their work and their sensitivity in tackling such a complex and challenging issue."
"I'm so proud of these talented students for being the only team from the United States to win this international competition," said Congresswoman Louise Slaughter. "Social media is continuing to play a larger and larger role in our lives. By working with Rochester's Muslim community, these students have shown how it can be harnessed to help combat extremism and fight terrorism around the world. This recognition by the State Department is a major honor for these students and the entire RIT community."
To reach the finals, RIT outsmarted 56 university teams from around the globe, including national competition from several universities which received honorable mentions, including University of California, Berkeley; University of Southern California; Miami University; Oxford; Ohio; New York University; and the University of Mississippi.
As winners, team members received $5,000 to continue to develop their campaign.
The 17-member RIT team was led by Adriana Bóveda-Lambie, assistant professor of marketing at RIT Saunders College of Business, who assigned students the P2P Challenge in her social media marketing class during the spring 2016 semester. With an operating budget of $2,000, the team created a public relations and strategy agency, with a logo, website, social media, video platforms, and events to raise public awareness both on campus and in the community. They worked with the Muslim community in Rochester, N.Y., to develop the campaign.
The team members presenting at the competition were Jessica Kellner '16 (new media marketing) from Honeoye Falls, N.Y.; Margaret Harrington '16 (photographic sciences) from Tucson, Ariz.; Kate Sudar '16 (illustration) from Cleveland, Ohio; Olivia Hauck '16 (advertising and public relations) from Irondequoit, N.Y.; and Kailun Jiang '16 (marketing) from Beijing.
"When we started this project we realized this wasn't just about focusing on ISIL and how they operate; the most important part of challenging extremism is to open people's eyes from those suffering from it," said team member Hauck.
The P2P: Fighting Extremism initiative is a U.S. government effort led by the State Department, Department of Education and Cultural Affairs, and is managed by EdVenture Partners and supported in part by Facebook.
Topics