Featured Events
Saunders provides students a full calendar of events to complement their studies and personal business interests.
J. Warren McClure Lecture Series
J. Warren McClure was a World War II Navy veteran and former publisher and owner of the Burlington Free Press. He sold the newspaper to Gannett Co., where he later became the first president of marketing. McClure, who turned to philanthropy in retirement, and his wife, Lois, were important members of the RIT community. McClure served on the RIT board of trustees from 1973 until 1986, was an advisor to Saunders College of Business, and allowed marketing experts to teach lectures by establishing the McClure Professorship in Marketing.
Power Your Potential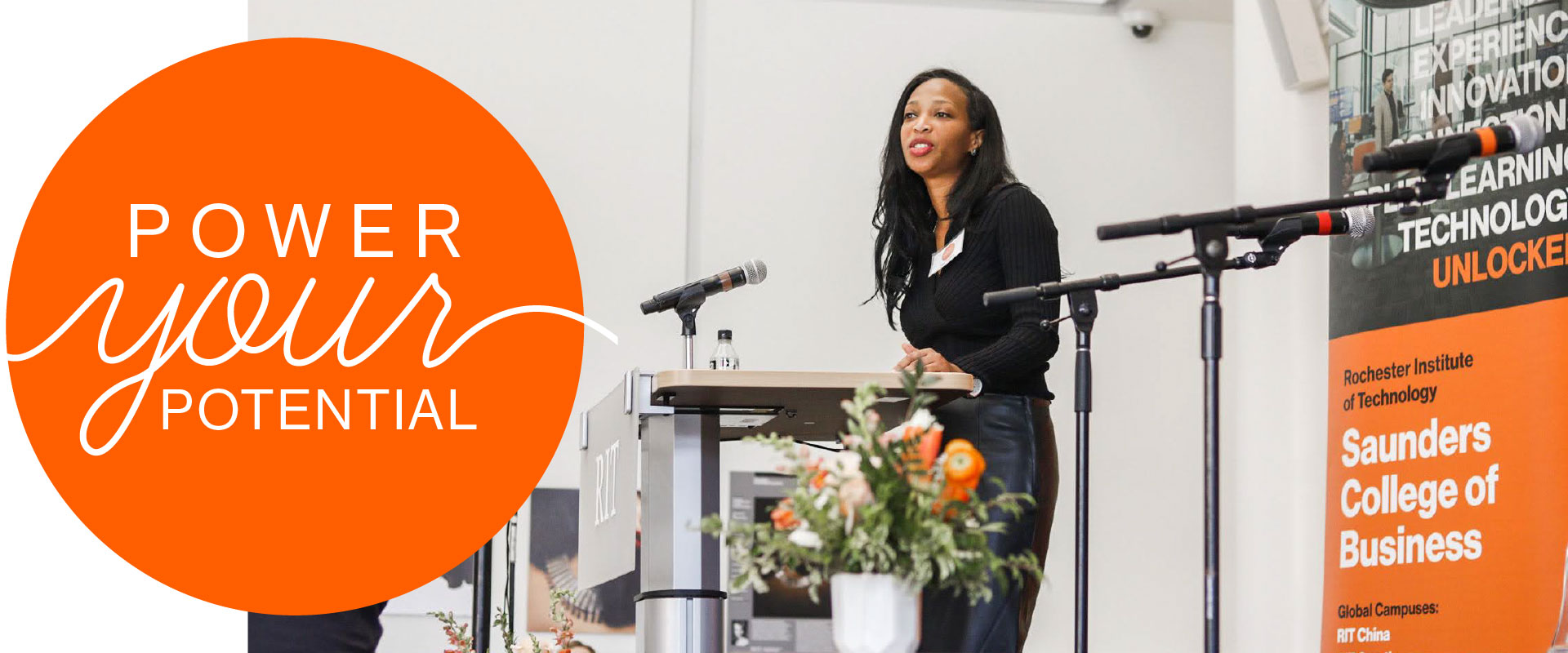 Power Your Potential is a half-day women's leadership conference that celebrates National Women's History Month. The event invites area businesswomen to gain insights from their peers and engage in educational activities geared at helping women succeed. 
Across industries and communities, women are navigating monumental change to spark movements and opportunities for future generations. This event gathers communities of innovative and inspiring women who lead boldly, challenge norms, and change their organizations.
Gasser Lecture Series
William D. Gasser Lecture Series is an annual speaker series aimed at providing thought-provoking and engaging content for students. Consistent with RIT's specialty of delivering uniquely powerful experiential opportunities Gasser attendees can meet keynote speakers at post-event autograph receptions. The Gasser Lecture Series invites disruptive entrepreneurs and industry-leading businessmen and women to share their insights on business trends and opportunities.
Vanden Brul Awards
Herbert W. Vanden Brul Entrepreneurial Award
The Herbert W. Vanden Brul Entrepreneurial Award was created in 1984 through an endowment fund established by Mr. Vanden Brul in conjunction with RIT's Saunders College of Business. 
This annual award is given to an individual or business that has improved the economic life of Greater Rochester or whose innovation management skills have changed the course of an existing business. The award's recipient is selected by a committee of area civic leaders, business leaders, and RIT faculty. 
The Herbert W. Vanden Brul Award symbolizes the connection between RIT and the Rochester Business community.
Visiting Dean's Distinguished Faculty Speakers

Beta Gamma Sigma
Sharpen the Saw (EMBA)
Saunders College of Business hosts an annual professional development event, Sharpen the Saw. This event is specifically for alumni who have graduated from the EMBA program. This speaker series provides former students opportunities to brush up on emerging trends and network with former classmates.
Previous speakers at the events have included Kitty Van Bortel, owner of Van Bortel Subaru, Van Bortel Ford and Van Bortel Chevrolet, David Cay Johnson, New York Times columnist, and Pulitzer Prize winner, Joseph M. Lobozzo II, founder of JML Optical Industries Inc., and Jim Salzano, former President of The Clarks Companies.
View videos and photo albums from past years: 2012, 2014, 2016, 2018, 2019, 2021, 2022.
RIT Entrepreneurs Conference (Simone Center)
The RIT Entrepreneurs Conference is an inspirational hub and day of learning focused on one topic: How to start a business. The annual event is for anyone who believes that creativity and bold thinking are vital to success. Guest panelists - academic and real-world practitioners - will link theory and practice in spirited dialogue with participants as they share their innovation stories, techniques, and ideas that have established them as leaders in their respective fields and industries.
Tiger Tank (Simone Center)
RIT's Tiger Tank, sponsored by Saunders College of Business, is hosted by the Simone Center for Student Innovation and Entrepreneurship. Inspired by ABC's Shark Tank, RIT's Tiger Tank gives students the opportunity to pitch their business idea to "Tiger Shark" judges with the chance to win cash prizes.
The biannual Tiger Tank competition challenges entrepreneurs to formulate an early-stage business concept and submit a proposal that seeks to solve a problem or gap in the marketplace. Submissions are open to the general public and evaluated based upon their uniqueness, feasibility, and ability to impact people. Five teams are selected to compete in the Tiger Tank competition for the chance to win. 
Check out our archive page for a history of past Tiger Tank winners
RIT Student Accelerator (Simone Center)
RIT Student Accelerator is one-semester initiative at Rochester Institute of Technology, in conjunction with the Simone Center for Student Innovation and Entrepreneurship. The Saunders supported program is aimed at assisting entrepreneurs develop their business concepts to a point where they are ready to begin seeking angel investment. Student teams from all majors and disciplines are invited to apply. 
Teams receive a designated workspace, mentoring from faculty and alumni, guidance on business development, and financial resources, including a stipend and the opportunity to earn grants to sustain their plans.
Annual Saunders Fall Picnic

Saunders annual Fall Picnic is our most widely attended events of the year. Open to all Saunders students, faculty and staff, the picnic is a great way to launch our new academic year when we return for fall semesters. Check out photos from our past years.
2024, 2023, 2022, 2021, 2020 (COVID), 2019, 2018, 2017, 2016, 2015, 2014, 2013, 2012