Student starts new professional opportunity for the hospitality program
Student Spotlight Linden Pohland, fourth-year hospitality and tourism management major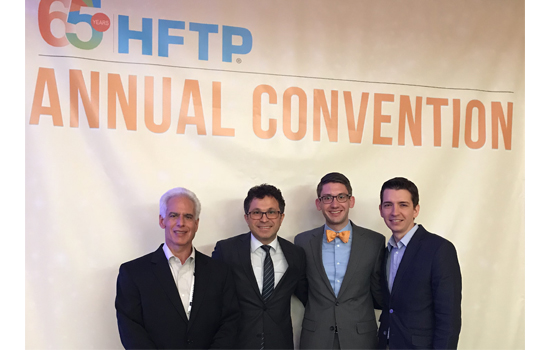 Linden Pohland is a fourth-year hospitality and tourism management major from Germantown, Wis. Pohland started a new chapter of Hospitality Financial and Technology Professionals (HFTP) at RIT, an organization that focuses on hospitality, accounting, finance, technology, management and ownership in the hospitality field. RIT has never hosted a chapter of this program and Pohland did not shy away from getting this valuable group started for his peers. In March 2017, he helped organize a guest speaker panel for the chapter that invited professionals to share their thoughts on integrating technology and digital entrepreneurship in the field of hospitality.
Pohland is active both on and off campus. He is the president of the HFTP chapter, a member of the hospitality honors society Eta Sigma Delta and a member of the American Hotel and Lodging Association chapter at RIT. He also started a new chapter of Eta Sigma Delta while he studied abroad at the RIT campus in Dubrovnik, Croatia. In addition to these on-campus ventures, Pohland has attended conferences in Orlando, Fla., Dallas and New York City that helped expand his experience and knowledge of the hospitality field.
To help get the new chapter of HFTP started on campus, Pohland advocated to remove the membership fee so anyone can join the chapter free of charge. 
Question: What brought you to RIT?
Answer: When I was looking at colleges, originally Cornell was one of my top choices. But before coming to visit Cornell the summer before my senior year, I received a postcard in the mail from the hospitality department at RIT. The postcard caught my eye and I figured while my father and I were in the area visiting Cornell we might as well stop by RIT because Ithaca is very close to Rochester. When I went to Cornell I thought it was nice and saw that they had a strong hospitality program, but culturally it wasn't the right fit for me. When I came to RIT I could immediately tell that it was going to be the better fit for me so the choice was obvious. I was also looking for change when applying to college, so I thought moving to Rochester and coming to RIT would be good for me.
Q: Why did you decide to major in hospitality and tourism management?
A: I enjoy interacting with people. I think sitting behind a desk and doing my own thing every day would get old and boring after a while. I definitely like having time on my own to get work done, but I really enjoy having human interaction on a daily basis. I think it's important and keeps things interesting. Hospitality is an ever changing and evolving industry and every day is different. You might ask alumni from other majors, what's a typical day for you at work? But that question doesn't really apply to hospitality. There is always something different that happens day to day. That is what really drew me into the industry.
Q: Can you tell me about the new Hospitality Financial and Technology Professionals group you helped start last year?
A: HFTP is an initiative that was started last fall and officially chartered in December of last year. I am the current president of the organization and oversee a team of students that work to recruit more members, develop programming and work on making HFTP a larger part of the hospitality department and on campus in general. One of the goals we have for HFTP is to involve students outside of our major, like business or engineering majors that may have interest in the business and technology side of hospitality. We want to pull it together and make it a cross-disciplinary group. This could be a great way to exchange knowledge between majors and a good opportunity to learn from other student's experiences as well as our own. I also believe that through this program we can get more students exposed to hospitality so they understand what it really is. There are more opportunities in hospitality than just running a hotel. There are a wide variety of positions dealing with technology and finance that people don't always think about. We want to broaden the appeal of hospitality and bring about a better understanding of what the hospitality industry is.
Q: You spoke at the HFTP Annual Convention in Orlando, Fla., two weeks ago, can you tell us about your experience speaking at the event?
A: I've never spoken at a conference prior to this and it was a really good experience. The title of our presentation was "Student Engagement: Preparing Future Finance and Technology Leaders," and it was a panel that included myself, the RIT chapter adviser and two industry professionals, one from Miami and one from Houston. The goal was to have representation from three sectors that are influential to the process of student engagement: industry, academia and students. The presentation discussed how those three different viewpoints can work together to better prepare students for their future careers in hospitality finance and technology. The presentation had something for everyone, students and professionals alike, and it was a good way of explaining how we can all come together to provide benefit for all parties.
Q: You were the only student invited to speak at this conference, how did you feel about that?
A: It was exciting and somewhat intimidating. I'm a senior in college and do not have industry experience, so I was thinking, what do I actually know about this topic? Then I reminded myself that I'm a student and fit the role perfectly, so my perspective would be valuable when talking about student engagement. Even though I had initial doubts, at the end of the panel when we opened up the floor for questions, more questions were directed toward me that I had anticipated. So, looking back, I think the panel would have been incomplete if there wasn't student representation.
Q: What are your plans for after you graduate?
A: I want to get a hotel position and work within a management training program. That is one of the best ways to set myself up for success in the hospitality industry, specifically in hotels. It would allow me to be on a somewhat accelerated path toward management. I would also like to get into the financial and accounting side of hospitality and eventually go back to school to pursue graduate education. There is no magic number of years, but after spending time in the industry I want to earn a Ph.D. so I can be a college professor, my ultimate career goal.
Topics