University-wide career fair returns to RIT's Gordon Field House
Scaled-back event allows for spacing and virtual follow-up interviews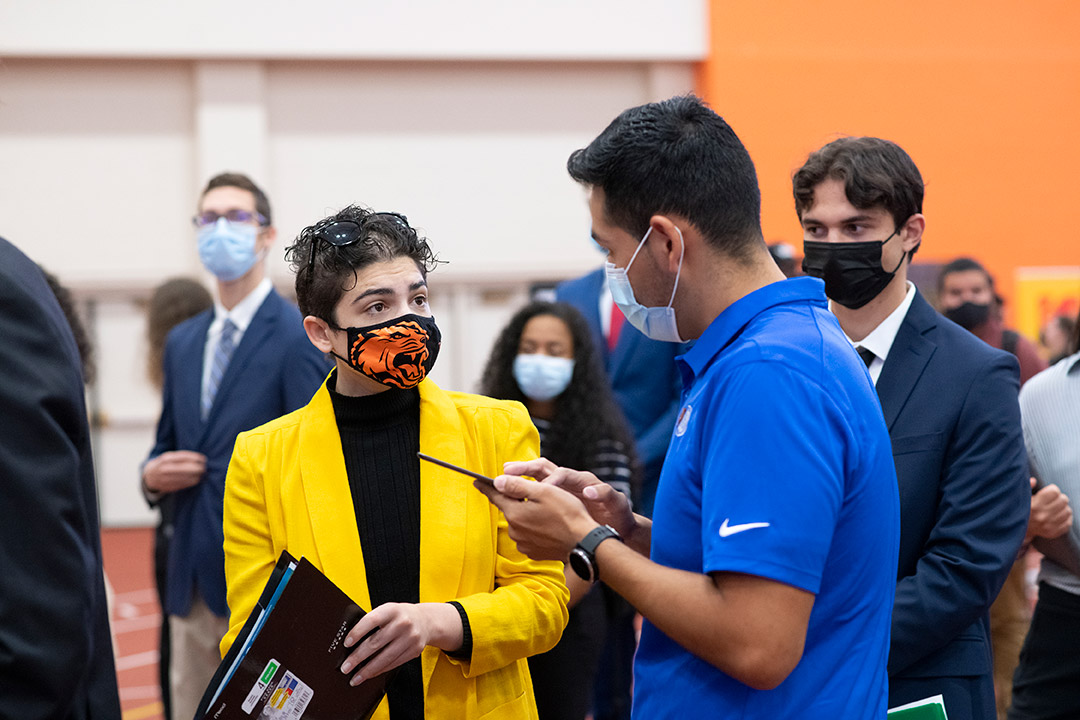 A. Sue Weisler
Although they may not be shaking hands this year, Rochester Institute of Technology students will once again be making in-person connections with potential employers for spring co-ops and full-time employment as the university-wide career fair is held Wednesday, from 10 a.m. to 4 p.m. in the Gordon Field House.
"The demand for RIT students has not dwindled," said Maria Richart, director of RIT's Career Services and Cooperative Education. "When you look at what we went through with COVID, some companies reducing workforce or closing, the demand is definitely still there for our students. And it's great to get back to some sort of normalcy."
Last year's event was held virtually due to the pandemic.
While a record-number 260 companies attended the 2019 career fair, 108 are scheduled this year. The number was capped to provide six feet of spacing between tables, and companies were asked to only provide up to four recruiters.
Up to 2,000 students are expected at any one time.
"With fewer companies, we have the ability to spread out and take advantage of the space the field house has to offer," Richart said. "We will be having safety precautions. Everyone will be wearing a mask. And we're telling employers students aren't going to be encouraged to shake hands. Not everyone is 100 percent comfortable with that yet."
Traditionally, follow-up interviews were extended to students a day or two after the fair. This year, the interviews will be held virtually.
"Actually, the companies love it. They love the flexibility," Richart said.
National, regional, and local companies are participating, including first-time participants Adaptec Solutions, biBERK, Marvel Semiconductor, RDI Diamonds, SandBox Union, and Vuzix.
Returning companies include Bridgestone Americas, Chameleon Consulting Group, Health Tensor Carrier, Constellation Brands, Eastman Kodak Co., General Electric, General Motors, M&T Bank, Siemens Energy, Southwest Airlines, and Thermo Fisher.
Because additional companies aren't able to attend, either because of space limitations or travel bans, a virtual career fair is being scheduled on Oct. 14, from 1 to 4 p.m. via RIT Career Connect.
Nearly 70 companies already registered will have recruiters who will be able to chat one-on-one virtually with students on a first-come basis.
More information, including tips for students and the list of participating employers, can be found on the Career Fair webpage.