Department of Computing Security

Department of
Computing Security
Contact
Bo Yuan
, Department Chair
Megan Critelli
, CSEC and GCI Office Manager
Overview
The Department of Computing Security (CSEC) advances the state of the art in cybersecurity and provides students with the education they need to launch their careers as world-class cybersecurity professionals. CSEC students get a hands-on education in how to protect computers, networks, and data, and they take that into the world through co-op opportunities with industry leaders and security competitions. Students also work alongside expert faculty to investigate protecting connected cars, defending wireless communications in the Internet of Things, improving online privacy, and many other ways to secure our world.
2013
Collegiate Cyber Defense Competition National Champions
$92k
Median salary, according to Bureau of Labor Statistics
0%
Unemployment rate in cybersecurity field (Rasmussen)
---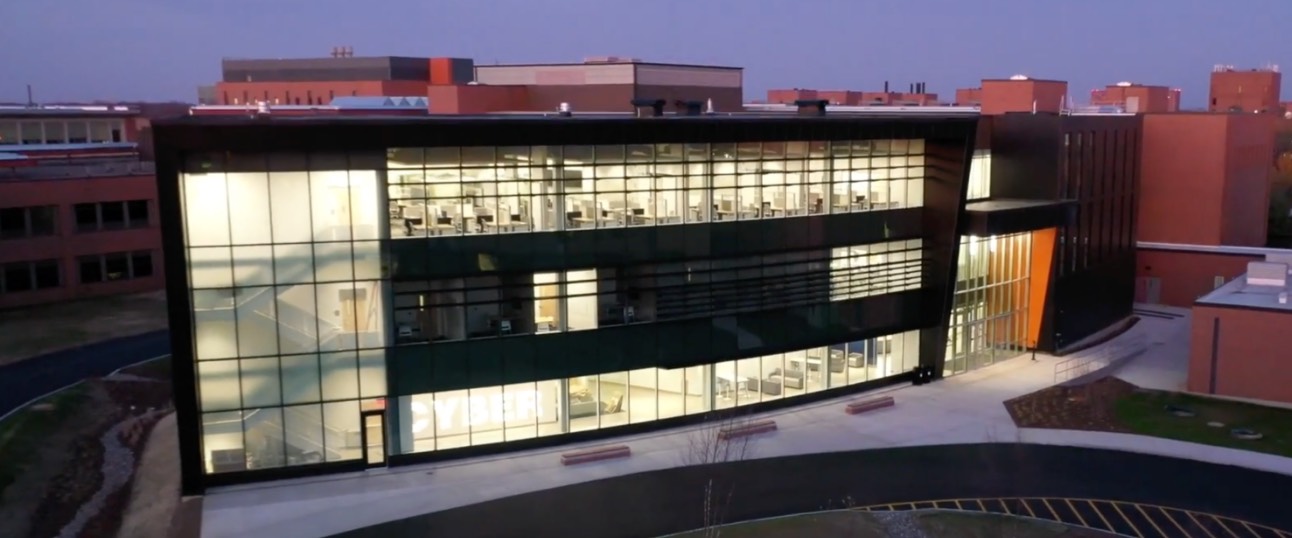 ---
Explore RIT's new Global Cybersecurity Institute, a state-of-the-art, 52,000-square-foot facility designed for advanced cybersecurity education, training, and research.
---
Featured Profiles
Meet Nishi Prasad
Last summer, Nishi Prasad completed a co-op with RIT and Eaton Corporation, testing embedded devices. The co-op opened doors for her at RIT as a student leader and connected her to the university and...
View More

about Meet Nishi Prasad
Undergraduate Programs
The Bachelor of Science degree in computing security produces professionals who understand people and processes that impact information security. In addition to possessing state-of-the-art knowledge in the preservation of information assets, students become experts in the identification of computer security vulnerabilities, proving an attack occurred, identifying its origin, assessing the damage, and designing strategies that ensure data can be recovered.
Graduate Programs
The Master of Science in computing security gives students an understanding of the technological and ethical roles of computing security in today's society and its importance across the breadth of computing disciplines. The program enables students to develop a strong theoretical and practical foundation in secure computing, preparing them for leadership positions in both the private and public sectors.
With the prevalence of mobile computing, the advantages of cloud computing, the ubiquity of computing in general, and the issues of securing big data caused by the world-wide explosion of eBusiness and eCommerce today, secure computing environments and appropriate information management have become critical issues to all sizes and types of organizations. Therefore, there is a vital and growing need for all computing professionals to have a foundation in the issues critical to information security and how they apply to their specific disciplines. The minor consists of two required courses and three electives chosen by the student from the computing security advanced course clusters. There are many elective course choices to provide flexibility. Therefore, the minor provides any computing major outside of the computing security degree program with basic knowledge of the issues and technologies associated with computing security and allows students the opportunity to select a set of security electives that are complementary to their majors. Before beginning the minor in students must possess prerequisite knowledge that can be obtained from various programming sequences and courses in calculus and discrete math.
Learn more about the

Computing Security Minor

program
With the prevalence of data breaches and cyber-attacks, securing intellectual properties and customer's personally identifiable information has become increasingly challenging in business, government, and academia. It is commonly recognized that a key factor for having a cyber-secured environment and operations is well-trained employees with good cyber hygiene. A small human error may lead to a disastrous cyber incident. The cybersecurity risk management minor is designed for students in non-computing majors who are interested in learning about cybersecurity and developing the knowledge and skills to support organizations in their efforts to protect their computing and informational resources. Students learn the basics of computing and cybersecurity and then gain knowledge and practice in cybersecurity policy and law, risk management, and business continuity plans in the event of a cybersecurity attack.
Learn more about the

Cybersecurity Risk Management Minor

program
Scholarships and Assistantships
Overview
Funded by the National Science Foundation, the CyberCorps® Scholarship for Service (SFS) is a unique program designed to increase and strengthen the cadre of federal information assurance professionals that protect the government's critical information infrastructure. The CyberCorps® scholarships fully fund typical costs incurred by full-time students admitted to the program, including tuition, fees, and a stipend to cover room and board. Upon graduation, the CyberCorps® graduates have a mandatory commitment to work for the government in an information assurance field for the amount of time equal to their scholarship. This governmental obligation can be fulfilled by working in cybersecurity for the federal, state, local or tribal governments; this list includes, but is not limited to, various federal agencies, government branches, as well as federally funded national labs.
CyberCorps® Program at RIT
RIT has been awarded a National Science Foundation grant #1922169 to prepare "Crosscutting Cybersecurity Scholars," who are talented students enrolled in the BS programs in Computing Security, Computer Science, and Software Engineering, and interested in pursuing an MS degree in Computing Security. 
Program Eligibility
The CyberCorps® program is open to students enrolled in the three accelerated BS/MS dual degree programs at RIT majoring in Computing Security, Computer Science, and Software Engineering. To qualify for the CyberCorps® scholarship, students must apply, qualify for and enroll in the accelerated BS/MS dual degree program in their undergraduate respective major and an MS in CSEC.  Note that this scholarship is not for incoming students. 
Other eligibility requirements include all of the following:
US citizen or lawful permanent resident

GPA of 3.25 or higher
Completed at least one co-op prior to admission into the CyberCorps® program

Must be able to obtain an appropriate security clearance. (Please review the federal SF-86,

http://www.opm.gov/forms/pdf_fill/SF86.pdf

)
Program Benefits
Undergraduate Year: full tuition and fees, and $25,000 stipend per year

Graduate Year: full tuition and fees, and $34,000 stipend per year

Professional development allowance of $6,000 per year for books, SFS Job Fair and other travel, professional certification, etc.
Ongoing Program Requirements
Sign CyberCorps®: Scholarship For Service (SFS) Service Agreement

Sign a Forgivable Loan Promissory Notes

Maintain a 3.25 or higher GPA

Participate in all CyberCorps® cohort activities
Accept no outside employment without written permission of the RIT CyberCorps® program

Continued ability to obtain and/or maintain a security clearance

Apply for, receive, and participate in internships (co-ops) each summer with an approved governmental agency

Apply for, receive, and accept a full-time position with an approved governmental agency upon completion of degrees; and complete service at that agency equal to the time funded by the scholarship
How to Apply
Email the following to cybercorps@rit.edu with the subject line "Application to CyberCorps®". The deadline for applications is March 31, 2022. 

The completely filled-out application form

 (Please type in the form)

A copy of the student's most current transcript (unofficial transcripts are acceptable)

A current resume

Two letters of professional reference with at least one from an RIT faculty member and one from a co-op (or other jobs) supervisor, if at least one co-op has been completed. These letters must discuss the student's professional capabilities and what makes the student an appropriate candidate for the CyberCorps® scholarship. A recommendation form can be download here.
One letter of personal references from a family member. The letter must discuss the student's personal commitment to serving the nation

A statement from the applicant not to exceed two single-spaced letter-sized pages (12 point Times Roman font) that discusses the applicant's motivation for applying, interest in cybersecurity, any past relevant experiences, and future plans. Please include current or past military or other government services

A draft worksheet for your BS/MS program (please work with your advisor on this)
Additional Information
Failure to satisfy the academic requirements of the program or to complete the service requirement will result in forfeiture of the scholarship award, which will revert to a student loan with repayments pro-rated accordingly to reflect partial service completed. The institution is responsible for collecting the repayment amounts, including interest, consistent with the provisions of part B or D of Title IV of the Higher Education Act of 1965. All forfeited scholarship funds, fewer grantee costs associated with collection of the repayment not to exceed 5% of the forfeited amount, will be returned to the United States Treasury and may not be re-used by the awardee institution. Scholarship recipients in coordination with the institution and the NSF Principal Investigator may petition the NSF Program Office to waive or suspend repayment of scholarships in cases of extreme hardship or other circumstances that would preclude the fulfillment of the service obligation.
Frequently Asked Questions
A list can be found on the OPM website: https://www.sfs.opm.gov/StudFAQ.aspx.
More SFS FAQs can be found on our RIT Wiki.
Points of Contact
Please send all the emails to cybercorps@rit.edu.
The Cyber Scholarship Program (CySP) (formerly the DoD Information Assurance Scholarship Program) is designed to recruit the nation's top cyber talent to the DoD as well as retain our current cyber workforce to help secure our nation against the threats of information systems and networks. Click here for the 2021 solicitation document.  Note that this scholarship is not for incoming students. 
Undergraduate – full tuition, $25,000 stipend Graduate – full tuition, $30,000 stipend
Submit Student Applications to Dr. Bo Yuan, dod-cysp@rit.edu before January 15, 2021.
To be eligible for the DoD CySP Scholarship you must:
You must be 18 years of age or older.
You must be a citizen of the United States at the time of application. Note, if family members are not U.S. Citizens, some DoD Agencies may be unable to process the applicant (student) to the security clearance level required. Every effort will be made to assign eligible students to an Agency without such restrictions.
You must be enrolled (or accepted for enrollment) in one of the identified CAE colleges or universities listed in this announcement, or enrolled (or accepted for enrollment) at an institution selected by a CAE as a collaborative partner for these purposes.
You must have completed (or by August 2018 will have completed) at a minimum the first two years of an undergraduate degree program and be eligible to (a) begin either the third or fourth year of an undergraduate degree program; (b) begin the first or second year of a Master's degree program, or (c) pursue doctoral studies
You must be pursuing a course of study and/or have a declared major in one of the scientific, technical, or managerial disciplines related to cybersecurity or with a concentration in cybersecurity
Once in the program:
Sign a written agreement obligating you to work for the Department of Defense, as a civilian employee for one calendar year for each year of scholarship assistance
Serve in internship positions, if timing permits, with DoD organizations during the time you are receiving scholarship support
Agree to a security/background investigation (for internships and future DoD employment). Drug tests or other suitability processing will occur as appropriate.
Maintain good academic standing: 3.2 out of 4.0 GPA (undergraduates); 3.5 out of a 4.0 GPA (graduates)
Complete the full student application process including the following steps
Carefully review the "Student Application Preparation Instructions" starting on page 5 of Attachment A.
Application form for new applications (Attachment D). Click here to download. Returning scholars use this application form. 
Your up to date resume (please use this resume template required by DoD)
Two letters of recommendation (one letter only for returning scholar)
Current official transcript 
Statement of honors and awards (new applications only)
Statement of Knowledge and abilities in Cybersecurity areas (new applications only)
Interview with the DoD CySP Review Committee (new applications only)
For more information, contact Dr. Bo Yuan via email at bo.yuan@rit.edu.
The Computing Security department offers a limited number of graduate assistantship (GA) positions to individuals with strong academic, interpersonal and technical skills for the purpose of supporting the educational and research activities of the department. These positions can also provide financial support for the qualifying students in the department. Assistantships are awarded for one academic year. Both full and part-time assistantships may be offered. A full-time assistantship provides up to full tuition benefits plus an hourly wage each academic term; a part-time assistantship covers a portion of the cost of tuition and an hourly wage. The student is responsible for all degree-related financial obligations not covered by the award. A full-time GA works 20 hours per week for the department; part time GA works 10 hours per week. Graduate assistants are not responsible for direct course delivery. Instead they may be teaching assistants, or tutors in the undergraduate program, support the faculty in their research efforts or support the Systems Administrator with the lab infrastructure.
A GA must maintain good academic standing (U>U 3.3/4.0 GPA; ethical behavior) to retain the assistantship. An assistantship may be terminated at any time due to unacceptable performance or unethical behavior.
Student Resources
Here you will find additional resources for the Department of Computing Security, such as Academic, Accreditations, Lab resources, etc.
View resources