From floppy disks to the cloud
RIT's Golisano computing college turns 20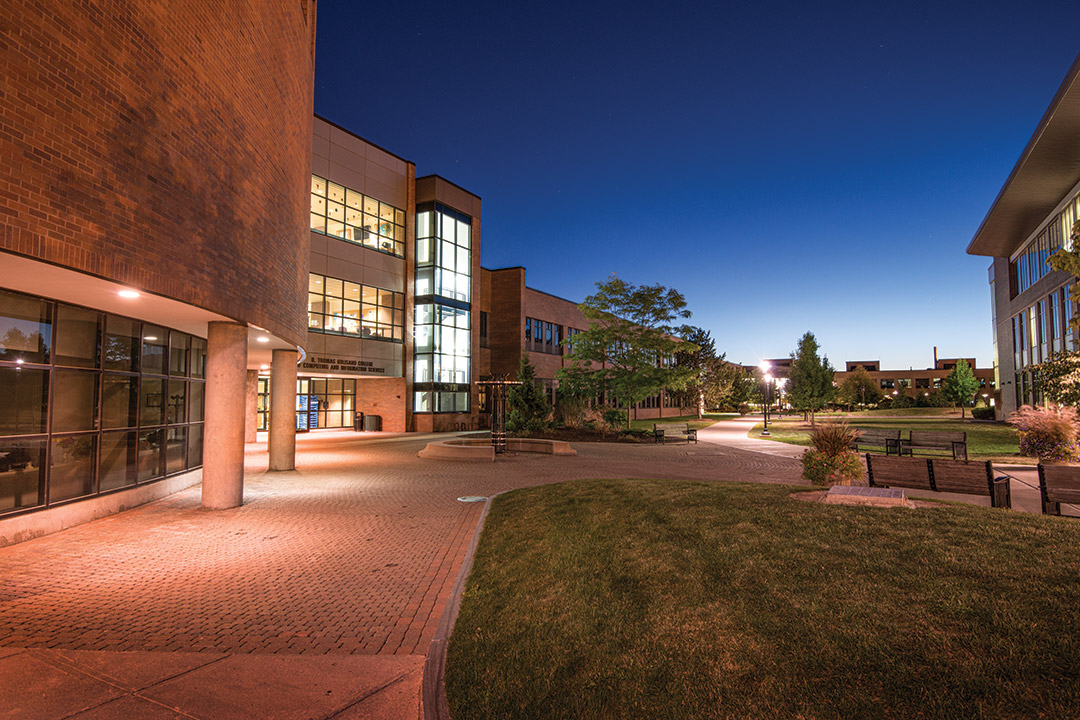 In 2001, the dot-com bubble was bursting and investors had lost confidence in internet companies.
At the same time, RIT was going all-in on a future in computing. The university had just announced that it would create one of the first comprehensive computing colleges in the nation—the Golisano College of Computing and Information Sciences (GCCIS).
"Anyone who was into technology at the time knew that the dot-com bubble was just a momentary setback," said Gus Weber '02 (information technology), who attended the GCCIS groundbreaking in 2001. "Data, computing, and the web were not going to get any less important in our world."
Twenty years later, technology stocks are soaring, network infrastructure allows people to video chat and access electronic health records, data has become a new currency, and people can access just about anything from their smartphones.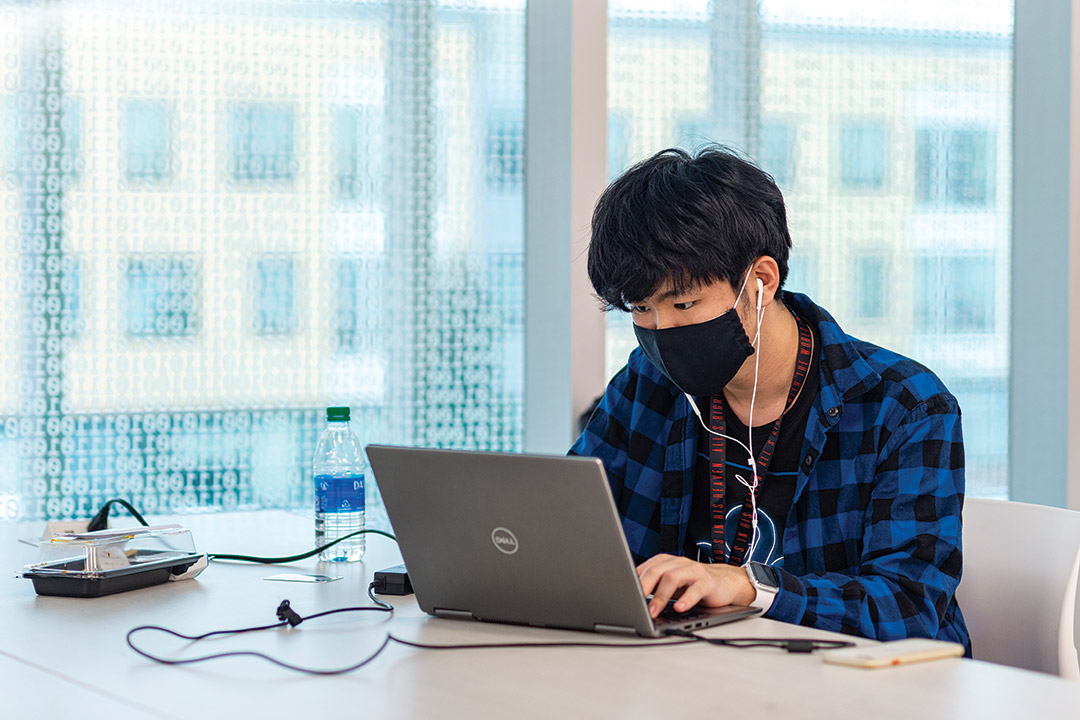 Elizabeth Lamark
Throughout all these changes, GCCIS has evolved into the largest college at RIT, with more than 4,600 students this year. Since its creation 20 years ago, GCCIS has awarded more than 14,000 degrees—in a growing number of computing disciplines.
Weber, who is now senior vice president of Customer Data, Marketing, and Analytics Technology at Fidelity, said that throughout his career he has hired a lot of these RIT alumni.
"When I was at RIT, all the experiential learning and co-ops that I did set my expectations for the next 50 years of computing," said Weber. "GCCIS is constantly evolving, just like the industry. That combination prepares RIT students to hit the ground running on day one of the job."
RIT has always been ahead of the curve in computer education. The university offered a computer systems degree in 1972, back when most computers were the size of a room and personal computers were still in their infancy. Computing had uses in engineering, mathematics, and science, but it was also becoming a distinct discipline.
"It was an incredibly exciting time, because the field was evolving every day," said Evelyn Rozanski, Professor Emerita, who worked at RIT for 43 years. "But, RIT had the foresight not to put all its marbles in one basket."
Computer science began splitting into specialty areas. In the 1980s, Rozanski started using computers for animation and created RIT's first course in computer graphics. Later, she co-developed a master's program in human-computer interaction.
By the late 1990s, the secret was out. About half of the students in RIT's College of Applied Science and Technology (CAST) were in computing majors, and the dean at the time, Wiley McKinzie, began to plant the seeds for GCCIS.
"We were bursting at the seams—students were literally lining the hallways because the growth was so explosive," said Jeffrey Lasky, Professor Emeritus, who retired in 2019 after 36 years at RIT. "Wiley foresaw that with a new space to house our several computing programs, synergies would arise to create even more exciting computing programs for our students."
McKinzie worked with Lasky and other leaders from computer science, software engineering, and information technology to write a concept paper calling for the creation of a new college. Then, RIT President Al Simone presented the opportunity of investing in a new computing college at RIT to founder of Paychex Tom Golisano.
It didn't take Golisano long to consider what that might mean for Paychex and people around the world. With a $14 million gift from the philanthropist, the college was launched, it got a name, and the university began constructing a 126,000-square-foot building to house state-of-the-art labs and facilities.
"It was apparent 20 years ago, in my conversations with RIT leadership, that a college dedicated to innovation and learning in computing and information sciences would be indispensable," said Golisano. "This is a field that impacts almost all aspects of our lives. It is rewarding to see how the college has evolved."
Today, the college has 23 degree programs and advanced certificates—along with offerings at RIT's global campuses—that span the breadth and depth of computing. All students start with a comprehensive background in computing. Then, they get to expand on different areas, including computing security, game design and development, and many others.
The college also hearkens back to its history of teaching computing as a tool for other areas of study, by offering service courses to non-computing majors. GCCIS now offers an immersion for non-majors in Principles of Computing.
"Computing is for everyone and it's become a fundamental skill like reading, writing, and math," said Anne Haake, dean of GCCIS. "It wasn't 20 years ago, but it is now."
Haake said that the college has always had a reputation for predicting the next big thing. 
The master's in data science has become one of RIT's most popular online programs, just as Glassdoor named data scientist one of the top jobs in America for 2021. And in a time when the cybersecurity talent drought continues to get worse nationwide, RIT has created a 15-week professional training bootcamp to help people start entry-level careers in cybersecurity.
Sponsored research for faculty and students continues to grow, too. Currently, GCCIS researchers are using artificial intelligence to advance noninvasive personalized healthcare for heart diseases, while others in the college are developing new technologies to make large-scale software systems more secure, faster, and more reliable.
"We know what industry needs because of our students and alumni," said Haake. "They tell our faculty that they want to learn about a new area, and our college makes it happen. That's what keeps us competitive and moving forward."
Notable alumni
Read about five notable Golisano College of Computing and Information Sciences alumni:
Mixed-reality pioneer
As a technical fellow at Microsoft, Alex Kipman '01 (software engineering) is bringing mixed reality to life.
His passion led to creating the Kinect motion-sensing input device in 2010, for the Xbox. Kipman continues with the HoloLens products—the world's first fully self-contained augmented reality device that displays holograms users can manipulate over the real world. Most recently, Kipman announced Microsoft Mesh, a mixed- reality platform for collaborative experiences—allowing users to interact and feel physically present with each other, even when they're not.
Kipman was named National Inventor of the Year in 2012 and received a Smithsonian American Ingenuity Award in 2019.
Games industry veteran
For Anna Sweet '04 (computer science), a career in gaming has been a lifelong pursuit.
She was a founder of RIT's Electronic Gaming Society and one of the first students to enroll in video game development classes. After graduation, she worked on the Xbox team at Microsoft, led the business and product strategy for the Steam games platform at Valve, led content strategy at Oculus for the launch of the Rift, and has been an advisor to venture capitalists investing in gaming.
In 2020, she was named CEO of Bad Robot Games—the game division of JJ Abrams' entertainment company—where she aims to constantly reinvent the way stories are played.
Square revolution
As co-founder of the digital payment company Square, the late Tristan O'Tierney '08 (computer science) helped revolutionize the mobile payment process for small retailers.
O'Tierney developed the original iPhone application for Square and joined Twitter creator Jack Dorsey in co-founding the company in 2009. The electronic payment service allows people to accept credit cards with a square-shaped card reader that attaches to a tablet or mobile phone. O'Tierney died in 2019.
Emmy Award-winning tech expert
Katie Linendoll '05 (information technology) travels the world seeking out innovative stories on cutting- edge science and technology.
Audiences might recognize her reporting and frequent appearances as a tech contributor on the Today show. She is also a regular consumer tech expert on Rachael Ray, The Weather Channel, CBS Sports Radio, and on her own digital series "Technically, Katie."
Linendoll launched her television career on RIT's SportsZone program, which led to a permanent position where she won an Emmy Award as associate producer for ESPN's SportsCenter. She credits RIT's Mark Fragale and James Watters for her step into the media world.
Creator of jQuery
Just about anybody navigating the internet encounters John Resig's work—whether they know it or not.
When he was still a student, Resig '05 (computer science) became frustrated with how hard it was to write cross-browser JavaScript so he created his own library to fix the problem.
In 2006, he released jQuery, a free and open-source library that simplifies HTML document traversing, among other things. It's now a dominant part of modern web development, with 77 percent of the top 10 million websites using it.
Today, Resig is chief software architect at Khan Academy, where he works to provide a free education to everyone, everywhere.
Topics