New institute helps RIT attack cyber threats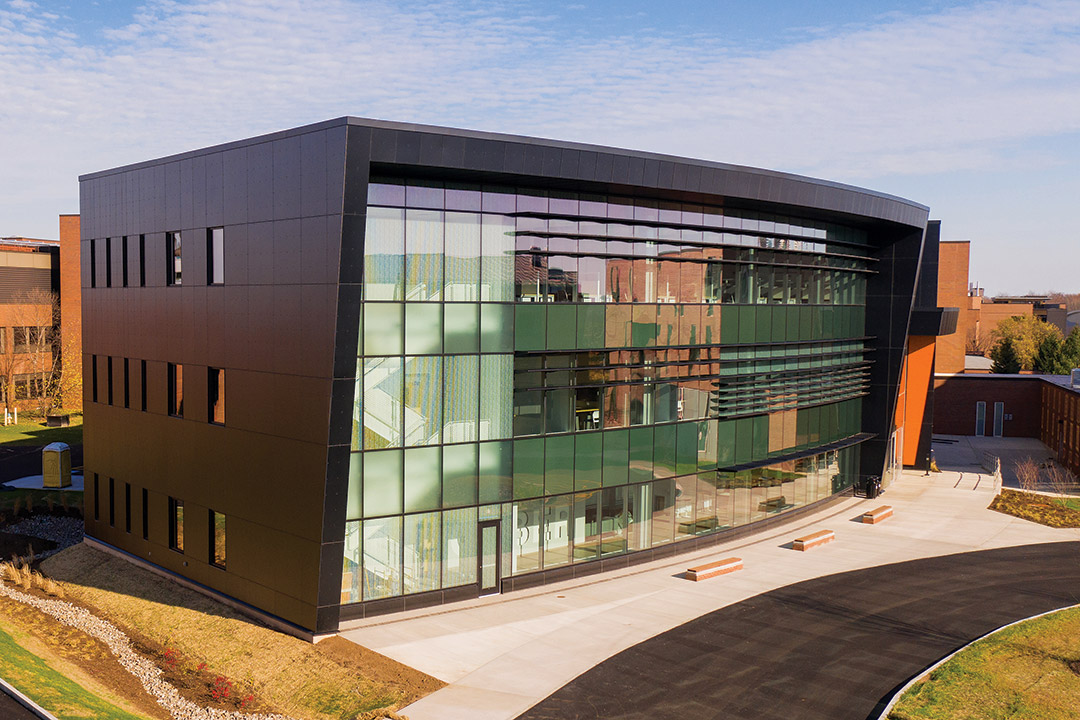 Boris Sapozhnikov
For too long, cybersecurity has been an afterthought. In a preemptive strike on cyber­security threats across the world, RIT has created the Global Cybersecurity Institute (GCI).
Late last fall, the GCI opened the doors to its 52,000-square-foot state-of-the-art facility on campus. With the institute, RIT is on its way to becoming one of the best places in the world for cybersecurity education, training, and research.
"Our ultimate mission is to make you and your digital self safer," said Steve Hoover, the Katherine Johnson Executive Director of GCI. "In the 21st century, the physical world is becoming digital. It's a double-edged sword, because there's tremendous opportunity to improve our lives, but it also significantly increases the attack surface."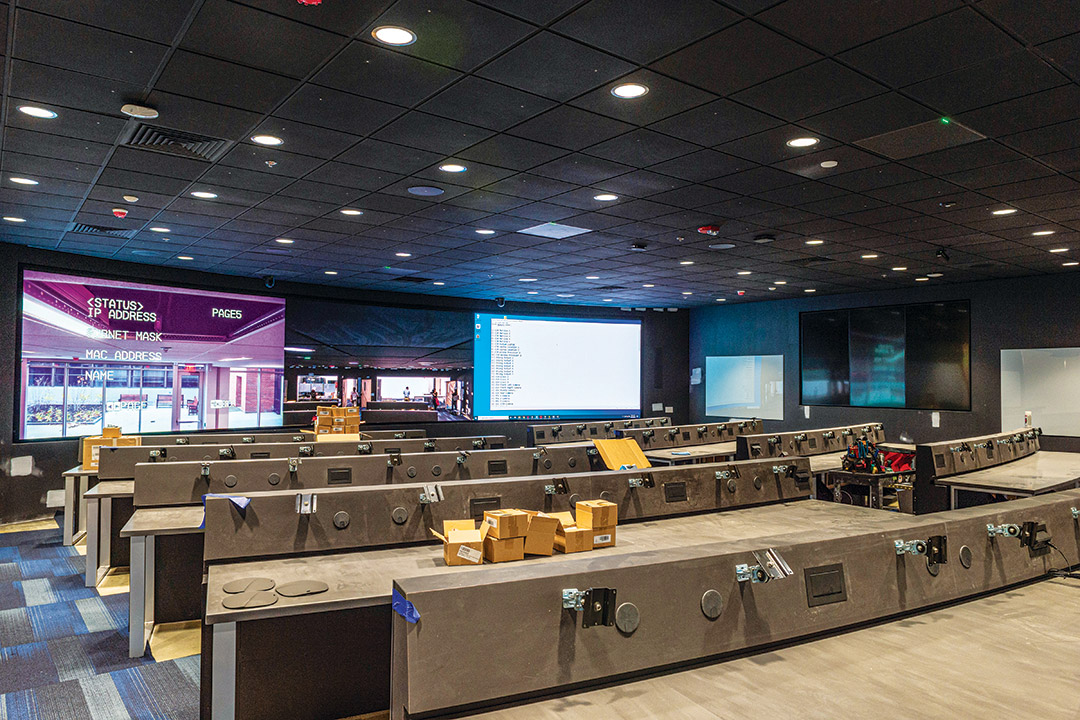 Elizabeth Lamark
RIT is taking a holistic approach to cybersecurity. The GCI is a space where people from different academic disciplines, industry, and government are collaborating to expand cybersecurity knowledge and make it useable in the real world.
At the heart of the building is the Cyber Range, a virtual and physical lab that allows people to simulate network cyberattacks and problem-solving scenarios. Businesses are coming to the range to prepare their employees for cyber incidents, and students are using the space to conduct ethical hacks during cybersecurity competitions.
In January, students from across the world took part in the annual Collegiate Penetration Testing Competition, which was created by RIT.
"Through competitions, students learn how to balance the technical competence of knowing how to find vulnerabilities and exploit them, with the soft skills of being able to deliver a non-technical report to executives," said Justin Pelletier, a lecturer and director of the GCI Cyber Range and Training Center. "This is what makes our students so attractive to employers."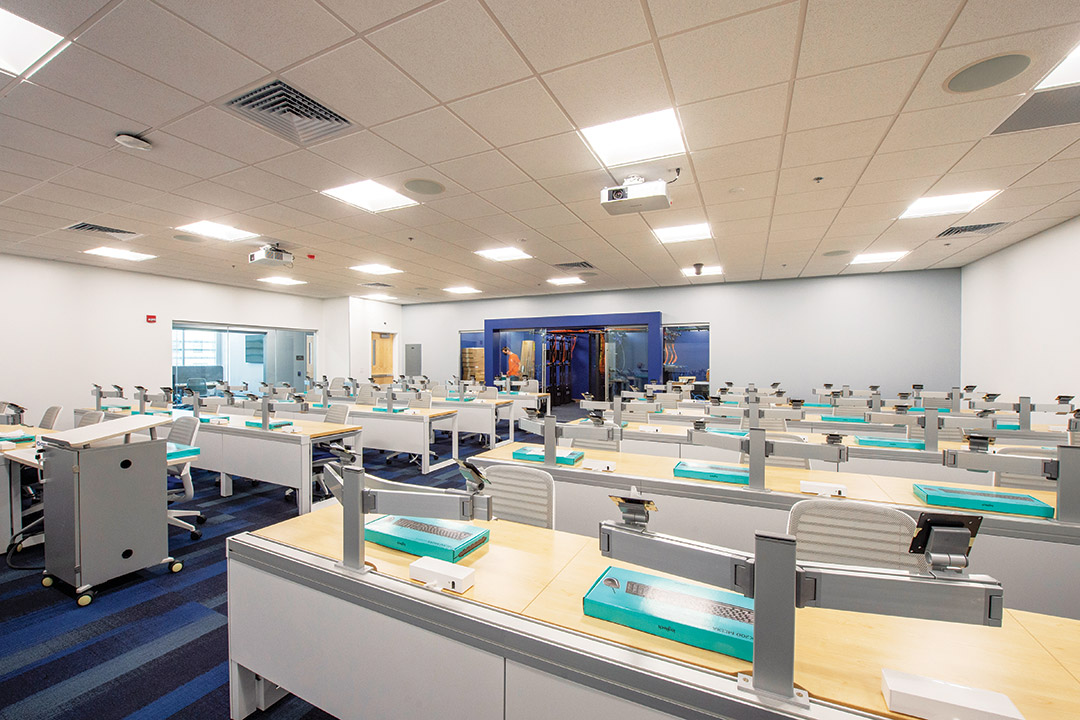 Elizabeth Lamark
With GCI, the university's nationally recognized computing security degree programs are also expanding. There are more than 500 students studying computing security, and the undergraduate program saw its largest incoming class ever.
"With these modern updated labs in GCI, we are improving the educational experience for our students," said Anne Haake, dean of RIT's Golisano College of Computing and Information Sciences.
Funding for the GCI was made possible in part with a $5 million Higher Education Capital Matching grant awarded by New York state. The three-story facility also includes student lounges, instructional labs, faculty offices, a Cybersecurity Learning Experience Center for the general public, and five research labs.
Student and faculty researchers have received millions in government and industry funding to tackle some of the most pressing cybersecurity problems of today and tomorrow.
RIT researchers are creating more secure vehicle-to-vehicle (V2V) communications technology to help make self-driving cars safer. They are also developing methods and tools to help all software engineers develop secure code at the design phase.
One team is creating tools to help journalists better identify deepfake videos. Another team is using tools from machine learning and theories in crimin­ology to develop algorithms and models that learn attack patterns and predict ways to defend.
Since the COVID-19 pandemic struck, concerns about cybersecurity have only grown. With more businesses operating remotely, the FBI reported that complaints about cyberattacks increased 400 percent.
GCI leaders saw this as a chance to serve a different set of learners, while still helping the cyber industry. They created RIT's Cybersecurity Bootcamp—a 15-week training course to help professionals from any background transition into an entry-level role in the cybersecurity workforce.
"Even with the tremendous job losses we saw in other industries, the demand for cyber talent is continuing to grow," said Hoover. "We have a duty to help improve cybersecurity, any way we can."